Ted Kennedy's Bizarre 1964 Plane Crash Still Haunts Him
October 12, 2007 02:59 PM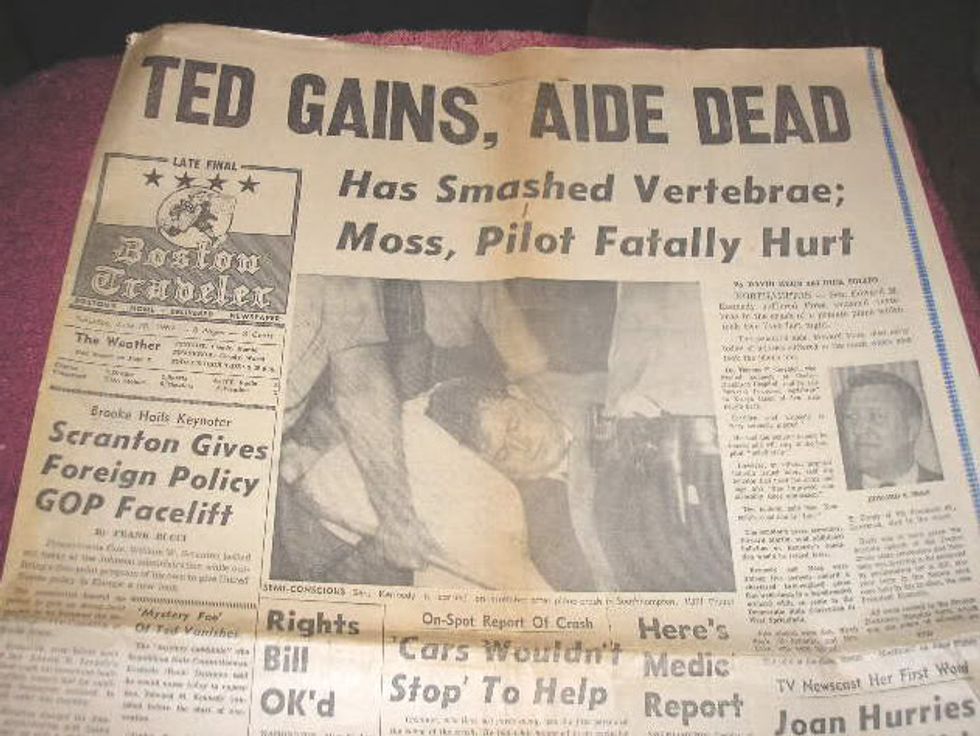 Beloved Taxacusetts senator and last-surviving RFK/JFK brother Ted Kennedy is in the hospital today after doctors fixed a clogged artery in his neck. They successfully removed the Jameson bottle and now he's "resting." But what's interesting is why he went to the doctor in the first place: The neck clog was found during an MRI to check on his wrecked back -- Ted Kennedy barely survived a terrible plane crash in 1964, just a few months after John Kennedy's assassination.
---
We had totally forgotten about this plane crash. That's easy to do when you're dealing with a family that has experienced an absolutely supernatural amount of assassination, misfortune, disease, addiction and the crashing of every known form of human transport, including snow skis.
Kennedy, now 75 years old, still has a bad back after the June 1964 crash of a small plane carrying him, his aide Edward Moss, Senator Birch Bayh (Evan's dad), Bayh's wife Marvella. The crash killed Moss and Kennedy's pilot, Edwin T. Zimny.
They were flying from National after a late vote on the Civil Rights Act and headed to the Massachusetts Democratic Convention. Just before landing at Barnes Municipal Airport in Westfield, the twin-engine plane suddenly fell out of the sky and smashed into an apple orchard. Bayh got his wife out and then dragged Kennedy out of the wreckage; the pilot and aide were trapped and near death.
Bayh apparently tried to flag down help on the highway, but nobody would stop. When doctors finally got to Teddy, he was almost dead and had a "negligible" pulse. After various operations, Kennedy recovered and went on to be re-elected to the Senate.
His next crash would come in 1969, in a car he was driving drunk, one year after his brother Robert Kennedy was assassinated in Los Angeles after winning the California Democratic primary for the presidency.
Teddy's Ordeal [TIME]