Tennessee's Top Vaccine Official Fired For Trying To Keep Kids Alive
News
July 13, 2021 12:45 PM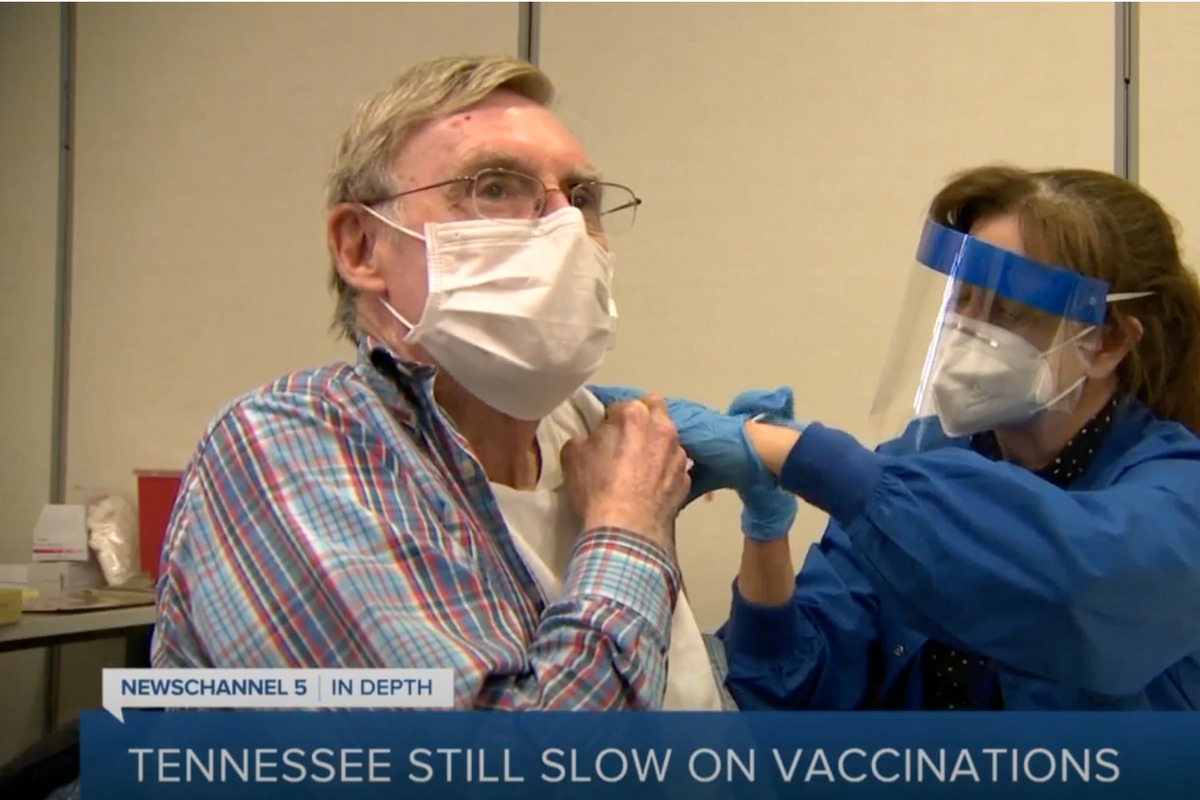 The coronavirus is spreading mostly unchecked in Tennessee. The state Department of Health reported that confirmed cases surged 250 percent in the past week. In response, Tennessee has swiftly moved to ban "critical race theory" from schools that'll soon be filled with COVID-19. The state government has also fired its top vaccination official, Dr. Michelle Fiscus, which is not the smartest move during a pandemic.
Dr. Fiscus was until Monday the medical director for vaccine-preventable diseases and immunization programs at the Tennessee Department of Health. She provided a copy of her termination letter, which offers no explanation for her termination. She's not even charged with shopping too much on Amazon during work hours.
Dr. Fiscus said she was a "scapegoat" who was canned because state lawmakers are upset that the Department of Health was trying to vaccinate teenagers against the coronavirus.
"It was my job to provide evidence-based education and vaccine access so that Tennesseans could protect themselves against COVID-19," Fiscus said in a written statement. "I have now been terminated for doing exactly that."
---
Lawmakers were reportedly furious that Dr. Fiscus sent a letter to medical providers who administer vaccines that explained Tennessee's "Mature Minor Doctrine," which lets healthcare providers treat certain minors without parental consent. This would include vaccinating minors who are at least 14 years old. Dr. Fiscus didn't create the "Mature Minor Doctrine," and her letter contained no new information. She only (correctly) answered questions from vaccine providers. The "Mature Minor Doctrine" was established in 1987 and the details have been publicly available on the health department's website since 2008.
Dr. Fiscus said the health department's attorney provided the language in the letter, which was supposedly "blessed by the governor's office." However, Governor Bill Lee left Dr. Fiscus out to dry and now runs and hides when asked why he fired her for doing her job.
😳 🐔 🏃 @GovBillLee running from reporters while his security "assaults" them as they try to ask about his political… https://t.co/1prsluPg5X

— The Tennessee Holler (@The Tennessee Holler) 1626186020.0
During a June 16 hearing, Health Commissioner Dr. Lisa Piercey said the doctrine was invoked just eight times this year, and three of them included her own kids, who were vaccinated while she was at work. Republican state Senator Janice Bowling demanded Dr. Piercey "take action" to "remove the fear, the concerns and the anger that has gone across the state as a result of [Dr. Fiscus's] letter."

"It is very disconcerting to see the letter, or memo, from Dr. Fiscus stating that Tennessee law allows the Department of Health to give vaccinations to children 14 years of age," Bowling said. "Tennessee law does not allow that."
Obviously, Tennessee law does allow this, as we just explained, but Bowling has a reputation for spreading misinformation when it comes to COVID-19 vaccines. She's claimed during a legislative session that the vaccines could lead to genetic modification (though she didn't specify which mutant powers you might develop). The Centers for Disease Control and Prevention has debunked this theory as garbage. Bowling has also needlessly promoted skepticism about COVID-19 vaccines because the the US Food and Drug Administration has not fully approved them. This is a popular Republican talking point seemingly designed to freak people out. Distinguished medical experts such as House Reps. Lauren Boebert and Marjorie Taylor Greene describe the vaccines as "experimental," like when a mad scientist tests some crazy-ass formula on himself. However, the vaccines were cleared for "emergency use," and a global pandemic that's confined us to our homes with our families counts as an emergency. Fox News pundits applauded the success of "Operation Warp Speed" when vaccines were announced in December 2020. Now, they're acting like the vaccines are coming out of the trunk of some drug dealer's car.
After the June hearing, the health department has backed down like cowards from its effort to protect minors from COVID-19.
The agency halted all online vaccination outreach to teens and deleted Facebook and Twitter posts that gently recommended vaccines to anyone over the age of 12. Internal emails obtained by The Tennessean revealed agency leaders ordered county-level staff not to hold any vaccination events intended specifically for adolescents.
Tennessee ranks a dismal 45th in the nation in the share of residents who've received at least one vaccine shot. The national vaccination rate is currently 55.5 percent but only 42.9 percent of Tennesseans are at least partially vaccinated. Unfortunately, the anti-vaxx crowd remains defiant in the face of obvious evidence that low vaccination rates correspond with rising COVID-19 cases. The highly contagious Delta variant is also spreading quickly. Meanwhile, US Senator Marsha Blackburn is fighting with Taylor Swift over socialism. That's the kind of silly culture war you fight when the people you're supposed to represent aren't dying around you. But she doesn't care. That's the hell of it: Republicans just don't care about keeping Americans safe from COVID-19. They'd rather appease the most willfully ignorant members of their base.

Follow Stephen Robinson on Twitter.

Keep Wonkette going forever, please, if you are able!
Stephen Robinson
Stephen Robinson is a writer and social kibbitzer based in Portland, Oregon. He writes make believe for Cafe Nordo, an immersive theatre space in Seattle. Once, he wrote a novel called "Mahogany Slade," which you should read or at least buy. He's also on the board of the Portland Playhouse theatre. His son describes him as a "play typer guy."