Texas Decides It Needs Court's Foot Up Its Ass On Abortion Again, Please And Thank You!
Courts
February 03, 2017 02:30 PM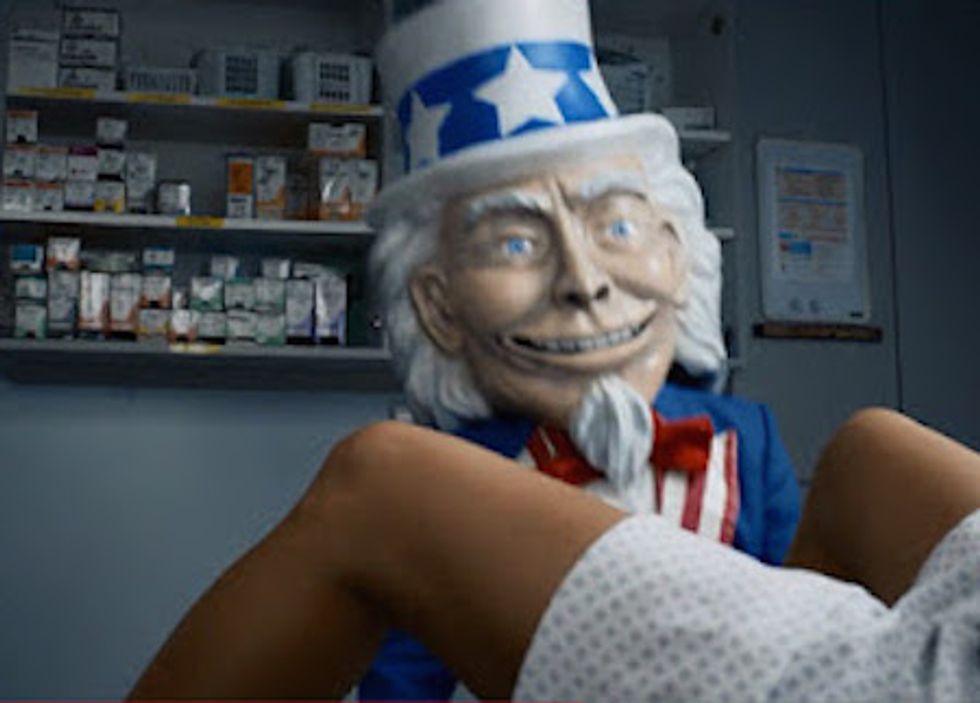 Pity the poor Federal Judges in the Western District of Texas, stuck watching an endless stream of crappy '80s reruns. They'd change the channel, but the rabid dogs in the Texas legislature long ago chewed the remote into a twisted hunk of slobbery plastic.
---
So, here we are again for another round of Whole Woman's Health v. Hellerstedt. The wily coyotes at the Texas Department of State Health Services (DSHS) come up with new regulations to harass women protect life, and Whole Woman's Health asks the Court to order the state to stick those regs up their ass cease enforcement of the statutes. Yes, again with this shit.
In a January 27 ruling that left no doubt as to how pissed off he was to still be dealing with this, Judge Sam Sparks granted the injunction. Let's translate the highlights from Legal Mumbo Jumbo into Reglar Murican™.
RM: NOT FOR NOTHING, BUT DIDN'T YOU LEGISLATIVE DIPSHITS LOSE BOTH OF THE LAST ROUNDS?
The opinion opens with an unsubtle reminder that Texas's bullshit TRAP laws were the reason the Supreme Court finally said, "ENOUGH with these fake health regulations. We all know you're just trying to harass women and their doctors, so cut that shit out." Whole Woman's Health v. Hellerstedt, 136 S. Ct. 2292 (2016). Obviously, Texas's Department of State Health Services (DSHS) vowed to go forth and sin no more. The end. Amen.
JK, LOLOLOLOL!!!
RM: NO, YOU CANNOT JUST MAKE UP A NEW CATEGORY OF MEDICAL WASTE CALLED "FETAL TISSUE" AND EXPECT US ALL TO HOLD A FUNERAL! WHAT EVEN IS THE MATTER WITH YOU?
Anticipating a loss at the Supreme Court, Texas health officials spent their summer vacation turd polishing so they'd be ready to wow the judges in the fall. If you can't pretend a fetus is a live baby, why not invent a new category called "fetal tissue" and insist that out of "respect for life" it can only be disposed of by burying it in the ground?
No longer will the byproduct of miscarriages, ectopic pregnancies or abortions be classed as medical waste. Now they are "fetal tissue," composed of "a fetus, body parts, organs, or other tissue from pregnancy. This term does not include the umbilical cord, placenta, gestational sac, or bodily fluids."
I'm guessing this is the part where all the DSHS employees squicked out over Ewwwwww, girl parts, since they don't seem to have given the mechanics of this much thought. Were they envisioning, like ... a kitchen colander and tweezers? As a certified Vagina American, can I just say, THAT IS NOT HOW IT WORKS!
And even though Judge Sparks is not a Vagina American, he wasn't buying it either. So much eyeroll at the semantic end run around the settled definition of "alive."
RM: OMG, WE SMELLED YOU COMING A MILE AWAY! DID YOU THINK WE WOULDN'T NOTICE THIS WAS EXACTLY WHAT THE SUPREME COURT JUST STRUCK DOWN? GTFO.
Last year, the Supreme Court held that two Texas laws placed an impermissible burden on the right to access abortion care. The laws required doctors who performed abortions to have admitting privileges at local hospitals and mandated that facilities that perform abortions meet the same standards as ambulatory surgical centers. In essence, the Supreme Court said, "Cut the shit, the purpose of these laws is to deprive women of access to abortion and put clinics out of business. This has zero to do with protecting women's health." Ibid.
During the period of time when Texas enforced these fake health laws, the number of facilities performing abortions in the state dropped by half. Almost like that was DSHS's plan all along!
In the current case, there are only two facilities in the entire State of Texas, which might potentially handle "fetal tissue" in the manner dictated by the statute, and one of them is the Texas Conference of Catholic Bishops. Who could have a problem with that?
Judge Sparks sees your bullshit, DSHS, and he is having none of it! You can't make abortion care dependent on the kindness of third party providers, particularly when they have a strange habit of being forced out of business by harassment and threats of a boycott.
RM: I CAN'T HELP BUT NOTICE YOU DON'T ACTUALLY GIVE A CRAP ABOUT WHAT HAPPENS TO THE "FETAL TISSUE" ONCE YOU HAVE FORCED THE ABORTION PROVIDERS TO JUMP THROUGH ALL YOUR INSANE HOOPS TO DEAL WITH IT.
So, what were the DSHS's logistical plans for these fetal tissues? Strangely, they don't seem to have considered this before the court hearing. Never fear, those sanctifiers of life came up with two super-amazing plans, right there on the spot!
Plan 1, Bucket of Life: "DSHS recommends healthcare providers place fetal tissue in a single container, commingle fetal tissue from various procedures together, and freeze the tissue until disposal can be secured or the merits of this lawsuit decided. DSHS has not explained how this better protects the dignity of the unborn."
Plan 2, There's Nothing that Can't Be Solved with Duct Tape: The owner of Carnes Funeral Home testified that, although he'd never done it before, he reckoned he'd need "healthcare providers to individually wrap the fetal tissue in cloth and tape, so he could transport the tissue, up to twenty-five units at a time, on a stretcher."
They failed to mention the ever popular Plan 3, Miscarry at Home: In which case, the state doesn't give a damn what you do. Because life is sacred, but only in a hospital. Duh.
RM: WE'LL GIVE YOU A FULL HEARING IN THE FUTURE, BUT YOUR CASE IS CRAP. WE FORBID YOU TO ENFORCE YOUR BULLSHIT LAWS. NOW GO HOME AND PUNCH YOURSELF IN THE FACE FOR WASTING EVERYONE'S TIME AGAIN.
And so begins round eleventy thousand of Whole Woman' Health v. Hellerstedt. The case should go to trial some time in the next year, assuming Texas wants to go forward with this nonsense after such a decisive reprimand. Which, of course they do! Because nothing shows your constituents how much you love the little children like wasting several hundred thousand dollars on pointless litigation. Vote Quimby!
Here's a link to the case through the Center for Reproductive Rights website. If you haven't already maxed out your credit card for the ACLU, send a little something to the CRR. This shit is never ending.
Liz Dye
Liz Dye lives in Baltimore with her wonderful husband and a houseful of teenagers. When she isn't being mad about a thing on the internet, she's hiding in plain sight in the carpool line. She's the one wearing yoga pants glaring at her phone.