Texas GOP Once Again Free To Fuck Houston In Ass, Now That TV Cameras Are Gone
News
September 28, 2017 03:20 PM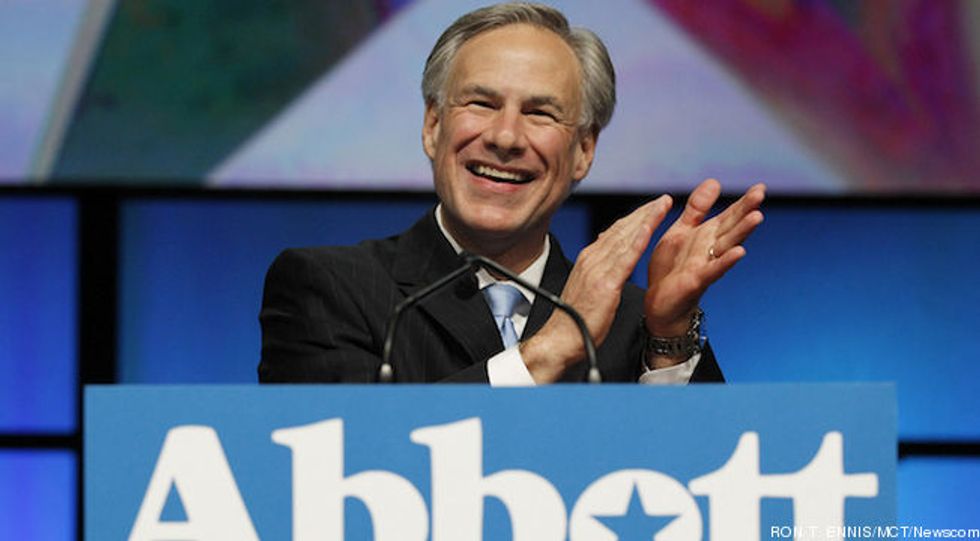 this is Greg Abbott's assfucking face.
---
In every single state that Republicans run, they are contemptuous of their blue Democratic cities. The GOP always hollers "local gubmint!" and "states' rights!" but when one of its blue cities tries to, you know, govern itself, the state slams on the brakes and does everything it can to exert its unwelcome will, even though those blue cities literally keep those states in business. GOP-controlled Tennessee is always trying to fuck Nashville and Memphis, notably these days in its efforts to keep Memphis from removing Confederate loser traitor monuments. In North Carolina, we saw it last year as the state fucked itself in the ass with its own head after Charlotte passed a trans-inclusive nondiscrimination ordinance.
And of course, everything is bigger in Texas, regarding how the GOP legislature and Texas Governor Greg Abbott treat blue cities like Dallas, San Antonio, Austin and Houston, cities without which the state would just be a wasteland of tumbleweeds, meth addiction and Bible camps.
What Abbott and his merry band of motherfuckers are doing to hurricane-ravaged Houston, now that the TV reporters in waders have left, will PISS YOU OFF. As Christopher Hooks explains in the Texas Observer, Houston still needs a LOT of disaster funding. Just its share of trash removal, after FEMA helps out with most of the cost, will run the city $25 million -- and it ain't got it, due to how its cash was wiped out like so many sticks of furniture and sheets of drywall currently piled up on the city's streets.
So to alleviate that, Democratic Houston mayor Sylvester Turner proposed a temporary property tax increase, lasting one year.
BUT WHY THOUGH? WHY SHOULD HOUSTON VICTIMS HAVE TO PAY EXTRA TAXES? Well, for one thing, they might not, because the Texas GOP, especially a Republican state senator from Houston by the name of Paul Bettencourt, is raising a mighty stink over the proposal, which under Turner's latest proposal would cost the average Houston homeowner $48, according to the Texas Tribune. We'll see what the Houston City Council ultimately does when it votes in October.
BUT WHY WOULD MEAN DEMOCRATIC MAYOR TURNER WANT TO DO THIS TO THE RESIDENTS OF HOUSTON? Oh, that's an easy one! Because the state won't give Houston the damn money it needs from its rainy day fund -- until, at the earliest 2019. We'll turn it over to Hooks for a moment:
... [A] new agreement with FEMA caused Turner to reduce the amount he was asking for to $50 to $60 million. For the state, that's chump change — the rainy day fund alone has more than $10 billion. Though state leaders have signalled a willingness to spend some of the rainy day fund on disaster relief, no one's rushing to appear overly generous. When Turner's hand was forced and the tax bump was proposed, state officials had two options: Reassure Houstonians about the forthcoming availability of state money, or let Turner, the Democratic mayor of a city Republicans are increasingly struggling to contest, twist in the wind.

You know which one they chose.
Of course, many Houstonians are probably so busy repairing their homes and repairing their lives that they might not be paying attention to all the GOP assfuckery coming out of Austin. Never fear, though, because state Sen. Bettencourt is ready and willing to offer quotes to make it look like Mayor Turner is the bad guy, instead of placing the blame where it belongs, which is on his face:
"I don't understand this mindset," state Sen. Paul Bettencourt, a Republican from Houston, said. "It's callous." [...]

"It's beyond tone deaf," said Bettencourt, who is the chairman of the Senate's Republican caucus. "I don't believe governments should be showing this type of attitude when people are down."
Oh go eat your own ass with mesquite BBQ sauce and a spork, Senator Bettencourt.
As for the governor? Well shit, his disposition sure has changed ever since he was giving hourly updates from his wheelchair, wiping tears from his eyes and vowing to rebuild:
On Tuesday, after Turner made a public request for money from the rainy day fund, Governor Greg Abbott joined in, telling reporters that the fund wouldn't be touched until the 2019 legislative session. Turner "has all the money that he needs," Abbott said. "In times like these, it's important to have fiscal responsibility as opposed to financial panic."
No, you raving fuckwit, Sylvester Turner's point is that Houston DOES NOT HAVE the money it needs. Therefore, Texas needs to be dipping into its rainy day fund -- because Hurricane Harvey was a REALLY RAINY DAY YOU GUYS -- and helping out its largest city, you know, the one that's literally the lifeblood of the Texas economy.
Turner is being quite open about the fact that he doesn't WANT to have to raise dumb property taxes on Houstonians, many of whom probably can't afford it, especially if they didn't have badass insurance before the storm:
Turner said he wouldn't have proposed the tax hike if Gov. Greg Abbott had called for a special session so lawmakers could tap the state's savings account, which has more than $10 billion, to help Houston and scores of other southeast Texas communities recover from the catastrophic storm.

"If he told me he was going to tap it, I wouldn't propose [the property tax hike]," Turner said.
In response, Abbott said the state will "most certainly" tap the fund, you know, at some point, when they get around to it, which is on a mighty different schedule from when devastated Houstonians actually need that funding, which according to Turner is "like, yesterday."
Oh well. The GOP photo-op is over so fuck you, Houston, you're on your own, we guess.
Follow Evan Hurst on Twitter RIGHT HERE.
Wonkette is ad-free! Our salaries, servers, and all of the things are fully funded by readers like you! If you love us, click here to fund us!
Evan Hurst
Evan Hurst is the managing editor of Wonkette, which means he is the boss of you, unless you are Rebecca, who is boss of him. His dog Lula is judging you right now.
Follow him on Twitter RIGHT HERE.