That Is So Weird That Guy Advising Mitt Romney On Our 'Too-Small' Navy Just Happens To Be In The Ship-Building Biz
News
October 25, 2012 08:30 AM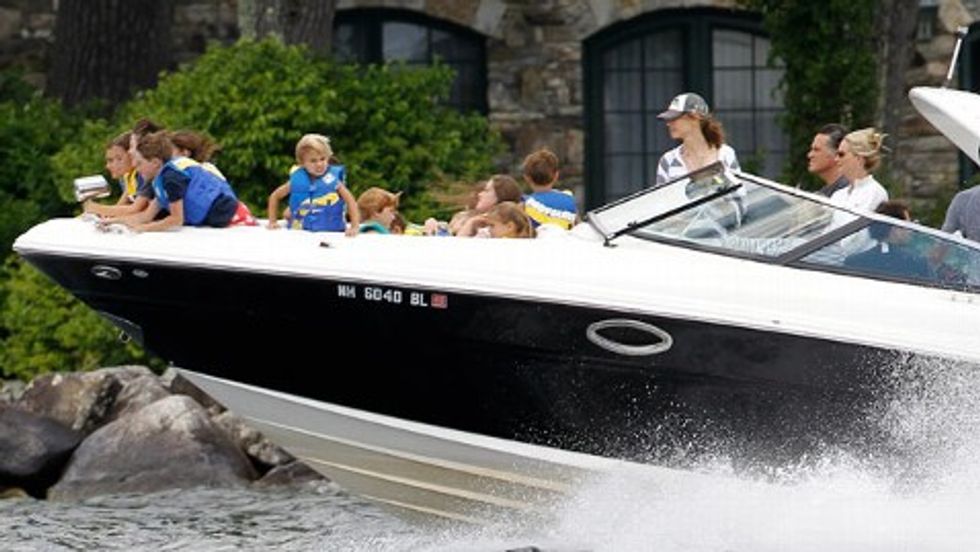 Here's the thing about the Navy: it needs more ships. And possibly more bayonets, so as not to offend thebayonet-Americans. But definitely more ships. This is self-evidently true according to presidential candidate Mitt Romney, who astutely observed the other night that our air force is "older than any time since 1947." This is also self-evidently true!  So the solution here is more ships, which you can use to attack Syria (a.k.a. "Iran's route to the sea") and if you get bored with that, you can sail on over to Afghanistan, which will be very helpful to our men and women and uniform. So yeah, more ships, says Romney, who is being advised by some guy who by coincidence just so happens to invest in ship-building companies. Does his opinion on navy ships have to do with these ties to ship-building companies? No, of course not, his opinion on navy ships just has to do with Keeping Us Safe.™
---
One of Romney's most important advisers on Navy issues [is] John Lehman, an investment banker and former secretary of the Navy, [who] has strong and complex personal financial ties to the naval shipbuilding industry. He has profited hugely from the Navy's slow growth in recent years — raising the prospect that he could make even more if Romney takes his advice on expanding the fleet.

[…]

Lehman invested in a government-backed "Superferry" in Hawaii — a business that ultimately failed, but not before boosting the standing of Austal USA, an Alabama shipbuilder that constructed the ferry service's ships… Lehman continues to own shipyards that do lucrative maintenance work for the Navy. Even leaving aside the intricate ferry-and-shipyard series of deals, Lehman still stands a decent chance of profiting from the naval buildup he is helping to plan.
This is just a coincidence, of course, because gosh -- Romney and Ryan, they just want to make sure America is strong. Militarily, that is. And the best way to make us strong enough to fight our enemies is MORE SHIPS.