That Time Matt Gaetz Stood Up For Floridians' Sacred Right To Revenge Porn
State/Local Politics
April 06, 2021 10:39 AM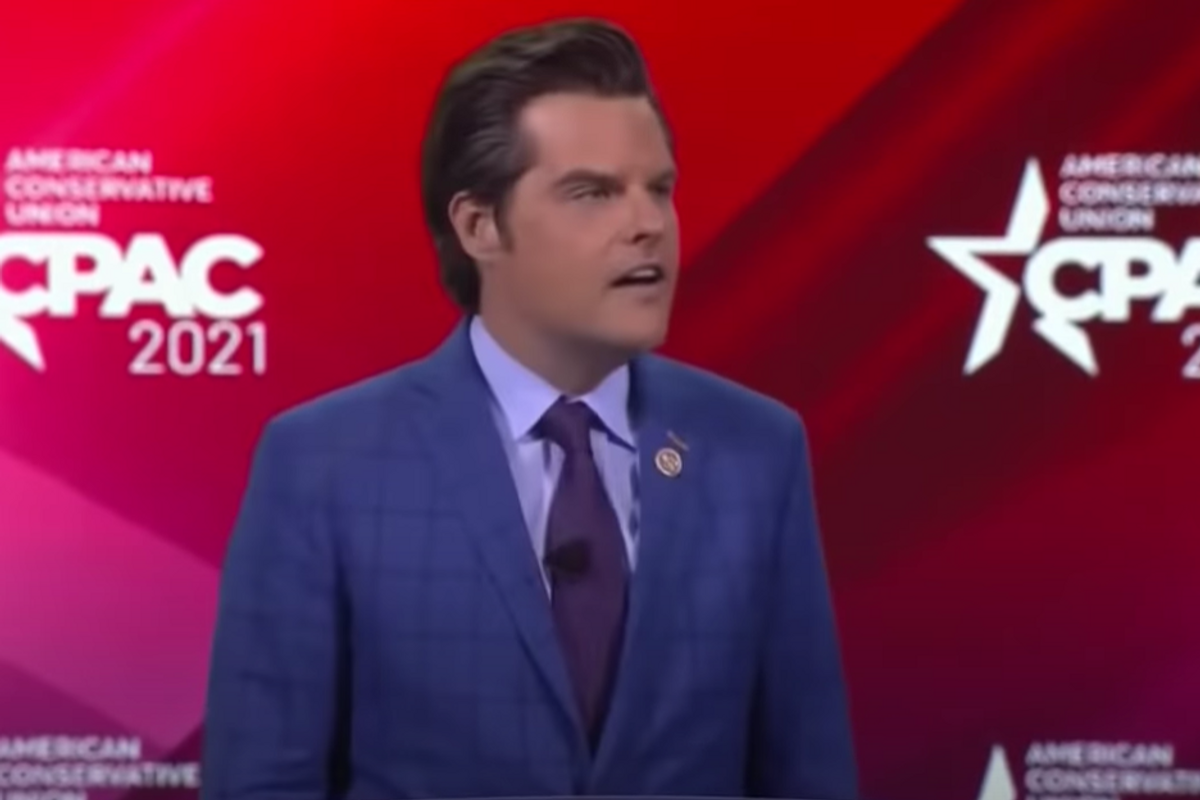 In case you didn't hear the news, Matt Gaetz has written an op-ed to confirm that he is NOT A CRIMINAL SEX MONK, OK? So in case you were wondering if he was a criminal sex monk, you can stop now, and you probably should just consider that the end of the story. People thought there might be a Matt Gaetz scandal, but he says he's NOT A CRIMINAL SEX MONK, therefore there is no story.
Of course, people keep coming out and saying things about Gaetz. They're just coming out of the woodwork! It's almost like everybody hates this guy. As evidence we'd point you to this article we wrote and this article we wrote and this new thing from Politico, and also this story from former Florida GOP state Rep. Tom Goodson, about how Matt Gaetz was the primary opposition to his bill banning revenge porn when they were in the state lege together. Weird, right?
---
While serving in the Florida Legislature, U.S. Rep. Matt Gaetz opposed a bill meant to stop people from sharing sexually explicit images of their ex-lovers because Gaetz believed that recipients of those images had a right to share them, according to the sponsor of the legislation.

Former state Rep. Tom Goodson, a Republican from Brevard County, spent three years sponsoring legislation to outlaw nonconsensual pornography — sometimes called "revenge porn."
Wow. Emphasis ours, obviously, to point you to all the ways Goodson is saying Gaetz is pervy.
Goodson said he remembered a meeting in which Gaetz said that if someone sends an intimate image to their romantic partner, then that image becomes the partner's property to use however they want.

"Matt was absolutely against it. He thought the picture was his to do with what he wanted," Goodson said. "He thought that any picture was his to use as he wanted to, as an expression of his rights."
HIS FREEDOM!
Reportedly Gaetz really fought against the bill. Goodson said this week that "If you crossed him, he was after you."
The Orlando Sentinel says in 2014, it had breezed through the state Senate, unanimously, and it was all ready to go in the state House with 17 co-sponsors, but first it had to go through committee, of course, and Gaetz was the chair of the committee where it had to start. So ... nah. No hearings for the revenge porn bill!
Apparently it did finally pass the Florida House in 2015, by a vote of 114 to Matt Gaetz and another guy named John Tobia, with whom Gaetz lived in a condo in Tallahassee along with another dude. For real. It was Matt Gaetz and his roommate who voted against the revenge porn bill. The Sentinel notes that the state House version was also much more toothless than what passed in the state Senate, and that "emailing or texting [revenge porn] to others remained legal." And Gaetz and his roommate still voted against it.
So all of this just kind of seems relevant considering the news that Gaetz reportedly likes to show people pictures of naked women he claims he's had sex with on the House floor in the big boy Congress where he works now. (We mean he showed the pictures on the House floor. We are not aware of Gaetz doing sex on the House floor in the big boy Congress where he works now.)
And it seems relevant in light of how Gaetz was literally the only vote in 2017 against a sex trafficking bill in the US House.
And of course, oh yeah, lest we forget, Gaetz is reportedly under investigation for sex trafficking of a minor and also maybe allegedly paying for sex on CashApp along with his buddy Joel Greenberg. Indeed, the Washington Post has sources in Florida politics who say they literally heard Gaetz brag about how his buddy Joel Greenberg brought him all these very cool women, even showing off — surprise! — naked pictures of them! On his phone!
They said the Republican congressman, first elected in 2016, also showed them videos on his phone of naked or topless women on multiple occasions, including at parties with Joel Greenberg, the former tax collector for Seminole County. The women appeared to be adults, and could be seen dancing, hanging out by a pool and, in one case, using a hula hoop without clothing, the people said.

"Matt was never shy about talking about his relationship to Joel and the access to women that Joel provided him," said one of these people who, like others, spoke on the condition of anonymity to be candid. "What these videos implied was that there was something of a sexual nature going on with everyone."
All of this just seems relevant.
In related news, remember how former Democratic Rep. Katie Hill, who was literally a victim of revenge porn that caused a scandal that ultimately ended her short congressional career, had an odd and unlikely friendship with Matt Gaetz, and even defended him when the strange story of Gaetz's normal regular "son" Nestor hit the press? Well, she's in Vanity Fair today sharing her thoughts about her erstwhile friend, and says if there's even a "fraction of truth" to the allegations, he needs to resign and be held accountable.
Let me state it as clearly as possible: If, despite his denials, Matt Gaetz did have sex with a minor, if he did provide girls and young women with drugs and money and gifts in exchange for sex, if he did ask these girls and young women to recruit other women for the same purpose, and if he did show his colleagues images of nude women without their consent, he needs to be held responsible. Some of these actions are criminal and some of them should be. All are morally reprehensible and unacceptable for a lawmaker.

If there is even a fraction of truth to these reports, he should resign immediately.
Sounds like she was literally his only friend. So that's rough.
In summary and in conclusion, Matt Gaetz's week is going well!
[Orlando Sentinel / Washington Post / Vanity Fair]
Follow Evan Hurst on Twitter RIGHT HERE, DO IT RIGHT HERE!
If you happen to have some extra money right now, we would take it.
Evan Hurst
Evan Hurst is the managing editor of Wonkette, which means he is the boss of you, unless you are Rebecca, who is boss of him. His dog Lula is judging you right now.
Follow him on Twitter RIGHT HERE.