The Best Chili You Will Ever Taste.
Culture
December 10, 2016 02:08 PM
Winter ain't coming, Wonkers: it's HERE. And that means it's time to break out recipes that warm us from the inside. We need food that makes us feel full, and warm, and fuels us for hours, even in the bitter cold - regardless of whether we consider "bitter cold" to be 63 degrees in Palm Springs, or -35 in Manitoba.
---
There are lots of arguments about how to make chili. Beans/no beans, beef/pork/beef & pork, ground beef/cubed beef. You can stop argumenting once and for all now, because the discussion is over today. THIS is how you make chili. Now and forever. NO DISCUSSION!
MAKE THIS CHILI FOR THE MOUTH PART OF YOUR FACE RIGHT NOW!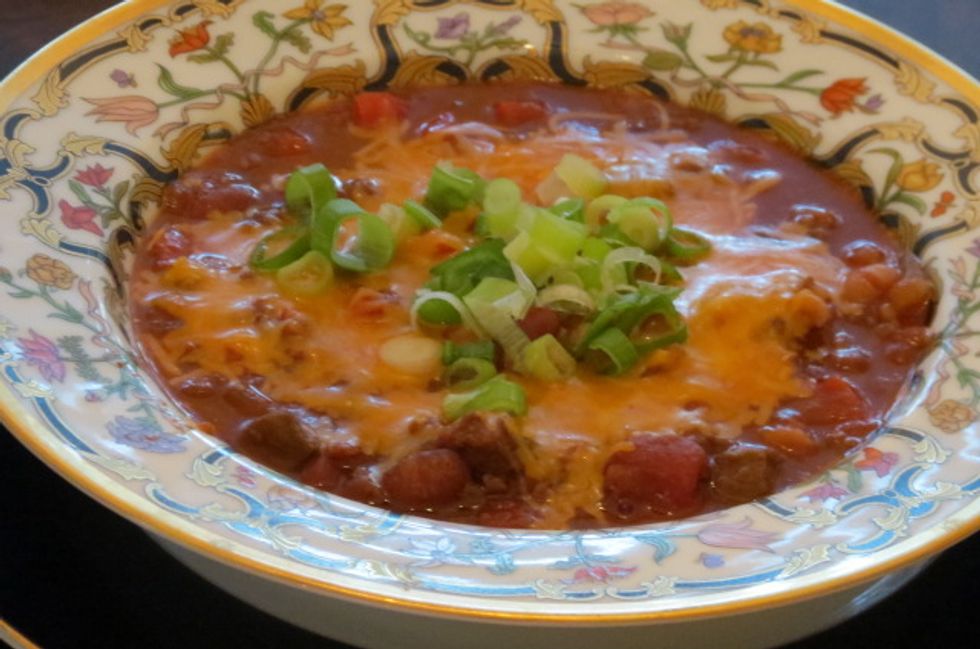 True Fact: it's better than yours.
As evidenced by the fact that I only used 2 poblanos and 2 red bell peppers, this is a very mild chili. You can, of course, spice it up as much as you want, but I urge caution! It has a strong, robust flavor, and it's very well balanced. This has a multitude of subtle flavors that play off each other very well, and you'd have to really be A Idiot to build a deep, complex flavor profile, then overwhelm it with a dozen Ghost Peppers. Step lightly, friend: you're challenging perfection.
Drinkage: C'mon: you bought at least a 6 pack of the dark beer you need for the recipe, so: 1 for the Chili, 5 for the cook!
Time: 15 minutes prep; 2 hours cooking: 2 1/4 hours total
Serves: 8 - 12 depending on bowl size. Or 3, if you have teenagers in your menagerie.
WHAT YOU NEED: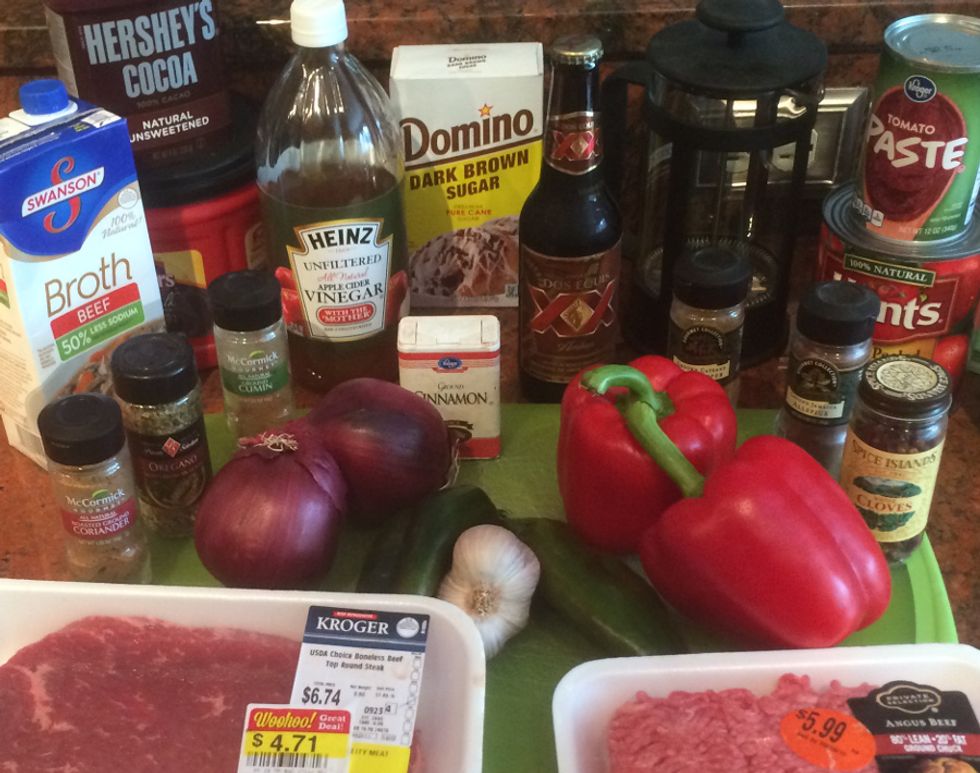 LOTS of stuffses!
2 teaspoons oil

2 onions

3 cloves garlic

1 lb lean ground beef

3⁄4 lb beef sirloin

1 (14 1/2 ounce) can stewed tomatoes

1 can dark beer

1 cup strong coffee

2 (6 ounce) cans tomato paste

16 oz beef broth

1⁄2 cup plus 1 tbls brown sugar

1 tbls cider vinegar

1/8 tsp cinnamon

large pinch ground cloves

large pinch allspice

1/4 cup balsamic vinegar

1 tablespoon cumin

1 tablespoon cocoa

1 teaspoon oregano

1 teaspoon cayenne

1 teaspoon coriander

1 teaspoon salt

Beans. I used Hambeens 15 bean soup, presoaked. If you prefer - WRONG! WEAK! LOW ENERGY! - you can use 4 (15 ounce) cans kidney beans

4 peppers - I used 2 poblano and 2 red bell peppers.

OPTIONAL:

2 each, jalapeno/habanero pepper.
Whatever. Our Prez Elect doesn't need to think about consequences before upending our relationship with GYNA!, why do we need to plan out what utensils we need to cook?
WHAT TO DO WITH WHAT YOU NEED!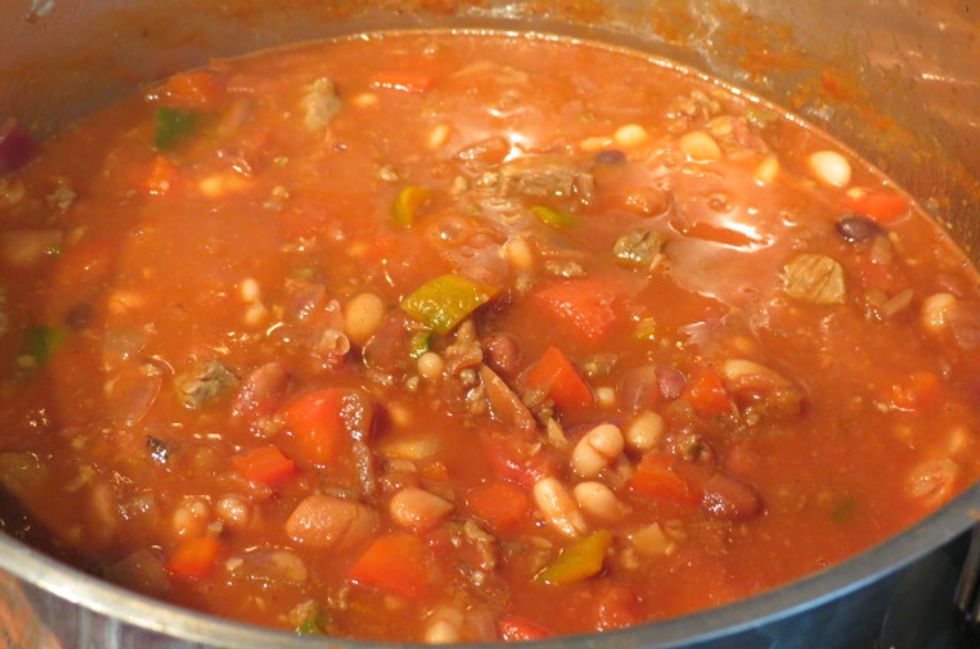 This part is boring. But it smells really good!
Knife skills first!
Chop the onions, mince the garlic, cube the sirloin.

Heat oil.

Saute onions, garlic and meat on medium heat until brown.

Crush the tomatoes, add beer, coffee, tomato paste and beef broth.

Bring to low boil

Add spices and peppers

Add beans. If being lazy, stir in 2 cans of kidney beans

Bring to boil. Reduce heat and simmer for 1 1/2 hours

If being lazy, stir in the other 2 cans of kidney beans. Either way, taste, adjust spices, and simmer another 30 minutes.
And there you are. You've got a wonderfully aromatic, flavor-packed, savory dish with just a bit of a spicy afterbite, perfect for a cool fall afternoon or evening with friends. The perfect pot of chili.
Ladle into bowls, garnish as desired - we used grated cheddar, sour cream, and green onions - and serve. Preferably with cornmeal muffins.
YOU'RE WELCOME.