The Daily Beast's Undercover Cosmetology, Picnics and Racism Beat Chief Has Behind The Scenes SCOOP
News
August 01, 2009 03:56 PM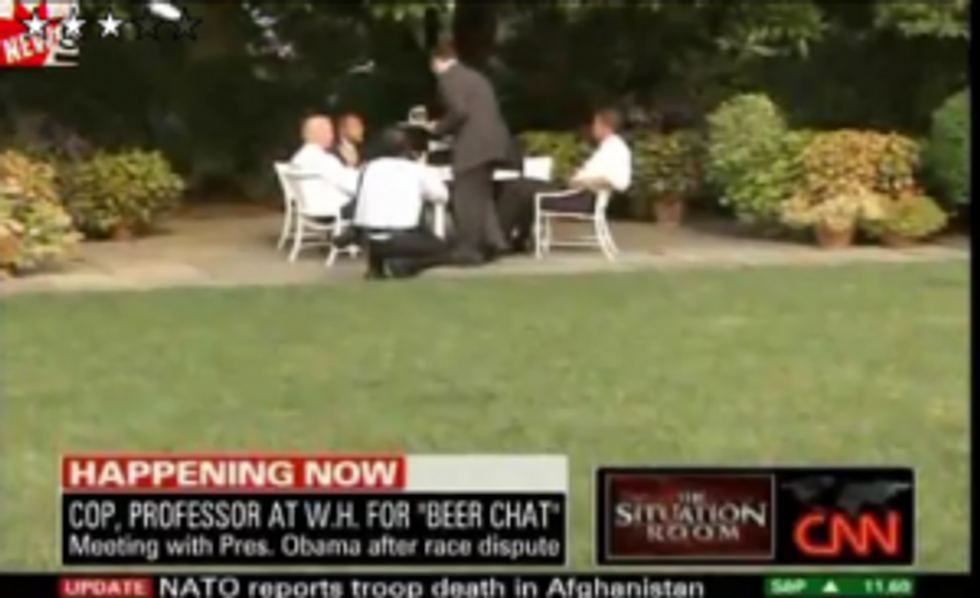 More revelations than usual this week on Tina Brown's pro-bono Electra Complex study, The Daily Beast. Famous "daughter of" Elizabeth Gates, daughter of Skip Gates, has insights about last week's impossibly crucialTreaty of Beersailles between her father, the cop who handcuffed him to the Past, and the President of the United States. Blind item! WHICH major player in this incident wore "an appropriately heavy and charmingly untrained amount of green eyeliner on her lower lashes"—a savvy cosmetological atonement that, in many ways, taught everyone something about America?
---
Why, it is Sgt. Crowley's conspicuously unnamed daughter! You see, Elizabeth Gates herself used to wear green eyeliner, and because of bravery, she admits this on the Internet. Laws of subtext here tell us that green eyeliner is an allegory for America:
"I saw my former self in her. We were instantly transported from the post-racial myth of America in 2008 to the reality of 2009. There they stood, a pleasant family of five, listening patiently to the overzealous tour guide boast about the fully functioning fireplace to the left of the doorframe."
It's like this, basically, the Statue of Liberty is covered in green eyeliner. Not just metaphorically but literally, which makes it an even stronger metaphor, in fact. And when we look at her, even if we're black or white or a cop or forty feet away from the White House Rose Garden and totally bereft of a single actual insight about what was said therein, we presumably all look equally consumptive in a "charmingly untrained amount of green eyeliner." This is exactly what the framers of the Constitution wrote for the Daily Beast.