The GOP Civil War Is ON! Wonkagenda for Thursday, Oct. 26, 2017
Elections
October 26, 2017 09:33 AM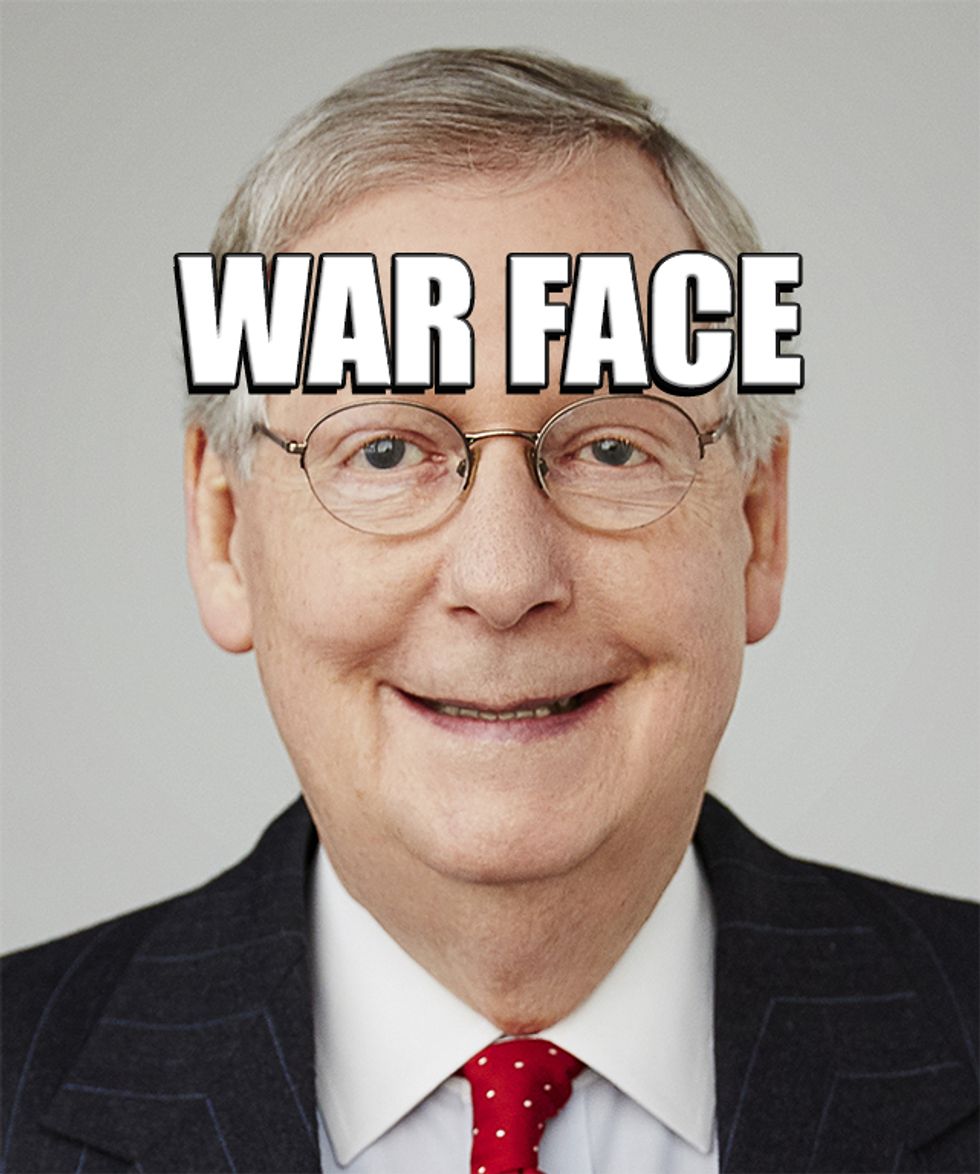 Hey, Wonketariat! Here's some of the things we may be talking about today.
---
Sen. Dianne Feinstein is working on a bill with Sen. Richard Blumenthal that would ban Not American funny money in US elections, since Chuck Grassley is more interested in digging in the dirt for for uranium.
REXXON is scaring the hell out of veteran diplomats with his new "P3" strategy that favors his inner-circle rather than the opinions of Foreign Service officers who actually know things about Not American places.
As Steve Mnuchin kisses Trump's ass, he's alienated himself from a number of Republicans who normally would love some poor-fucking tax cuts.
Mitch McConnell's deep-pocketed friends at the Senate Leadership Fund have declared WAR against Steve Bannon and his minions, sending out multiple tweets criticizing Bannonites like Chemtrail Kelli Ward and Danny Tarkanian. FIIGGHHTT!
Steve Bannon is pissing off traditional Republicans as his minions continue trying to troll them in conference calls and pressers.
As Trump gets ready to go to Asia for two weeks, John Kelly has made sure that Jared Kushner is being being treated like every other another asshole at the table, and is trying to minimize the chances of Trump triggering a nuclear war.
A new Fox News poll has Trump reaching record LOW RATINGS in approval, honesty, and favorability, with 60 percent of respondents saying Trump "doesn't care" about them.
Jeff Sessions has ANOTHER conflict of interest after it was revealed that Sessions took donations from a coal company and a shady law firm which tried to kill off an EPA effort to clean up horrifyingly toxic conditions in North Birmingham, Alabama.
Kris Kobach bullshitted his most recent column for Breitbart by lifting ancient and debunked right-wing conspiracy talk about immigrants directly from message boards, Yahoo! Answers, and even a white supremacist/holocaust denier.
Whitefish Energy, the sketchy Montana energy company given a cushy no-bid contract to turn all the lights on in Puerto Rico, apologized last night for tweeting threats to pull their workers out after San Juan mayor Carmen Yulin Cruz criticized the contract during an interview. An emergency manager is likely to take over Puerto Rico's electric utility to ensure there are no more hinky contracts.
Looking to make their own version of EMILY's List, Republicans have launched "Winning for Women," a network of conservative women financed by super donors like Betsy DeVos, Linda McMahon, Rebekah Mercer, and the Ricketts family in the hope of shoving a bunch of rightwing women onto ballots for the 2018 elections.
Congresswoman Frederica Wilson is missing votes in the House thanks to cowardly dickholes who think it's cute to post threats of lynching on Facebook.
The Congressional Hispanic Caucus is about to open its arms for Florida Rep. Carlos Curbelo, making him the first Republican to join the caucus. Bienvenidos!
A private prison company coincidentally held its leadership conference in Mar-a-Lago this year, then also (coincidentally) was given the first contract to build a Messican holding center, and (coincidentally) has been raking in cash under Trump.
Before we go any further, stop, do a dance, and have some emergency Nice Time!
An outbreak of Hepatitis A among California's homeless population has health experts raising all sorts of alarms.
Illinois Democrats took a giant dump on Republican Gov. Bruce Rauner, overriding almost a dozen vetoes. It's a good day for transparency -- some of those vetoes hid how deeply the state is in debt.
Following deaths of four Green Berets last month, US officials are looking to send armed drones to prowl the skies over Niger to combat ISIS aligned militants.
When some Italian futballers (AKA soccerballers) read Anne Frank's diary aloud in protest of anti-Semitism, a bunch of people in the stands decided to turn their backs and sing the Italian national anthem.
Back during the election, Alexander Nix, the head of Cambridge Analytica, asked Julian Assange if he could help find Killary's mysteriously missing murder mail, but Assange told everyone to leave him alone, and knock before entering his room. Oddly enough, the Mercer family took a pass on funding the project believing it to be a "terrible idea" with "major legal liabilities." [Archive]
Wall Street is full of butthurt that wireless telecom companies caved to consumer pressures and re-introduced "unlimited" data plans, griping that a lack of overage fees has ruined their profits. Poor babies.
Reddit finally got off its lazy ass and brought down the banhammer on at least a dozen known hate-filled subreddits ranging from neo-Nazis to animal abuse fans. It took long enough.
A new peer-reviewed study shows geeks from Google, Facebook and Twitter who were attached to the Trump campaign were accessories to much fuckery, helping the campaign reach out and grab voters by the pussy.
You may be wondering how did the Russians strong-arm Trump and his clown car of fools during the 2016 election? Simple social engineering.
Hannity is SO MAD Rachel Maddow interviewed Eric Holder and didn't ask him a single question about the right-wing uranium distraction thing. CONSPIRACY CAHOOTS!
Lou Dobbs had a softball interview with Trump where he proceeded to give the very best blowjob.
Former President George HW Bush (41) has apologized for being a dirty old man after multiple actresses accused him of groping them and telling dirty old man jokes during photo ops.
Multiple women are accusing Washington brown nose Mark Halperin of being a pervert who likes to rub his dick up against women. Earlier this morning, MSNBC suspended Halperin. "GAME CHANGE!"
Despite the pushback, Corey Feldman is leading the charge to drag Hollywood's pedophiles out into the open because GOONIES NEVER SAY "DIE!"
And here's your morning Nice Time! Silly trick or treating kitties!
We're supported by readers like you, give us some money and we'll keep the spooky ads away! 
Dominic Gwinn
Dominic is a broke journalist in Chicago. You can find him in a dirty bar talking to weirdos, or in a gutter taking photos.