THE GORDON PROBLEM. Impeachment Liveblog, Day Four!
Impeachment
November 19, 2019 07:52 PM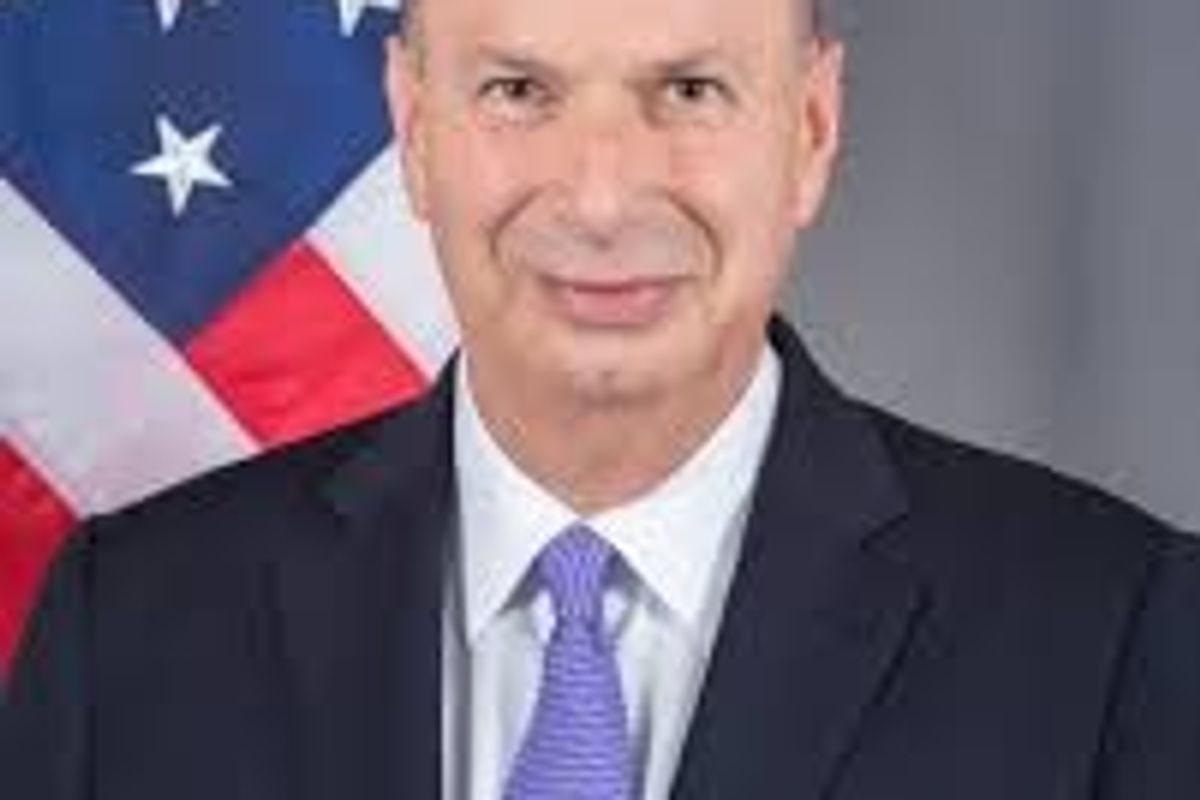 HOLY SHIT THE WEBSITE WAS DOWN BUT THEN IT ROSE AGAIN ON THE THIRD DAY. LET'S GOOOOOOOOOOO.
OK, it is time for testimony from Gordon Sondland, AKA the Gordon Problem, and guys? He's admitting everything. Guess he saw Roger Stone going to prison partially for lying to Congress and decided maybe he doesn't want to do that.
Sondland's opening statement is here. As the website is not ALL fixed yet, we can't put the YouTube in here, so open another tab in your browser if you need to quote unquote "watch the hearing."
Let's liveblog it!
9:11: Schiff is giving his opening statement, telling the story as we know it. STFU ADAM, GORDON NEEDS TO THROW SOME PRESIDENTS UNDER BUSES!

9:14: Another thing we are seeing in the opening statement is that a lot of today is going to be about how Rudy Giuliani needs to go suck a fuck. Oh, what a day of joy this shall be! You know, unless it takes some kind of turn.

9:21: Sorry we are not liveblogging every word in Schiff's opening statement, because it's a story we've told 10,000 times already, but we will note that it looks like Sondland is ALSO going to throw Mike Pompeo under the bus some! "The knowledge of this scheme was far and wide," said Schiff just now, and Pompeo AND MIKE PENCE KNEW ABOUT IT. Sondland says in his opening statement that it woulda been a lot easier to be honest with Congress if Pompeo's State Department had allowed him to look at his own documents.

9:23: Devin Nunes opening statement!

NUNES: Gordon Sondland, I AM NOT GLAD YOU ARE HERE.
But anyway, Russian hoax! Implosion of Russia hoax! DEMOCRATS have done "politics" to the intel committee, unlike Devin, who did not do "politics" to intel committee when he was chairman.
DEVIN NUNES also says "there is no conspiracy theory too outlandish" for Democrats to believe, yes DEVIN NUNES said that.
Now he's just listing some of Trump's actual record on Russia, but calling it all "Democrat conspiracy theories."
For instance:
Trump is a Russian agent.
Russians like to park dirty money in Trump's properties.
Trump lied to the American people about his dealings with Russia during the campaign, because he was in the process of planning a Trump Tower in Moscow.
Etc.
Go fondle a cow, Devin.
9:38: Sondland says it woulda been a lot easier to not lie if Mike Pompeo hadn't forced him to obstruct justice, basically.

9:40: Trump made us do it! Also we hate Rudy Giuliani!

9:41: If they had known Giuliani was probably some kind of criminal, they wouldn't have crimed together.

9:42: "Irregular channel"? LOL please. Y'ALL WERE ALL IN ON THIS CRIME.

9:42: Yes, it was a quid pro quo, and yes, Trump ordered it.

9:44: "I only did the crime because Trump told me to do the crime."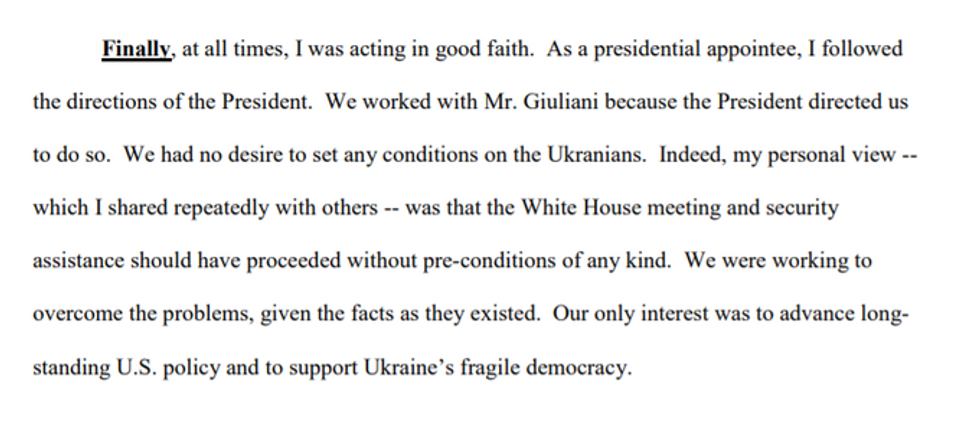 9:51: We did not want to talk to Rudy. We HATE Rudy. Rudy is VERY STINKY.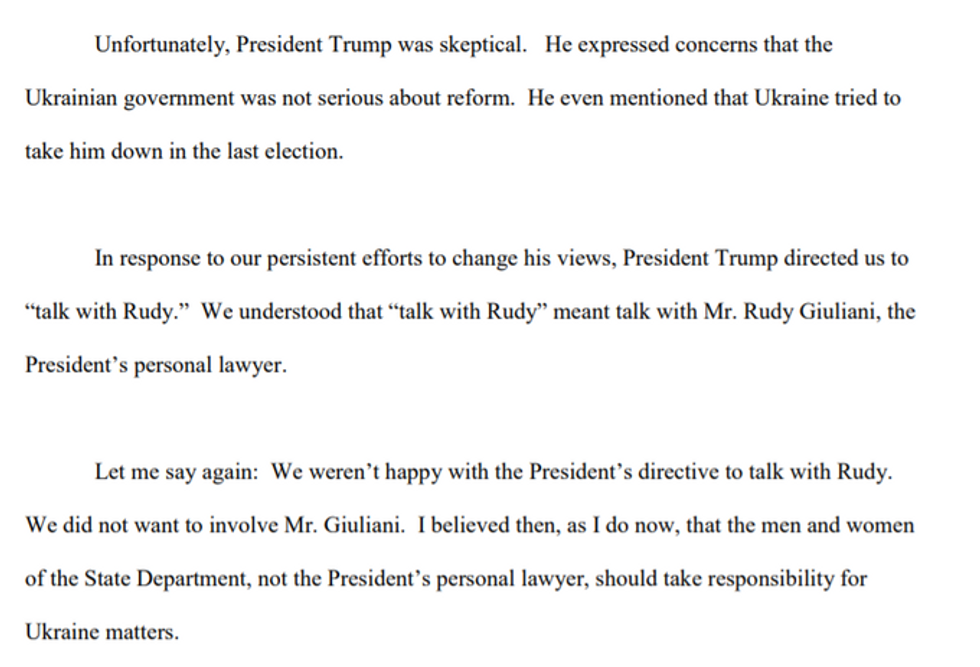 9:54: "Everybody else said I got in big trouble at White House that day, but I don't remember getting in big trouble"

9:57: Sondland just deviated from the text to say, "Again, EVERYONE. IS. IN. THE LOOP." You know, in case we didn't understand he's throwing literally everyone under the bus this morning.
10:02: Gordon Sondland doesn't remember saying Zelenskyy LOVES TRUMP'S ASS, but you know, probably.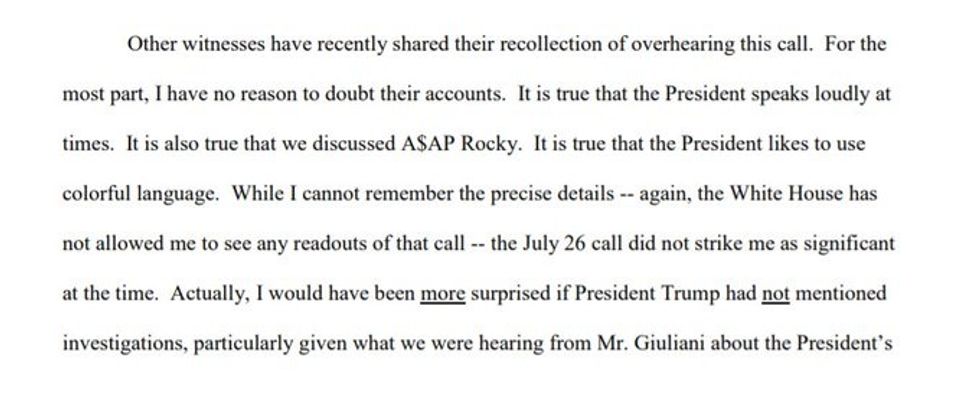 10:03: In case you didn't hear before, yes, quid pro quo, so much quid pro quo, you're gonna get sick of quid pro quo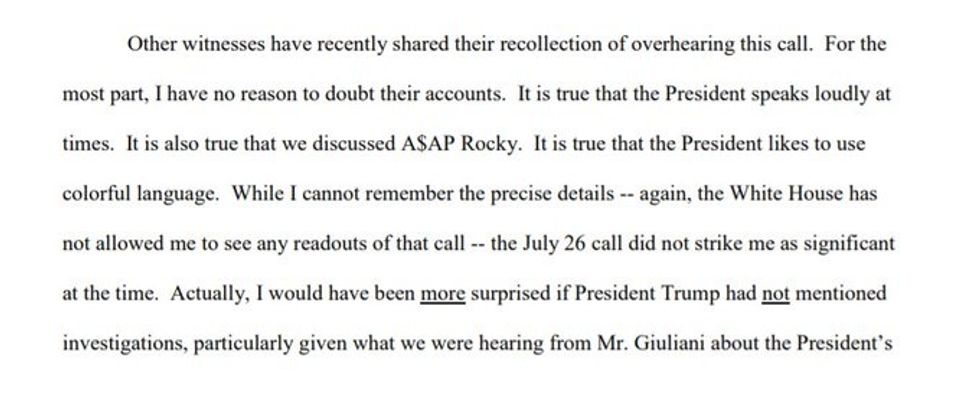 10:06: The wheels on the bus ...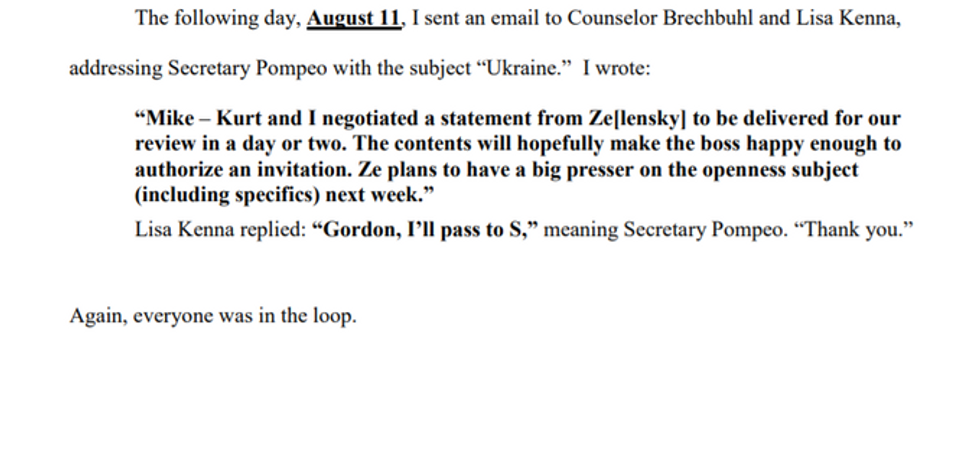 10:12: "Oh BTW I told Mike Pence everything."

10:15: Well this has been stunning!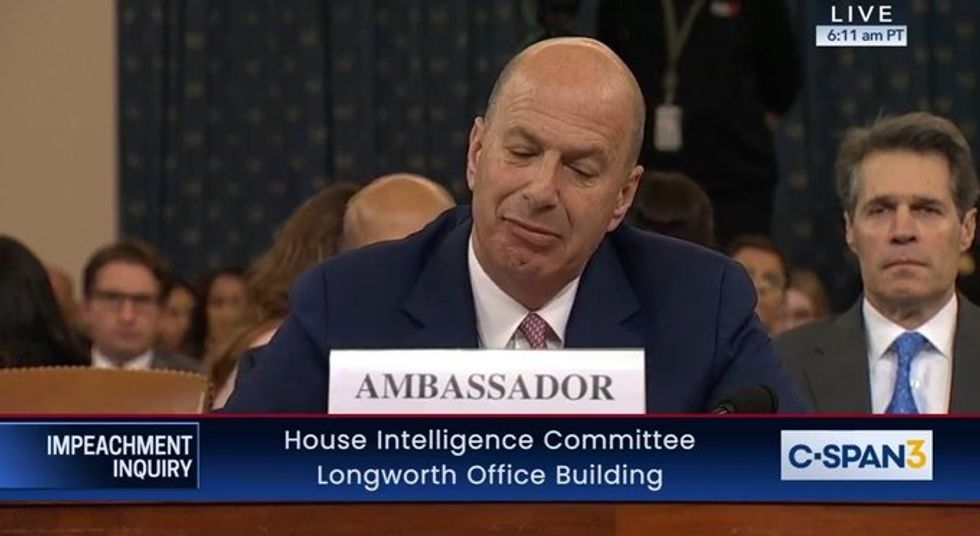 10:21: Oh so he's still going to to cling to the idea that he didn't know "Burisma" is Trump-speak for "Biden"
10:22: Not gonna be surprised if we suddenly hear about more "routine blood work" at Walter Reed today
10:23: SCHIFF: Pompeo knew about connections between investigations and security assistance/WH meeting? SONDLAND: Yes, and he liked it.
10:24: NARRATOR: They have not fallen short.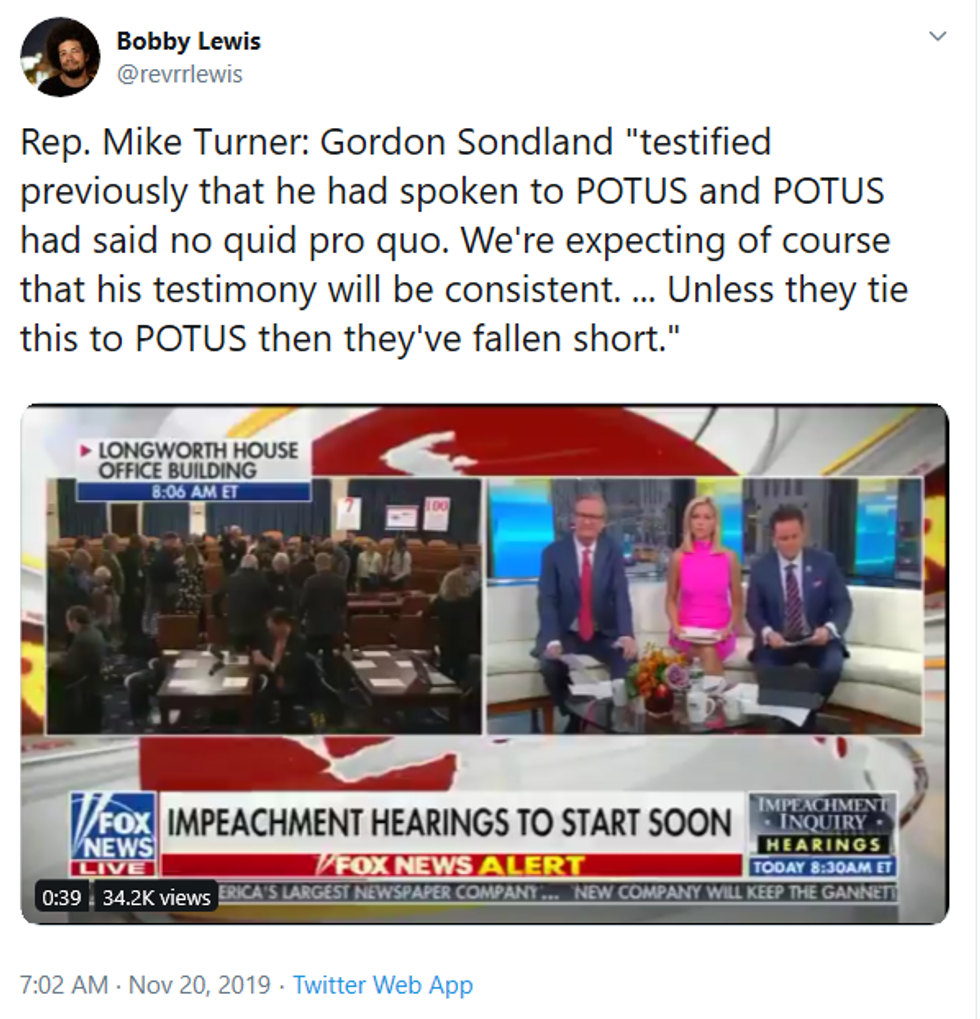 10:25:OFF THE RAILS WRONG.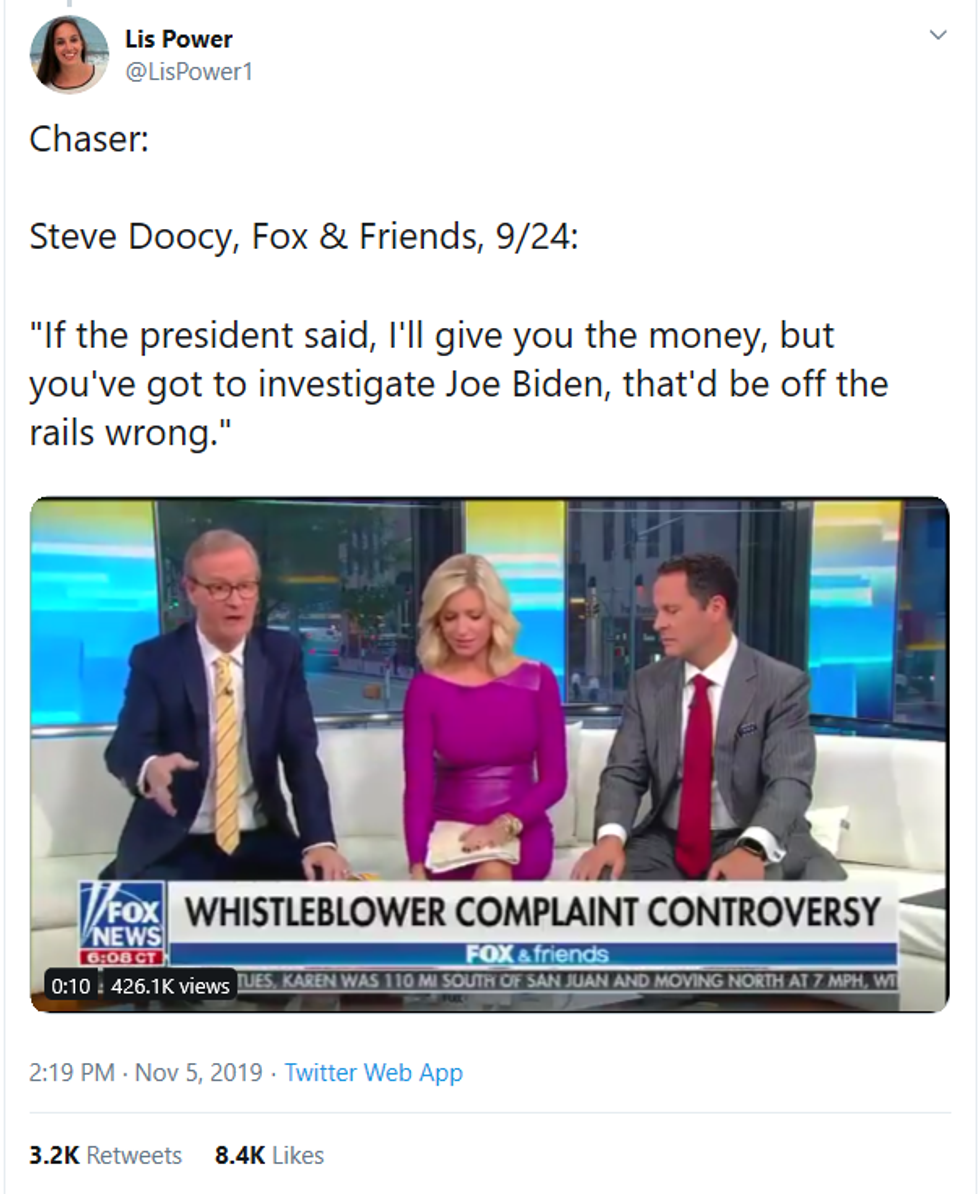 10:26: SCHIFF: And again, you told Pence?
SONDLAND: He nodded his head as if to say "Yes Mother"
10:27: Trump told Sondland "NO QUID PRO QUO! I just want Zelenskyy to do the right thing!" Translation: the "right thing" meant "do fake investigations to benefit me personally."
10:35: GOLDMAN: You don't take notes, right?
SONDLAND: Not on paper, and not in my brain neither!
10:37: KEY POINT WE HAVE BEEN MAKING: Sondland just said Zelenskyy had to ANNOUNCE investigations. Trump didn't give a shit if Zelenskyy DID them. This is why Trump wanted it announced *on CNN*. It was 100% about helping him steal the 2020 election.
10:38: GOLDMAN: Did you say Zelenskyy "loves Trump's ASS?"
SONDLAND: That sounds like me! I talk a lot of ass!
10:45: Sondland emphasizes again that nobody gave a shit if Ukraine DID these investigations. It was to try to steal the 2020 election. They needed to announce them, on CNN
10:50: Pompeo knew. Mulvaney knew. It was a quid pro quo.
And again, Trump wanted an ANNOUNCEMENT IN PUBLIC, to help him steal the 2020 election.
That's it.
10:51: GOLDMAN: Was this a 2+2=4 conclusion that you reached? SONDLAND: Pretty much! (That the military aid was tied to the investigations.)
11:22: OK we are here! At the website! Like a real website!

Devin Nunes says nobody pooped during the break, it was just so Adam Schiff could do a press conference. Uh huh.
Then Devin says I KNOW YOU ARE BUT WHAT ARE DEMOCRAT UKRAINE COLLUSION?
Now wants to question Sondland on whether he knows about the conspiracy theories inside Devin's B-hole about Democrat Ukraine collusion.
DID YOU KNOW THE CHALUPA? DID YOU KNOW THE UKRAINE PERSON SAID A MEAN ABOUT TRUMP ON FACEBOOK?
Gordon Sondland did not check the chalupa or the Facebook that day.
11:24: DEVIN: So you can see why Trump hates Ukraine so much, obviously.

SONDLAND: I can see why the feral cows who live in your brain feel this way.
11:27: You guys, Devin is a REAL CONGRESSGUY.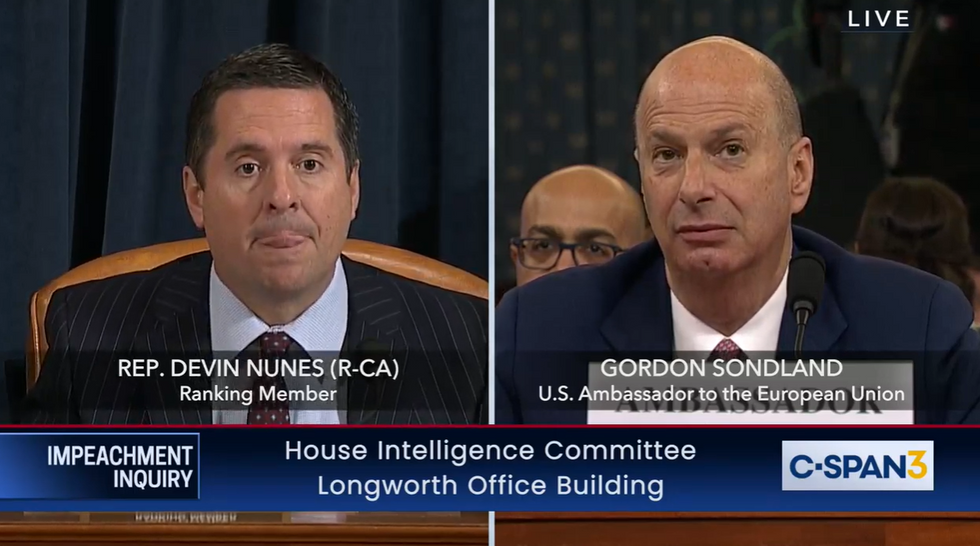 DEVIN: Did you do a drug deal?
SONDLAND: Hugs not drugs!
DEVIN: Did you do a Three Amigos?
SONDLAND: I am the Three Amigos!
11:29: DEVIN: Ooh yeah, we should talk about "Burisma" more! And Hunter Biden! We should talk a lot about the exact crimes Trump committed!

ALSO DEVIN: I read my conspiracy theory words off my paper in front of me but I can't pronounce Ukrainians.
11:31: DEVIN: The Democrats don't want YOU GORDON SONDLAND to get to the bottom of my weird cow conspiracy theories!

SONDLAND: I wasn't ... I wasn't asking?
Anyway, it is time for Steve Castor to fuck it up.
CASTOR: Did Trump PERSONALLY tell you he was doing extortion bribes?
SONDLAND: No, I just said literally everybody knew what was going on. He didn't have to say it, idiot.
11:33: CASTOR: How did you KNOW Rudy Giuliani was doing things at Trump's direction, just because he said you should talk to Rudy and then Rudy said the things and ordered the things and did the things and he is Trump's personal lawyer?

SONDLAND: It seems you can step on your dick by yourself, you ain't need my loafers!
11:37: CASTOR: Do you remember THING? If you cannot remember THING, that means you probably are not reliable!
SONDLAND: I would remember THING better if MIKE POMPEO would give me my records!
CASTOR: Oh that was not the thing I was going for.
11:38: CASTOR: But you believed Trump when he said "NO QUID PRO QUO," right?

SONDLAND: Does one ever really "believe" Donald Trump?
11:40: Castor all "BUT HOW CAN YOU SAY 2+2+4 IF TRUMP DOESN'T LITERALLY MAKE YOU WATCH HIM SHOOT SOMEBODY IN THE MIDDLE OF FIFTH AVENUE?"

11:43: Steve Castor is back to pretending DONALD TRUMP really cares about CORRUPTION so much that he was just obsessed with the CORRUPTION in BURISMA, and that had nothing to do with BIDEN.

Oh good, we are now going to talk about Senator Ron Johnson's batshit chemtrails letter to Jim Jordan and the Congressman from Moo Cow.
11:53: And right about here, the site crashed a-fucking-GAIN

11:55: CASTOR: Durrrrr but how can quid pro quo be thing if crime not finished???
11:56: CASTOR: Trump REALLY CARES about corruption in Ukraine, right? SONDLAND: Um, well, he said that. CASTOR: And you believed him, right? SONDLAND: I mean ... "believe" Trump? That is a strong word, sir.
11:58: CASTOR: OK so really this was everybody else's fault and everybody went rogue and Donald Trump jizzes angel dust, RIGHT? RIIIIIIIGHT?
12:01:Sondland all "pretty sure my channel was the REGULAR one when the Secretary of State and the Secretary of Energy and the fuckin' president is giving the orders."
12:05: CASTOR: You have no proof! SONDLAND: Except for how literally everybody knew what was going on and literally everybody was participating in the crime Donald Trump directed.
CASTOR: But other than that! Castor is a fuckin' bad lawyer, y'all.
12:07: Hahaha, Devin gonna be SO MAD, because Schiff just called for 30 more minutes of LAWYERIN'.
12:08: Schiff really not buying that Gordon Sondland didn't get that "Burisma" meant "Biden." Sondland says no, he really was that dumb, and also he didn't watch that dipshit on Rudy on TV every night.
12:10: SCHIFF: You see Mick Mulvaney confess his crimes on TV that one time?
SONDLAND: Hahaha, yeah.
SCHIFF: Mick Mulvaney said 2+2 equals 4.
SONDLAND: HE DID.
12:14: GOLDMAN: In your email, when you say Zelenskyy will "turn over every stone" to do the fake investigations for Trump, what did you mean?
SONDLAND: Oh, I meant the crimes we were doing!
12:16: GOLDMAN: Wouldn't you agree that literally everybody you mentioned should come testify, including the ones who have illegally told our subpoenas to fuck off?
SONDLAND: Sounds like probably definitely yeah, as they are all VERY GUILTY.
12:23: SONDLAND: Again, I'd remember way more about stuff if MIKE POMPEO would stop obstructing Congress.
12:29: GOLDMAN: So if MIKE POMPEO listened to the PHONE CALL and he was negotiating over breaking the LOGJAM, then he is ...
SONDLAND: Up to his ass in this shit.
12:31: SONDLAND: Mike Pence knows what he did, I mean what I said.
12:36: Sondland just cannot always remember SPECIFICALLY whether Donald Trump or Rudy Giuliani told him to commit this crime or that crime. It was one of them, though!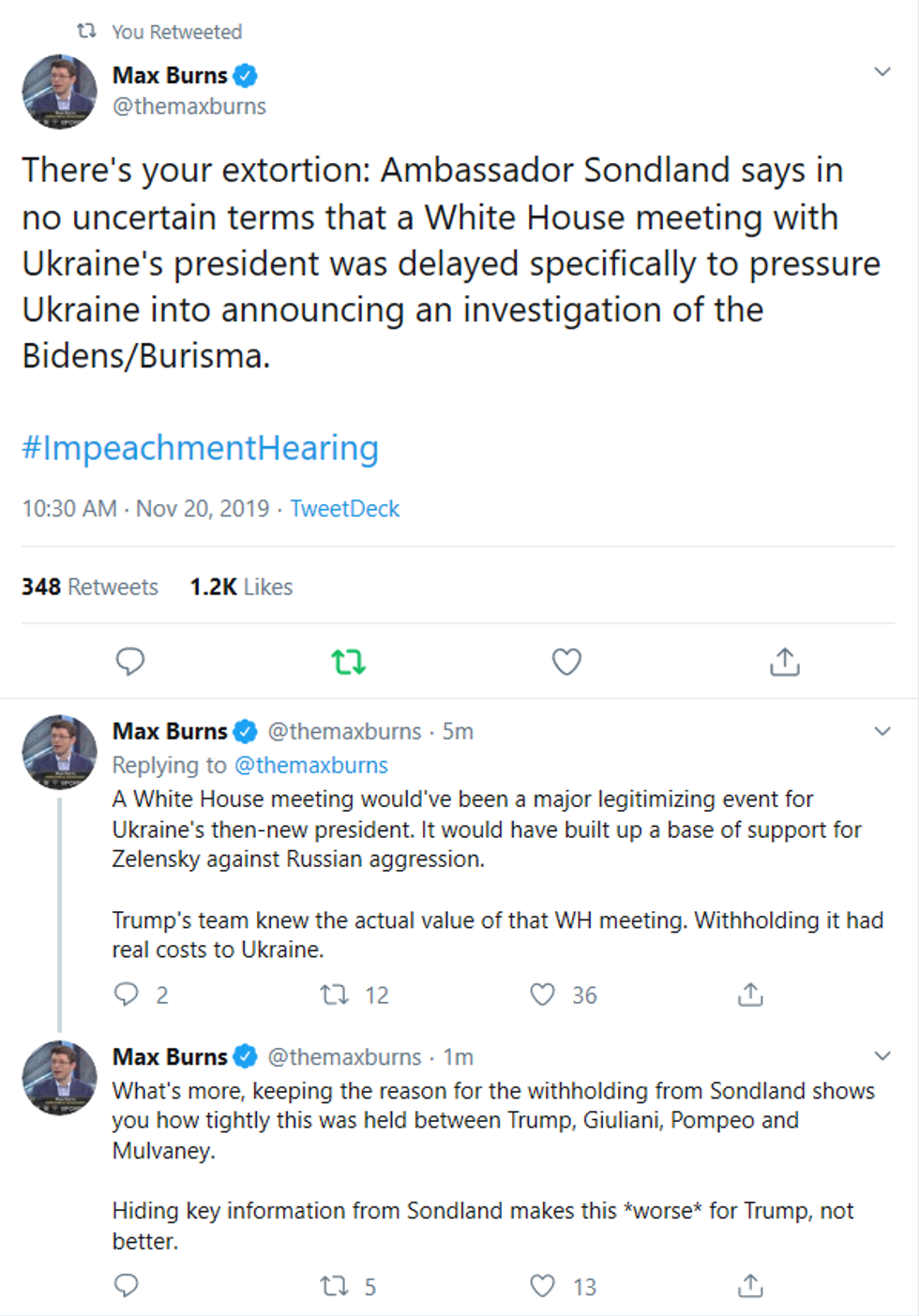 12:40: SCHIFF: So let's be clear. They did all the crimes, and everybody was in on it, and Trump ordered it. SONDLAND: Yeah.
12:42: Devin Nunes bounds in on an Uber Cow to save Donald Trump, SPOILER he does not save Donald Trump.
12:45: Devinnnnnnn is bitching about something about STEELE DOSSIER and Trump doesn't like foreign aid, therefore BY DEFINITION Trump can't extort countries with foreign aid, because Trump is an idiot who doesn't understand how foreign aid works, fuuuuuuuuuck we don't know, what a useless cow.
Castor takes over to fuck it up some more.
12:49: CASTOR: Rudy Giuliani was doing a lot of his own crimes in Ukraine, aside from being Donald Trump's lawyer, right?

ALSO CASTOR: Oh NUTFUCK! I have made part of the Democrats' argument for them again!
12:51: Steve Castor says he has an "exculpatory fact," we are not clear on what it is. (Because there is nothing to exculpate Trump, which if Trump is reading, "exculpate" means "make look less guilty.")

When this is your best hope ...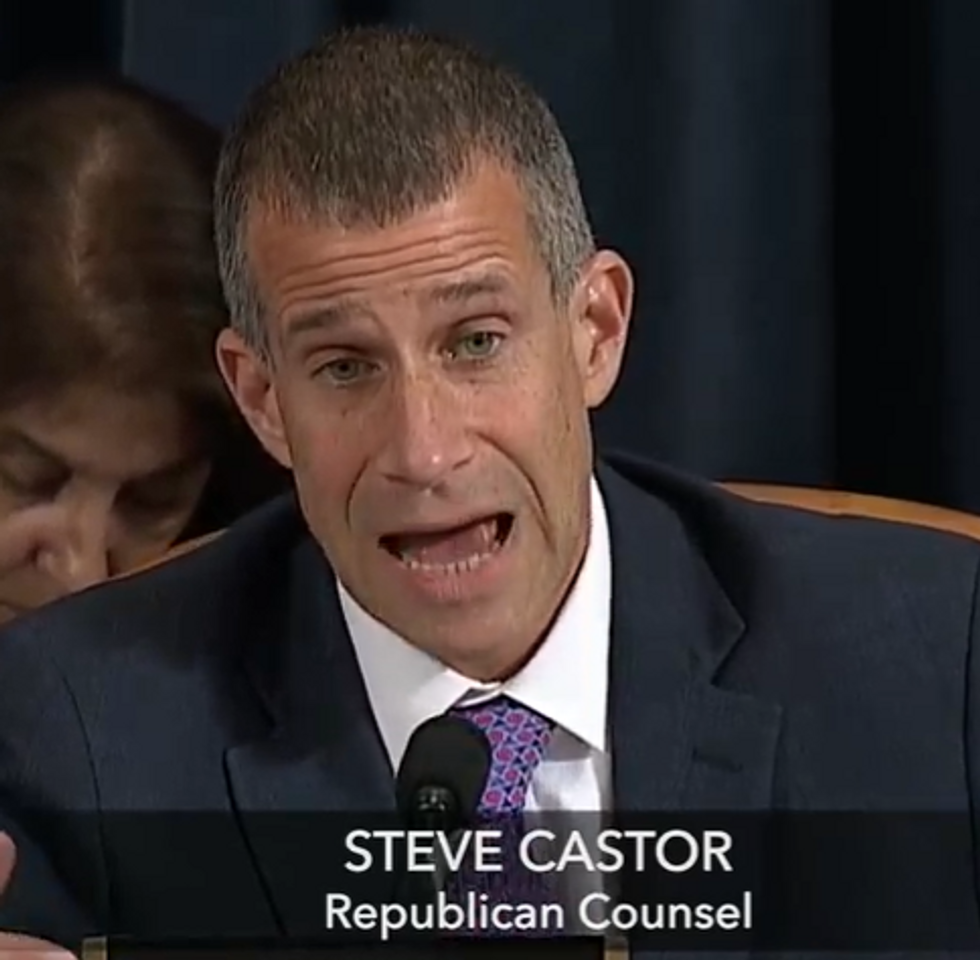 12:54: CASTOR: Nothing happened on the treason call!

SONDLAND: READ THE ERTARJSD;KJAIK;JJSDFJJCVTIPRt!
12:57: Devin Nunes cuts in to say wHAr wHiStLeBlOwerRR??????/

And nothing of value was accomplished.
12:58: Republicans are so FUCKING obsessed with the hilariously stupid notion that Democrats have "changed" from "quid pro quo" to "bribery" to "extortion" and now back to "quid pro quo."

We know Republicans are dumbshits who don't words good, but can somebody airdrop a dictionary to them, or maybe a word cloud that shows how all these things are related?
1:01: CASTOR: What was everybody "in the loop" about?

SONDLAND: The crimes we were all doing.
CASTOR: HOWWWWWWW CAN YOU SAAAAY THAT!
1:04: Love how Steve Castor talks about how Trump "was going to go" to Warsaw, but then there was a hurricane, like this was totally normal and Trump didn't literally stay at home to draw dicks on hurricane maps and do nothing else of value otherwise.

1:07: CASTOR: Admit it, Gordon! You don't know FOR SURE if Trump was withholding the aid for crime reasons, or if he was just doing it because he is the stupidest person who was ever born!

1:40: And we are back! Adam Schiff starts by noting that whatever witness Devin Nunes was bitching about how Schiff is "hiding" that guy's testimony, actually that guy is not who Devin says he is, and actually that guy is reviewing his transcript today, and actually go eat a cow's privates, DEVIN.

1:43: SCHIFF: Let's review. Ukraine knew what Trump was bribing them to do.

SONDLAND: Yep.
SCHIFF: And everybody knew what crime they were participating in.
SONDLAND: Everybody.
1:44: Devin Nunes yields to a guy who we don't actually think is smarter than Devin Nunes, John Ratcliffe.

1:47: Ratcliffe says everything that is GOOD for Trump is admissible evidence, and everything that is BAD is HEARSAAAAAAAAY!

OK.
Ratcliffe also says the fake news is saying QUID PRO QUO as if Sondland said there was a quid pro quo, which is unfair, because just because Sondland said quid pro quo that doesn't mean quid pro quo, JOHN RATCLIFFE REST JOHN RATCLIFFE CASE YORE HONOR!
1:50: There is not a single dude on the Republican side of the House Intelligence Committee who could make it past the first round of a new reality TV show called "America's Next Normal Human Face."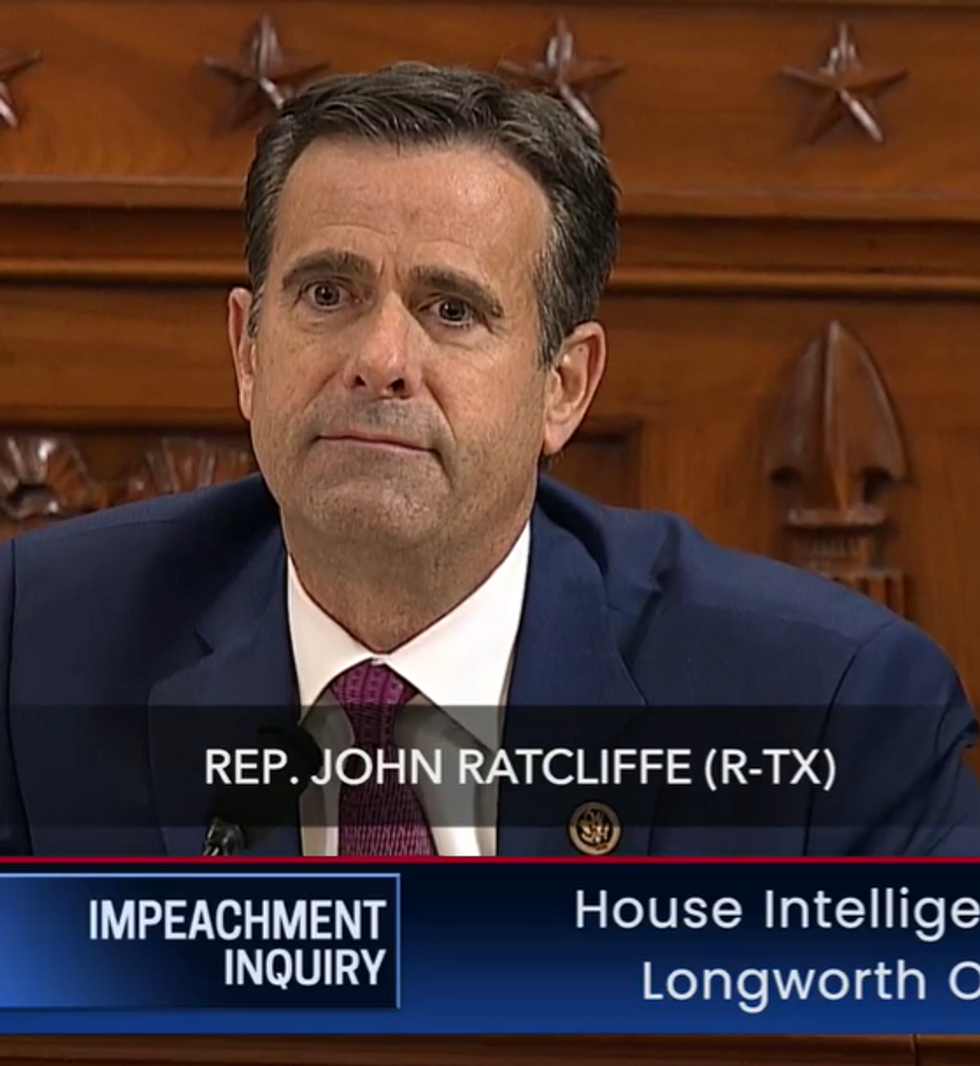 1:51: JIM HIMES: Mike Pompeo said you were "good job" and "rock out with your cock out," which leads us to believe he is ...

SONDLAND: Up to his ass in this.
1:53: HIMES: Does Trump give a fuck about Ukraine?

SONDLAND: Maaaaaybe that is too strong, but he definitely doesn't care unless they give him fake crime investigation announcements to help him steal the election.
Himes helpfully reminds Sondland we will probably get a transcript of this call eventually.
1:56: Uh oh, Jim Jordan is wearing his lucky Big Lots panties and he's ready to go!

JORDAN: WHEN UKRAINE ANNOUNCE INVESTIGATIONS WHEN UKRAINE GET MONEY NO QUID PRO QUO NO CRIME THE END!
SONDLAND: Chuckle chuckle why are you screaming, guy who reminds everybody of a 1990s abusive stepdad!
1:58: Devin Nunes told Sondland he was going to get abused today. Guess he was talking about Jim Jordan!

2:00: You guys, Jim Jordan just rendered himself speechless, proving that sometimes big ugly babies like him just have to cry it out.

2:02: TERRI SEWELL: You testified that you hate Rudy Giuliani's ass. Please draw a picture of all the ways you hate Rudy Giuliani.

2:07: MIKE TURNER: Kurt Volker testified Ukraine didn't have to investigate Burisma or Biden! I am kind of lying about Volker's testimony, actually!

SONDLAND: Volker is full of shit and trying to protect his ass, I'M BURNING ALL THESE FUCKERS DOWN.
2:09: TURNER: DO YOU LOVE DONALD TRUMP WHY ARE YOU BEING MEAN TO DONALD TRUMP?

SONDLAND: I am just here to tell the truth finally.
TURNER: I am trying to make a clip for Hannity tonight! You are makin' it all up! CNN says you just did a Impeach!
2:12: Well, that was quite a conniption from Mike Turner! Does he yell at his wife's lover like that, ALLEGEDLY?

Adam Schiff is reminding the moron GOP reps that it doesn't matter if Trump literally said "I AM ABOUT TO DO THE FOLLOWING CRIME!" considering how Sondland brought shitloads of evidence of the crime.
2:15: Schiff also reminds everybody that Ukraine got the money because THEY GOT CAUGHT. Also they still haven't gotten that White House meeting.

Of course, if there was a White House meeting between Trump and Zelenskyy at this point, we'd worry for Zelenskyy's safety.
2:16: Podiatrist dipshit Brad Wenstrup is very mad that nobody will acknowledge that we ESTABLISHED VERY CLEARLY yesterday that "other countries" besides Russia meddled in the election to help Hillary steal the election from itself.

Wenstrup also says that while 2+2 may equal four, PRESUMPTION PLUS PRESUMPTION doesn't equal any kind of math, and he knows this because of his life specialty, which is removing corns from toes.
2:20: We are pretty sure Mike Conaway is trying to say Gordon Sondland is only SAYING LIES today because Oregon is boycotting Gordon Sondland like a common DEMOCRAT WITNESS INTIMIDATOR like Congressman Earl Blumenauer and anyway it is Jackie Speier's time to talk, Wonkette ends this update by bullying Mike Conaway into shutting the fuck up.

2:23: Jackie Speier just kicked Mike Conaway's ASSHOLE, when he said the article she was reading got "three Pinocchios," responding, "well the president gets five Pinocchios a day so let's not go there" and EVERYBODY IN THE ROOM CLAPPED.

2:25: SPEIER: Does Trump's crime scheme against Ukraine redound to the benefit of Russia?

SONDLAND: Even I am not so stupid that I cannot see that.
Moron Rep. Chris Stewart, whom we hate more every single day because he is so MINDFUCKINGLY stupid -- he is the one who went after Lt. Col. Vindman yesterday for insisting that Devvinnnnnn McCowPanties use his title -- enters unanimous consent request because the Department of Energy says Sondland is saying LIES!
Schiff allows it, while noting that Rick Perry and the rest of the fuckers haven't been willing to come in and goddamned testify.
2:29: Stewart's points:

RUSSIA HOAX WAS A DARN TOOTIN' LIE!
I HAD TO LOOK UP "EXTORTION" IN THE DICTIONARY!
PRESIDENT OF UKRAINE SAID "NO PRESSURE" AND I AIN'T SEE NO GUN TO HIS HEAD!
This guy is like if Louie Gohmert had a baby with something Louie Gohmert hocked on the floor and decided to let Devin Nunes adopt it and raise it as his very own calf: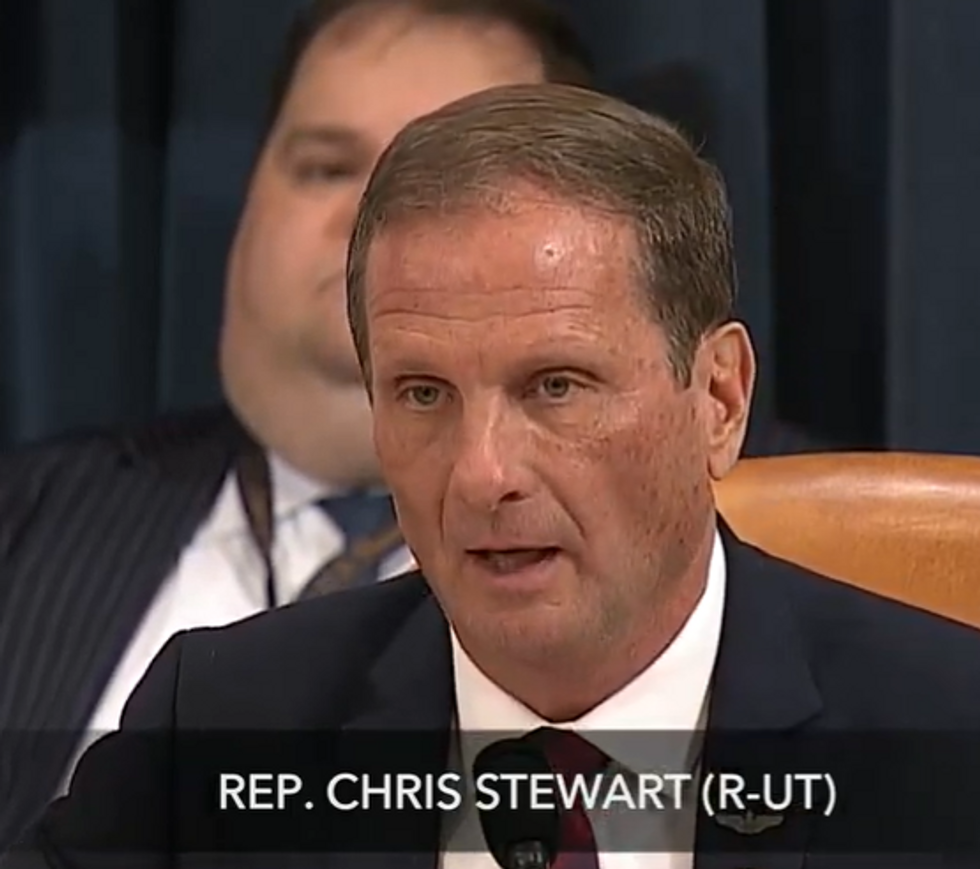 2:36: YAYYYYYYYYYYY IT IS TIME FOR ELISE STEFANIK!

She is asking the same questions as Jim Jordan because we are pretty sure she is trying to be Jim Jordan. (Gonna have to work harder if you really want to BE Jim Jordan, Ms. Stefanik! First you'll have to burn all your clothes that cost more than five dollars.)
In summary and in conclusion, Gordon Sondland has nothing to say about Hunter Biden, Congresswoman from Dumbass.
2:43: ERIC SWALWELL: Do you think asking a foreign leader to help you steal an election is wrong?

SONDLAND: Yes.
SWALWELL: Hypothetically, are all of Trump's crimes bad?
SONDLAND: Hypothetically.
2:46: Will Hurd has been asking this super dumbfuck question the past few hearings about whether witnesses ever heard what Trump planned to do with his dirt on Joe Biden, as if somehow the lack of conversations about that proves something.

Let's help Will out, Will, who used to be in the CIA and should know better: Trump wanted to be able to use the announcement of an investigation in Ukraine into Joe Biden's corruption as the "but her emails" of the 2020 campaign. That's it. He wanted to constantly "I know you are but what am I" about his opponent's corruption. Real simple, Mr. CIA guy.
Was Will Hurd this bad at "spy"?
2:53: Joaquin Castro is just playing clips of Mick Mulvaney confessing crimes and saying GET OVER IT. (But they are having a hard time making "computer" work, kinda like Wonkette's web server this morning! HA HA!) If you need to be refreshed on that, click here!

2:55: John Ratcliffe enters into record Vice President saying NOT NEITHER! GORDON SONDLAND DID NOT TELL ME CRIME!

Yeah right.
Ratcliffe also thinks nothing says love for Ukraine like Trump (extorting Ukraine and eventually finally after getting caught) giving them military aid.
And Denny Heck is getting Gordon Sondland on the record about how ALL foreign interference in elections is bad and demanding investigations into political opponents is bad and etc.
2:59: HECK: You got any idea WTF my idiot GOP colleagues think Hunter Biden actually did wrong?

SONDLAND: No fuckin' clue.
3:03: Heck finished with an emotional speech about how Sondland came to testify because FREEDOM! and PATRIOTIC! and wondered why Rudy Giuliani and Trump and all the other criminals don't have that same freedom and patriotic. It was a fine moment, but lord, Denny Heck will make an emotional moment out of buying a recliner at the Big Lots.

Jim Jordan takes over to re-ask the same questions he's asked a million times, nobody knows what he's shouting about, he's just yelling and hovering like he's going to spank you again, even though mom specifically said he's not your real dad and is therefore not allowed to spank your butt.
(At least that's how he comes across.)
3:09: PETER WELCH: You might have been slow on the uptake, figuring out the crimes, but pretty sure Rudy Giuliani knew what crimes he and Trump were doing the whole time, yeah?

SONDLAND: I would reckon!
3:13: Welch gets Sondland to reluctantly agree that it would have been nicer if he had been about to do his work in Ukraine without ALL THIS FUCKING CRIME.

And now it's time for Sean Patrick Maloney to be "HELLO NURSE!" sexxxxy we mean highly prepared for his questioning with good questions written for Gordon Sondland.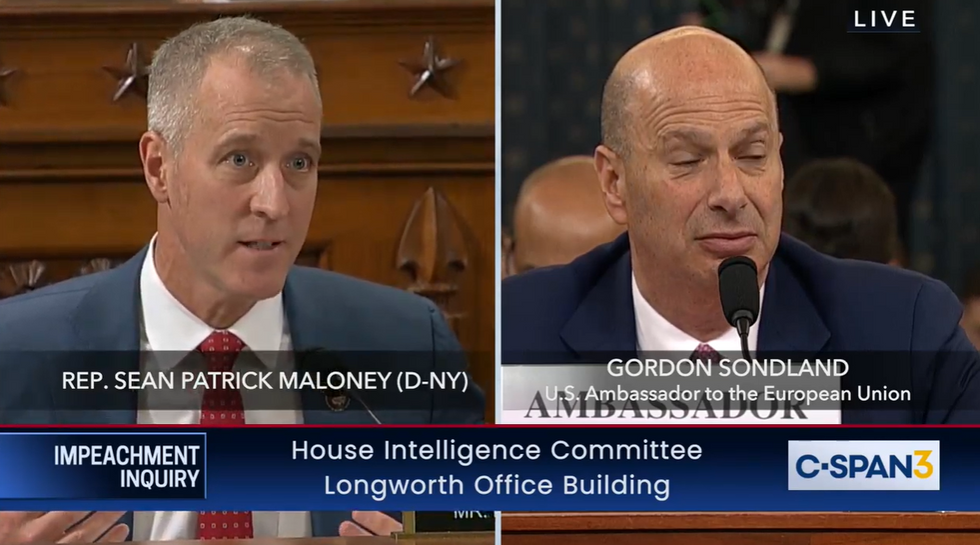 He has the best eyes we mean Congress skills.
3:16:

Maloney is beating the shit out Sondland about how much he appreciates his candor, but how fuckin' damn much it took to get it out of him.
After a LONG round of bullshit, Maloney extracts this:
MALONEY: Who would an investigation into Biden help?
SONDLAND: Duuuuurrrrr
MALONEY: WHO?
SONDLAND: Durrrrrrrrrrrr
MALONEY: WHO, GODDAMMIT!
SONDLAND, MEEKLY: Donald Trump.
MALONEY: There we have it! Didn't hurt a bit!
Also we are all Raja Krishmoorthi throwing shade at Elise Stefanik behind her back:
Girl bye, I don't do fake...😂😭 Congressman Krishnamoorthi is all of us! https://t.co/tyofl5gOsn

— FierceWarriorNStilettos (@FierceWarriorNStilettos) 1574277190.0
3:20: WHO IS YOUR DADDY?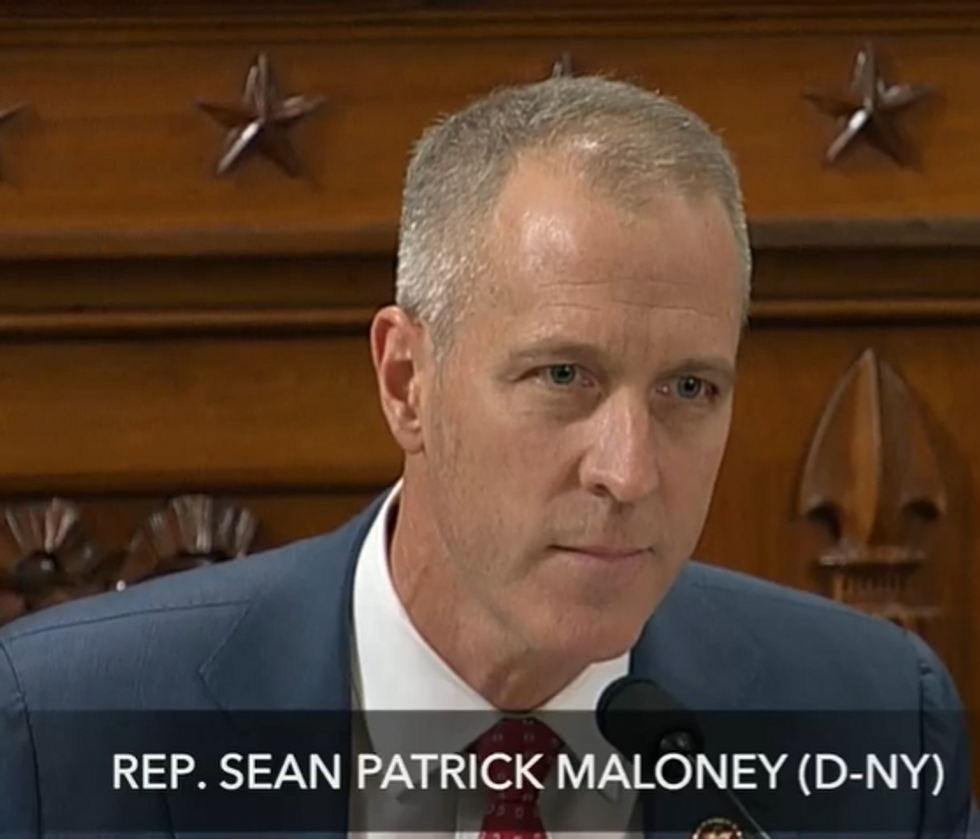 3:24: Gordon Sondland says he remembers SOME stuff good, like the first girl he kissed, but he forgets some other stuff, like his entire conversation with Trump in the Arby's in Ukraine.

3:29: RAJA KRISHNAMOORTHI: Tim Morrison calls you "the Gordon problem."

SONDLAND: My wife calls me that!
SONDLAND: Are they talking?
SONDLAND: Should I be worried?
SONDLAND: Oh no, I hope my wife is not doing horizontals with Tim Morrison!
SONDLAND: *gigglesssssszzzzzzz*
This hearing has gone stupid.
3:30: Closing remarks from Devin Nunes:

THIS HEARING IS A FAILURE! DEMOCRATS CAN'T EVEN DECIDE HOW MANY CRIMES TRUMP DID BECAUSE IT IS SO MANY CHOICES! DEMOCRATS CAN'T EVEN DECIDE HOW MANY AMIGOS GORDON SONDLAND IS! NO BRIBES! NO UKRAINE! I AM PRETEND RIGHT NOW THAT GORDON SONDLAND DIDN'T JUST DESTROY MY REAL FATHER DONALD TRUMP'S PRESIDENCY! GORDON SONDLAND IS A BIG "PRESUMER"!
Closing remarks from Wonkette: Please give us money by clicking below! We don't get money except for donations, so if you want us having "salaries" and "healthcare" and stuff like that, please donate and subscribe!
3:34: Devin is still so mad he hasn't gotten any answers to the questions he made up inside a cow's butt, allegedly.

Schiff giving closing remarks, promises he will not do treason paraphrases.
3:40: Can Gordon please go airplane now?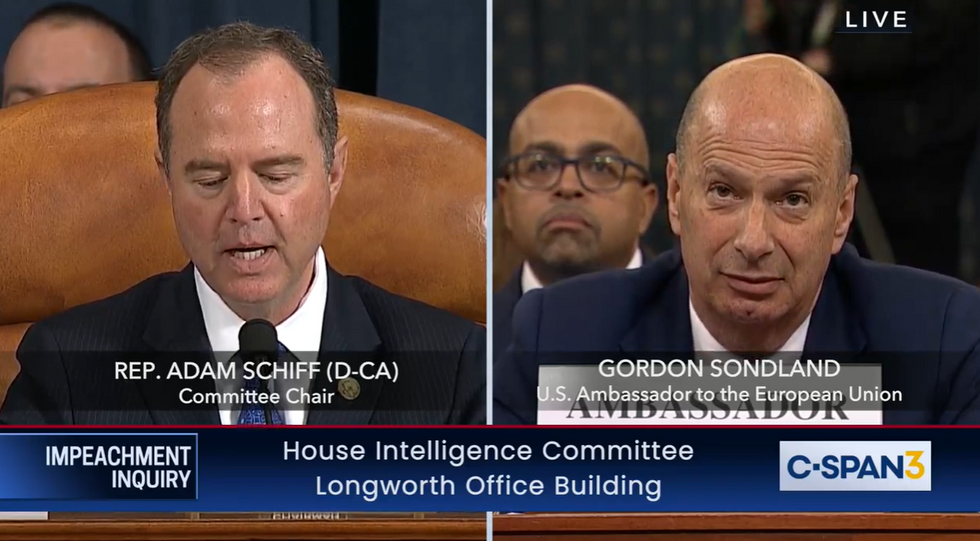 3:44: Schiff's closing statement is a barnburner! And it's still going!

Sondland never going to airport :(
Uh oh, you know what happens when people who work for Trump go to airport, though! (They get arrested, frequently!)
STAY AWAY FROM AIRPORT, GORDON.
3:47: And Schiff's closing statement gets applause! Lotta clappers!

ADJOURNED!
As you leave, give us money and watch video of hot-ass Sean Patrick Maloeny being WHO'S YOUR DADDY:
"Who would benefit from an investigation of the Bidens?" Dem. Rep. Maloney asks repeatedly. "I assume President Tr… https://t.co/Ao6djNxBw5

— ABC News (@ABC News) 1574281300.0
Follow Evan Hurst on Twitter RIGHT HERE, DO IT RIGHT HERE!
Wonkette is fully funded by readers like YOU. If you love Wonkette, SUPPORT WONKETTE FINANCIALLY.
Evan Hurst
Evan Hurst is the managing editor of Wonkette, which means he is the boss of you, unless you are Rebecca, who is boss of him. His dog Lula is judging you right now.
Follow him on Twitter RIGHT HERE.