The Great DC Drag Queen Race
News
October 29, 2010 01:01 AM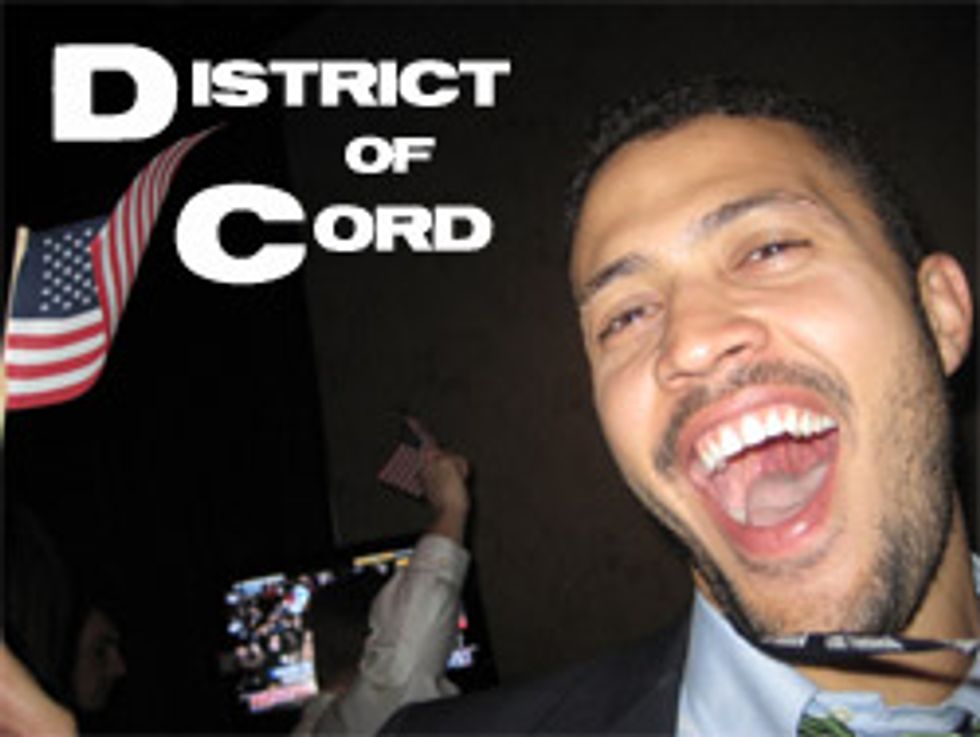 Up in New York City, the gay bars are called things like "The Cock," and the go-go boys start going full-nude at about 4 PM. In Los Angeles, all of West Hollywood is gay -- especially your favorite action movie heroes. But in DC, "go-go" is a junkyard music I'm still trying to like, and the most popular gay bar is a fratty (but fun!)sports club full of straight people.
---
As we all know, literally every family values politician is gay with either his pastor/masseuse or whichever guy's foot he kicks in the john, proving there are lots of gay people hiding in Washington. The question is: where? (Teabaggers say the gays are in Dupont Circle, but I am writing this from a Starbucks in Dupont right now and all I see are women in FAKE pearls ordering burned-to-piss coffee.)
On Tuesday, dear friends, I found the gays.
Did you know that DC loves drag queens? I did not know that, but then a friend from the college where I drank invited me to watch the "Drag Queen Race" from her Dupont Circle mansion. "What is a Drag Queen Race?" I asked, to which she responded, "Google it, dicknose!" because I forgot that it is lame not to rely on computers for everything. When I did Google it, I discovered that it is an annual District tradition to drink alcohol in the middle of 17th street on a Tuesday and scream at men in dresses, just like a drunken bigot. Yippee!
The race didn't begin until 9, but everyone got there early to give their brains a vodka enema at Fox & Hounds, where a "drink" means a "juice glass full of booze." To look cool, I opted to start the night with a mid-level bottle of French red, but I sipped it all trashily out of a plastic cup on my friend's stoop. It made me feel like The Situation. Just when I began to regret coming, the drag queens were everywhere!
Does anyone else have feelings about drag shows being kind of low-level minstrely? I did, briefly, but then this guy came out in a fucking Barbie-in-the-box costume and I gave up thinking about anything seriously and did exactly what you probably should do at drag shows: smile at the shiny colors. The second-best outfit was a creepy Apocalypto meets Alice In Wonderlandplaying card witch, who would later appear in my dreams as a stabbing murderer -- and then she was my mom. Ha ha ... ha?
My host started giving everyone red cups of "jungle juice" (is that racist?) and while I was secretly pouring my cup into the toilet, the race started and I missed most of it. Luckily I made it out in time to see the stragglers, who were prancing and preening and looked not to have wanted to race at all.
To get a better vantage point, a bunch of people had decided to jump up on a vacant cop car. It was awesome -- a dozen people cold sipping craft beers on top of a DC police vehicle, screaming at drag queens and giggling like children. It is good and healthy to beat back the bullshit constraints of everyday life, even for only a few moments, and this is what everyone was doing.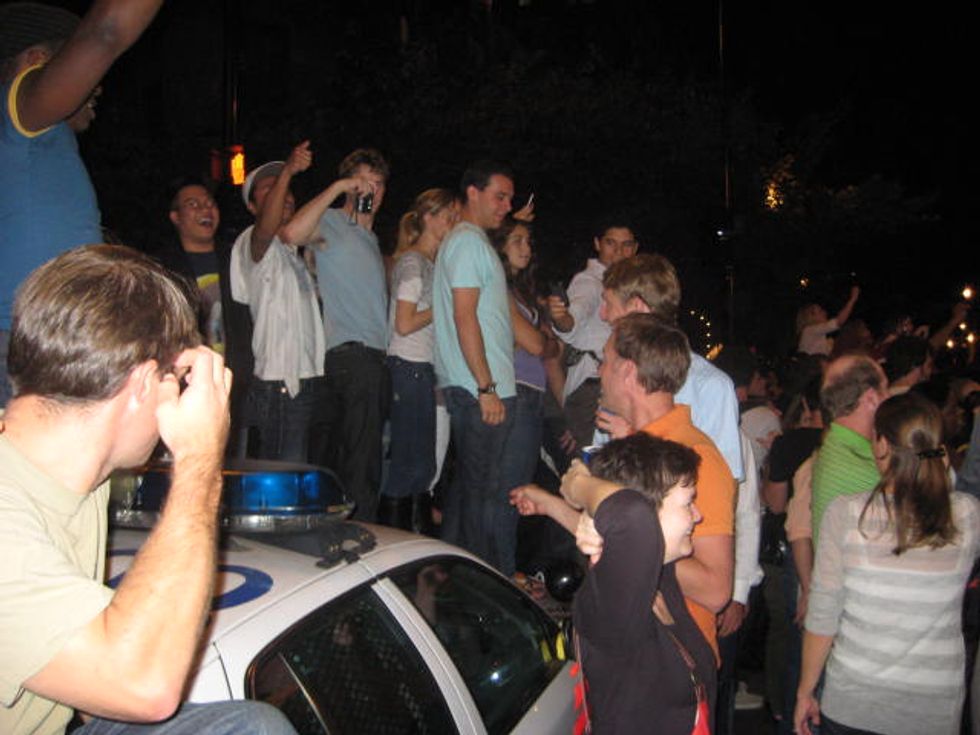 Perhaps the only way to make the Drag Queen Race more fun is to instead make it the Running of the Drag Queens. All the ladies would line up and, when the whistle blew, they'd chase a crowd of people and try to trample them to death before they all reached Dupont Circle. Once there, everyone would get spears and try to stab each other in the backs. I think Fenty would have gone for that, because he likes to see white people having fun, but I don't know about this Gray character.
Also, I should mention that it was very nice to see so many people being totally gay in the DC streets. Urban gay people make city neighborhoods look better, are smarter than straights, and their positioning as outcasts has made them more willing to accept the differences of others. Too bad so many gays working in the Capitol have to hide it, so the district voters back home don't find out there's a gay man running Congressman America's office. All in all, it was nice to see the freak flag fly on a fine Fall night.
Cord Jefferson's column appears every week here on Wonkette. Also he is always on the Twitter, trying to get a Chief of Staff job and somehow never getting his calls returned.