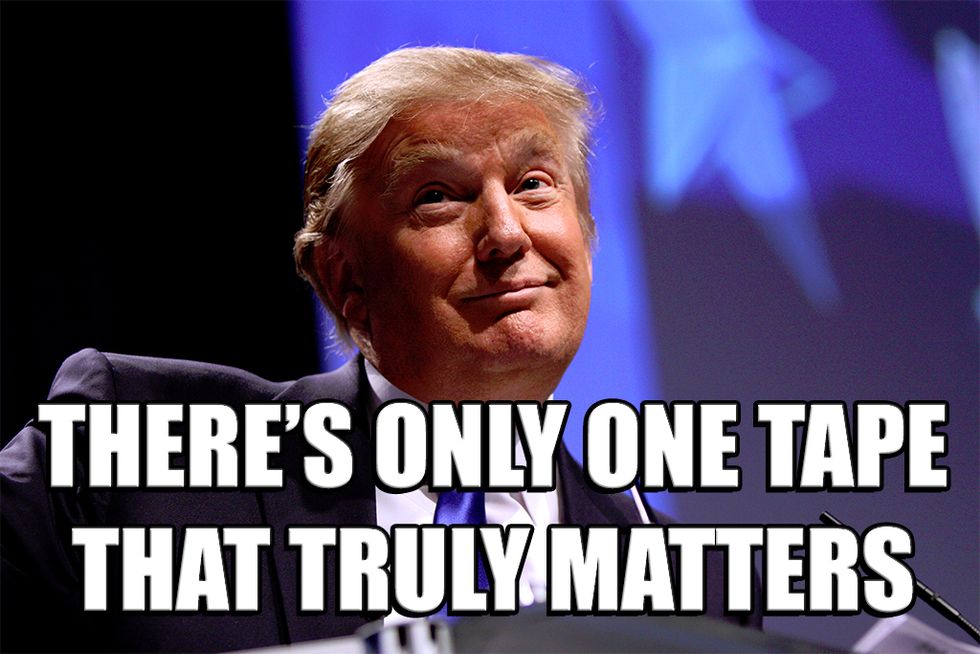 Good freaking Friday, Wonketariat! Here's some of the things we may be talking about today.
---
In the final weeks of the Obama administration, officials prepared massive retaliatory measures against Russia that included cyber attacks and sanctions to crush the Russian economy, but left the trigger to Trump -- and some former officials are still kind of pissed about that.
DNI chief Dan Coats told the House Trump-Russia investigators that Trump seemed "obsessed" over the investigation, and that has Trey Gowdy just so gosh-darn mad that the testimony of Coats leaked, telling CNN, "I'll be damned."
Paul Manafort's son-in-law, Jeffrey Yohai, and Dustin Hoffman(!?) are now being dragged into the Trump-Russia investigation as the FBI is looking at financial records from Yohai over allegations that Yohai was running a Ponzi scheme with Manafort's Ukrainian blood money.
The Comey tapes don't exist. There are no tapes, the tapes never existed; whoever said there were tapes is a liar - or a leaker, not good. Bad, very bad. So, it's not obstruction, or intimidation, you can close the case on that. Case closed.
As disabled and wheelchair-using protesters were hauled off by the Capital Police for staging a die-in yesterday, Mitch McConnell was praising his healthcare bill, even though it's very likely to fail miserably before it can make it to the Senate floor for a vote. [Morning Maddow]
Here's the transcript of yesterday's press briefing that nobody was allowed to record. Marvel at how Sarah Huckabee Sanders lies through her teeth about Medicaid, TrumpCare, the Comey tapes, Trump-Russia, the Olympics, and more!
Democrats on the Senate Judiciary Committee are attempting to stall hearings for Trump's judicial nominees, stating that there hasn't been enough time to review them, or for the American Bar Association to issue their recommendations.
Republicans are changing the locks on their vape-filled rooms as the GOP starts its tax reform plans; maybe Marco Rubio can hold the door open with his retractable spine?
Princess Ivanka is discovering the taste of failure as her paid family leave plan falls flat in the halls of Congress.
The EPA is ready to roll out new rules for the Toxic Substances Control Act of 1976 -- written by the former head of one of the biggest chemical lobbying groups as part of Scott Pruitt's "back to basics" approach to rolling back Obama regulations -- and some rank and file EPA staffers are calling shenanigans.
The guy appointed to run the Energy Department's Office of Indian Energy is of bit of a racist, misogynist, anti-Semitic, neo-nationalist asshole, according to his tweets, but at least he's apologized.
Nancy Pelosi isn't going anywhere, so all you haters, nay-sayers, and sucker-ass busters better come correct before you start trying to bring the heat.
Maj. Gen. Wayne W. Grigsby Jr. has been demoted by the Army to brigadier general after military investigators found him having some sexxxy times with a female captain, making him the sixth general in the past year to be found fucking around and fucking up behind closed doors.
A federal appeals court has lifted an injunction on a Mississippi law that allowed discrimination against LGBQT people on religious grounds, but the fight is far from over!
Washington State is the next transgender bathroom battleground after some bladder-shy babies got worried about who might be peeing in the stall next to them.
The mayor of Richmond, Virginia, is forming a commission to correct the "false narrative" of the Civil War by exploring contextual signage added to existing monuments and additional monuments to African Americans instead of simply removing statues. Typical liberal!
Richard Spencer's neo-Nazis will compete with Mike Cernovich and Roger Stone's conspiracy crazies in DC this weekend during dueling rallies. Not only will people publicly identify three of the dumbest sons of bitches in America attempting to stretch out their 15 minutes of fame, but they may even get to watch the bitter slap fight that's brewing between the alt-right and the "New Right."
Alt-right Youtubers have been gaming social media algorithms to push false narratives so that they can force the hands of elected officials throughout the world, but you can call out these attention whores if you know what to look out for.
An intern for Tom Cotton is on tape calling the British "faggots" and Paul Ryan a "cuck," and saying "American are the superior race to everyone in the world," except Benedict Arnold, who was apparently a "homosexual." Aww, bless your black heart.
The jerkoff that drove across the country to investigate #Pizzagate will spend the next four years in prison for being A Idiot and scaring the hell out of people.
That Netflix murder mystery that twisted undies across America last year got even worse after a federal judge upheld an appeal to overturn the conviction of Brendan Dassey on the grounds that he was coerced into a confession.
Mission creep in Syria is a growing concern for many as near-misses with Russia increase and an unchecked Pentagon ramps up troop deployments in the Middle East.
A judge in Detroit has stopped the deportation of 100 Iraqi Christians on the grounds that they might be tortured or killed if they were sent back.
ICYMI, your sexy Not American boyfriend from up north, Justin Trudeau, thinks people should take Trump's tweets seriously and that social media has become "a new wrinkle in international diplomacy." [Video]
Ex-CIA officer Kevin Mallory has been arrested for ALLEGEDLY being a Chinese spy, trading white papers in exchange for large bundles of Ameros. It's treason time!
The butthurt and drama between the talking heads on MoJoe and Sean Hannity reached new levels last night as Hannity aired a montage of MoJoe "meltdowns," because he has nothing to talk about now that Fox won't let him literally make up new bullshit.
And here's your late night wrap-up! The Daily Show noticed Trump's Tortilla Curtain is more of a Tortilla Ramp; Seth Meyers took A Closer Look at McConnellCare;Jimmy Kimmelhad more Drunk Donald Trump, and talked to LOSER kids about healthcare; James Corden is "SHOCKED" there aren't Comey tapes
And here's your morning Nice Time! PENGUIN POOL PARTY!
Hey! We're doing big things these days! Help us do more by GIVING US YOUR MONEY! Use the clickys!
Dominic Gwinn
Dominic is a broke journalist in Chicago. You can find him in a dirty bar talking to weirdos, or in a gutter taking photos.