The Life And Loves Of Susan G. Komen's Newest Bosom Buddy, Gulnara Karimova
News
April 19, 2012 04:20 PM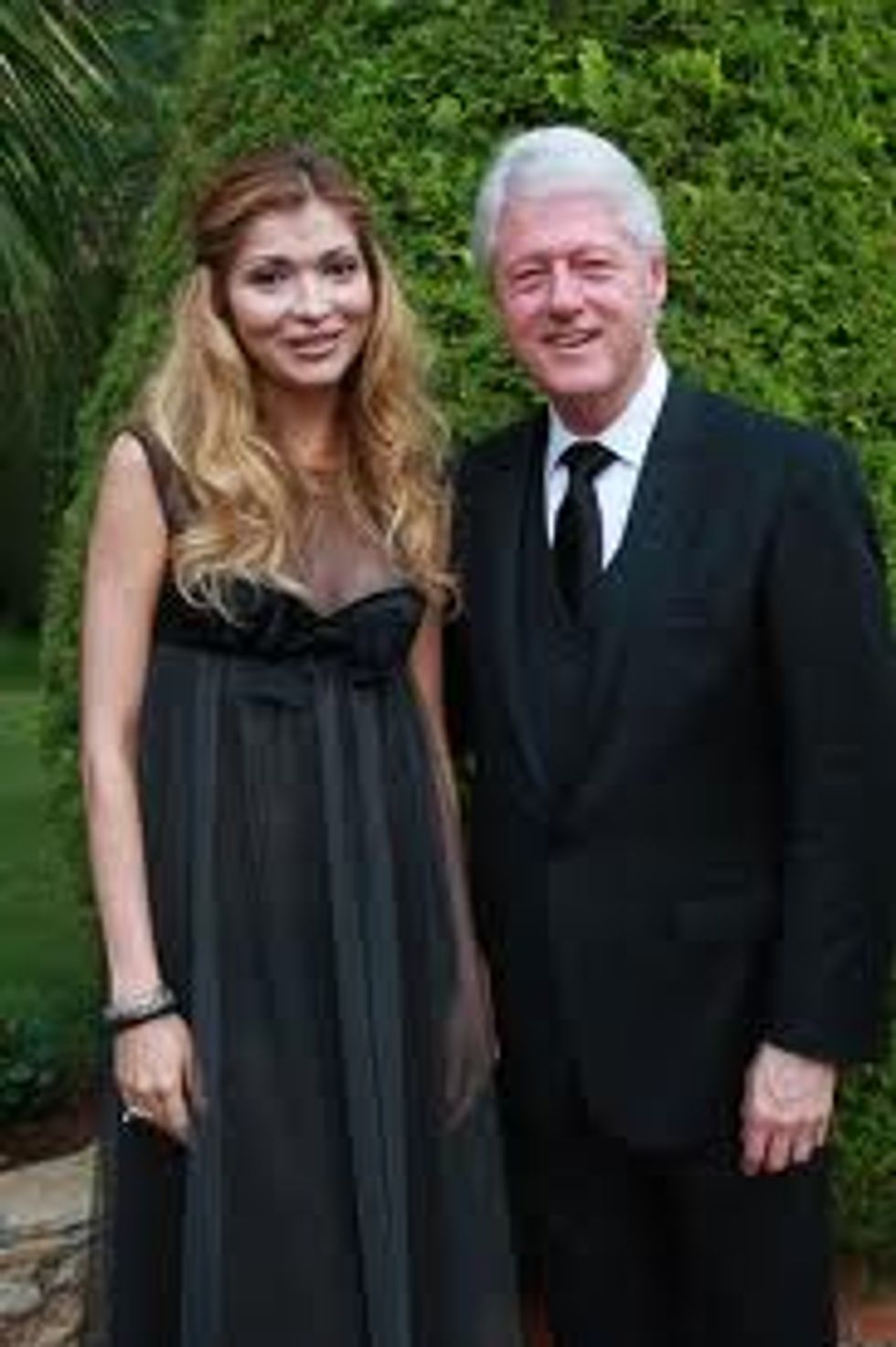 In case you were worried that we werea bit harsh with our love letter to Susan G. Komen Foundation's newest bosom buddy and budding dictatoresse Gulnara Karimov -- the 'most hated woman in Uzbekistan'! -- we decided to dig more deeply for horror comedy gold double-check our work and find out if our girl was just an innocent flower child, creator of fine clothing, weaver of shimmery cloth by completely voluntary and highly paid cherubic slave children or (after the children die) tiny mice and bird conscripts, fabricatrice of gossimer Eurotrash fashions for all the ugly sisters in the world to wear…
---
…or if she's just a blood-sucking Gorgon. We will report; you will decide!
As in all fairy tales, our little Uzi girl got married at 19 to an Afghan-American named Mansur Maqsudi and settled in as a simple New Jersey hausfrau. She squeaked out two babies in between building several McMansions and going to Hahvahd. Then one day she just decided she didn't like her husband anymore (could have been him accusing her of running a prostitution ring but we weren't there so we don't know), so she called a meeting in her Hall of Mirrors living room, along with the palace guards. Husband was not very cooperative, so the guards put him in a headlock long enough for her to write him a note telling him to watch the film "War of the Roses" (a cheerful movie where the divorcing couple both die in the end), grab the two kids and run back to Tashkent and daddy.
Then she asked for $5.5M in a Swiss account, half the Jersey house, and the whole house in Tashkent. No prob.
Mr. Jilted said Fuck NO to that and then spent bubonic amounts of money in US courts trying to get his kids back, but to no avail. As for Gulnara, she had several bad hair days so she decided she didn't have to show up for any of the US divorce court hearings and was just astonished at American Barbarity: "It was all such a mess. … After a while, I just decided not to react. … I didn't ignore the court, but physically I wasn't capable of going. For a civilised (sic) country and a civilized (sic sic) court, I found it very strange that they did not take this into account."
When she didn't show up with the kidlets, her husband promptly called Interpol and put a bounty on her head.
Lucky for her, George Bush and her daddy (a not very nice man) made sure she had diplomatic immunity, and for backup, she happened to be a client of GlobalOptions, a CIA/FBI-style private investigation company that partnered with… Interpol. And just in case that didn't call off the dogs, former US Senator Dennis DeConcini was on the GlobalOptions board of directors and also happened to be the chairman of the board at the National Center for Missing & Exploited Children, along with our favorite fondler of Congressional pages, Congressman Tom Mark Foley. (Apologies to Tom Foley, who is in no way Mark Foley -- that we know of.) So, good luck to hubby getting that organization to help him get his abducted kids back.
The Interpol thing must have really pissed her off, so Gulnara spun her head in circles until Maqsudi's relatives had some overnight interrogation sessions and daddy's government terrorized Maqsudi's employees at his Coca Cola factory ("Nick Evangelopolous, the plant's general manager at the time, was held for 24 hours by the police and later said he had fled the country in fear of his life.") and when she got bored with that, daddy just executed a hostile takeover. Last but not least, and presumably impatient to get to her pedicure, she had 24 of his relatives dumped in the middle of the night on the Uzbek-Afghan border and put two others under a prison for a long, long time.
It's unclear where the kids are today but Guldara is making pretty clothes.
But now she's single! Who should she date? Well, according to hot Uzbek gossip zine, Uzbekistanerk (erk?), there has been quite a man parade but all of them pissed her off and so she ruined them: billionaire metals trader Iskander Makhmudov lost access to the Uzbek metal market and his relatives were "persecuted in a spirit of Stalin." Actor Farrukh Saipov found out he'd Never Work In This Town Again! Famous Uzbek boxer Ruslan Chagayev had the gall to turn her down (wife and kids were kind of a problem), so he had to flee with his family to Germany and stay there forever.
But the next guy, Rustam Madumarov, he is, evidently, The One (well, on and off). Tech-school grad and mechanic in a garment factory before he met Gulnara, Rustam suddenly became a hipster music mogul and learned from his rich girlfriend how to not pay his bills. After all, her company, Zeromax, defaulted on half a billion dollars in loans that daddy's government gave her (and who needs to pay that back?). Rustam did make the mistake of "quarreling" with her and for that, Gorgon arrested Rustam's brother and closed down said brother's DVD shop. Chicken shit Rustam ran away to Moscow to hide and be a drug addict (but probably a fashionable one). She ordered him back and he refused. So she decided she better mean it this time. His recording studio, restaurants and boutiques were closed by the tax man and both of his brothers spent a few more weeks in 'detention.' A broken man, Rustam returned, his only solace the Uzbek proverb «А sword does not cut а bending head». Karimova forgave him and started scheduling the international Eurotrash wedding of the century at the French health resort Courchebel.
With her musical pretty boy safely tucked under her steel-spiked Louboutins (a gift from Dictator's wife Asma Assad, probably), and flush with $850 million a year in 'transportation' contracts from the Pentagon, Gulnara just announced she's working on a new album with more really bad poppy/disco/blech songs but this time, they will be based on her own life experiences. "Waterboard My Love"?