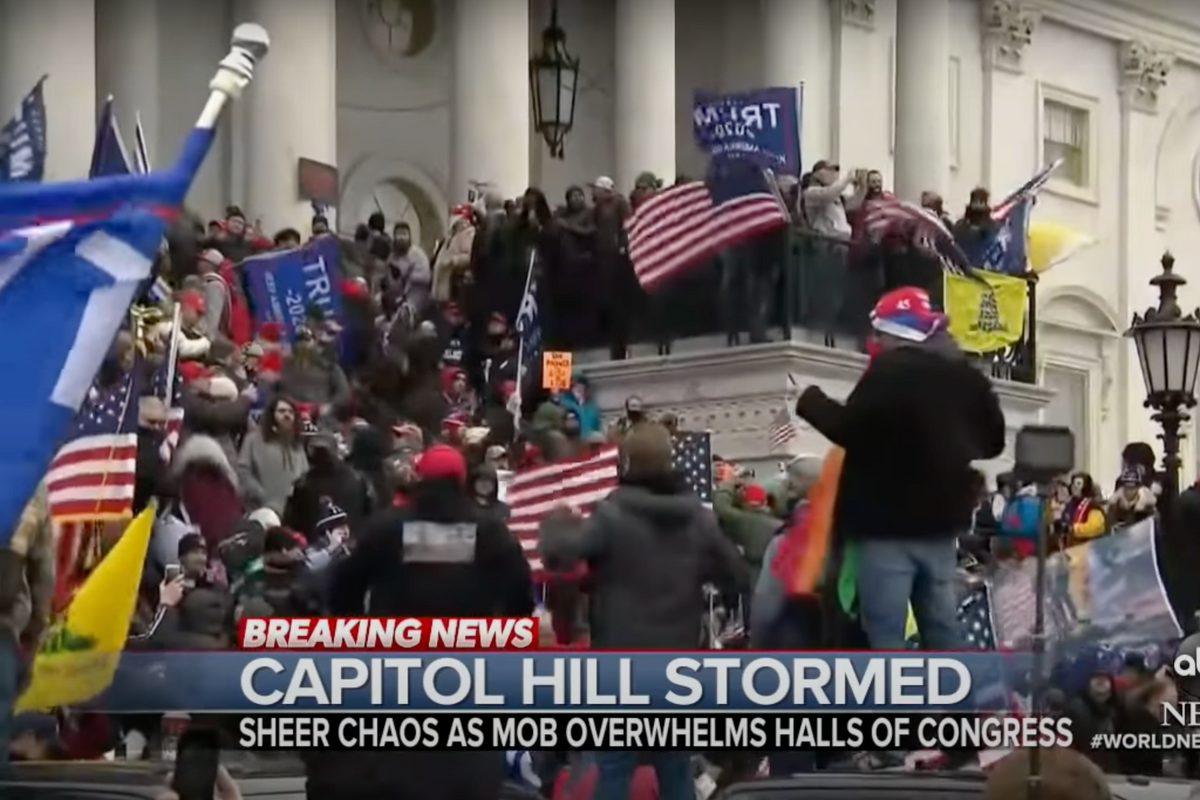 CNN took a deep dive into the first suspects arrested for attacking the US Capitol on January 6. Pentagon records and court proceedings reveal that 21 of the 150 MAGA mobsters are current and former members of the US military. That comes out to 14 percent, more than double the 5.9 percent of adult Americans who are military personnel and veterans, or, in layman's terms, YIKES.
Two of those arrested are in the Army, and two are National Guardsmen. Of the 17 veterans, six are former Army, eight are former Marines, two served in the Navy, and one was in the Air Force. Their service records show at least one served in Vietnam; others were deployed in the wars of Afghanistan and Iraq. At least one earned a Purple Heart. They were discharged with a variety of ranks and included officers -- a captain and a lieutenant colonel.
Now, these servicemen and women are charged with attacking the US government in defiance of the Constitution they swore to defend. And they did this all on behalf of a former reality TV show host who thinks they're "losers" and "suckers" — although in this specific instance, he's right.
---
Prosecutors say many of the veterans specifically led the violent insurrection that was intended to disrupt the certification of President Joe Biden's election win. There are also alleged but unsurprising links between the veterans and rightwing extremist groups, including the Proud Boys, who the disgraced real estate developer ordered to "stand back and stand by." Turns out they did.
Wonkette wrote on January 2 that Proud Boy Joseph Randall Biggs planned to attend the upcoming "Save America" rally while disguised as "Antifa" and shouting, "Black lives matter!" Maybe he didn't go full Soul Man because he was easily identifiable on video leading his personal army of mental defectives into the Capitol. One of those, Dominic Pezzola, is seen smashing windows that several others climbed through before a door was opened. This is just video evidence, though. Rudy Giuliani could still try to pin it all on the Lincoln Project.
"Hey Biggs, what do you gotta say," a voice off camera says in a video reviewed by the FBI.

"This is awesome." Biggs replies on camera before walking into the Capitol building within 20 seconds of the door opening, the FBI agent alleged in court documents.
A common theme is that these fools kept identifying themselves on video and declaring their criminal intentions like the Riddler.
Fellow Proud Boy extremist Gabriel Garcia, a former Army captain, also filmed his own evidence for the prosecution. He said on video: "We just went ahead and stormed the Capitol. It's about to get ugly." He also called the police officers trying to stop the siege "fucking traitors."
Garcia is free on $100,000 bail because he's apparently not that economically anxious. He's charged with all the crimes but his lawyer insists he didn't "commit any violent acts up there and didn't intend to." This was the very same invasion of private property Republicans claimed would happen every Wednesday in Biden's America after he defunded the police and dissolved the Imperial Senate. But the rightwing defense now seems to be that terrorizing Congress members and their staff is fine as long as your intentions were pure.
Ryan Nichols is a former Marine who appeared on Ellen DeGeneres's talk show because he was nice to animals once. He's less friendly to people. Nichols went to the insurrectionist Coachella with another former Marine, Pvt. Pyle, Alex Harkride. This was no peaceful protest against the incoming Biden administration. We know this because Nichols told us.
The complaint says another video shows Nichols shouting, "This is the second revolution right here folks! [...] This is not a peaceful protest."

A person who recognized the men told the FBI according to court documents: "I have photo screen shots from their social media pages showing they were there and showing Alex stated they were planning a civil war."
The FBI has video of Nichols shouting through a bullhorn: "If you have a weapon, you need to get your weapon!" Harkride shared a photo on Snapchat with this caption: "We're in. 2 people killed already. We need all the patriots of this country to rally the fuck up and fight for our freedom or it's gone forever. Give us liberty, or give us death."
As my father would say, they're up a creek without a paddle, boat, or a life preserver.
These people were once charged with with defending our liberty, but it seems they'd prefer to give us death if it meant keeping their mad king in power.
[CNN]

Follow Stephen Robinson on Twitter.
Do your Amazon shopping through this link, because reasons.
Yr Wonkette is 100 percent ad free and supported entirely by reader donations. Please click the clickie, if you are able!
Stephen Robinson
Stephen Robinson is a writer and social kibbitzer based in Portland, Oregon. He writes make believe for Cafe Nordo, an immersive theatre space in Seattle. Once, he wrote a novel called "Mahogany Slade," which you should read or at least buy. He's also on the board of the Portland Playhouse theatre. His son describes him as a "play typer guy."