The Mantrumpian Candidate. Your Wonkagenda, Tuesday, November 1, 2016
Elections
November 01, 2016 08:55 AM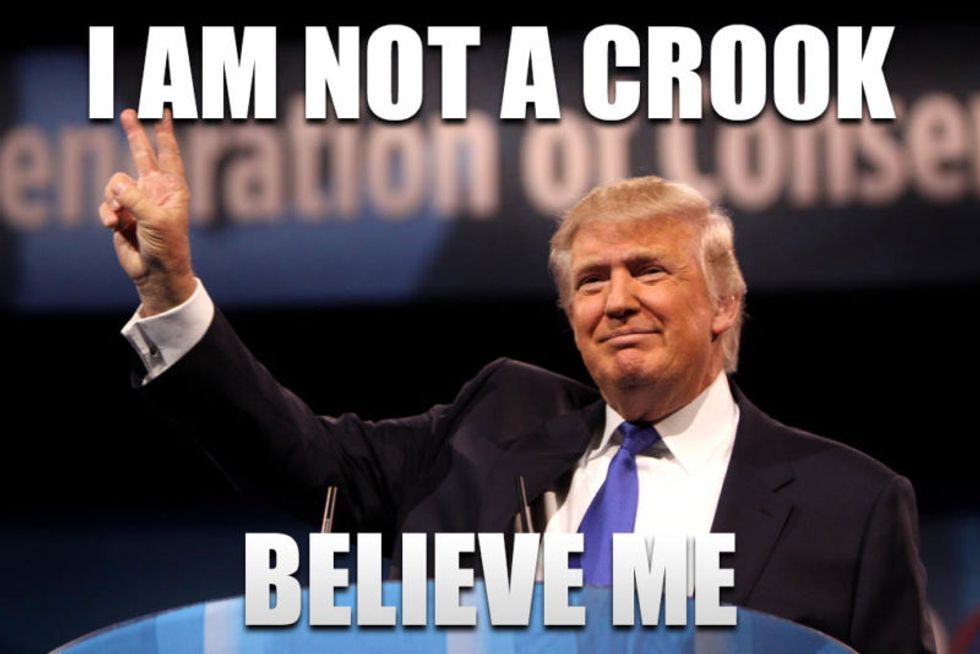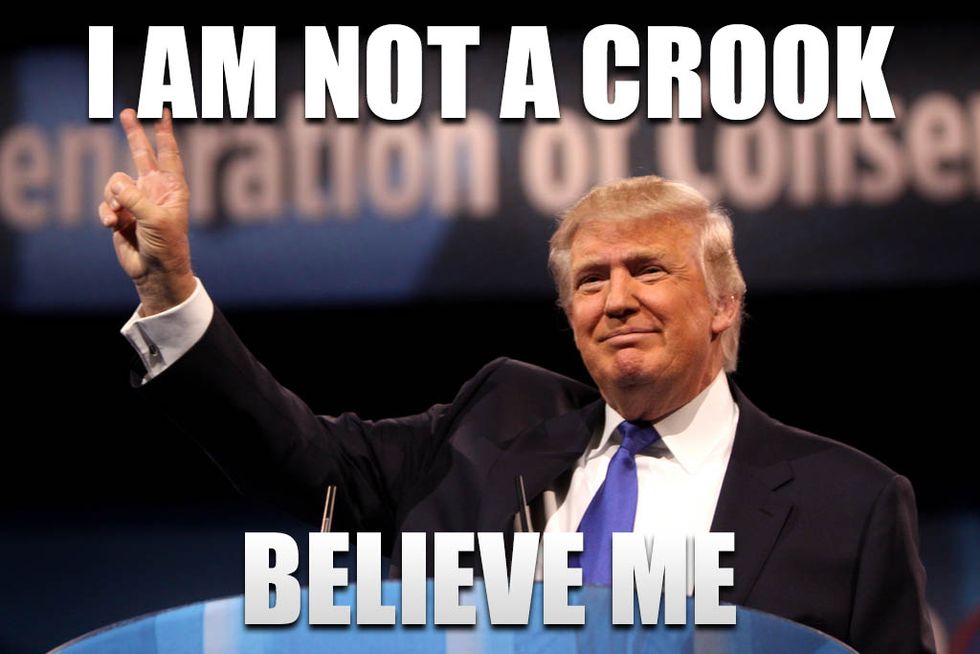 ---
Hidey-Ho there, Wonkareenos! Break out your reading glasses and thinking caps because we got LOTS of wiener jokes to inappropriately insert in some newsy 'splainers, so let's go already!
The only thing that Donald Trump loves more than money, his name in gold, playing grab-ass/pussy, or his flabby, overweight and spray-tanned body, is other people's money. It should come as no surprise then to find out that Donald Trump used sketchy tax-chasms in a complex tax scheme that is kind of like really fancy money laundering.
So maybe Trump's a tax-cheat, but is it actually possible Trump is part of a convoluted Russian plot to sow doubt in the U.S. election? According to a former spy who's reported to have given information to the FBI, yes, it's entirely possible.
Hillary Clinton's not the only one getting some special pre-election loving from the FBI. The FBI is formally inquiring into the Ukrainian and Russian business dealings of former Trump campaign manager Paul Manafort.
Some computer nerds were watching Internet traffic when they noticed a Russian bank and Trump Tower sending strange Internet signals to one another around the same time that Donald Trump asked 400lb. basement dwellers to hack Hillary Clinton's emails. Coincidence? Maybe!
NEVER MIND! Donald Trump is DEFINITELY NOT dicking around on the Internet with Russian banks in secret. Nope. Never happened. Move along. Nothing to see here!
Donald Trump's history of denying, stalling, lying and obstructing court orders goes back decades, but you can't prove that because he routinely destroys evidence once he's been caught.
Surprise, surprise, one of Trump's pollsters is just another unpaid victim in Donald Trump's long history of screwing over people contracted to work for Trump.
North Carolina Republican Senator Richard Burr made two shit-sandwiches this weekend. Burr joked about being sad that a gun magazine's photo of Hillary Clinton was devoid of a target. Later, he bragged about denying Supreme Court justice nominations should Clinton be elected. Good thing this dumb ol' so-and-so is up for election in a swing state!
Donna Brazile has left CNN because CNN is "completely uncomfortable" with the interim DNC chair possibly telling Hillary Clinton about a primary debate question, but CNN's still cool with Trump's slap-happy former campaign manager, Corey Lewandowski, flying around collecting paychecks from Donald Trump while blathering on CNN.
We don't really talk about Evan McMullin too much because he's about as bland and uninteresting as an unsalted multi-grain rice cake, but that doesn't mean it's OK to completely ignore a white nationalist Trumpkin's robocall accusing McMullin of being so gay that he gay-infected his two gay two moms.
John Kasich is an old rebel who's too busy watching sportsball right now, so he decided to early vote and write in the name of another old rebel in the presidenting box: John McCain. WALNUTZ strikes again!
Poor Megyn Kelly! After years of dealing with some dastardly dudes at Fox News, Kelly may be stuck in a dead-end job because no other networks want to touch her (financially, NOT like Roger Ailes).
Silicon Valley scumbag Peter Thiel is hoping that Trump doesn't go away, because he might have to do something beyond riding the poorly tailored coat tails of others.
China has grown its economy by 6.7 percent for the third straight quarter. That's notable because it is, in effect, either a mathematical improbability or an economic miracle, thus making China a polluted wonderland beyond all imagination.
China is also criticizing Donald Trump because of his inability to recognize global trends in climate change, a super rare move considering China doesn't bother meddling in other people's elections.
DHS Secretary Jeh Johnson is promising to pay the Secret Service for overtime during this election because current salary caps on Secret Service agents do not allow them to earn more than $160,300. That means they're protecting Donald Trump for free, and no one should be forced to do that.
Our B. Barry Bamz has outlined what will happen with the official White House Twitter, Snapchat, and other social media accounts after the election because Bamz just HAD to remind us that he can't be our President forever and ever. THANKS, OBAMA!
OK, and here's your morning Nice Time. It's Samantha Bee with some LEGIT journalisming on ANOTHER terrible, awful rumor that's been about Donald Trump that is possibly (maybe) true.
Dominic Gwinn
Dominic is a broke journalist in Chicago. You can find him in a dirty bar talking to weirdos, or in a gutter taking photos.