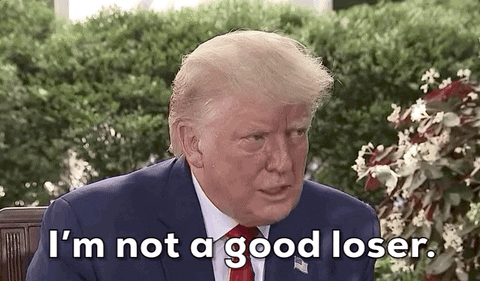 Donald Trump was in horrible mood on Sunday, like he is most days now after a devastating loss to President-elect Joe Biden, and also the days before that. He whined and rambled to Fox News's very own North Korean-like propaganda "news anchor" Maria Bartiromo on "Sunday Morning Futures." But his inability to accept his loss and his need for fatalistic loyalty are causing an interesting twist of logic for Republicans looking to win two very critical Senate seats in my current home BLUE state of Georgia. It's basically Schrödinger's Election Fraud Theory.
On CNN's "State Of The Union," host Dana Bash tried to get GOP Senator Roy Blunt of Missouri just to admit Biden won:
Sen. Roy Blunt (R-MO) goes on CNN to represent Republican Party's cowardly stance on Democracywww.youtube.com
BASH: Do you accept the fact that Joe Biden is the president-elect of the United States?

BLUNT: Well, we are certainly moving forward as if that what is going to happen on January the 20th. […] But the president wants to see this process play out. The president-elect technically has to be elected president by the electors. That happens in the middle of December. And then on January the 6th [... blah blah blah ... ] But we are working with the Biden administration, likely administration, on both the transition and the inauguration as if we are moving forward.
Blunt basically is hedging for the future when this CNN footage will be used against him to show he was one of many spineless Republicans shamefully catering to a bankrupt (morally and financially) one-term president and reality TV "star."
---
Bash, noticing that Blunt said "Biden administration" like he said the secret word, tried to pin down Blunt on his acceptance or denial of Biden's victory.
BASH: Likely administration. So, is it safe to say that you do consider Joe Biden the president-elect?

BLUNT: Well, the president-elect will be the president-elect when the electors vote for him. There is no official job president-elect.
While technically true, Blunt and many Republicans are being quite literal about the title of "president-elect" for the first time ever. It's like their new hot version of "War Of Northern Aggression"/"The South Shall Rise Again" delusion/revisionism. Blunt even admitted he's aware of this:
BLUNT: Part of the problem we have had between the media and the Congress, particularly Republicans in the Congress, the last four years is there's always this straw man that is set up. And I think I'm on a list of -- that you're keeping at your network of Republican senators who haven't yet acknowledged that there's a president-elect, as if that's a significant thing.
Lampshading your cowardice does not make it braver, Roy. Bash helpfully pointed that out while recapping what Republicans are currently doing.
BASH: But the issue, Senator [...] is that it's not just a title. It's that the current president has lost -- and his allies have lost or withdrawn more than 30 lawsuits since Election Day. Michigan, Pennsylvania, Georgia have certified the votes. And, maybe even more importantly, the president is undermining the democratic process by talking about fraud that nobody can find, even judges who look at cases that come before them say is not happening.
Bash continued to push Blunt to just admit that Trump lost, while he danced around the question like he was auditioning for a remake of The Best Little Whorehouse In Texas.
He also tried to reassure Georgia Republican voters that THEIR election system is secure, presumably out of fear that the GOP's own fearmongering will cause them to stay home.

BLUNT: I do hope that voters, particularly Republican voters, turn out and vote in Georgia. And, again, the Georgia system was changed so that there was a level of security that Georgia didn't have four years ago. […] So, I'm hoping voters vote. And the president says he is going to Georgia next Saturday, so he must be thinking that voters need to vote as well.
Not sure how much help Trump bringing his Covid superspreader events to Georgia is gonna be while he's calling the voting machines themselves rigged or calling Governor Brian Kemp a loser he shouldn't have endorsed, Roy.
"I'm ashamed that I endorsed him" -- Trump disses Brian Kemp for not doing more to help him steal the election in G… https://t.co/tIKlwe2zi8

— Aaron Rupar (@Aaron Rupar) 1606663854.0
Over on NBC's "Meet The Press," full-time conservative radio douche and part-time NBC contributor Hugh Hewitt attempted the same pretzel twisting to get Georgia voters to ignore all the "fraud" or "broken voting machines" and go ahead and vote for I AM NOT A CROOK Senators David Purdue and Kelly Loeffler.
Full Panel: President Trump Still Falsely Claiming Voter Fraud | Meet The Press | NBC Newswww.youtube.com
HEWITT: Oh, every day I talk to people who believe that there's massive fraud in Georgia. And I tell them no, and they've got to get out and vote for David Perdue and Kelly Loeffler, who I support. But I think what's going on is an undervaluation of the voters' intelligence again. They're very sophisticated.
Oh yes, "very sophisticated," Hugh. I mean, just witness the cogent arguments and logic exemplified by this Newsmax contributor as she tells the first Black President to "sit down" while making transphobic remarks:
Hey @BarackObama sit your ass down ! https://t.co/2uQlYqOTzL

— Tina40 (@Tina40) 1606498745.0
Georgia will be a test both of Democrats' ability to follow through after Biden's decisive win, and of Republicans' fear that kowtowing to Trump's ego might cost them the Senate. Even RNC Chair Ronna Romney McDaniel was trying to thread this needle two days ago.

Let's repudiate these cynical and craven scumbags by electing Jon Ossoff and Reverend Raphael Warnock.
Have a week!

Wonkette is fully funded by readers like you! If you love Wonkette, FUND US!
Michael Mora
Your friendly neighborhood Puerto Rican Political Freelance Writer for @wonkette. Pop Culture observer, Amateur Movie reviewer & Comics fan. Former Active Duty Marine. All opinions are mine only.