The Snake Oil Bulletin: Let's Read Bible Prophecy Porn Together!
News
March 15, 2015 10:00 AM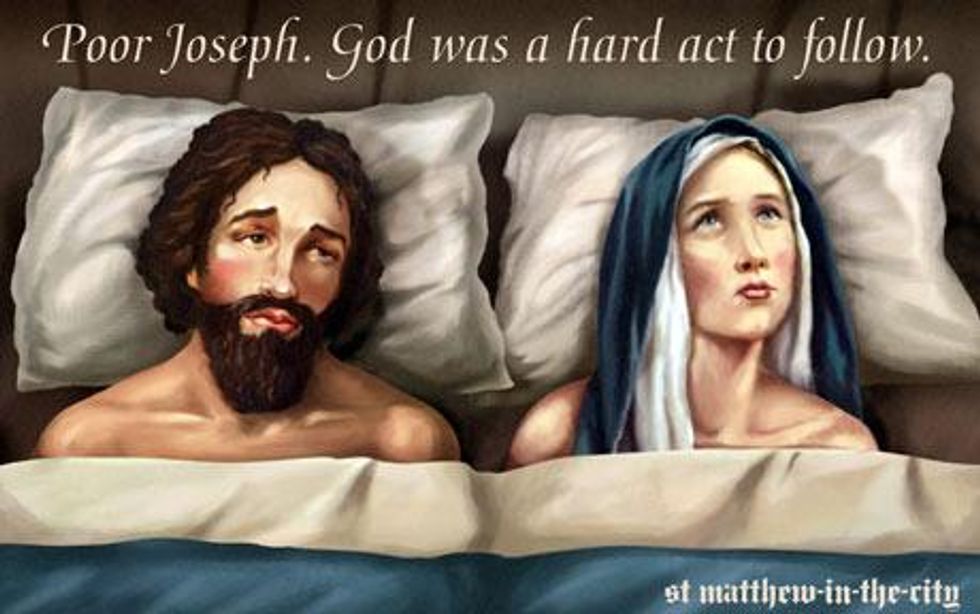 Well how-dee, folks! Glad to see you made it back to the Snake Oil Bulletin, your weekly round-up of the best in quacks and quackery this side of a Duck Tales marathon. We've got a full schedule of charlatans, dupables, and some good old fashioned End Times Bible porn (just like Grandma used to read) to sate our wanton lusts. Let's hop right in to it with a visit from our old pals, our friendly neighborhood homeopaths.
---
Homeopathy Doesn't Do Jack, Confirms Nation's No-Duh Scientists
We've covered the magic that is homeopathy before. If you'll remember, homeopathy is the idea that the more diluted a substance is, the more potent its medicinal properties become. Drop a molecule of cayenne pepper into 1 million parts of water and bam, you have yourself a powerful anti-fever tincture. It's based on the quackery that water retains "memory" of the molecule of solute that was once in it, but somehow forgets all the poop it's had over the years. In other words, bullshit.
[contextly_sidebar id="3FiIYgtOJKfM6WzGDhJ5rKUK1mYSb9Xe"]
That's why it came as a surprise to nobody when the Australia-based National Health and Medical Research Council (NHMRC) came out with the results of an exhaustive 225-sample metastudy that determined that homeopathy has no demonstrated efficacy at all:
Based on the assessment of the evidence of effectiveness of homeopathy, NHMRC concludes that there are no health conditions for which there is reliable evidence that homeopathy is effective.
Oof. That sizzling you hear is the sound of a sick burn.
People who choose homeopathy may put their health at risk if they reject or delay treatments for which there is good evidence for safety and effectiveness.
It's important to note that this is not the result of one singular study. This was an analysis of already existing studies that merely assessed those results for any common trends, which is precisely how scientific consensus works. It differs from the typical homeopathy route of citing how your Auntie Pearl felt a little bit better after taking a few a few pills of Hyland's with her morning coffee and you would not believe how much it perked her right up! So worth the $30 a bottle price.
The homeopaths immediately responded to the results by using the same old fallacies that don't matter much but make for great sound bites.
In a statement responding to the NHMRC report, the Australian Homeopathic Association (AHA) claimed around a million Australians used homeopathy.
And just as many once believed that diseases were caused by night air or clean feet.
"The Australian Homeopathic Association recommend to the NHMRC that it take a more comprehensive approach to the analysis of homeopathy's efficacy, and consider a large-scale economic evaluation of the benefits of a more integrated system and one which respects and advocates patient choice in healthcare provision," the AHA said.
"Patient choice" is one of those insidious weasel words that homeopaths like to sneak into their literature to make themselves sound more persuasive, exactly the way that young-earth creationists like to use "teach the controversy" to get their beliefs seen as more legitimate. We haven't seen any homeopaths recommending a tincture of 1 part to a million distilled dinosaur fossil, but we're waiting with bated breath.
Not long after the metastudy results were published, the Homeopathy Research Institute issued a press statement laying out all the ways the ways these trained scientists were doing science wrong, according to people with no degrees.
One such way is that the report explicitly tossed out studies that were super small (i.e., less than 150 people) or ones that had only been conducted by the same research team but never re-tested by different independent researchers. The HRI took issue with the former of these points especially:
The NHMRC need to justify their use of n=150 as a line between reliable and unreliable and they certainly need to explain why size is relevant at all when the findings are statistically significant.
Size is one of the major factors in determining statistical significance. Your Volpe may have flunked out of Ole Jake Jehoshaphat's Academy of Math, Statistics, and Fortune Telling, but even I know that. If you have a study of only 2 people, and one of those people gets hit by a bus on his way to the study, you can't go publish the result that the treatment correlates to a 50 percent chance of death.
In a final act of spin, the homeopaths attempt to play the oppression card, a favorite of woo-peddlers backed into a corner. Y'see, it's not their fault that their studies are all so small and flawed and demonstrate no statistically significant data: it's the vast allopathic (their word for "real fucking medicine") conspiracy against them, which prevents them from getting funded, and thus the real reason their studies never produce the results they want. These guys are sounding more and more like creationists with every paragraph. Conspiracies are the reason their research is so shoddy. You gotta believe us. There is no other possible explanation. ("It doesn't fucking work" is never considered because obviously that isn't true; look at how many celebrity testimonies we have!) It's conspiracies all the way down.
And speaking of conspiracies ...
Conspiracy Theorists Can't Even Tell When They're Being Trolled
Are you a sheeple? Do you blindly follow whatever you're told and refuse to exercise critical thinking? If you said yes, then may I offer you a theory about reptilians?
If you're tired of being condescended to by your semi-homeless cousin (the one who always has "big things on the horizon, man") because you believe things just 'cuz the "lamestream media tells you," then you are about to read the most satisfying recipe for humble pie: conspiracy theorists are so credulous when it comes to news from alternative sources that they can't even discern when that news is just simple trolling.
A group of American and Italian researchers collaborated a little while back on a little social experiment. The researchers examined the social media habits of Italian conspiracy theorists, who believe some real gems that not even our American conspiracy theorists are man enough to take up:
Pages like Scienza di Confine, Lo Sai or Coscienza Sveglia promote heterogeneous contents ranging from aliens, chemtrails, geocentrism, up to the causal relation between vaccinations and homosexuality.
Vaccines lead to buttsex. I guess if you get poked once, it's not a huge stretch to get poked again.
The researchers examined the social media habits of these conspiracy theorists as compared to the social media habits of people who are fans of science- and evidence-based pages. They found that conspiracy-minded people interacted almost exclusively with other conspiracy pages. The science-oriented people commented on at least a slightly greater variety of pages, but the conspiracy theorists were pretty much set in their alternative media bubble.
So set were they in their bubble that even when scientists presented them with internet memes which were clearly sarcastic parody of conspiracy memes, some 80 percent of people who liked and shared them were people who interacted exclusively with other conspiracy sites. In other words, they weren't sharing the troll memes ironically; they thought they were real.
What does this mean in a soundbite? It means that a Google U degree doesn't teach you squat about critical thinking. A quick peek over at Literally Unbelievable is enough to prove that much. However, some people's critical thinking skills are so fine-tuned that they will blow your mind (right after they blow something else).
Illuminati Bible Prophecy Revealed in Hallowed Book of Twilight Porn
Are you rapture ready? You better be: Lord only knows you've got some repenting to do.
Fortunately, there's no shortage of able-bodied and addle-brained internet preachers just waiting to dunk your head in the waters of salvation, and probably keep it under for a little longer.
One such preacher -- excuse me -- "Third Eagle of the Apocalypse and Co-Prophet of the End Times" makes a tidy living finding Biblio-Illuminati prophecies in everything from the art at the Denver airport to iPad commercials (spoiler alert: Prince William is the Anti-Christ; Apple tablets prove it). But it was his latest video revelation where he finally hit the big one: the Illuminati is sending us End Times prophecies through Twilight fanfiction!
Mr. Eagle breaks down the coded messages contained in the Fifty Shades of Grey, and boy howdy, there are a lot of them. How the Illuminati managed to jam pack so many messages into a tight little porn series is kind of impressive, but when you run the entire world outside of this guy's house it makes sense that you would have some spare ghost writers at the ready for doing just that.
Mr. Eagle points out that Anastasia Steele is obviously the great whore of Babylon (because adult virgin who has sex once = whore, y'see) and Christian Grey is the great beast (and also Russia? We get a little lost here) because he wants to ride and dominate Anastasia. Oh my. We're getting saucy up in here. He also points out that the whore is full of "abominations," which he notes is a Bible term for homosexuality. It's also a term for shrimp, so we're not sure what kind of kinky sex stuff those little buggers are getting up to.
Watching the whole video is an absolute delight, especially the part where Mr. Eagle astutely points out that the title of the series is a coded message for the fall of America, because you'll note that 50 shades is just like 50 states (and the number 50 appears nowhere else, ever), that S-H-A-D-E-S sounds an awful lot like S-T-A-T-E-S, QED, and that grey is obviously a reference to the ash that America will be reduced to when Russia finally betrays us and makes our inner Goddess sway and writhe to some primitive carnal rhythm, or some such crap.
Our beloved Co-Prophet wraps up his video with a reminder that Mother Mary can heal everything and that you too can find out more about her miraculous porn-healing powers if you just head to his website! Donations always appreciated! Save your soul for this low low price today!
Flotsam, Jetsum, and Hokum
Lastly, we wrap up our Bulletin with a recap of all the greatest in cheeky chicanery, as brought to you by the internet's number one dick joke depository, your Wonkette!
How do you know when your church might be a scam? When it spends more time scoring ad dollars and sexy ladies than it does snatching souls for Jeebus.
This fucking Justin Harris asshole just gets worse. Now he not only trafficked "rehomed" his daughters to a child molester, but he also tried to beat the demons out of them before he did.
Only creationists can try other creationists in court, says creationist who wants to get other creationist out of court.
If Florida shuts its eyes and wishes really hard, it can make climate change disappear!
Are you beset by Buddhists, dear Christian? Pat Robertson has some advice to get those fat-man worshipers to detach themselves from your soul!
[contextly_sidebar id="xufoixaDLKEVfdLcuIubY9hDt1DGIFpb"]
That's all for this week. Tune in next time when we awaken our inner Goddess through the magic of Scientological tantric orgasm, clearing our body thetans and cleaning our pipes while we're at it. Until next time!
[The Guardian / Homeopathy Research Institute / Motherboard / Plos]