The Time Phyllis Schlafly Incited A Riot
News
November 13, 2013 08:32 AM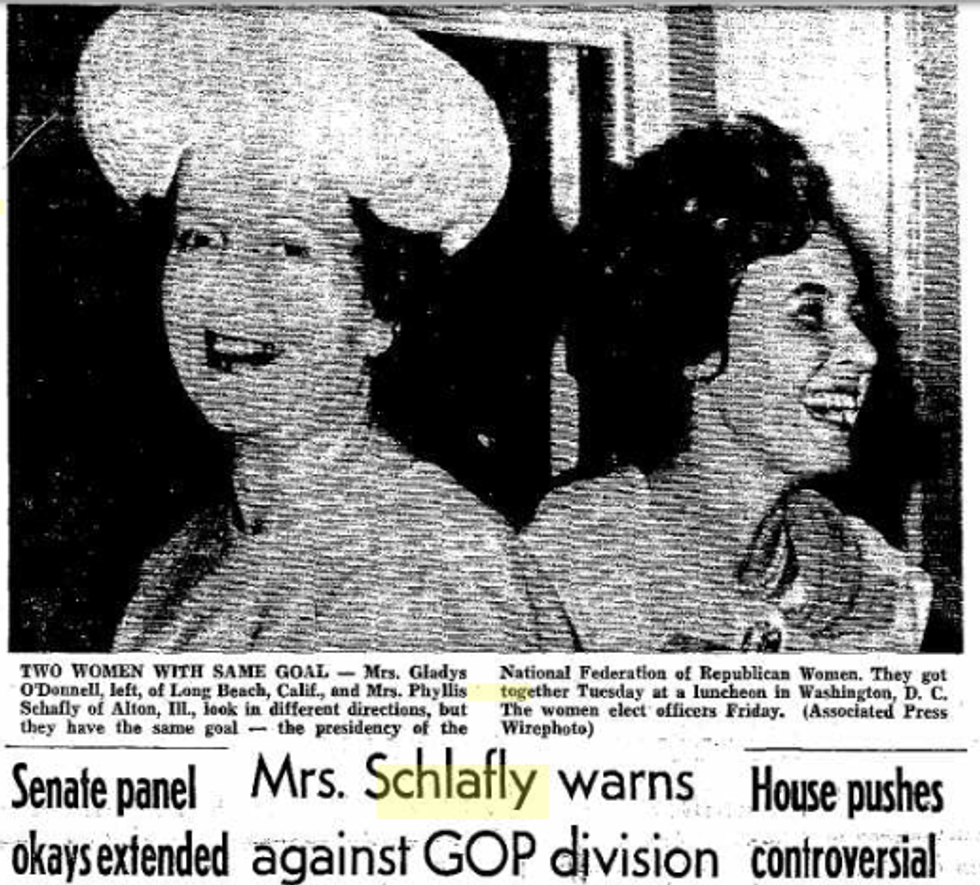 ---
Phyllis Schlafly Was There to Kick Ass And Chew Bubblegum, And Phyllis Schlafly Was All Out of Bubblegum
It was spring of '66 in Washington DC and the smell of Napalm was in Phyllis Schlafly's hair. She'd just been robbed of her coveted Presidential coronet at the 14th biennial convention of the National Federation of Republican Women, whose board had pulled a procedural trick to avoid her automatic succession from "First Vice President" (she had been elected to this post at the previous convention in '64) to National President, a succession that had been almost guaranteed (according to Phyllis) to all First Vice Presidents since the 1st biennial convention in 1940.
But nobody fucked with Phyllis Schlafly! Except for her husband, and that was just the "Christian tradition of chivalry,"  by the way, not rape.
Phyllis wanted to be, she had to be, the next president of the NFRW. After Barry Goldwater's stunning loss, she had to purify the Republican Party at the grassroots level. In order to ensure that the GOP would nominate ultra-conservative candidates in '68, she would have to defeat those "Rockefeller Republicans," defy those "New York Kingmakers" and control the direction of the NFRW so she could use its 500,000 members to do her bidding (along with all the '68 campaign grunt work).
But in a separate reality, meaning the world outside Phyllis's feverish mind, nobody wanted her. Goldwater distanced himself from her during his presidential campaign; even after all she'd done to get him nominated in the first place. "She was, some of his advisers felt, just too conservative." She'd already pissed off Nixon when she led a revolt of "moral conservatives" at the 1960 Republican convention against his (and Rockefeller's) support of civil rights.
But the NFRW? Those women, especially the then president, Dorothy Elston (later appointed by Nixon as 33rd Treasurer of the United States) really didn't want her. Elston and her board didn't want Phyllis so bad that they put off the vote for president in '66 by changing the biennial conference from even years to odd. Which meant that the incumbent board members and Elston would stay on until the next conference voted again in '67. Basically, they just put the fight off for a year, hoping Phyllis would just go away. (19670519-DailyCapitalNewsJeffersonCityMissouri-General-HowNFRWScrewedPhilys-1-3).
As those who are experts at avoiding conflict know, (me, PhD.), a pain in the ass like Phyllis Schlafly doesn't go away. She just gets louder.
A New Citizen, New Goldwater Girl, And New Lifelong Republican
It was the spring of '64 when my Canadian mother emerged from the Delaware County courthouse with her newly minted U.S. citizenship papers in hand. She drove directly to Bryn Mawr, Pennsylvania, Republican headquarters, walked in, and announced to her soon-to-be-lifelong friend Marianne McClatchy (wife of future PA state legislator Dick McClatchy), "I just became an American citizen and I want to work for Barry Goldwater." At the time, her six kids were all in school and she was bored with the neighbor ladies. "All they talk about is dirt, diapers and degradation!" She wanted to do something useful and hang out with people who had something more interesting to say. And she'd read about this Goldwater guy, and he seemed nice.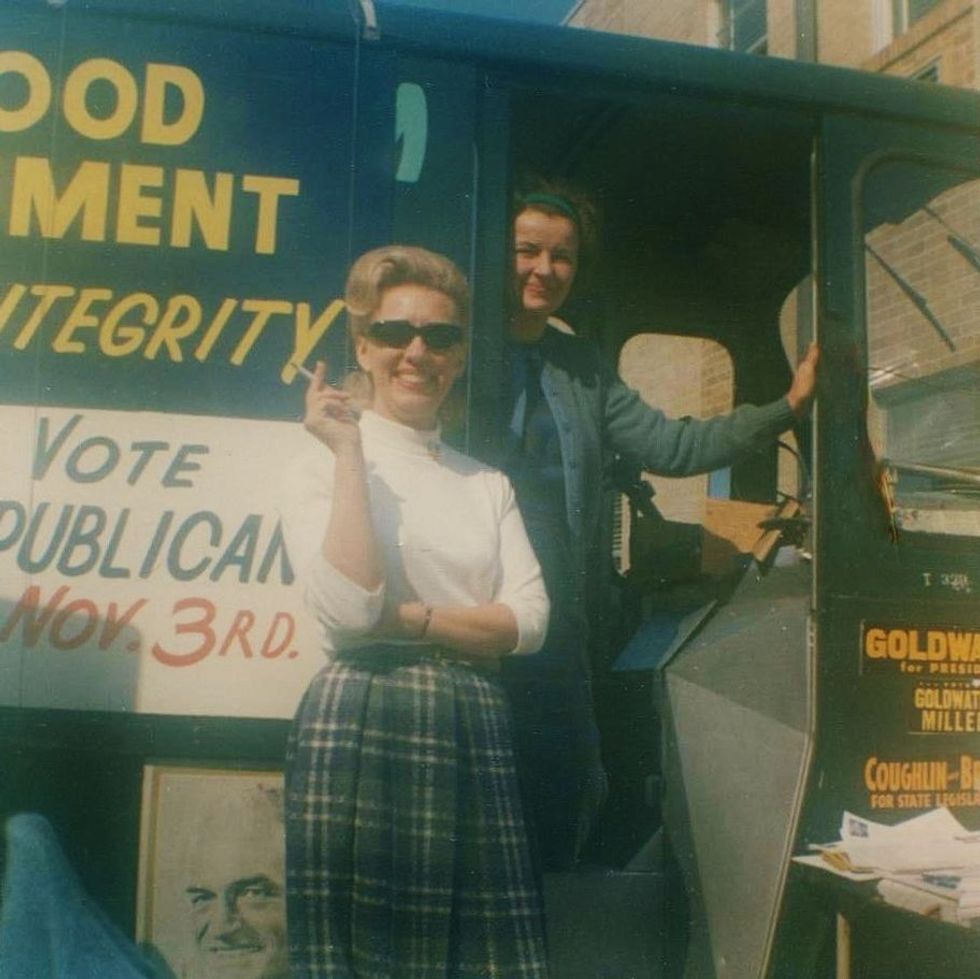 Clare Wines
2013 – Arizona
On October 7, my mother turned 89. She had lost her husband (married 68 years) in January. I moved back to Arizona from France last November to care for my parents, and since my dad's death, I've been going through the closets and showing mom some of the cool stuff I was finding from her past, trying to cheer her up.
ME: "Mom! Look at this hilarious tiny stuffed elephant with black horn rimmed glasses on it!"
MOM: "That's Barry Goldwater! I probably got it off one of the tables at a Republican meeting 100 years ago. You should probably give that to Colleen."
Colleen's my niece, who lives in DC, is passionate about politics, is a Republican and worked for Meg Whitman when she ran for governor of California.
ME: "Yeah I've got a box started for her. I thought I'd also give her some of your political books."
The old ones. I'll be burning the Beck, Malkin and Coulter books two minutes after my mom says sayonara.
MOM: "You know, you should give her Goldwater's book Conscience of a Conservative. I accidentally read that book and it made me realize I was a Conservative."
ME: "Wow mom, that's just like me. I accidentally picked up Molly Ivins and Jim Hightower books at an airport ten years ago and they made me realize I was a Progressive!"
MOM: (Blank face.)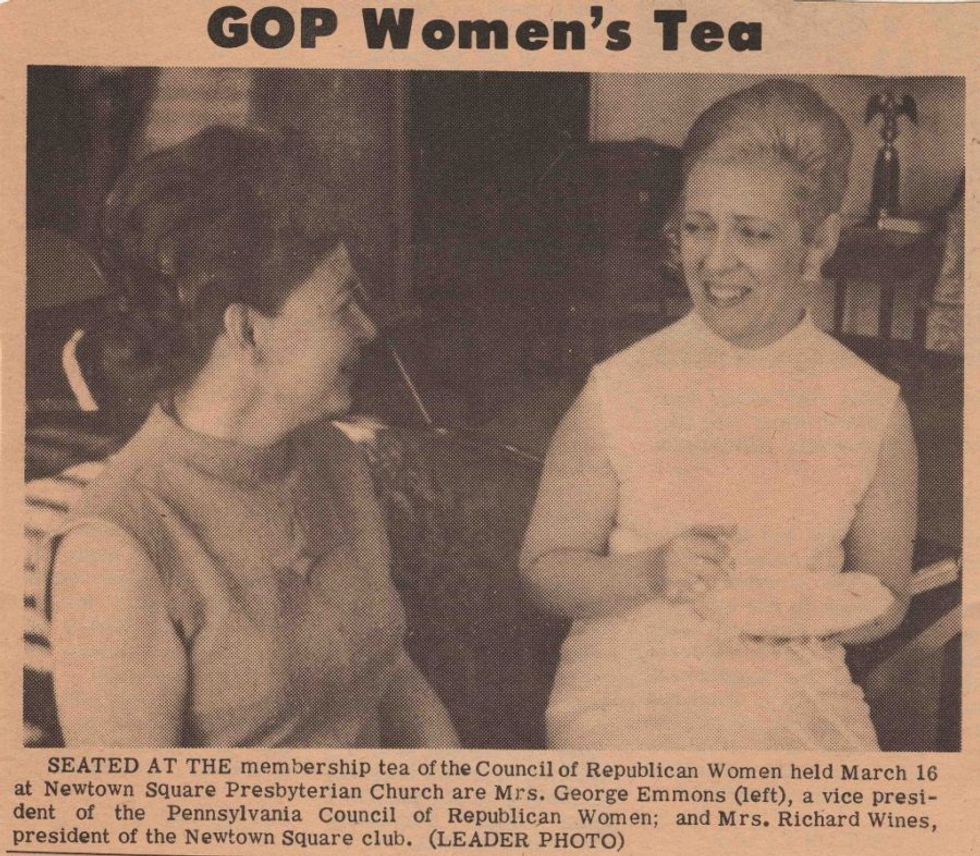 Clare Wines at Republican Women's Tea
Last week I pulled down a dusty box from a closet shelf and inside I found entire delegate packets for several National Federation of Republican Women biennial conferences. When I opened one to show Mom, out slipped a yellowed newspaper clipping with what looked like a woman dancing on a chair, steadied by some pretty young thing with a flip and a headband. Looking closer at the caption, I realized it was Phyllis Schlafly and Maureen Reagan Sills. The headline under the picture: "Credentials Snafu Riles GOP Women."
ME: "Wow, Mom, look at Phyllis Schlafly and Maureen Reagan!"
MOM: "Ah, yes, Maureen Reagan… She was the daughter of Reagan and Jane Wyman." There was a little sniff of dismissiveness in how she said that. But then she drifted off into that sunny California ranch in her mind and said (for the 567th time), "But you know, Ronnie and Nancy… now THAT was a TRUE love affair."
ME: "Yeah, yeah Mom, but why is Schlafly standing on a chair? And what was this 'credentials snafu'?"
MOM: "Ugh," she sneered, letting out a cloud of Pall Mall Blue 100s. She waggled her crooked finger at me and squinted with that listen-to-me-girlie! look, "That whole thing was a scandal. A disgrace! I was embarrassed to be a woman and a Republican! It was what eventually made me quit politics altogether." She turned to flick her ash with disgust. "Ugh. WOMEN!"
ME: "Were you there? During the scandal?"
MOM: "Oh HELL YES I was there! I was the chairman of the Pennsylvania delegation's registration committee. For BOTH of those conferences."
ME: "Both?" Digging in the box and dragging out more folders.
MOM: "Oh yes. There was a problem with Schlafly at both of them. I can't remember the years."
ME: "Well, mom, anything with Phyllis Schlafly in the middle of it probably was a clown show. She's still kind of a kook."
My mom looked at me incredulously. "Is she STILL ALIVE? Hell, she must be an OLD BAG!"
I looked it up. Phyllis Schlafly is exactly 53 days older than my mom. However, my mom regularly calls herself an old bag, so this revelation would not faze her.
A Republican Loss Incites A GOP Divide — Where Have We Heard This One Before?
At the same time my mother was becoming a U.S. citizen, Phyllis Schlafly had been busier than a one-armed paper hanger (as my mother loves to say). She wrote the book A Choice, Not an Echo and allegedly had the John Birch Society (she later denied any affiliation with them) buy thousands of copies and distribute them nationwide, which some say helped Barry Goldwater get nominated in July of '64 as the GOP candidate for president.
We all know the outcome of that election. Goldwater lost the presidency to Lyndon Johnson. Afterwards, the Republican Party looked inward and decided (without asking Schlafly) that Goldwater lost because hard-right Goldwater conservatives had turned off the American public so much that they flocked to LBJ. If the GOP wanted to take back the presidency in '68, they would have to silence the ultra-conservative wing of the party and move in a more moderate, though still conservative, direction.
Phyllis Schlafly begged to differ. She knew, in her heart, that Goldwater lost because the GOP wasn't conservative enough. She dismissed anybody who disagreed with her as "Rockefeller Republicans" or "Liberal Elites" and blamed Goldwater's failure (and her own later snubbing in '66 and shtupping in '67 by the NFRW, about which this article will be speaking somewhat forthwithly) on a secret cabal of "New York Kingmakers." Fired up, she vowed to push GOP women and the national party farther to the right to win in '68.
My mother was disappointed after Goldwater's loss, but soldiered on. She still had a lot to learn about politics. She got involved with a project started by another political friend (June Ornsteen), called Mail Call Viet Nam and eventually won an award. I worked for her and sent hundreds of letters to soldiers and was thrilled to get their replies.
My mother soon became a respected and integral part of the Pennsylvania Republican Women, active at the local and state level. Not one who suffered fools gladly (or quietly), she was very lucky to work with some of the best and smartest women in the state. She got her kids involved in the Teen Age Republicans (TAR) and sometimes dragged me (seven years old in '64) along on the campaign trail. Mom was having the "best time of her life."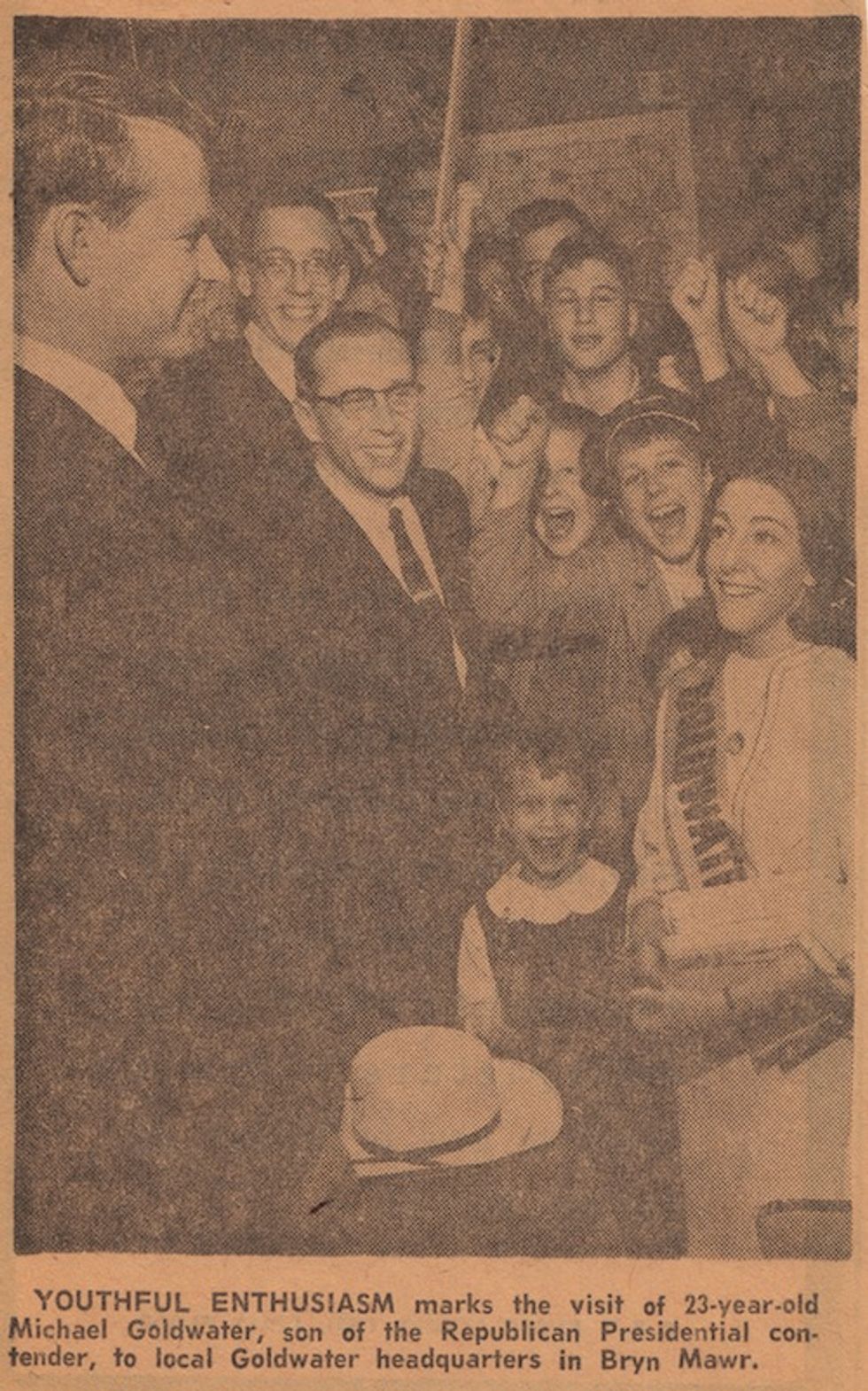 Lisa Wines at bottom, in Peter Pan collar.
2013 – Arizona
I read every single document inside my mom's NFRW conference folders for '66-'69, trying to put some context around the "snafu" year of '67. They were full of helpful handouts for organizing and volunteering, order sheets for bumper stickers (BE A POVERT – It's What's Happening Baby!), my mom's conference badges, her neatly typed attendee registration lists, conference agendas, banquet menus, invitations from presidential and congressional wives for teas or luncheons, and pre-released speeches by Everett Dirksen, Nixon, Goldwater, George Romney, etc.
Nothing I saw in those packets, other than the one newspaper article, gave any indication of the scale of conflict that would cause my mother to eventually get out of politics. I had to dig deeper. Thanks to my membership at ancestry.com (commercial!), I was able to dig up all the extinct newspaper coverage, and 99.999% of it was Phyllis stirrin' the shite…
Phyllis Schlafly Thinks LBJ Will Mandate Polygamy, Because of Course She Does
After her snub in '66, Phyllis Schlafly had one year to plot her strategy for '67. She wrote back and forth with Katherine Kennedy Brown who, after women won the vote in 1920, was one of the first women to start a political career in the Republican party, which included a stint on the NFRW board. Their letters discussed "their attempts to capture the presidency of the National Federation of Republican Women, and their hopes for a more conservative party."
Phyllis pushed herself into the press, announcing her intention to win the NFRW nomination in early '67, but also doing her usual nutty stuff, like advertising her new book Attack From Space (no, not little green men — Nucular Russians), or declaring that Republicans in congress should never cooperate with Democrats for the sake of "the national interest." (Southern Illinoisan 19 Mar 1967, "GOP Thunder May Be Democrats Best Weapon")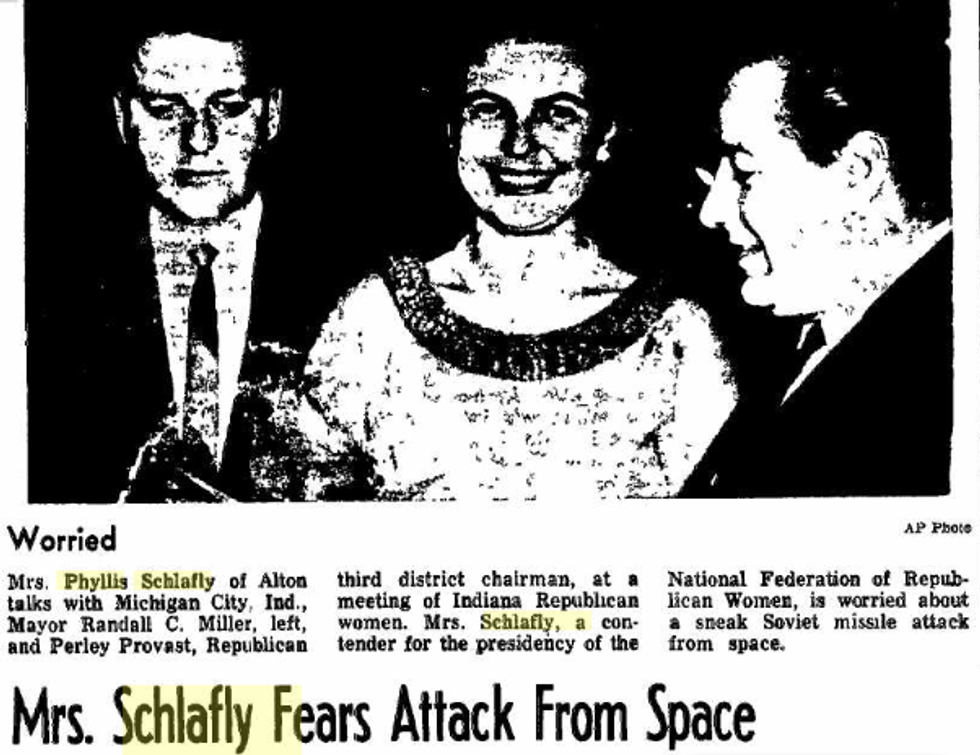 Her speech at the '66 NFRW conference didn't help much either. She waved a news article in the air as she told a few thousand women that Johnson's "Great Society" would soon include legal polygamy for men after 60. If men lived to 72 they could have a third wife and if they happened to be blind they could have a fourth! Of course, just days later this particular bit of nuttery was exposed by the Wisconsin Post-Crescent. (The Post-Crescent, Wisconsin, Tuesday, May 10, 1966, "Did She Mean It?")
Very helpful for convincing the board she was the best candidate.
In Which The Ladies Begin to Scratch and Hiss
In January of '67, the Washington Post called Schlafly's fight for control of the NFRW a "smouldering [sic] battle" and said that RNC leadership and even members of Congress began "taking sides in the fray." ("GOP Women Agree to Disagree" Jan 21, '67)
In February of '67, Schlafly attended the NFRW board meeting in New Orleans to try again to influence those ladies to nominate her for president. She failed. Instead, they nominated Gladys O'Donnell, a widow from California who owned an oil company, flew her own plane (taking second place in the famous 1929 women's cross-country race, the Powder Puff Derby) and was a strong supporter of the ERA.
We all know what Phyllis thought of the ERA. The fact that some states have not, to this very day, ratified the Equal Rights Amendment may have been Phyllis's most lasting achievement.
So, the fight was ON. Let the crazy press whoring and mud slinging begin continue!
Dainty Phrases Laid Aside
Four days before the NFRW conference opened, both Phyllis Schlafly and Gladys O'Donnell were asked to speak at the Women's Press Club luncheon in Washington DC. The fact that un-nominated Phyllis was even invited to speak was only because of her unrelenting press whoring and threats of a "floor fight" at the upcoming conference if she wasn't allowed to run as an alternate candidate.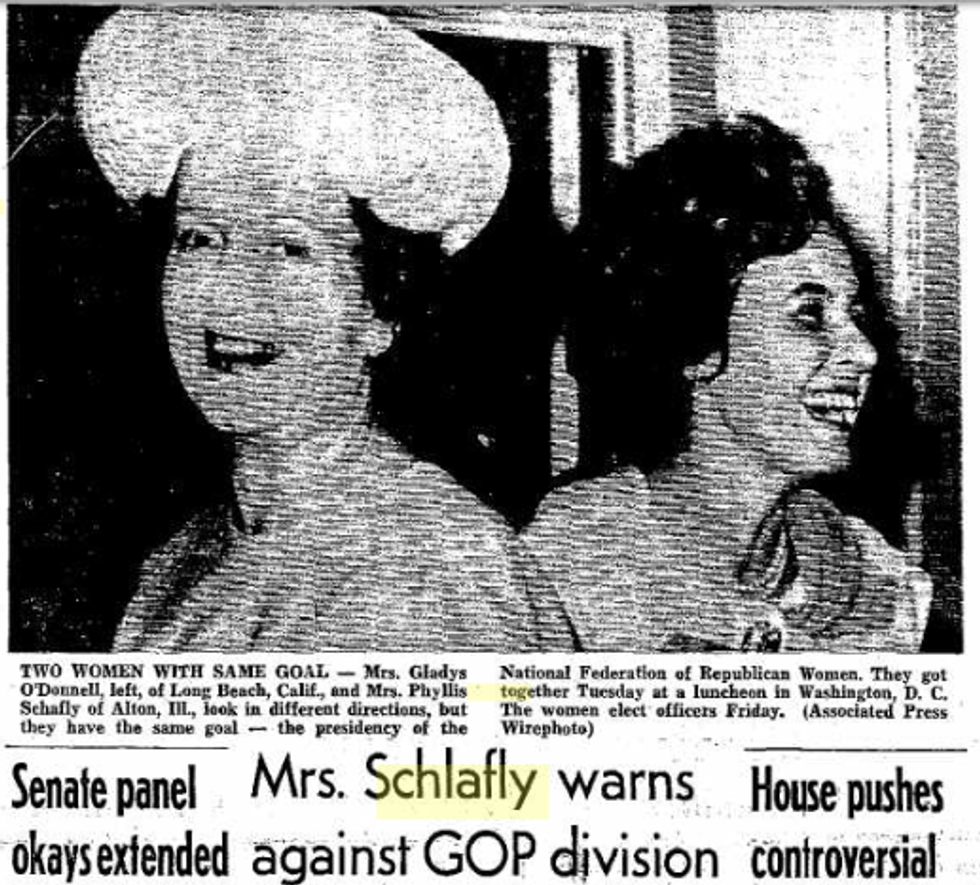 In their speeches, Phyllis and Gladys ended up mostly defending themselves from the other's attacks. Phyllis wasn't a Bircher and was proud to be seeking the presidency in the "first open battle for the job in its 29-year history" because the women wanted her to. Gladys said she didn't receive any "Rockefeller money" and hadn't used the NFRW HQ as her campaign HQ. Etceterah, etceterah, etceterah.
When the press ladies challenged Phyllis on one of the most egregious smear letters against O'Donnell (distributed by Phyllis's Alabama followers), Phyllis breathed a wide-eyed nopology: She hadn't seen the letters before they went out but she "would say certain aspects were less than fair." (Southern Illinoisan, May 4, 1967, by Frances Lewine, Washington AP: "GOP contenders clash in first confrontation")
The next day's Washington Post article was titled, "Two GOP Rivals Unbutton Gloves" and went on to say, "WHITE GLOVES were off and dainty phrases laid aside yesterday when Gladys O'Donnell, of California, and Phyllis Schlafly, of Illinois, both contenders …" (The Washington Post, Times Herald, Washington, D.C. May 3, 1967, By Marie Smith )
Aren't those little women so cute with their white gloves and all? Mraowwww!
2013 – Arizona
ME: "So mom, all the press I'm reading about the '67 NFRW conference use words like 'smoldering battle' between Phyllis and Gladys and Phyllis's numerous 'veiled threats' of a 'floor fight' at the conference or threats of starting her own organization and take women away from the NFRW. What was the atmosphere like when you arrived in D.C?"
MOM: "Well, I was too busy setting up my state registration tables in the lobby of the PA delegation's hotel and getting my volunteers trained and stuffing conference packets. So, at first I didn't notice very much. But when I walked over to the main conference hotel, you could cut the air with a knife. But the tension got much worse as the registration day wore on and rumors started coming in about major clashes between women and their state registrars and with the NFRW's national credentials committee."
ME: "What kind of rumors?"
MOM: "I guess there were hundreds of women who couldn't get their credentials for one reason or another. I also heard that women would show up to pick up their badges and were told that somebody else with their name had already picked them up. It was ugly. I heard that hundreds of women had been lined up in hallways of the main conference hotel all afternoon, waiting for hours to see the credentials committee to plead their case."
ME: "Did you have problems with your state's registration?"
MOM: "NO WAY. I had a typed list and a card box with every woman's name and what and when they paid and as we gave them their credentials, I marked it on their card. Things were going so smoothly that I left some volunteers at the table and Marianne and I walked over to the main conference hotel to see what the hell was going on. That's when we saw those buses."
ME: "Buses?"
MOM: "Yep. For some reason we were at the back door of the conference hotel and all of a sudden we saw three Greyhound buses pull up and out streamed all these women. I couldn't understand those buses. Why pull up in back? Why so many? Why Greyhound? It didn't add up. The state delegation hotels were all close to the main conference hotel. If not, there were small shuttle buses available, but not big commercial buses. And these women were obviously just arriving in D.C. but as they passed us at the back entrance of the conference hall, they had their conference badges already in hand. That just wasn't done!"
ME: "What wasn't done?"
MOM: "Well, conference delegates didn't get their badges before they checked into their hotel. They were instructed to go to their state's hotel and register for the conference there, then check in at hotel reception for their rooms. Then they could go to the conference hall. Nobody just arrived at the conference hall with credentials in hand. That was very suspicious."
ME: "What did you do?"
MOM: "Me and Marianne decided to get the hell out of that mess. So we went back to our hotel and hid out in the Pennsylvania delegation's hospitality suite. We were sharing one of the three bedrooms there, until our husbands arrived on Saturday. My really good friend Buz Lukens, he was an Ohio Congressman (!Underage Sex scandal Guy! Guess who replaced him? John Boehner!), came into the suite and I talked to him about this whole Schlafly/O'Donnell mess for four hours before we went to our Pennsylvania state banquet. After the banquet and back in the suite, more and more bad news kept coming in about the credentials debacle. Marianne and I stayed up most of the night talking about it."
In Which Hysterical Women Start Losing Their Shit
Phyllis had not only threatened (in a veily sort of way) a fight, it looks like she also came to the conference prepared for one. While women stood in line in sweltering hallways throughout the day and into the night, waiting for their turn in front of the NFRW credentials committee (which was locked and guarded by "hired detectives"), Phyllis's legal counsel was in the room, watching over all credentials decisions. Yes, Phyllis had flown in her own legal counsel from North Hollywood, California. There was no legal counsel representing O'Donnell.
Outside, women had taken their shoes off and slipped down the walls to the floor. They'd refused an offer from the NFRW of an air conditioned waiting room, in fear of losing their place in line. The anger was palpable. One woman, after waiting 10 hours, left in a huff, saying she was not going to be treated like an animal "waiting for slaughter" and was going back home to California. Another woman said she didn't care if her credentials weren't approved: "There's goin' to be some people knocked down 'cause I'm goin' in!"
That night, Phyllis's husband held court in the Schlafly campaign suite while her angry supporters complained about their ill treatment by the registration and credential committees. Phyllis rested in a bedroom across the hall after being "on camera" most of the day. She finally emerged, at the request of some reporters, and again threatened a floor fight the next day if her delegates had not yet received their credentials: "The credentials committee is not the court of last resort." Whatever that meant.
Bosoms Are Adorned
At 4:30 AM on the opening day of the NFRW conference, about 25 women were still in line outside the credentials committee room. They refused to leave until they got their credentials. The committee had worked all night long, most of them missing their state banquet the night before.
The press interviewed Phyllis's legal counsel, Mrs. Lucille Boston. She said that the credentials committee was doing a good job, considering that there were more than 4000 women attending this conference. Her only question so far was with the 24 Missouri delegates who were denied seats "because their state president alleged to the credential committee that club presidents were coerced into signing the legal delegate slips." Her calm demeanor wasn't quite in sync with the intensity of protest and rumors throughout the convention and afterwards.
According to the intrepid reporter who stayed with the line of women into the wee hours, almost all of the women with credentials problems were Schlafly supporters: "A Schlafly banner of some sort decorated almost every bosom."
2013 – Arizona
ME: "Mom, it says here that most of the women who had credentials issues were Schlafly supporters. Was that the way you remembered it?"
MOM: [Pause] "I really can't remember. Except that I didn't have any registration or credential problems in my state and I know there were women in my state who supported Phyllis and others who supported Gladys. But none of THEM were FIGHTING."
ME: "But if it's true, that could mean that Phyllis was actually a victim here. I mean, it was mostly her supporters who were denied credentials for stupid reasons at first, like a mother and daughter with the same name living in the same house were denied credentials and sent to stand in that godawful line. People were turned away for registering late or paying too late. It almost seems like it was done to slow things down and piss specific people off. I mean, she's either a victim of the O'Donnell faction and the NFRW/RNC bigwigs or she was incredibly Machiavellian and made this all happen herself, to look like she was the victim. … Naw. She couldn't have done that, could she?"
MOM: Long Pause. "I have no idea. All I know is that BOTH SIDES acted like ASSES."
ME: "Oh mom, please don't say both sides did it. I don't think I can hear that phrase again in my life."
MOM: "Wha?"
ME: "Oh, never mind."
George Romney Keynotes With Platform of More Religion, Less Demon Rum
On the morning that the conference began, you can imagine the anticipation and tension in the giant conference hall. More than 4000 women, many sleep-deprived and angry, sat in the huge conference hall at round tables, with a stage in front of them that ran the length of the room. One Washington Post headline was an understatement: "GOP Women Open 14th Convention–Impatiently".
Both Schlafly and O'Donnell were up on the stage with the conference organizers, NFRW board and invited speakers. It was a smart move by the conference chairman (a lady, but in '67, you had to be called a chairman) to put Phyllis on stage with Gladys and introduce them both, in order to thwart the threats of Anne Bowler (NFRW member, CA) to nominate Phyllis Schlafly from the floor.
When Phyllis and Gladys were introduced to the conference as candidates for NFRW president, the reaction of the crowd was telling. According to one press account, if applause counted for anything, Gladys had the "edge" on Phyllis. "Cheers, yells and applause, even chants of 'We want Phyllis!' greeted Mrs. Schlafly, as she beamed on the audience. But most of the enthusiasm from the audience seemed to come from the non-voting section. Many of the strong delegations up front stood silent." (Daily Review, Hayward, California, May 5, 1967, "Edge in applause to Mrs O'Donnell")
During the rest of the conference that day, speakers like NRC Chairman Ray Bliss, Senator Charles H. Percy (defeated in '85 by Paul Simon) and 5 freshman congressmen tried to calm the ladies down, pleading for unity and "disagreement without hostility" (Lima News, Lima, Ohio, May 7, 1967, "Women Contesting GOP Presidency"). After all, the conference theme that year was, ironically, Women United for '68.
At the evening banquet, distinguished guest speakers — Governor George Romney and Barry Goldwater — may or may not have known about the Great Battle of the Wimmin. But they stuck to their scripted speeches. Romney spoke of the greatest threats to our nation being the decline of religious conviction along with an increase in drunk driving. Because, those two things are related, yo.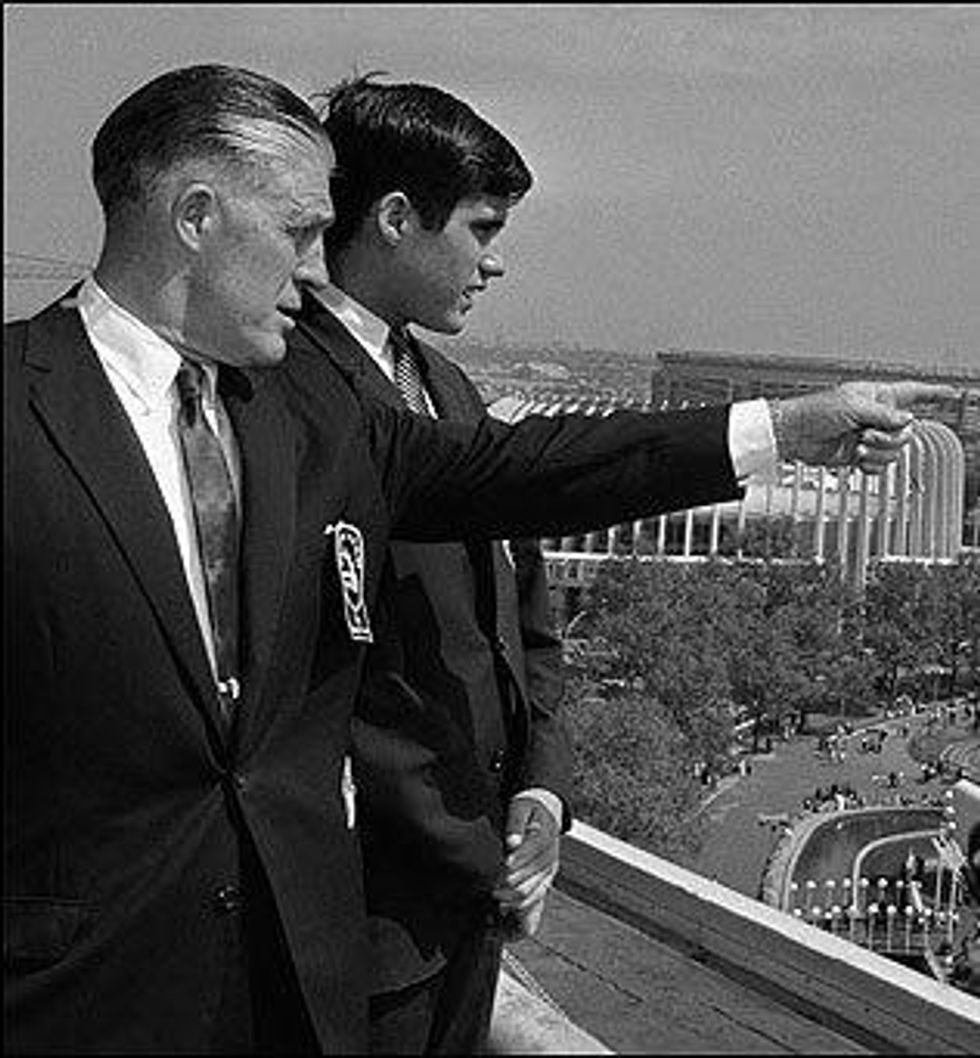 George Romney and unidentified person.
But Goldwater evidently "stole the show" with an "I told you so" speech in which he listed all the things he predicted during his '64 campaign and pointed out that they'd all come true, NYAH NYAH! All of this to thundering, constantly interrupting, applause.
After the banquet, receptions were held in separate rooms for Phyllis Schlafly and Gladys O'Donnell. Although O'Donnell's party seemed happy and fun, cramming multitudes of pulchritude into a room that was supposed to hold 500, Schlafly's party was a bit more… something…. with pink punch and petits fours and a four-foot eagle carved out of ice (her campaign symbol and later, her symbol for The Eagle Forum). Phyllis kicked off her shoes and climbed up on a chair in her stocking feet with a microphone to address her adoring hordes, while Maureen Reagan steadied the chair. Afterwards, Maureen kicked off her own shoes (wow, this was a THING, then, or at least reporters thought it was a thing) and climbed up on top of a piano to perform a "sing-along," "whomping up interest like a good circus barker." (The Evening Star Bulletin, Washington, D.C., May 5, 1967, "Credentials Snafu Riles GOP Women")
2013 – Arizona
ME: "So I'm reading here about the opening of the conference when both Phyllis and Gladys were introduced to all the delegates as candidates for NFRW president and there were some interesting comments about the applause."
I read mom the news story about the clapping and then the silence from the front tables.
MOM: "I remember that. Those women just stood there, not clapping. It was stunning."
ME: "What did they mean by the non-voting section and the strong delegations up front?"
MOM: "Well, the non-voting section was made up of people who didn't have credentials to vote. They could still attend the conference, they just couldn't vote. And as far as the front tables went, they were reserved for the largest state delegations and for VIP NFRW members, like presidents of state clubs, past presidents and board members, congressional wives, etc."
ME: "Well it looks like they made their opinions pretty clear by standing there in silence while Schlafly supporters were hootin' and hollerin'."
MOM: "That's because they were DIGNIFIED. They were LADIES. Not a bunch of bloody fools."
ME: "So, whose after-party did you go to, Phyllis's or Gladys's?"
MOM: "Oh HELL, Lisa. You know me! I've always hated crowds. Especially crowds of screeching women! I went back to my room!"
Smears, Movie Stars, Poison Pens and Death Beds
On the second morning of the conference, voting for NFRW issues and board members was to begin at 7am and end at 2pm. Voting was held in a huge ballroom at the main conference hotel. There were hundreds of voting machines and, based on my mother's comments and reports I read about the debacle, there must have been a stage or platform of some sort, with a microphone, and of course, a huge banner with the conference theme: Women United for '68.
Phyllis, in another flamboyant (paranoid?) effort to thwart her political enemies, had flown in two voting security experts from Arizona to inspect the setting and sealing of voting machines before the balloting began. She claimed that Mrs. Elston, current NFRW president, told her she could have the machines inspected but when the inspectors arrived, they weren't allowed to do it. (Lima News, Lima, Ohio, May 8, 1967, "After GOP Women Vote, Defeated Candidate Views 'New Group'")
At the same time, the NFRW board ladies were still very worried that Phyllis might win this election. And Phyllis's supporters had been trumpeting their own polls that showed a majority of delegates wanted a more conservative NFRW president. (Yes, but, but… skewed!) The board was so worried, they asked California Senator George Murphy (chairman of the Republican National Senatorial Committee and former movie star) to write a letter defending Gladys from one of Phyllis's smears FROM HIS DEATH BED.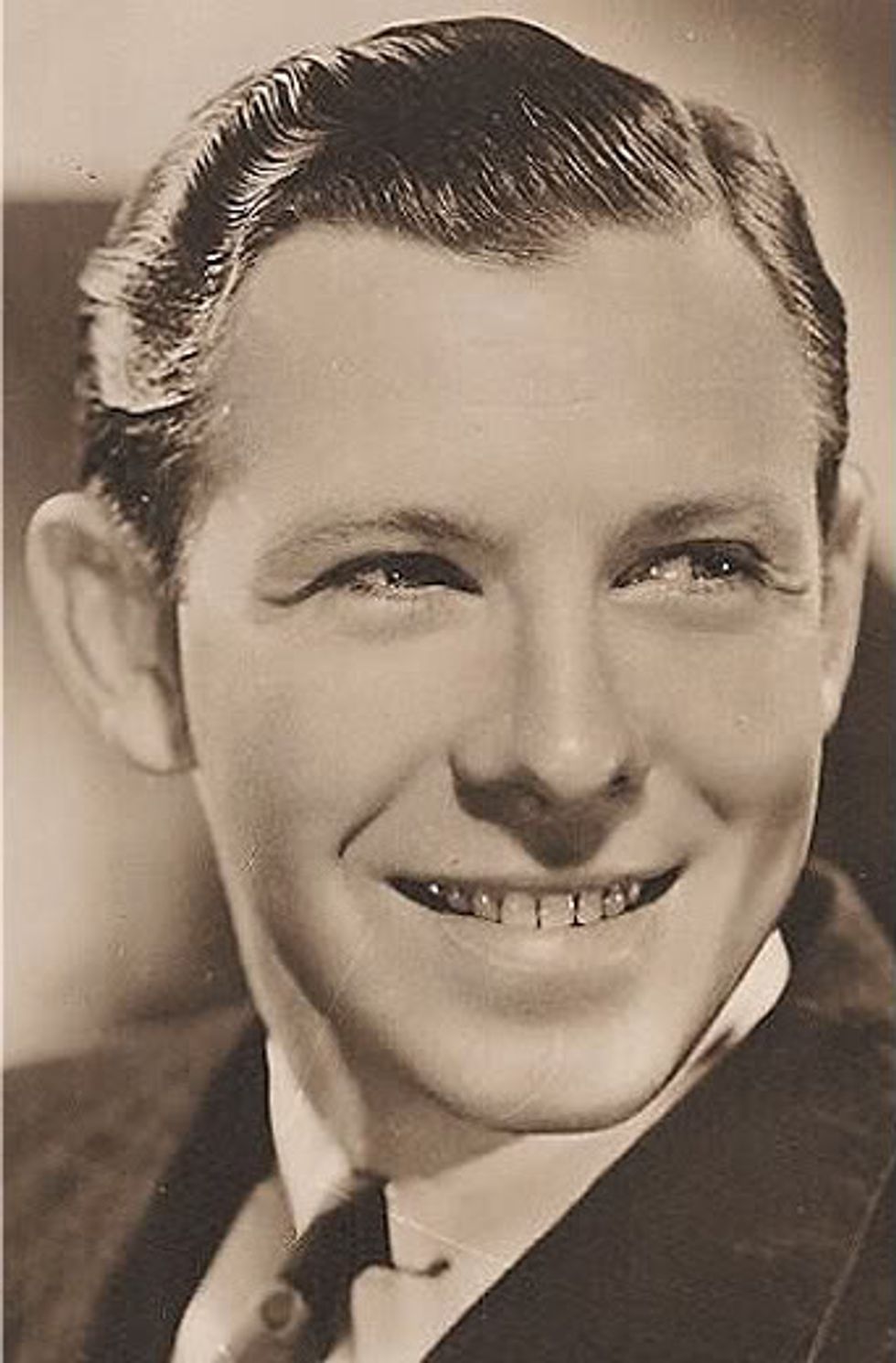 George Murphy in younger, less-throat-cancery days
(Well, he didn't DIE. THEN. He just had a little bout of throat cancer and was having his larynx removed when asked to write the letter.)
I read his letter six times and still don't understand what the smear was about. Something about Gladys O'Donnell being a delegate WAY BACK IN 1952 FOR GOD'S SAKE at the GOP convention and voting for the candidate she was legally required to vote for but saying she really wanted somebody else but still voting for the person she was legally required to vote for anyway and blah blah blah?
Anyhoo, the almost-dead guy wrote the letter and NFRW president Elston had copies distributed to attendees just before voting began at 7am. When Phyllis saw the letter and verified that Murphy had really written it (yes, she had somebody actually call the almost-dead guy to verify he really wrote it), she gasped, "It can't be true! It can't be true! There goes the election!" (Daily Review, Hayward, California, May 12, 1967, "Murphy's Letter A Major Factor In Electing Head Of GOP Women")
2013 – Arizona
ME: "So mom, the day of the vote. When did you vote?"
MOM: "I voted before 7am because I could, being a registration chairman. And believe-you-me, I wanted to vote and get the HELL out of that room."
ME: "Why?"
MOM: "Well, lots of reasons. I hate crowds. I hate controversy. I wanted to go to some of the meetings. And I had plans with Marianne to meet our husbands for lunch."
ME: "Did you notice any problems when you went into the room to vote?"
MOM: "No. But the room was huge. So if anything was going on, I missed it."
ME: "Well it says here that Phyllis Schlafly had two voting security inspectors there and she wanted them to inspect all the machines before voting started."
MOM: "Ha! There were hundreds of machines. That would have taken them HOURS! What an ASS."
ME: "Well, what would they have to do?"
MOM: "Just make sure, before the boxes were sealed, that they hadn't been pre-stuffed with completed ballots."
ME: "Did you see that letter from Senator Murphy defending Gladys O'Donnell that was distributed the morning of the vote?"
MOM: "Letter? No. I didn't see that. … You know, Murphy was a movie star! (breaks into wobbly song) Forrr Mee and My Gaaaallll!"
ME: "Oh. Really? Ha! Cool, mom. So, you didn't observe any crazy stuff that morning, then."
MOM: "No. But there was CHAOS later on!"
ME: "Oh telllll me morrrrre."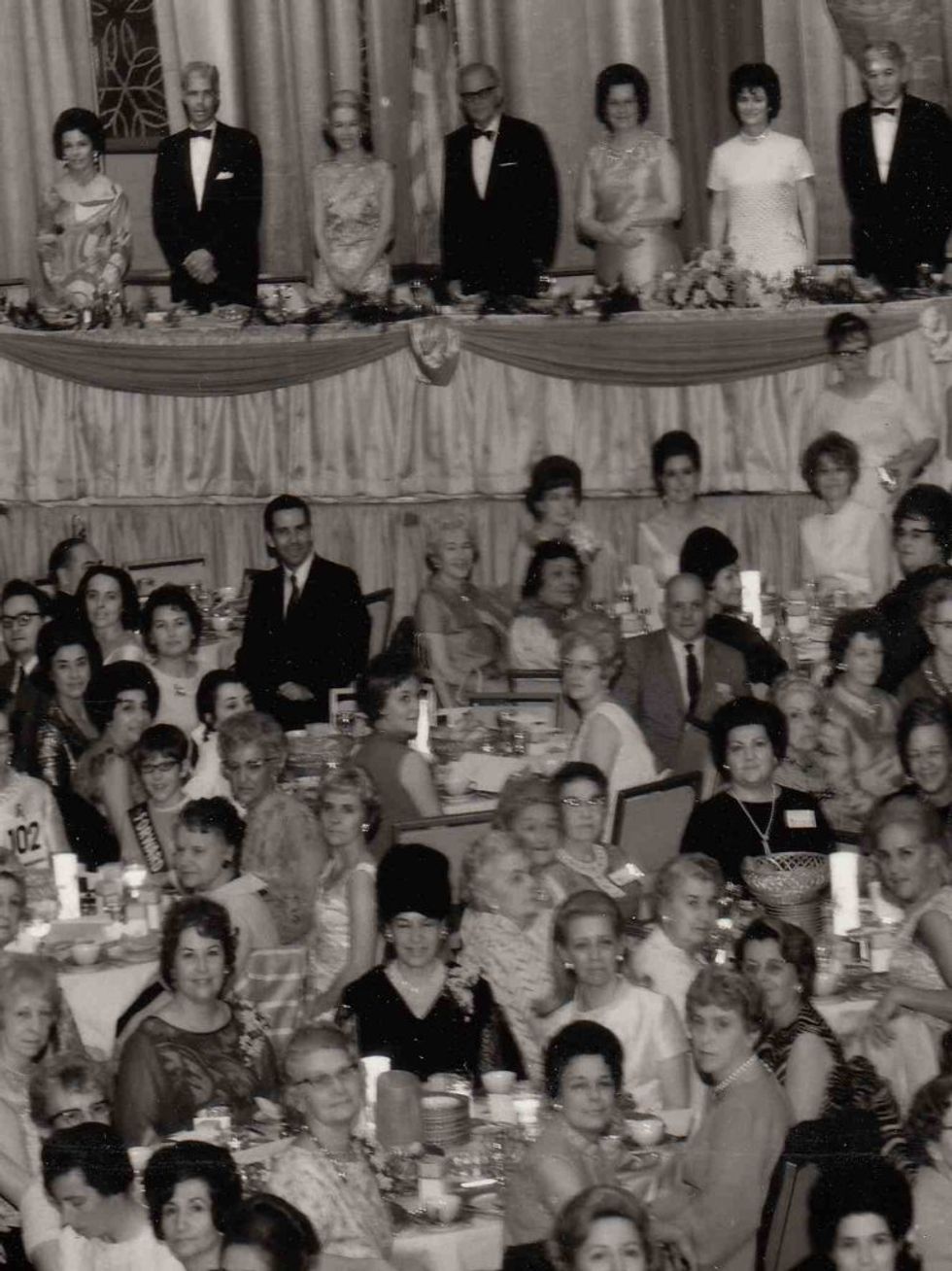 Clare Wines at '69 convention, to right of lady in tall black hat; Barry Goldwater behind her.
A Negro Lady Tells Everybody to Cut the Hitler Shit; Cops Are Called, But Not on That Lady
Inside the voting hall, women grabbed the microphone from each other to yell something about Phyllis or Gladys: "All morning, comely clubwomen with teased hair and broad-bosomed matrons decked with badges and ribbons were barking thinly-veiled insults into microphones while the two factions alternately cheered and groaned. The sharpest speech came from Mrs. Lovelyn Evans of Chicago, a 72-year-old Negro who protested 'this Hitler divide and conquer business.'" (Southern Illinoisan, Carbondale, May 7, 1967, "GOP women battle, Mrs Schlafly loses, challenges elections")
Wow. A "Negro," (in 1967, just two years after the Voting Rights Act passed and only one year after poll taxes were outlawed), saying that the mostly-white-women's tactics were like Hitler. I'm surprised the walls didn't fall in right at that very moment.
(Also, YES WE KNOW, Republican people, civil rights used to be a Republican thing. We get it. We've heard it. We're aware. Thank you. Maybe try to bring a little of that back?)
In this incredible melee, women were still trying to vote. With yelling from the podium and women cheering or booing, it was hard enough. But when the crowd started trying to actually interfere with women as they voted, somebody called the cops.
2013 – Arizona
MOM: "Well, it was time for Marianne and I to meet our husbands for lunch out in the lobby of the conference hotel but Marianne wanted to go see what was going on in the voting hall. I DID NOT want to go but I did anyway. And there were crowds of women in that room, all yelling. There were women getting up and grabbing the microphone and yelling stuff and then another would come up and yell. It was NUTS. Marianne got UP THERE and grabbed the microphone!"
ME: "I always loved her! What did she say?"
MOM: "Oh I don't know. Something about stop acting like a bunch of damn fools and have a little dignity. I don't remember exactly. But when she came back to me I was plastered against the wall in this mad house and told her that I wanted to get out of there NOW! So she and I headed for the lobby and started looking for our husbands. And there your father was, sitting there chatting away to Senator Hugh Scott! That old drunk!"
MY SISTER: "Oh yeah! He WAS always drunk. I remember him at a speech slowly leaning farther and farther over the podium!"
MOM: "I never felt comfortable around Hugh Scott. He was creepy. Once Dick McClatchy [Marianne's husband] asked me if they could use my gorgeous car [1966 Olds Rocket 88 midnight blue convertible – yes, my mother rocked it] for a parade for Hugh Scott and I said, "Dick, I'd do that for anybody BUT HIM!"
ME: "Oh, I don't blame you… OK, so, then what happened?"
MOM: "Well, we were just standing there in the lobby and all of a sudden the doors flew open and all these cops started running in and heading for the conference hall! We all looked at each other and without a word, headed straight for the exit. And while we were running out the door, Maureen Reagan ran out with us! I guess she'd had enough as well!"
ME: "It says here in one of these articles that "demonstrators took to the halls."
MOM: "Yeah, I heard about that. The damn fools. Marching and shouting. Ugh. WOMEN!"
Schlafly, Defeated, Presses On. Forever.
Immediately after the vote results were announced in the voting hall (Gladys O'Donnell 1910, Phyllis Schlafly 1494), Mrs. Rose Frame of Georgia announced a formal protest of the ballot outcome, based on Mrs. Schlafly's ballot security experts not being allowed to inspect the voting machines prior to the vote. (Lima News, Lima, Ohio, May 7, 1967, "Mrs. O'Donnell Elected, Women Contesting GOP Presidency")
Did her failure to win the vote stop or even slow down Phyllis Schlafly? Oh, hell no. "When it was all over, attractive, brunette Mrs. Schlafly acted like a victor in defeat. She went from the convention floor to a private rally with about 1000 of her cheering supporters, ready to head a rival – and outspokenly conservative – organization, if they wanted her to." (Lima News, Lima, Ohio, May 8, 1967, "After GOP Women Vote, Defeated Candidate Views 'New Group'")
I like that, "if they wanted her to." Such a diva.
Within a day or two, Phyllis went to the press, presenting a 12-point letter she'd written to Ray Bliss (head of RNC), demanding a formal investigation of the "illegal" and "fraudulent" vote. She sent Bliss this letter even though she'd already alleged he'd been in cahoots with the NFRW women in making sure she didn't win. She claimed that women were brought in from the streets to vote. Maybe those were the buses my mom was talking about? We'll never know. (Lima News, Lima, Ohio, May 8, 1967, "After GOP Women Vote, Defeated Candidate Views 'New Group'")
Phyllis also said that 100 Schlafly women were "wrongly deprived" of their credentials and 800 O'Donnell delegates from New York and Pennsylvania were "wrongly seated." (Edwardsville Intelligencer, Edwardsville, Illinois, May 8, 1967, "Schlafly Seeks Probe")
2013 – Arizona — and the FEMA Camps
ME: "Phyllis said that 800 O'Donnell delegates were wrongly seated from New York and PENNSYLVANIA, mom!"
MOM: "Oh, BULLSHIT! You saw my records in that conference folder. You know how organized I was."
ME: "Well, to be honest, I've read, like, 50 newspaper articles and in every one, Phyllis named a different problem state – Missouri, Alabama, California… So, don't worry…"
MOM: "I'M NOT WORRIED! I know what I know. And my delegation's registration and credentialing had zero problems."
Nothing ever came of Phyllis's protests or demands. The vote for Gladys O'Donnell stood.
Phyllis didn't leave the NFRW organization nor did she take her supporters with her to a new organization, as she had threatened. But as a direct result of this NFRW "snafu," she immediately started The Eagle Forum and founded a newsletter aimed at ultraconservative women, The Phyllis Schlafly Report. She also started telling her supporters, who were in senior roles in several state NFRW clubs, to divert any dues or income they received, above what is required to go to the National organization, and send it to her organization, which many of the clubs did.
The NFRW didn't walk away from this unscathed either. "The usually staid and untroubled national federation… was rocked by the whole experience." (Lima News, Lima, Ohio, May 8, 1967, "After GOP Women Vote, Defeated Candidate Views 'New Group'")
ME: "So, that was 1967 and I see in this other conference folder that you were just as involved in the 1969 NFRW conference."
MOM: "Yes, and I had a good time. But something happened to me after that mess in '67 and I was never the same again. As a matter of fact, just a few days after that '67 debacle, when I was back home and your dad and I met Marianne and Dick McClatchy for dinner, I passed out in the ladies' room of the restaurant and your dad and Dick McClatchy had to come in and carry me out to the car. That was the beginning of the end for me."
ME: "Yeah, I remember after we moved to Arizona in '71, you never got involved with politics here. You told me you were done with women."
MOM: "Ugh. WOMEN. I'm still done with them. After the '69 conference I just started slowly extricating myself from politics and when I got here, I never went back."
(Little sad pause. Mom puffing her cigarette, looking off into the distance.)
MOM: "You know, in the end, Gladys O'Donnell didn't make a very good president. She was a dud. No energy. No enthusiasm. At least Phyllis was a firecracker! She could stir women up and get them excited and get them to do things. O'Donnell? Not a chance."
For a purportedly "liberal" conservative, Gladys O'Donnell also turned out to be a little cuckoo. Just five months after winning the NFRW presidency, she proposed youth internment camps as a solution to… something, I don't know what. But they would be compulsory, GOVERNMENT-RUN, "education" camps, with lots of DISCIPLINE, for all 16-year-old American boys. (Lima News, Lima, Ohio, October 31, 1967, O'Donnell Idea Disputed")
Yes that's right. Compulsory FEMA camps were apparently as Republican as civil rights.
Even if she got out of politics, my mom is still a Republican, and loves her Fox News, and I'm a good daughter who doesn't bitch her out about it, too often. We do like to sit on that couch, and have a CC and water. And I never would have thought it would be Phyllis Schlafly who gave us so much to talk about over our drinks.
WOMEN. UGH!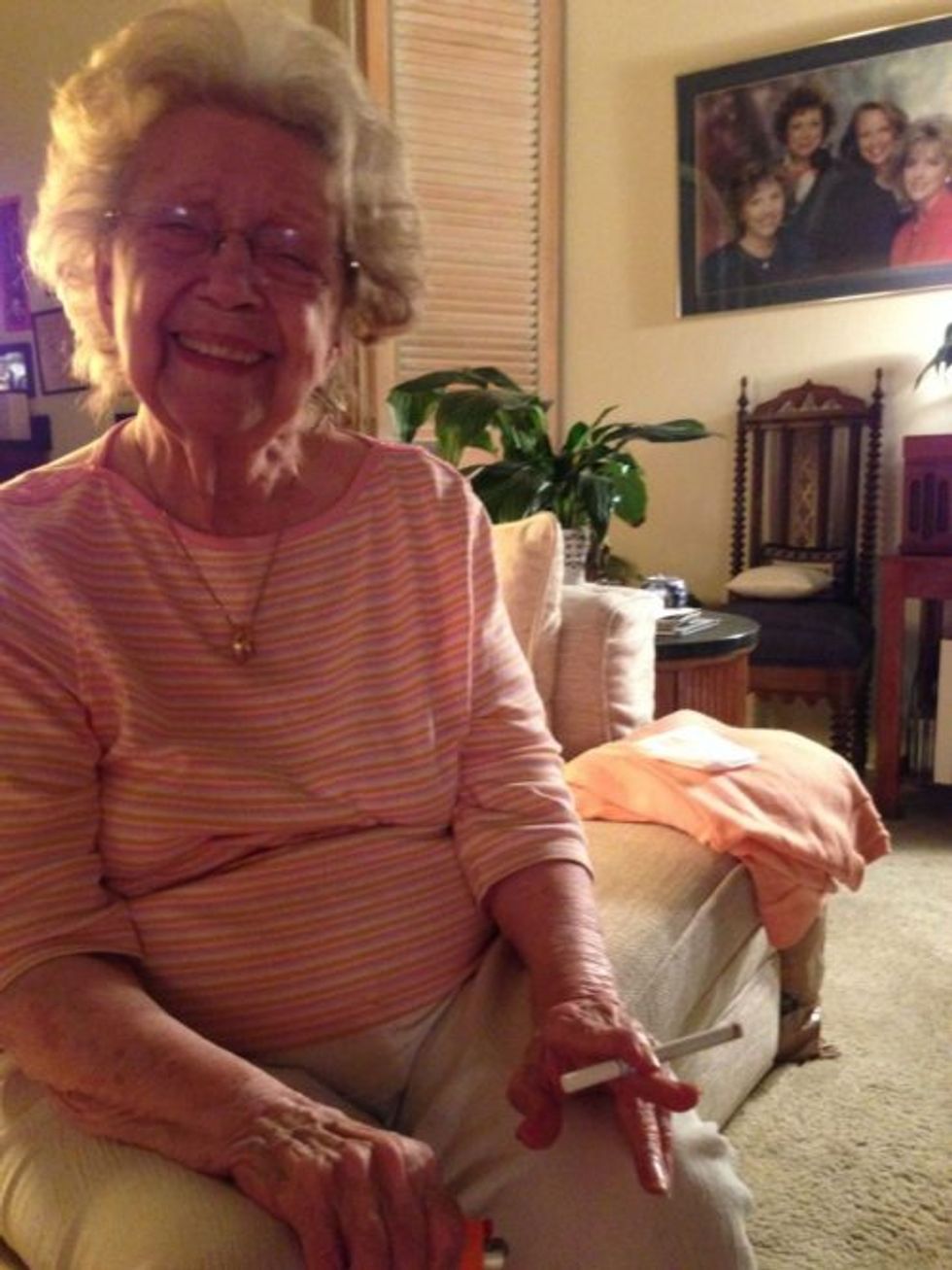 Clare Wines, 2013