The Trump Who Came In From The Cold. Wonkagenda For Wed., May 30, 2018
Elections
May 30, 2018 09:13 AM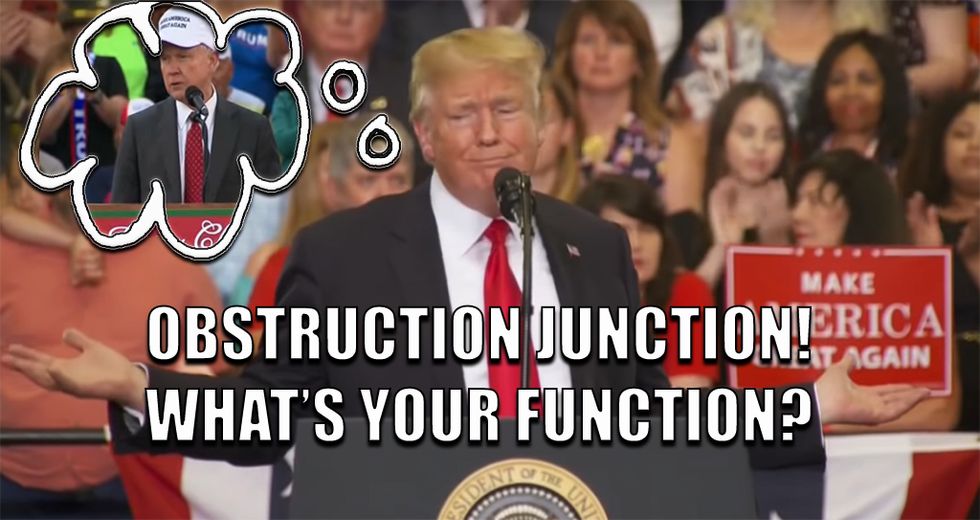 Morning Wonketariat! Here's some of the things wemay be talking about today.
---
During a March 2017 meeting at Mar-a-Lago, Trump reportedly bitched out Jeff Sessions and tried to make him unrecuse himself from Trump-Russia investigations, adding more pages to the big-ass book of obstruction allegations.
Rudy Giuliani's smoke screen is shifting directions (again); now he says Trump won't sit down with Robert Mueller unless he can see all the stuff about the FBI's source inside Trump's 2016 campaign.
Trey Gowdy along with a number of other Fox News talking heads pushed back against Trump's "spygate" nonsense, stating, "I am even more convinced that the FBI did exactly what my fellow citizens would want them to do when they got the information they got, and it has nothing to do with Donald Trump."
Later today federal prosecutors are expected to get almost 300,000 pieces of potential evidence from three cellphones belonging to Michael Cohen. Attorneys for Cohen and Trump only cited 252 items as confidential or highly personal.
The death toll in Puerto Rico could exceed 4,000 according to a new independent study by the New England Journal of Medicine that finds a lackluster and delayed humanitarian response to Hurricane Maria caused many more deaths than previously reported. Researchers also found that many of the homes and bodies have yet to be accounted for as government researchers simply haven't bothered to investigate.
A new investigation by Politico finds that FEMA has has denied funding to poor people in the areas ravaged by Hurricane Harvey due to their inability to navigate the federal bureaucracy.
Trump's zero-tolerance policy has caused a 21 percent surge in children held in government custody without their parents, and shelters are now at 95 percent capacity.
McKay Coppins has a new longread about Stephen Miller that's about as creepy as you'd expect.
At a recent closed-door RNC fundraiser for top-dollar supporters in New York, Trump bragged about the US killing 100-300 Russian mercenaries in Syria.
While speaking at ReCode's 2018 Code Conference, Small Business Administration head Linda McMahon seemed unaware of a US program designed to help people from "shithole countries" start small businesses in the US. Throughout the talk, McMahon ceaselessly praised Trump, calling him a hard worker, good listener, and "consummate businessman," and said his incessant tweeting is a "good thing" because "you can see that he's adapted to technology." [Transcript] [Full Video]
Mitch McConnell is laying out his summer Senate agenda, telling Roll Call that he wants to put "points" on the board, and that he won't consider "gotcha" bills like immigration or a new AUMF, but he does want a number of spending bills including the NDAA, farm bill, and an updated water resources development. Priorities, people!
Trump intends to spend the summer campaigning against red-state Democrats. It's not like there's anything else going on, right?
Republicans might be gunning for Democratic North Dakota Sen. Heidi Heitkamp, but Trump apparently hasn't gotten that memo as Heitkamp has repeatedly appeared next to Trump so many times that her office has started keeping a list.
More than 40 black women are running for US House seats, but only one has the backing of national Democrats.
Women in California House races have to navigate a penis-filled obstacle course backwards and in heels as sexism on the campaign trail runs rampant.
A "pink wave" in Washington could change a lot of the nation's spending priorities, according to a new analysis by WaPo that found women tend to favor public health over military spending.
Independent voters now outnumber Republicans in California, according to a political data firm. Democrats now make up almost half of the state electorate with 44.4 percent.
Missouri Republican Governor Eric Greitens says he'll resign, effective 5 p.m. Friday. In a brief speech, Greitens blamed his "ordeal" (allegations that he forced his mistress to perform oral sex on him and then extorted her) on a "witch hunt" that was costing him "millions of dollars of mounting legal bills." Shortly after Greitens's announcement, St. Louis Circuit Attorney Kim Gardner stated she would have a statement regarding further charges against Greitens later today.
Trump's sudden insistence that a June 12 summit with North Korean dictator go on as planned (despite canceling the summit last week) has sent officials from the US, Japan, China, and the DPRK scrambling, resulting in rerouted international flights as officials try to figure out what the fuck is happening.
Trump's schizophrenic trade war with China took another turn after his White House announced plans to impose 25 percent tariffs on $50 billion worth of Chinese imports, and reneged on an invitation for the Chinese to play in some naval war games. An irate Chinese state-run media responded, "If the US wants to play games, then China would be more than willing to play along and do so until the very end.
The State Department is expected to start cutting the length of visas issued to Chinese citizens in an effort to combat intellectual property theft, as well as increasing the scrutiny for applicants.
In outlining the Canadian economic vision, your not-so-secret Canadian boyfriend Justin Trudeau bluntly signaled his distaste for "ruthless" US economic and social policies that disenfranchise others, adding, "Perhaps it flies in the face of the trickle-down economics that people are still clinging to, but I don't believe in those." *SWOON* [Archive]
Arkady Babchenko, a Russian journalist critical of Vladimir Putin who had fled to Ukraine, was shot in the back and killed. In a Facebook post, the Ukrainian prime minister blamed the "Russian totalitarian machine."
Amid stalled talks to form a coalition government, anti-immigrant Italian populists are making one last push to create an anti-EU government, sending the DOW into a swan dive. [Archive]
A bunch of racists in the UK are turning anti-Muslim asswipe Tommy Robinson into a martyr after he was thrown in jail for a year for repeatedly disrupting court proceedings involving Muslim people.
Speaking at an EU think tank, George Soros announced his backing of an anti-Brexit group, "Best for Britain," which seeks another referendum on Brexit. We're still waiting for OUR Soros checks!
A televangelist wants you (yes, you, US taxpayer!) to pay for his $54 million dollar Falcon 7x private jet. It's a fucking sweet ride, with a shower and bluetooth, but he's only offering free rides to Jesus.
Valerie Jarrett took the high road in responding to Roseanne Barr's racist tweets last night during an MSNBC special on racism in America, stating that, while she's "fine," she is "worried about all the people out there who don't have the circle of friends and followers who come right to their defense."
A talking head that CNN calls a law enforcement analyst criticized the town hall on Twitter, calling it "ironic" that Joy Reid and Al Sharpton were "lecturing on racism, and presumably homophobia as well."
Rather than continuing to bitch about black people and peddle conspiracy theories, Roseanne has spent the night screaming at her FORMER coworkers for stabbing her in the back, blaming her bullshit on Ambien, retweeting her defenders, and bemoaning how Trump has to go through this "every single day."
Vanity Fair is hyping gossip about Kim Kardashian going to the White House to talk about a 62-year-old woman serving time for a drug offense as part of Jared Kushner's prison reform plan, but it's a story about the Kardashians and Kushner hidden behind a hard paywall, so fuck it.
PC game distribution platform Steam has stopped a planned release for "Active Shooter," a school shooting simulator, calling the publisher a known troll "with a history of customer abuse" after criticism from Parkland survivors.
California Democratic Rep. Ro Khanna has been working on an "Internet Bill of Rights," but House Democratic leadership think he's moving too fast.
Facebook COO Sheryl Sandberg was speaking with ReCode's Kara Swisher at the 2018 Code Conference and revealed that Facebook doesn't know what Cambridge Analytica stole. [Full Video]
ICYMI: Facebook's new political ad rules are already fucking over some primary candidates and incumbents as politicos try to reach people who don't already block ads on Facebook.
And here's your morning Nice Time! Nanki the Serval!
We're 100% ad-free and reader-supported, and we don't need a Jesus-powered jet. We just need a couple of bucks for bills and coffee.
Dominic Gwinn
Dominic is a broke journalist in Chicago. You can find him in a dirty bar talking to weirdos, or in a gutter taking photos.