The Year In Lovable Crazy Longshot Midterm Candidates
News
December 28, 2010 08:00 PM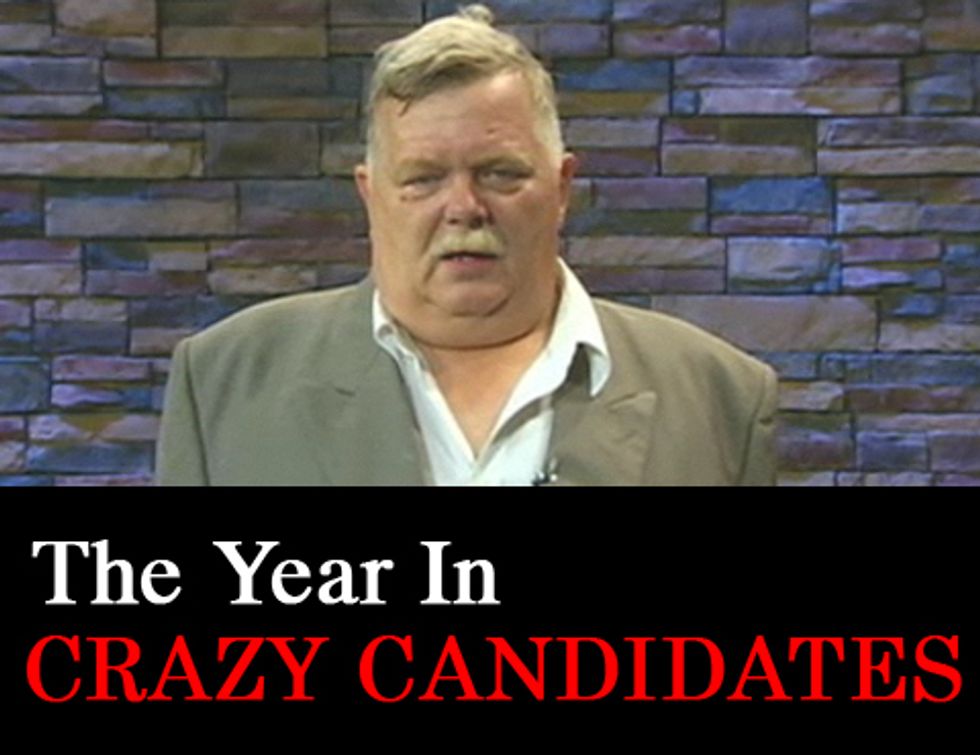 This year, we saw some stellar legitimate candidates for Congress who were crazy and won their party's nomination, such as Sharron Angle and Christine O'Donnell. But there were also some other, more mentally unstable longshot candidates. These candidates brought interesting new personalities and ideas to the fore, such as the notion of traffic-stop slavery, that had been grossly ignored by the media. They may not have had political connections, jobs, or any campaign organization to speak of. But their faith in the democratic process and the marketplace of ideas gave us hope. And funny YouTube videos.
---
South Carolina's Alvin Greene was proof that this blind faith in democracy was legitimate, as the man won the Democratic nomination for U.S. Senate despite never campaigning for the office, and being indicted on sex charges. He won, of course, because South Carolina and the nation needed fresh, Daoist ideas in Congress, and early on we picked up on the fact that he is in fact a monk of that order.
Near the end of June, we called him up for an interview. Your editor felt like an asshole for asking so many questions and not even really getting to the important ones, about Daoist philosophy, he jotted down before the interview.
In July, we received a tip about one Basil Marceaux and took a look at his amazing website. The candidate for Tennessee governor had given an interview to a local teevee station, which became an Internet Sensation and eventually landed him a spot on Jimmy Kimmel.
Soon, our investigative unit found out a local DJ of some kind had taken over his "campaign" and was staging YouTube videos with the intent of going viral. These days, they seem to be trying to use his success to launch some kind of music career; we caught up with him to get his midterm predictions, and he was still railing against the evils of traffic-stop slavery and electing Republicans to make America a republic rather than a democracy (what Democrats want) -- the sudden fame didn't make this man flip-flop. At his zenith, Basil joined other interesting Tennessee candidates for history's greatest debate, which we chronicled, thanks to a lucky tipster witness:
So anyway! The debate. For starters, they tried to open with the Pledge of Allegiance, but Basil refused to say it to the flag that was on stage because it had gold fringe (one of his platforms, remember?) They delayed the debate while they tried to find another flag, but in the end, he just left the room during the Pledge. Then he came back in and everyone had to repeat the Pledge to a picture of the American flag on someone's CELL PHONE in the corner of the room. [...]

Most of his answers made even less sense than everything he's said on TV and on his website. He literally fell asleep at the podium between questions also.
Missing from the debate: another great crazy candidate/opponent of Basil's whom we wrote about: The self-styled "Crazy Man James."
Finally, the third of our favorite candidates this year: Ernest Pagels, Jr., who first appeared to us in this campaign commercial, the best of the whole cycle:
We looked into his various lawsuits and criminal charges, including a certain incident involving urination and a car tire at a local library.
Later, we interviewed him and came to learn a thing about paranoid schizophrenia and conservative politics. And even later, he gave up his campaign, and we put together a little tribute song with some of the sound clips:
It's a fitting and noble way to remember all of these candidates. Godspeed, fellows. And never give up that hope.