They Tried To Kill Us. We Survived. Let's TABS! Friday, February 26, 2021
US of America News
February 26, 2021 08:30 AM
Good Morning to everyone EXCEPT Senate Parliamentarian Elizabeth MacDonough who ruled last night that a $15 minimum wage could not be included in the Democrats' coronavirus rescue package if they want to pass it via reconciliation. Which saves Joe Manchin and Kyrsten Sinema the trouble of killing it themselves, we guess. House Ways and Means Chair Richie Neal told Politico that Democrats would pass it through the House anyway, but Sen. Chris Murphy admitted before the ruling that Democrats had no backup strategy . "Do we have a plan if she rules that it's not allowable? The answer is no. We have to come back to the discussions in the caucus about how to proceed." Here's a link to a Wonksplainer on the Byrd Rule, aka filibuster lite.
---
And speaking of broadly popular legislation that Mitch 'n' the Gang are about to murder dead, the House passed the Equality Act to prevent discrimination on the basis of sexual orientation or gender identity. Republicans, led by Rep. Greene, were absolute filth about it, with many referring to trans girls as biological males. But most of them were slightly more subtle about it, insisting that they don't want to bash gays, they just want to protect religious freedom. By which they mean the religious freedom to take cover behind teenage girls as they kick the shit out of gay and trans kids. Read all about it at the Post. And if you want to read a longform article about that horrible Greene woman, Politico's got you covered. We do not.

Ditto for whatever Rumble might be. It appears to be a platform solely dedicated to videos of a glassy-eyed Donald Trump Jr. trying to make his jaw work as he rants about Joe Biden. Hardest of passes, TYVM.
But if your appetite for bile isn't slaked yet, Vox has a rundown on Rand Paul being pig ignorant to Dr. Rachel Levine yesterday at a hearing on her nomination to be assistant secretary for public health. Dr. Levine is trans, and that poor woman was subjected to Sen. Paul's thoughts on "transexuals" and "genital mutilation." Rand Paul's neighbor [redacted redacted redacted]!
Don't look now, but we just launched another airstrike in Syria against Iranian backed militias in response to a rocket attack in Erbil on February 15. "The strikes destroyed multiple facilities located at a border control point used by a number of Iranian-backed militant groups, including Kait'ib Hezbollah (KH) and Kait'ib Sayyid al-Shuhada (KSS)," Pentagon Press Secretary John Kirby said. "This proportionate military response was conducted together with diplomatic measures, including consultation with Coalition partners. The operation sends an unambiguous message: President Biden will act to protect American and Coalition personnel. At the same time, we have acted in a deliberate manner that aims to de-escalate the overall situation in both eastern Syria and Iraq." Naturally, Republicans will still call Biden a weakling, third verse same as the first.
A Trump judge ruled that the eviction moratorium put in place by the Biden administration is illegal because renting an apartment is not an economic activity, so the federal government can't regulate it under the commerce clause. Unlike, say, growing marijuana in your back yard for personal consumption or having an abortion via a method which squicks the GOP out, in which Uncle Sam needs to get right on that shit. And if you guessed that this dumbassery came out of the state which just deregulated its energy grid into a plague of darkness, you'd be exactly right. Read about it at Bloomberg.
Politico has a story about the difference between Ultra, Lite, and Zero. Tampons? Menthol Cigarettes? OMG, are they bringing back Tab? Nope! This would be a whole article on the many flavors of GOP Trumphumper. Apparently that asshole is going to show up at CPAC this weekend and shake his wizened member around to prove that he's still boss of the Republican party. And right on cue, Mitch McConnell says he'll eat that shit sandwich again if Trump is the 2024 nominee. Knock yourselves out, assholes!
Meanwhile, Democrats are in DISARRAY! Which you can tell by the fact that GOP is still trying to defenestrate Liz Cheney for failing to agree that Emperor Trump is the most fully clothed president ever. After Cheney said that the party needed to move on from Trump, Kevin McCarthy went on Fox to accuse her of doing cancel cultures, and Texas Rep. Chip "Thank God For Gohmert So I'm Not the Dumbest" Roy huffed that she'd "forfeited her right to be chair of the Republican conference." Like Chip Roy will ever get to wear that red scrunchie! Via the Washington Post.
But in these troubling times, it's good to know that everyone in Washington can agree on one thing: Ted Cruz is THE WORST. Axios says that John Boehner's merlot-infused narration of his memoir contains some extra copy where the former House Speaker riffed off script, including an impromptu "Oh, and Ted Cruz, go fuck yourself."
Did you ever think you'd miss John freakin' Boehner?
And since today is the Jewish holiday of Purim, here's a blast from MY past, a time long long ago in a pre-Twitter era, when I had the patience to make strawberry cheesecake hamantaschen.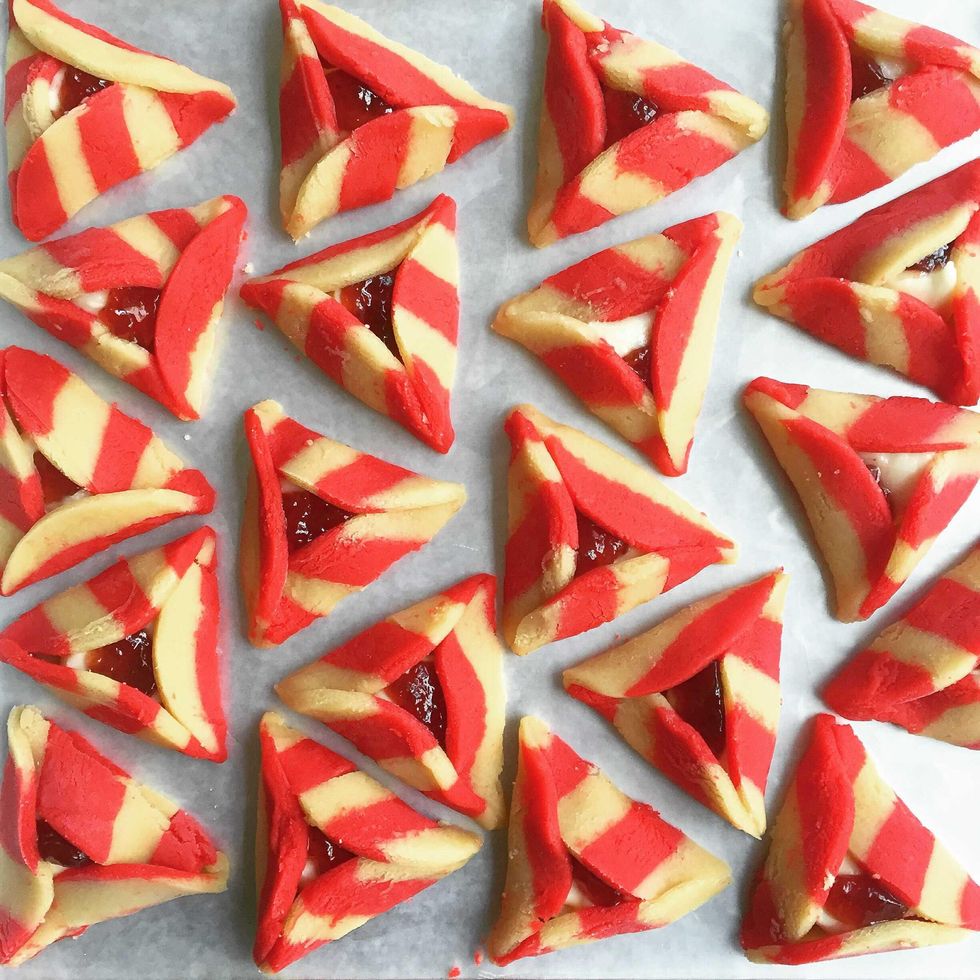 They tried to kill us, we survived, let's eat! And also, let's get good and drunk and blot out the memory of our enemies, cursed be their names.
Follow Liz Dye on Twitter RIGHT HERE!
Please click here to support your Wonkette. And if you're ordering your quarantine goods on Amazon, this is the link to do it.
Liz Dye
Liz Dye lives in Baltimore with her wonderful husband and a houseful of teenagers. When she isn't being mad about a thing on the internet, she's hiding in plain sight in the carpool line. She's the one wearing yoga pants glaring at her phone.