'This might be a little esoteric for Wonkette - but I hope you'll humor me for a minute.'
News
September 01, 2009 06:43 PM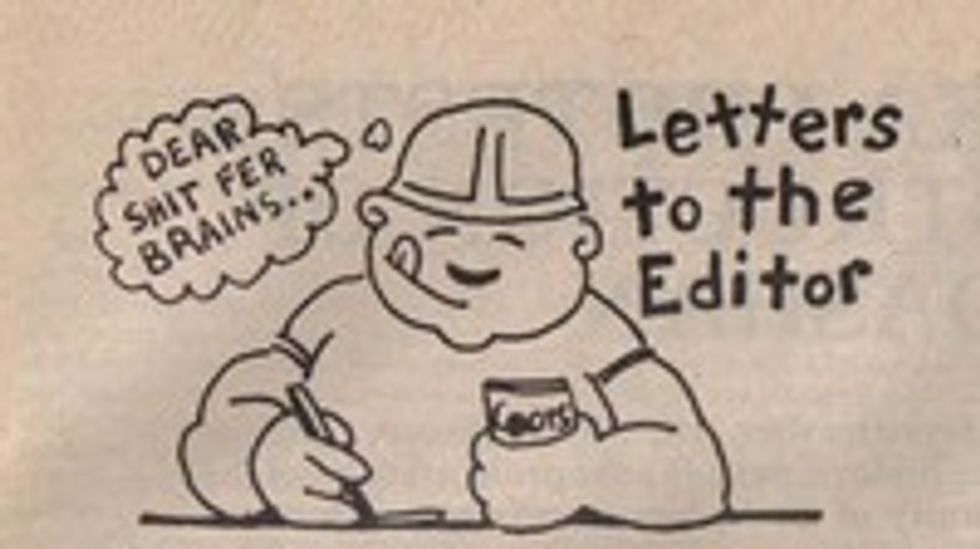 Most of the publicity pitches your Wonkette receives during the workday are for relatively innocuous, easygoing things. "Hey Wonkette me & my buddy Dave just made a hilarious video in our dorm room that your readers would love," the average one reads. "We dress up in saran wrap & overalls and smash a model town of Sarah Palin Lego pieces with vibrators. Thank you for your consideration." Today, however, we received a considerably more horrifying and evil pitch from the murky depths of the military-industrial complex. Does a global communications executive from GEseriously think that Wonkette will help his company gin up support for a multi-billion dollar defense contract to build F136 alternate engines for a new fleet of Lockheed Martin F-35 warplanes of death??
---
Defense reform & GE

from [REDACTED] (GE, Corporate)

to ken@wonkette.com,

tips@wonkette.com

date Tue, Sep 1, 2009 at 3:01 PM

subject Defense reform & GE

Ken:

My name is [REDACTED], and I work in communications here at GE. As Congress prepares to return to Washington, I wanted to highlight the big story that may not make the headlines thanks to the intense interest in healthcare reform: the F-35 Joint Strike Fighter. This might be a little esoteric for Wonkette - but I hope you'll humor me for a minute.

We recently published our position in two recent articles from GE Reports . For 14 years Congress has supported the development of the GE-led "F136" competitive engine because it was considered vitally important to the success of the Joint Strike Fighter and will help preserve competition on the largest weapons procurement program in history.

Last week Lt. General Michael A. Hough, USMC (Retired) - who was Director / Deputy Director of the Joint Strike Fighter Program from 1997-2001 - called for engine competition for the Joint Strike Fighter program. Lt. General Hough also chose to publically debunk the misconception/misstatement that there was ever a competition between Pratt & Whitney's engine and the one being made by the GE-Rolls Royce team - and that P&W won. This has been a cornerstone of Pratt & Whitney's (P&W) aggressive lobbying and advertising efforts.

P&W, the developer of the F135 engine, maintains that America does not need a competing Joint Strike Fighter engine... of course they would - they currently sit on a 30-year, $100 billion engine monopoly under a "cost-plus" contract. At this writing, the House Armed Services Committee has reported that the P&W F135 development since 2002 is already $1.9 billion beyond plan.

At this rate, it is projected to reach $12.7 billion in total contract overruns. This could take more than 100 aircraft out of the program. Meanwhile, the GE-led program has continued to stay on budget. We think that competition is not only good for the military and the Joint Strike Fighter engine program, but also for the American taxpayers. History proved with the F-16 and the USAF's Alternate Fighter Engine program, competition improves engine reliability, cost, and maintainability. It also saves taxpayer dollars. More information on the case for competition is available at GE Aviation.

If you're interested in the issue, I'd be happy to brief you on the Joint Strike Fighter and the F136 competitive engine, provide you with some additional information, and answer any questions you may have. Let me know if there is a date/time that works for you, and I'll make myself available. If this doesn't interest you, there is another story line that just might... http://tinyurl.com/knsu68

Best,

XXXX

GE Technology Infrastructure

[FANCY JOB TITLE], Global Communications
...Anyone else need a cold shower?
Here's an even better idea than setting up a two-way corporate market for F-35 engines, and it too "saves taxpayer dollars": don't build any of this stupid shit! Instead of building 3,000 of these things -- fancy airplanes, for fuck's sake! -- build zero, and save... $300 billion!
NO. WE NEED A COMPETITIVE MARKET SOLUTION TO THE WAR ENGINES. THAT IS FINAL.