This Reuben Sandwich Will Get You Through Anything
Recipe Hub
November 12, 2014 11:50 AM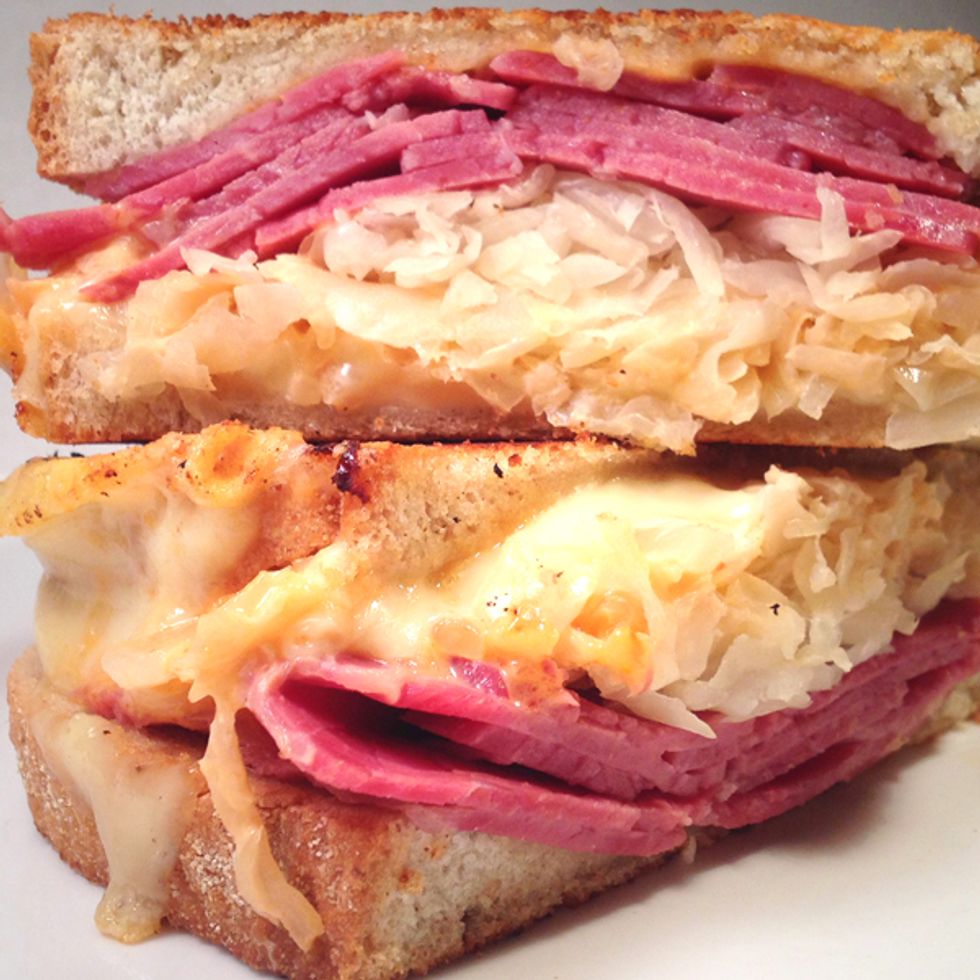 We need to have a Reuben Sandwich. Corned beef, Swiss cheese, Thousand Island dressing on rye, and grilled with butter in an iron pan. Reuben got me through freshman year at college.
---
When I was 18, I worked at a 24-hour diner until midnight, five or seven days a week. Employees were paid occasionally, but we could have a meal after every shift. The most satisfying thing on the menu, for me, was a Reuben.
While the cook was preparing home-fries for the morning crew, and the waitresses were restocking ketchup bottles and stacking coffee cups, I was still wearing my uniform at a back table doing homework and trying to better myself. Between reading and writing papers for classes the next day, I would wander behind the grill and make my dinner. I needed something heavy and sustaining -- something meaty, cheesy, and buttery. There were gallons of Thousand Island dressing at my disposal. I taught myself how to believe that sauerkraut was a legitimate vegetable. A Reuben was everything I could do. It was my Roxy Music Avalon of sandwiches -- the whole album.
Over the years, I have experimented with the cut of corned beef. It looks pretty when a pound of thinly sliced meat is stacked to the ceiling, but the truth is that thin cuts insulate the center of the sandwich from reaching an optimal temperature for deliciousness. Tourists like photos of sandwiches with razor-thin meat piled high. People who live in the community are earnest and realistic, and they are having thickly sliced corned beef because it makes the sandwich taste warm and better. They are right. Be in the community.
Engineer your Reuben with a thick center, because the components will push backwards as you eat it. Proper design reduces sloppy spillage.
Ingredients
8 slices of traditional rye bread
1 lb. corned beef
sauerkraut, drained and blotted dry
½ lb. Swiss cheese, sliced
Thousand Island Dressing
Butter, for spreading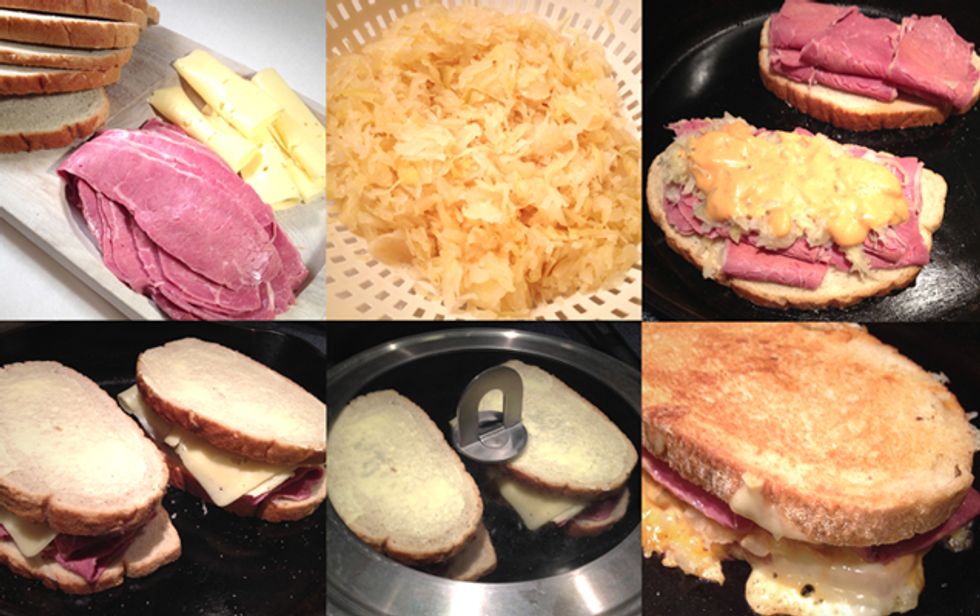 Butter the bread and assemble your ingredients as shown. Use about six or eight slices of corned beef per sandwich. Grill on medium heat in an iron pan, covered. Teflon skillets will work, too. When both sides of the bread are nearly toasted and the cheese has melted, remove the lid and grill each side an addition minute, until browned.
Take the time to really look at the melted cheese spilling over the sides of the bread. When I win the lottery, I am going to spend some of the time frying cheese at my mansion in Hawaii. Fried cheese is the nicest thing that can happen to anybody.
Serve these four Reubens with your favorite side and ice cold root beer. Lots of ice cubes. If no root beer, a Coke. If no Coke, how about a milkshake?
Are you in or what? Enjoy!