This 'Tennessee Idiot For Governor' Commercial Is The Gayest Fucking Thing I Have Seen All Week
2018 State and Local Elections
February 22, 2018 04:50 PM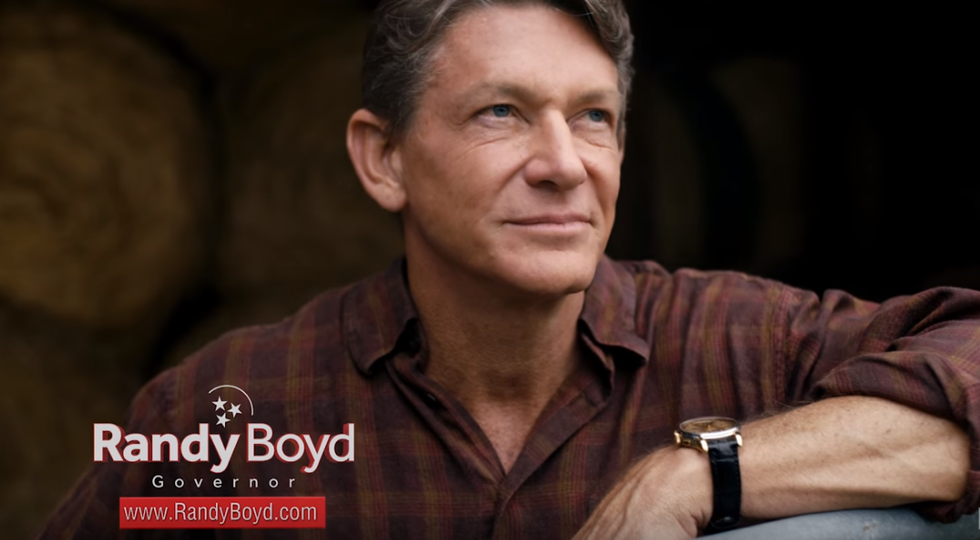 masc cut top for discreet encounters, allegedly
---
If you live in Tennessee you will hate us for drawing attention to this commercial from GOP wingnut gubernatorial candidate Randy Boyd, because it is on EVERY FIVE FUCKING MINUTES, especially if you have been watching the Olympics 24/7 like we have. Yes, among the very nice hopeful commercials about being your best self and pushing your limits like a common Olympian, there is Randy Boyd, Conservative Business Guy Of Untamed Masculinity, who will save Tennessee from LIBERAL STUFF and also MEXICAN THINGS.
Back in 2015, Boyd was profiled in the Knoxville Mercury, which described him as a fun-loving gym-o-holic who has a pet dachshund named Oscar and also millions of dollars. Most importantly, though, he worked for Republican Governor Bill Haslam, and described himself as a "moderate" who didn't ever want to run for governor, because his wife Jenny wouldn't let him. Darn that Jenny!
A lot has changed in three years. First of all, Jenny clearly is on board now. Also, motherfucker is definitely an ideologue. Here, let us look at his commercial, where he explains how he hates brown people and wants to fish around in ladies' wombs, all while looking AS MASCULINE AS ALL THE VILLAGE PEOPLE PILED ON TOP OF EACH OTHER. In other words, this shit is trying so hard to be macho hetero alpha male it comes off as the gayest fucking thing in the world if you don't count the outfits Johnny Weir wears in public.
(We recommend watching with the sound off, unless you want to hear a bunch of horseshit xenophobic racist misogynist GOP talking points.)
0:01: Randy Boyd is walking through a field. Who buys his jeans? Not his wife Jenny! Randy Boyd knows how to wear a pair of jeans, because he has a very good body, like a good conservative heterosexual should!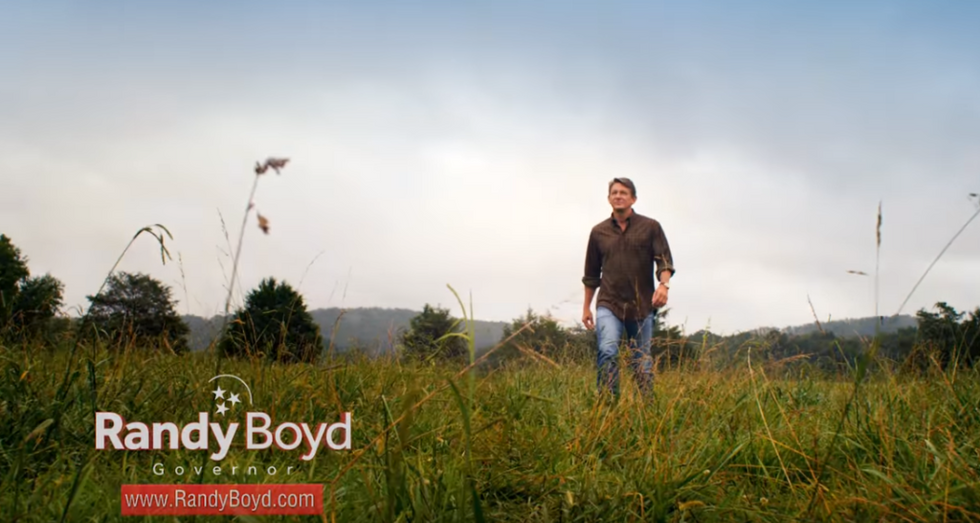 0:02: Randy Boyd also knows how to wear a pair of khakis, and this form-fitting shirt that shows off his conservative Christian muscle parts. He is holding hands with his wife, because he has definitely had P-in-V sex with her.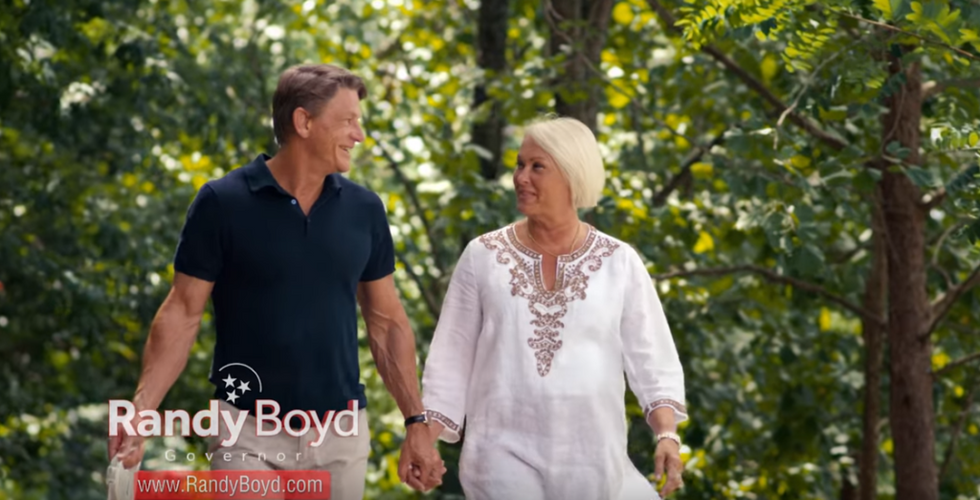 0:06: Randy Boyd didn't have to practice very long to get his expression just right for this portrait, of "Conservative Heterosexual Farmer Daddy With Muscles Gazes Into The Distance While Deep In Thought." Heck no, Randy Boyd is also a very good model!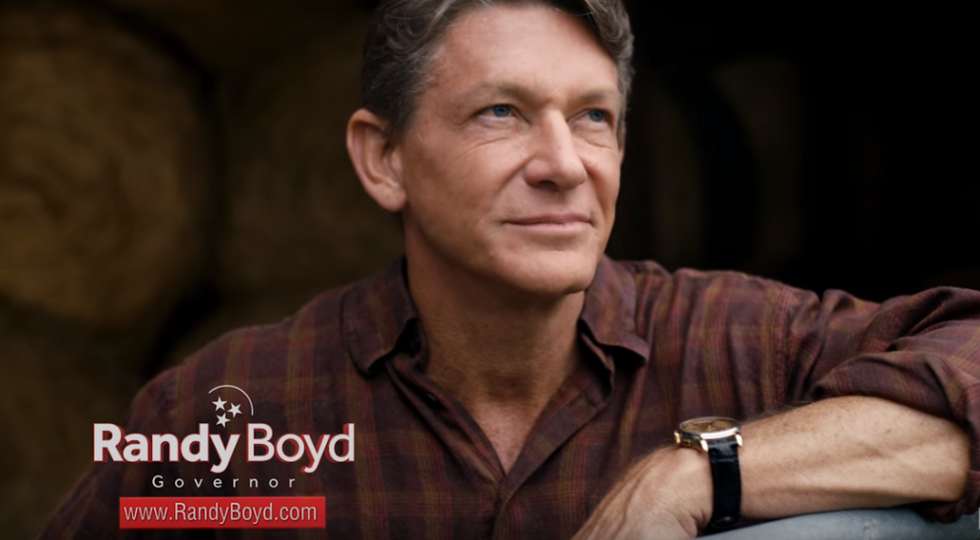 0:08: As a conservative businessman, Randy Boyd knows he is well-suited to deciding what happens up inside the lady parts. Abortions? No, BABIES. God told Randy Boyd this, perhaps when he was gazing for the portrait above.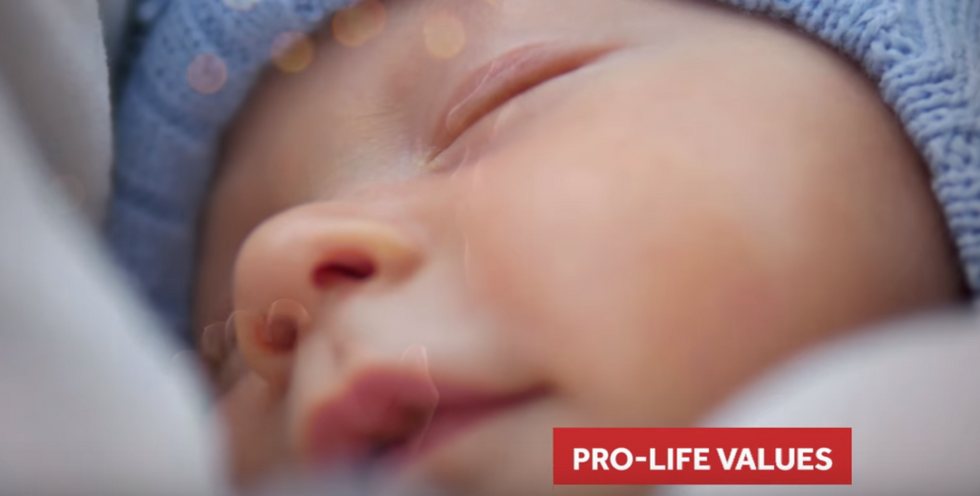 0:10: Speaking of God, look, it is a little boy praying, because Randy Boyd, a conservative businessman who wants to control the lady parts, is BFFs with God. But is the child praying to God, or is he praying to RANDY BOYD?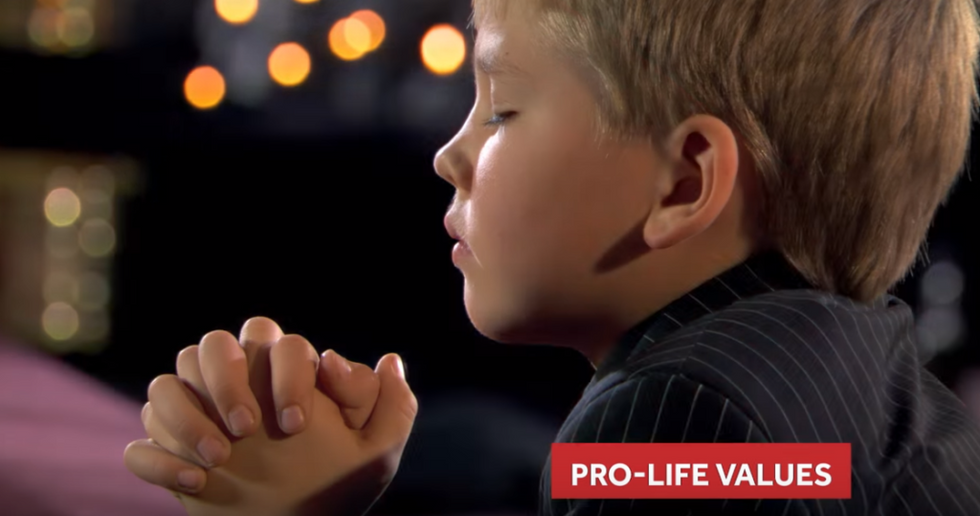 0:16: Randy Boyd hates welfare queens, because pee yew, they are always taking your hard earned tax dollars and spending them on diamond encrusted lobsters. Randy Boyd, who is a moderate, really hates the brown illegals too. Here is a picture of a Mexican in handcuffs, to drive home the point. Randy Boyd!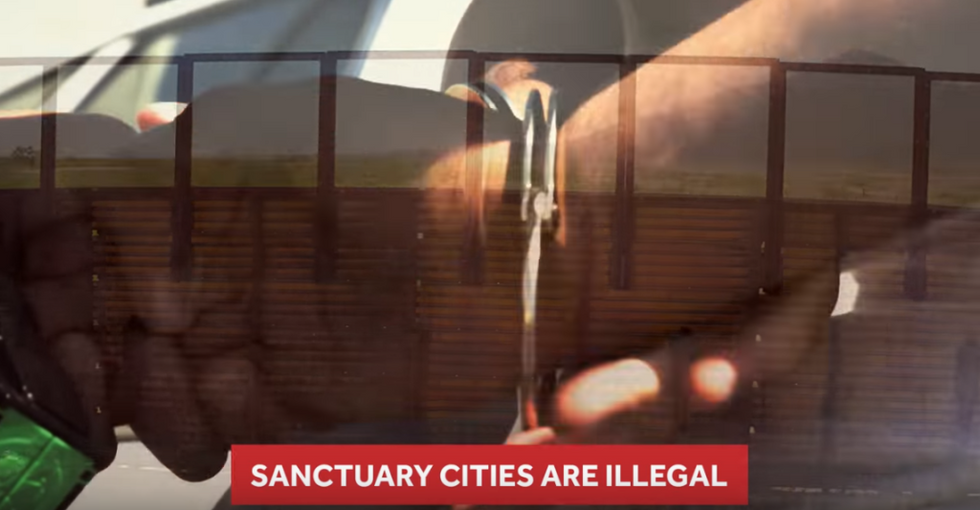 0:18: But anyway, back to Randy Boyd's wardrobe! Randy Boyd loves how these pants fit his shapely sexxx body and sit on his hips just so and show off his heterosexual trouser snake bulge. They are the perfect pants for when Randy Boyd, a conservative businessman lady parts controller Jesus person who hates the brown welfare Mexicans, is walking with these cops. And if a dashing lady or gentleman invites him to brunch after, guess who does not need a costume change? Randy Boyd.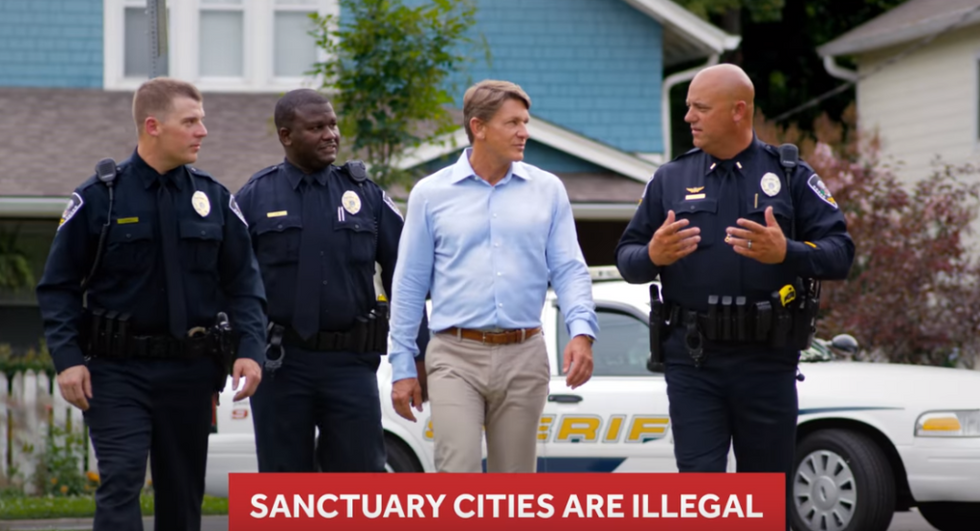 0:19: Randy Boyd's hair is perfect. No Walgreens hair jizz for Randy Boyd, he buys his hair jizz FROM THE SALON, which perfectly complements Randy Boyd's very stylish shirt and pant bulge for occasions like "Talking To Pastor While Wife Walks Several Steps Behind." Randy Boyd!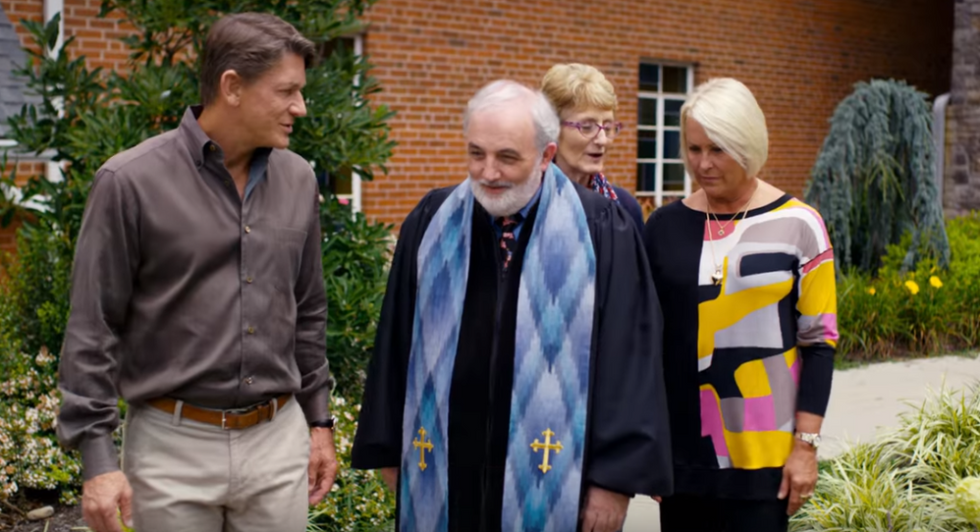 0:21: When Randy Boyd gazes at Christ-loving Tennesseans, Christ-loving Tennesseans gaze back at Randy Boyd. Except for this little girl, who is like "fuck is this guy?" Obviously she is a Democrat.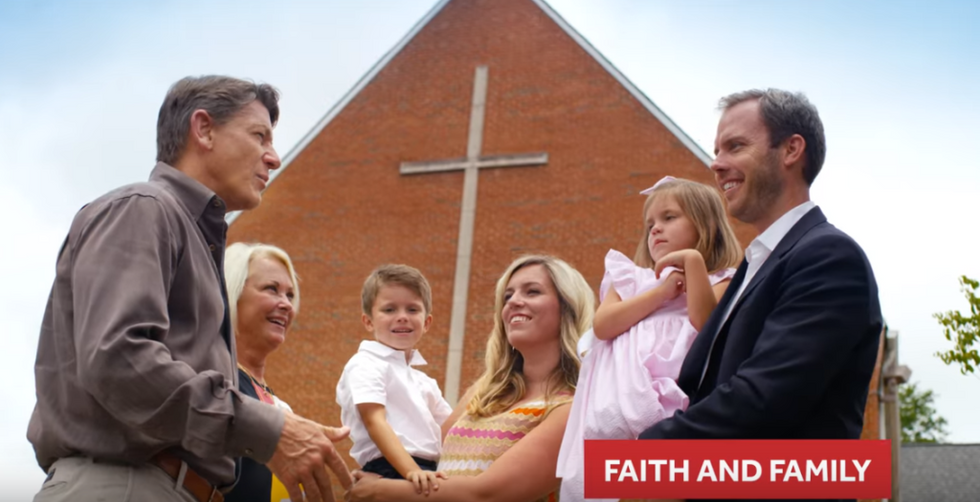 0:22: BRUNCH! COCKTAILS! ARM VEINS! BULGE! RANDY BOYD!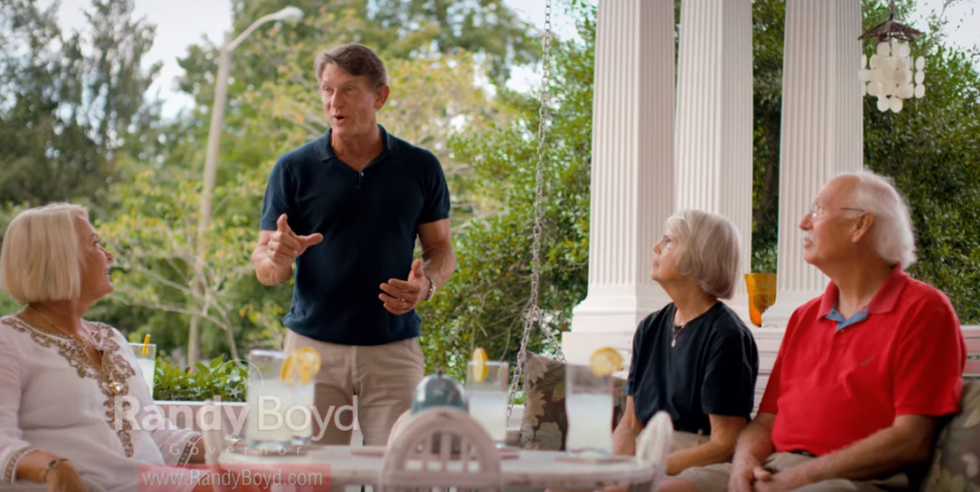 0:24: Know what this lady is thinking? "Randy Boyd."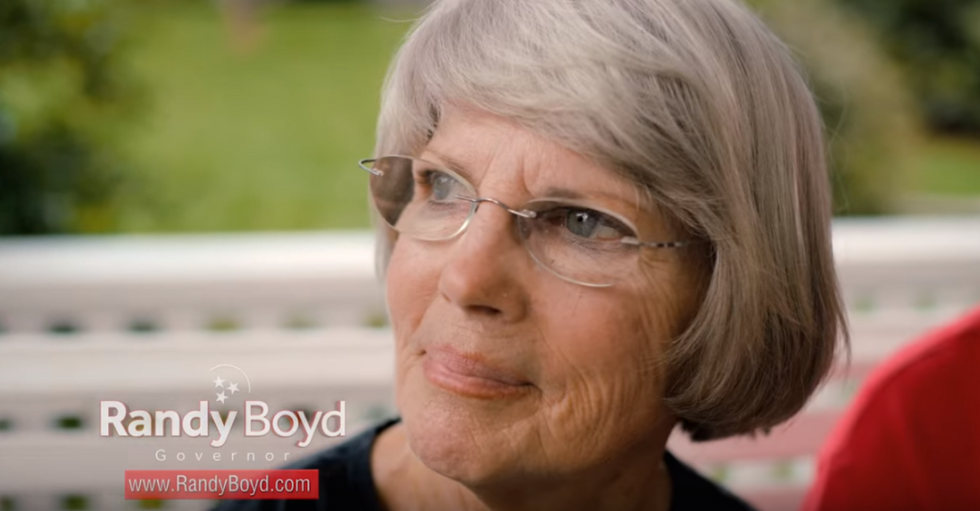 0:25: Know what Randy Boyd is thinking? "My jeans are PERFECT. I am the RUGGEDEST OF ALL THE HETEROSEXUALS IN THE LAND. Should I unbutton another button on my shirt? Yes, or obviously? Girl, I am not about to play in that hay, I just got my hair did! RANDY BOYD." (Allegedly.)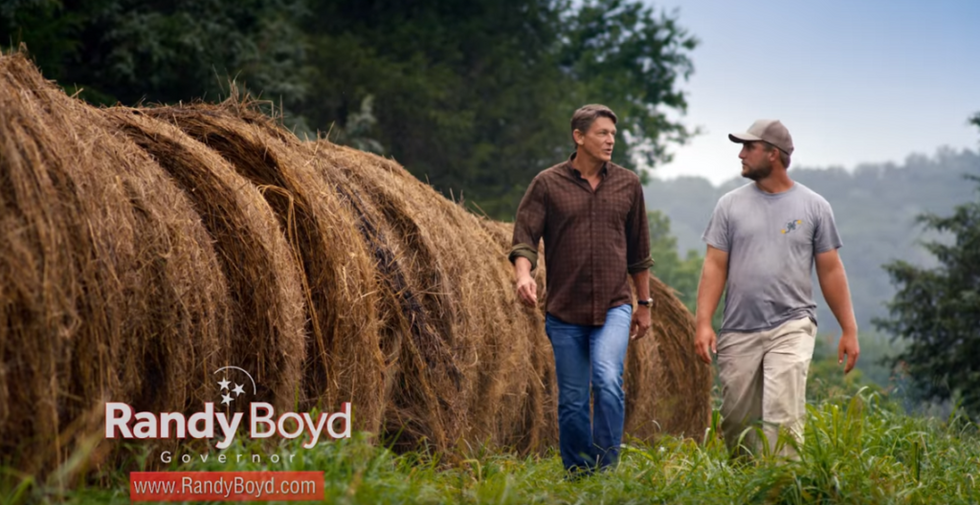 0:28: ANY QUESTIONS?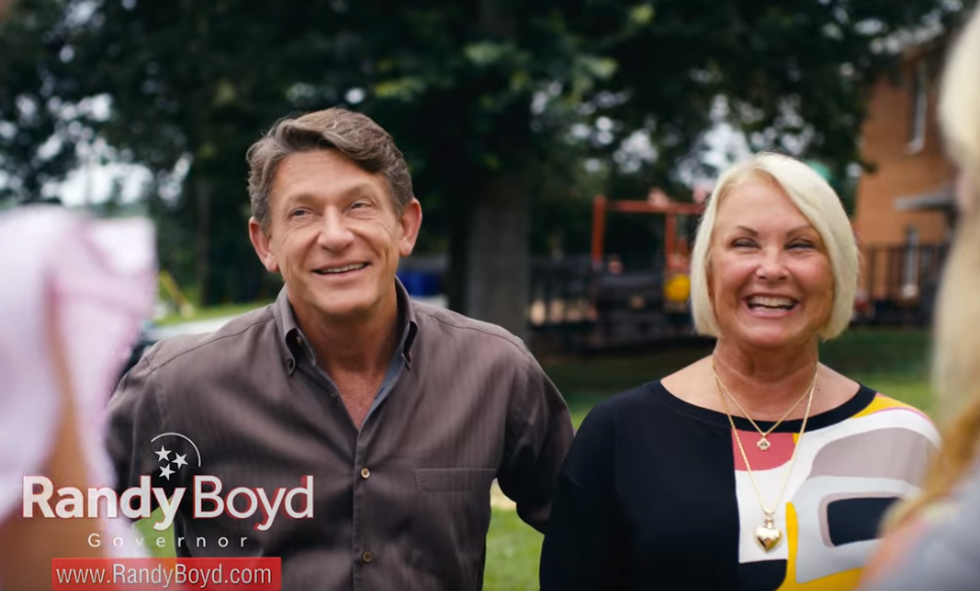 Of course you have no questions, because you have accepted Randy Boyd, conservative heterosexual businessman abortion hater farm stud, into your heart.
As a reward, here are more screenshots of Randy Boyd, from another Randy Boyd commercial that is also annoying as shit: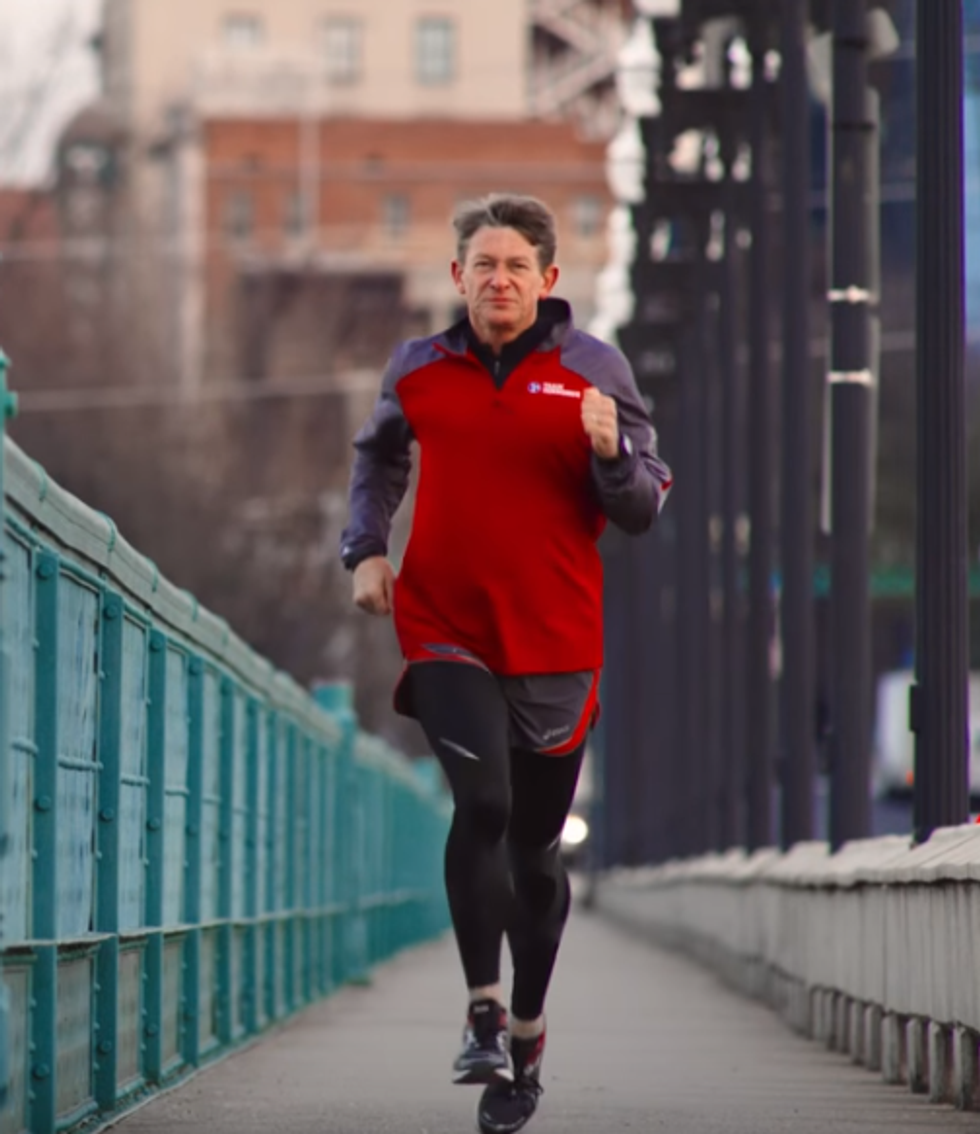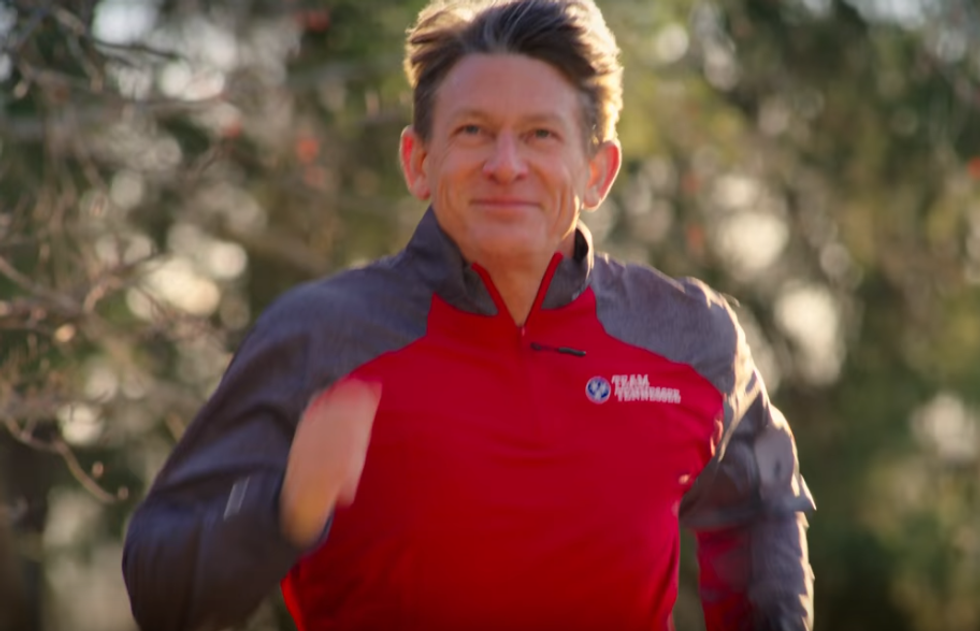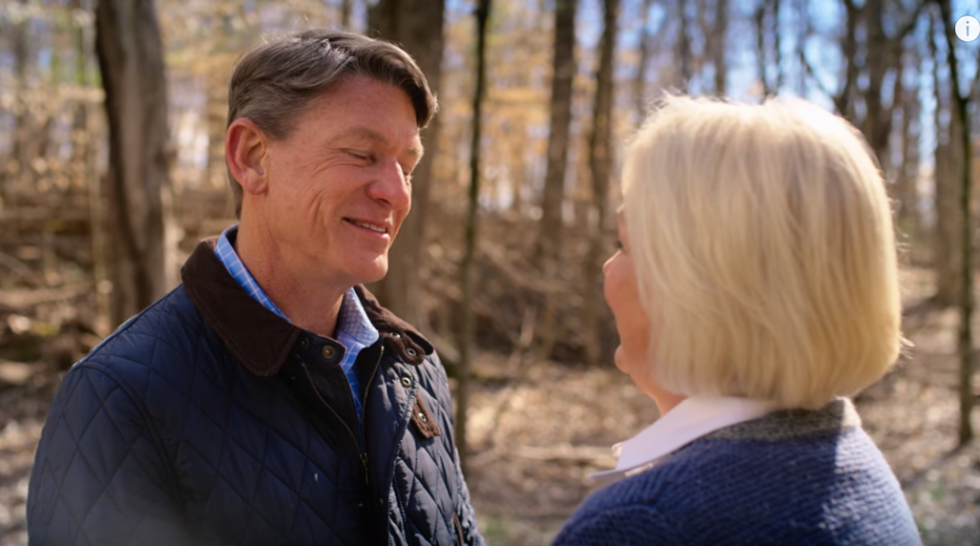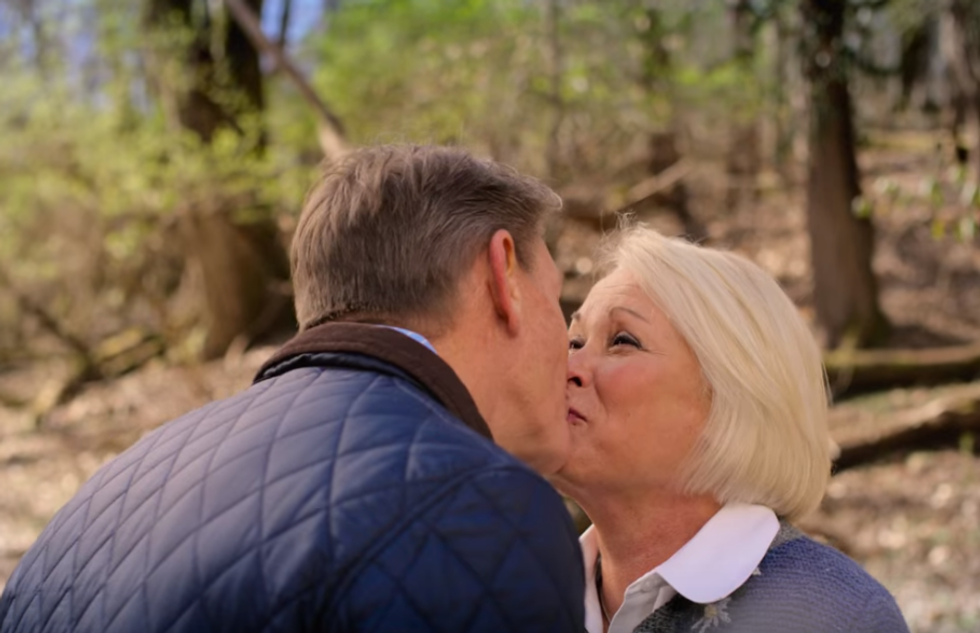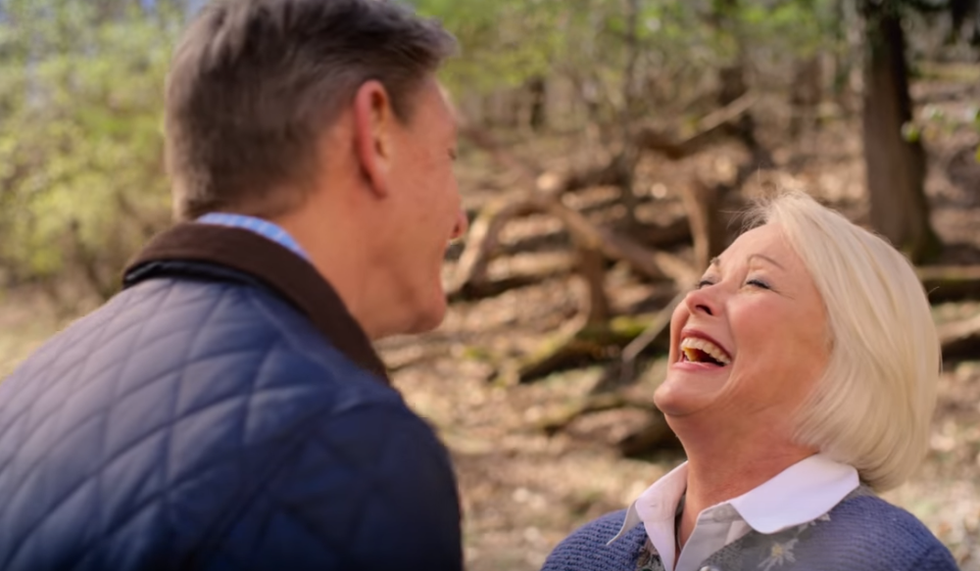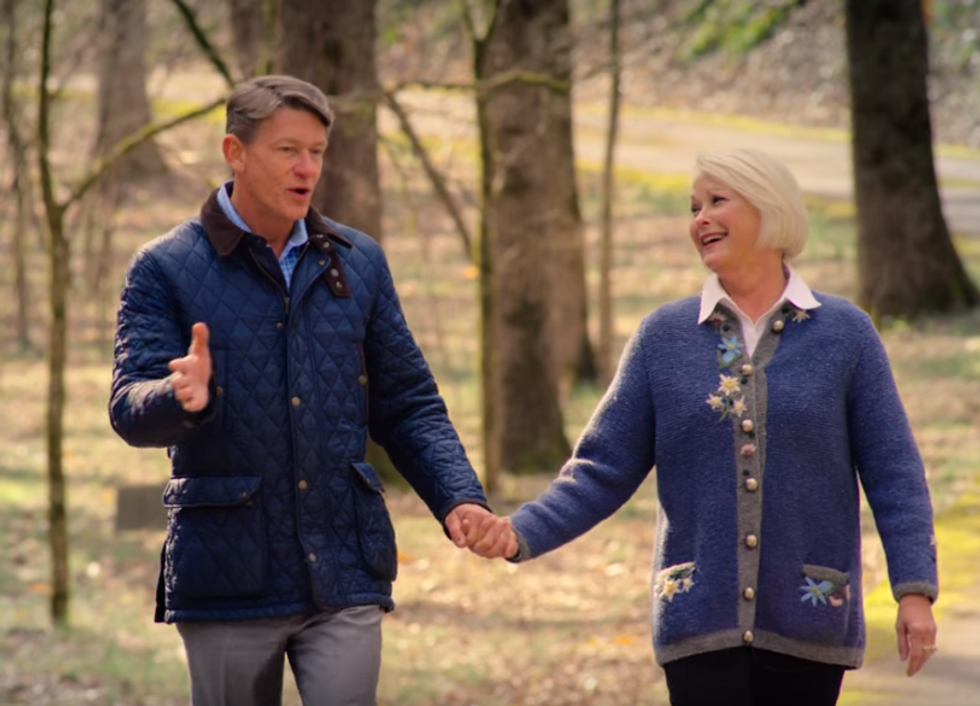 Randy. Fucking. Boyd. says it is your OPEN THREAD.
RANDY BOYD!
Follow Evan Hurst on Twitter RIGHT HERE. And if you love this article, tweet it and share it on the Facebooks!
Wonkette salaries and servers are fully paid for by YOU! Please pay our salaries, so we NEVER DIE.
Evan Hurst
Evan Hurst is the managing editor of Wonkette, which means he is the boss of you, unless you are Rebecca, who is boss of him. His dog Lula is judging you right now.
Follow him on Twitter RIGHT HERE.