Thou Shalt Not Covet Thy Neighbor's Gun. Wonkagenda For Mon., Feb. 19, 2018
Guns
February 19, 2018 09:01 AM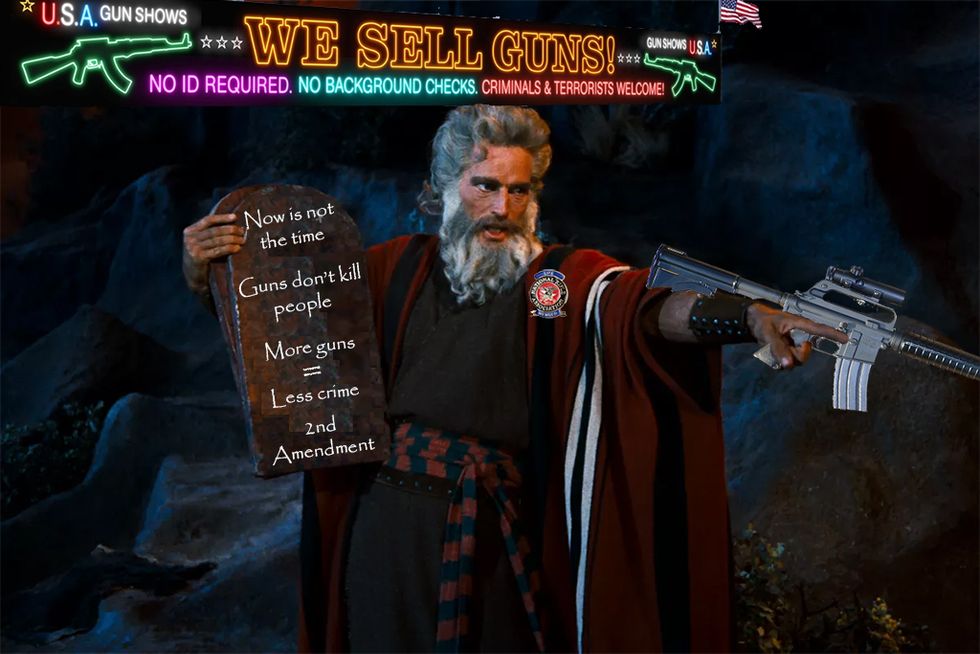 Happy Presidents Day, Wonketariat! Here's some of the things wemay be talking about!
---
On Saturday, national security advisor H.R. McMaster carefully noted that we have "incontrovertible" proof of Russian election fuckery with the indictment of 13 managers in Russia's trolling operation. Yes, their trolls have timecards and shit.
Former DNI Director James Clapper went on teevee to say that Mueller's indictments validate earlier intel warnings from the Obama administration, adding, "I do think there are other shoes to drop here besides this indictment." OOHHH, we can hardly wait!
Paul Manafort's former minion Rick Gates is expected to plead guilty after finding out how much it's going to cost to explain why they tried to launder millions in Russian blood money. WHOA, IF TRUE!
Trump spent the weekend shitposting on Twitter, where he insulted everyone but the Russians, made the shooting of 17 high school students in Florida about himself, and accused KILLARY of election fuckery.
Oprah was on teevee last night talking to some Trump voters about their mistakes; naturally Trump had to shitpost. Again.
A bunch of Republicans on the House Budget Committee are refusing to play ball, vowing to block a Republican budget bill that's currently being drafted. Now a number of politicians on both sides are asking why they're writing a bill that's already dead.
The Trump administration wants MORE cuts to the State Department despite losing 60% of senior diplomats and refusing to replenish high-ranking officials. Good thing there isn't a foreign policy crisis right now...
REXXON was on Sixty Minutes last night too, dodging the "moron" question and boasting about what's left of the State Department.
Poors and progressives can scream about the minimum wage all they want now that employers and states have realized nobody enforces minimum wage laws.
Congressional Republicans are frantically mashing the panic button, flooding 23 at-risk incumbents in the House with cash.
Republicans are desperate to court down-ballot candidates in battleground states where vulnerable Democrats are scaring off potential challengers.
Rush Limbaugh went on teevee to bitch about how teachers, staff and students should secretly carry guns to protect themselves from one another.
The NRA dumped $55 million into the 2016 elections to make sure these 10 politicians wouldn't vote for gun control after the next inevitable mass shooting.
A number of politicians pay their NRA membership fees with campaign contributions, a potential FEC violation they argue is actually a requirement for holding office.
Protests that included survivors of the Marjory Stoneman Douglas High School shooting ruined an NRCC function in Florida after they confronted Paul Ryan about his thoughts and prayers.
After watching the survivors of the Florida shooting call him a phony and an apathetic asshole on the Sunday shows, Trump walked around Mar-a-Lago polling people about gun control.
Survivors of the shooting have vowed not to return to school until legislators pass some kind of gun control measures, and they're calling for a protest on March 24.
Politicos in California are wondering why former Clinton aide Amanda Renteria decided to launch a shadow campaign for governor without any PR, statements or staff just 30 days before the primary election. Weird.
One of the original #MeToo activists, California Assemblywoman Cristina Garcia, is facing more charges of sexual harassment after a staffer alleged that she encouraged heavy drinking and "spin the bottle" during office happy hours.
Russia is demanding the US "stop playing very dangerous games" in Syria after it lost around 200 mercenaries to US-backed forces earlier this month. Sore losers.
Israeli PM Benjamin Netanyahu pulled a Colin Powell at a security conference when he held up alleged wreckage from an Iranian drone and started threatening people.
Here's a profile on the former Russian troll who spilled the beans on Russia's Internet bot factory to Robert Mueller.
Enterprising thieves have finally figured out how to steal Bitcoin the old fashioned way: kidnapping.
Philly's New DA is not only suing 10 pharmaceutical companies involved in the opioid crisis, but he's also dropping all outstanding weed charges. FAR-FUCKING-OUT!
And here's your morning Nice Time! Baby Sea Lions!
We're 100% ad-free and reader supported, so help us out!
Follow Dominic on Twitter and watch him laugh at Bitcoin owners!
Dominic Gwinn
Dominic is a broke journalist in Chicago. You can find him in a dirty bar talking to weirdos, or in a gutter taking photos.