Tim Kaine Talks To Reporters At Creepy Horse-Drowning Festival
News
July 30, 2008 02:30 PM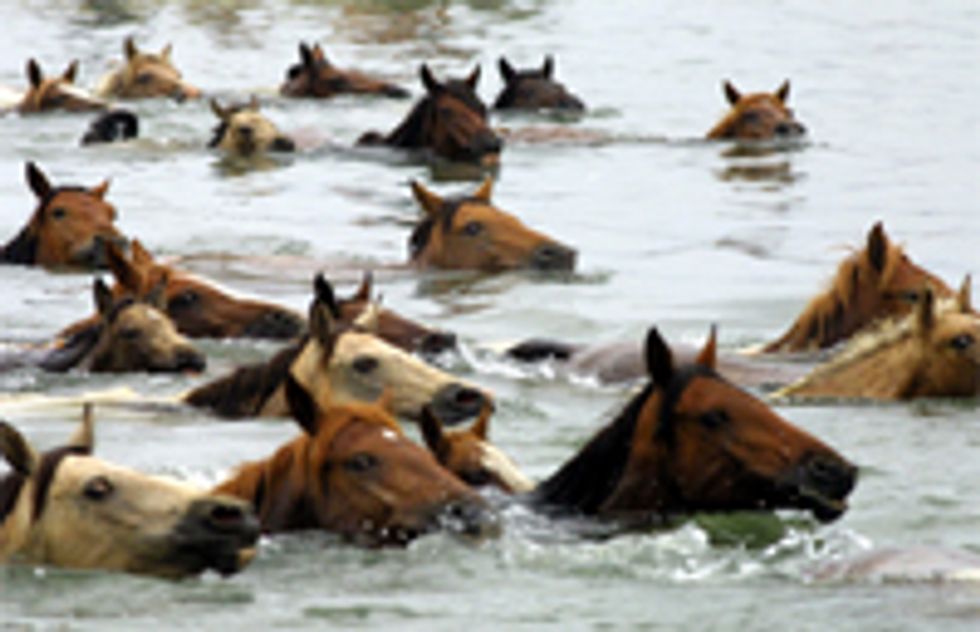 Imaginary Democratic vice presidentialfrontrunner Gov. Tim Kaine is now being harassed by the press all over his weird state of Virginia. He told reporters this morning that he doesn't "have any idea about where the process is" and he hasn't talked to Obama "for a number of weeks, since before his trip." He is already the Vice President of Lies, it seems. But where did he tell reporters these terrible lies? "Kaine, widely rumored to be at the top of Obama's veep short list, attended the annual Chincoteague Pony Swim this morning with his 13-year old daughter." Oh, how predictable: our would-be second black vice president is a deranged horse-drowning fetishist.
---
We went to the website of the Chincoteague Pony Swim to see, you know, what the hell is going on here. This appears to be the main event for which psycho Tim Kaine showed his face today:
Between 7:00 a.m. and 1:00 p.m. (the time can not be predicted exactly - dependent on tide, currents, and readiness of ponies) ponies swim Assateague Channel at Chincoteague Memorial Park - east side of island. No charge by Fire Co. for parking (at High School - click here) or seeing ponies swim. After a brief rest, ponies are herded to Carnival Grounds. The first colt to come ashore in the pony swim (King or Queen Neptune) will be given away at the carnival grounds.
This is Tim Kaine's favorite event of the entire year. The horses drown in the Ass Lake and then are sold to the alien King & Queen of Neptune.
Harvard-educated Sara K. Smith, when she read this, mentioned some fancy book related to the pony death swim: "Oh hey, like Misty of Chicoteague. Remember that book? Or am I the only one who was a 9-year-old girl once?" No, Sara, your fellow associate editor did not read horse porn when he was a 9-year-old girl. We should hope that our new black vice president didn't, either.
Speaking with Kaine in Chincoteague [First Read]
The Ponies of Chincoteague and Pony Penning [Chincoteague.com]