Tina Brown's Internet Tendency Wants You To Know That Sasha Obama Is a 'Fashion Icon'
News
August 13, 2010 05:10 PM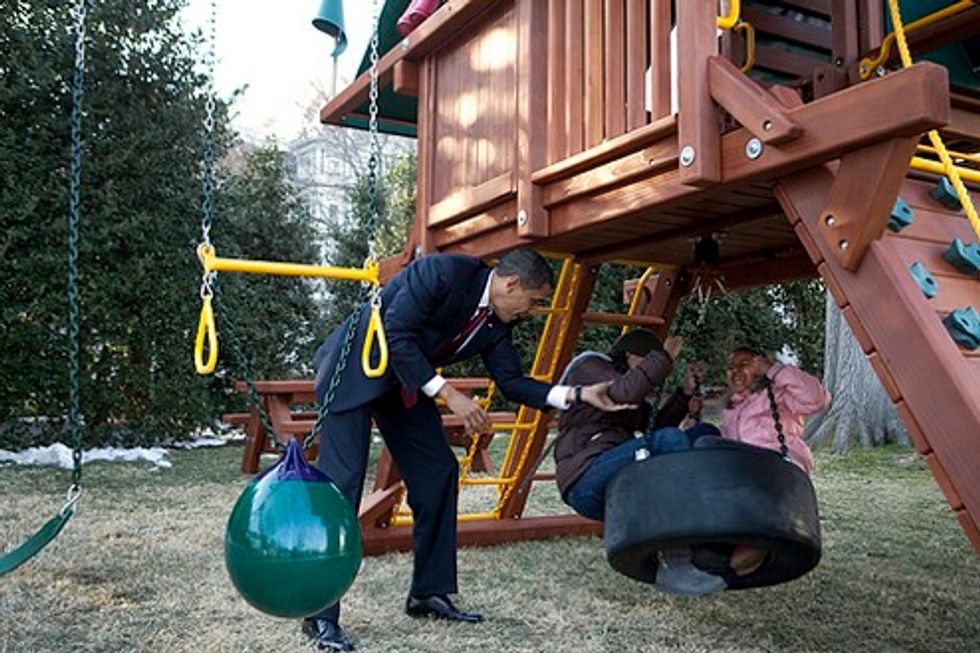 What we really need is for someone to break down the cost of things Sasha Obama wears and where to get them, because she is nine years old. Thankfully,we have The Daily Beast. "The affordability of Sasha's clothes, according to Mary Tomer, 'makes Mrs. Obama and Sasha Obama all the more relatable.' She says that Sasha's style choices communicate a 'vibrant and playful -- yet entirely unique -- American childhood.'" Sasha is very careful to brand herself the right way. Her brand says, "I am a fucking child. You people are disgusting."
---
Pictures of Michelle Obama in Spain surfaced last week amid criticism that she was a "modern-day Marie Antoinette." The Jean-Paul Gaultier top she wore for sight-seeing drew as much heat as the price of the trip. But by her side, an unlikely style star emerged: 9-year-old Sasha Obama. While the Obama entourage hoofed it through the coastal town of Ronda, Sasha looked comfortable in a pair of reasonably priced Nikes. She danced on the beach in a $25 Gap rainbow bathing suit. To lunch with the Spanish royal family on the Balearic island of Mallorca, Sasha showed up in a yellow J.Crew tutu and tank top, a wrist full of fake pearls, and a frayed blue lanyard dangling around her ankle. The whole look cost roughly $75. She was the very image of a normal American girl.
Pedophiles reading this are thinking, "This is disgusting. You are picking apart and fetishizing the personal appearance of a nine-year-old so that you can judge its personal and monetary worth. We're going to vomit."
Since Obama took office last January, Sasha and Malia's style has evolved in the public eye. When the girls appeared alongside their parents in Grant Park on Election Night, Sasha pulled heartstrings in a black baby-doll dress. The piece, by Gerson & Gerson, which retailed for $72 at Neiman Marcus and Dillard's, was instantly renamed "The Sasha" by the designer.
"Congratulations. You've done what modern medicine cannot do. You have changed our sexual orientation. We are no longer attracted to children. Excuse us while we vomit for the rest of our lives." [Daily Beast via Pareene]