Tiny Girl In Pantsuit Meets Hillary Clinton, Gets Autograph, Tips On Hiding The Bodies
2016 State/Local Elections
September 29, 2017 04:40 PM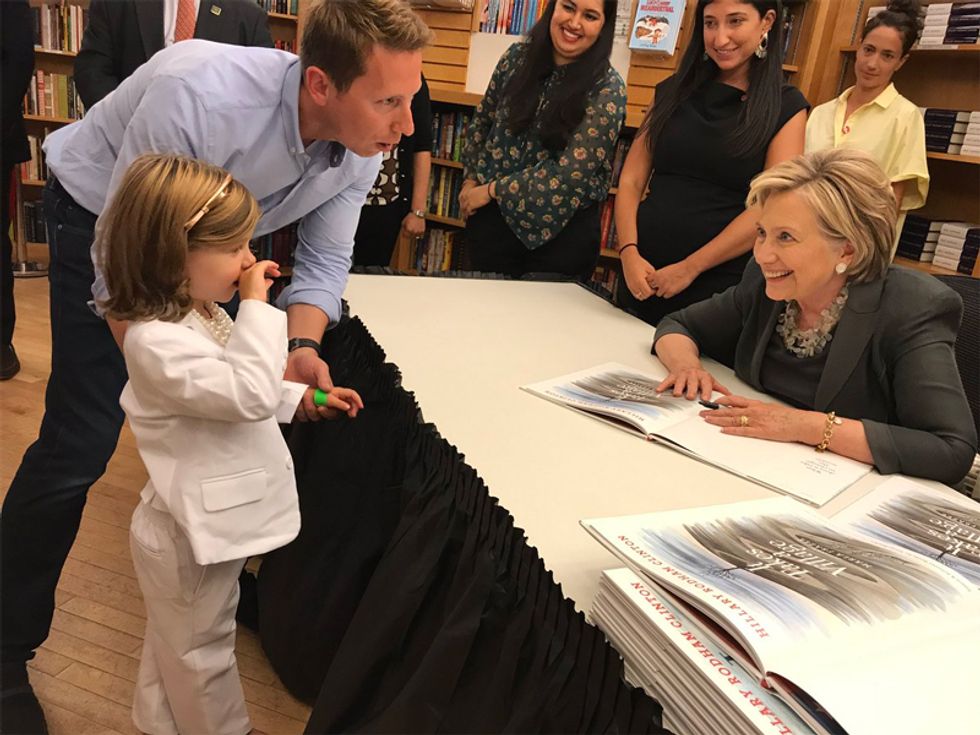 Remember, sweetie, that Donnie kid has a big mouth but you're smarter.
---
The Twitters bring us this adorbs little girl in a pantsuit, all dressed up -- with headband! -- to get her copy of the picture-book version of It Takes A Village signed by Hillary Clinton in Brooklyn. She's probably getting What Happened for her birthday.
Not only did the original tweet by former Clinton campaign "director of production" Greg Hale go viral-ish, it got retweeted by Hillz Herself: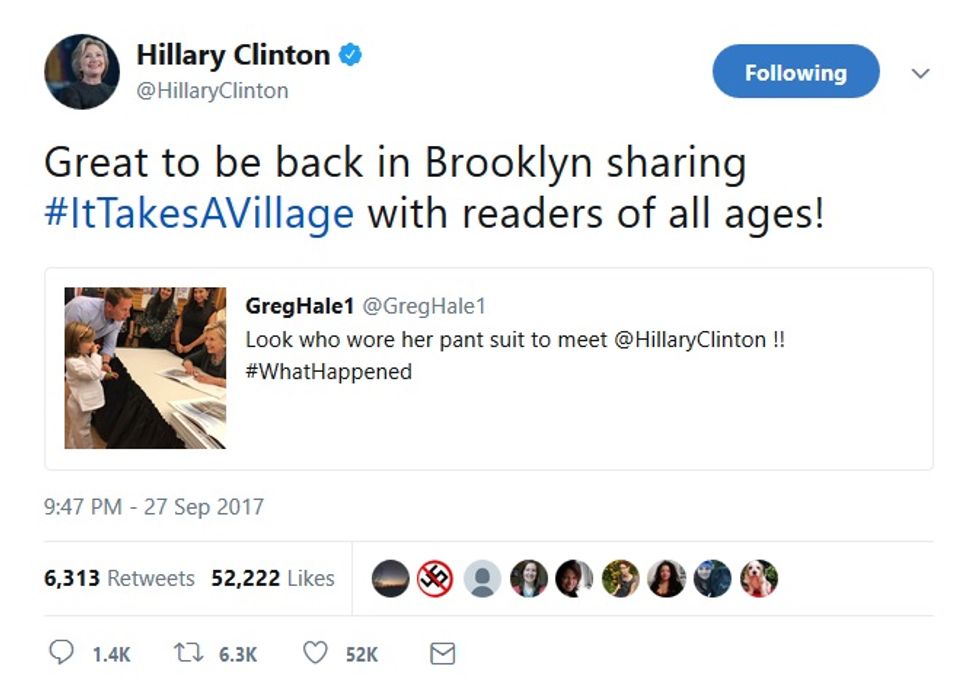 [AUTOPLAY VIDEO TAKES OVER YOUR SCREEN! YOU CAN NOT X OUT OF IT FOR LIKE AT LEAST SEVEN SECONDS. WHAT IS GOING ON? IT IS A MONEY BEG!

Hi. I'm Rebecca Schoenkopf, editrix of Wonkette, your online home for liberal vulgar hilarity. If you like liberal things, and vulgar things, and stuff that is hilarious, you probably spend a lot of time on Wonkette.com.

Earlier this year, Wonkette decided to FUCK THE AD NETWORKS, FUCK THEM RIGHT IN THE EAR, because they suck all the joy out of all the things, and they suck the bandwidth right out of your tubes.

Wonkette's readers, like the best people who listen to NPR or give money to "church," valiantly ride to our rescue each month. But this month, you're a little behind. Like about $2500 behind. Which is actually two and a half times the cost of a kitchen renovation, or even a car!

Not that car. That car is spensive.

Won't you please help the people of Wonkette continue to bring you all the news your soul can take? Feed the children. Help Wonkette.
THIS photo from 2014,
when a 10-year-old named Macy Friday met Clinton in Denver and Freaked Right Out, joyously: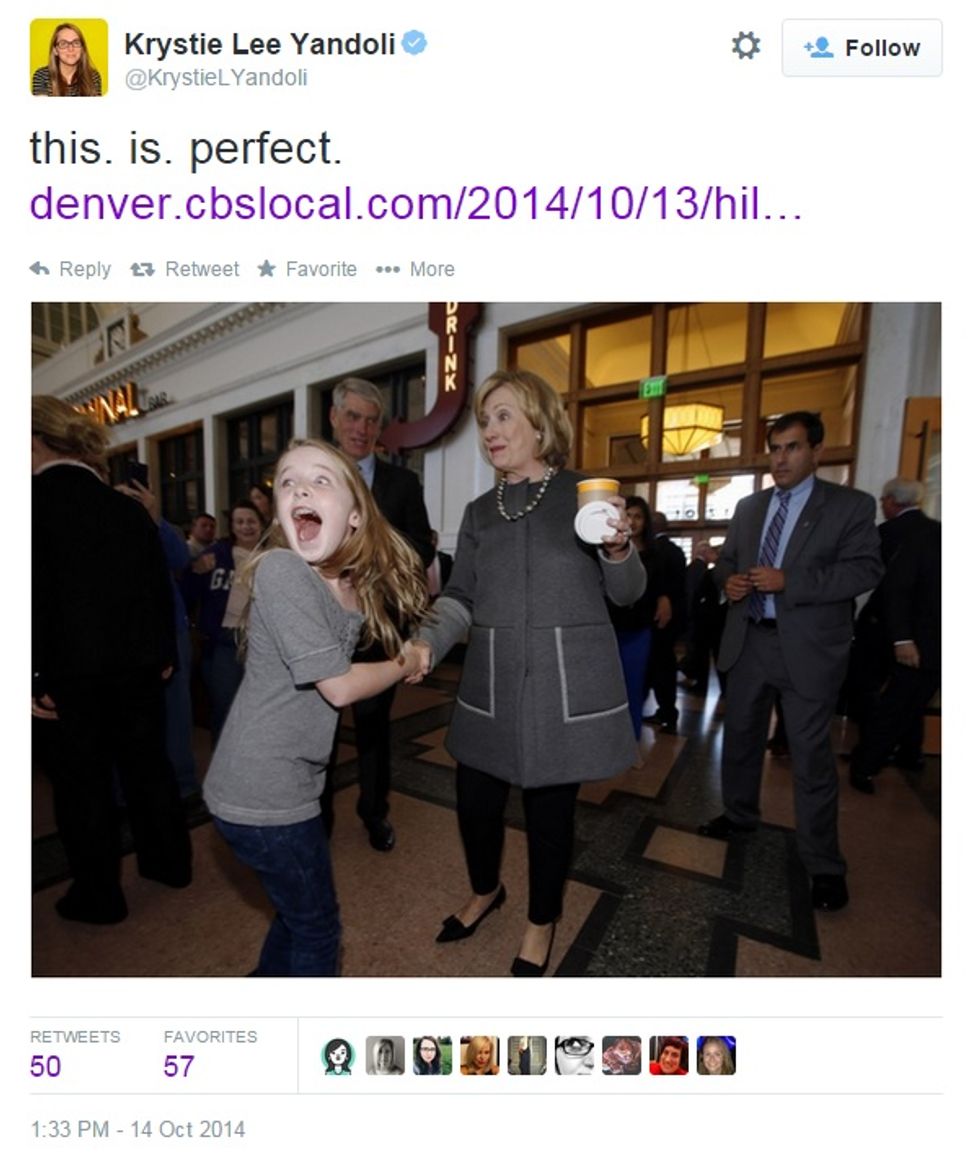 As we said at the time, that right there is a genuine "I got a puppy, no, TWO puppies!" face.
What we are getting at is that Hillary Clinton and little kids go together almost as well as Barack Obama and little kids. Almost. And if you want a caption for both photos, you could do worse than that line from Clinton's concession speech, UGH:
"To all the little girls watching...never doubt that you are valuable and powerful & deserving of every chance & opportunity in the world."
Yeah, we still like her. It is now your OPEN THREAD. GIVE US MONEY!
Yr Wonkette is supported by reader donations. Please CLICK HERE to keep the Nice Times coming.
[Hillary Clinton on Twitter]