Today's White House Press Briefing Only For Journalists Who Lick Trump's Ass, Apparently
Culture
February 24, 2017 03:06 PM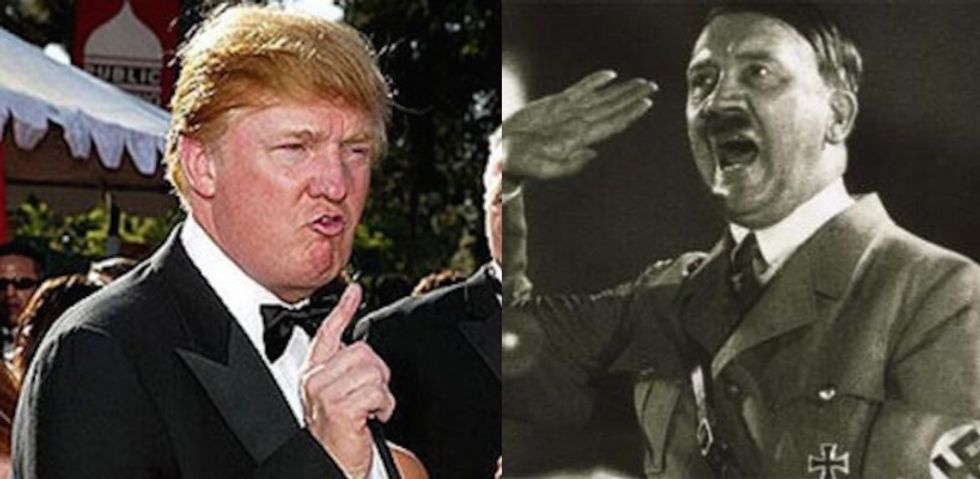 Know who ELSE had a stubby weird penis, allegedly?
---
Lügenpresse! Fake lying news! Journalists getting closer and closer and closer to uncovering the truth behind Donald Trump's Russia scandal! And did Trump not just say at CPAC on Friday that he was going to "do something" about those mean journalists who insist on searching for the real truth, instead of whatever Trump's Ministry Of Truth tells them to say?
Just a few minutes ago, White House press secretary and Melissa McCarthy impersonator Sean Spicer canceled the daily White House press briefing in favor of a li'l gaggle in his office, off camera, with only certain news outlets allowed in. Friendly outlets. Outlets that do not criticize der Fuehrer! Take over, New York Daily News:
Among the many outlets barred from Spicer's office: CNN, The New York Times, The Hill, Politico, RealClearPolitics, and the Daily News. Others — like the small, conservative One America News Network — were given the nod and allowed in, as well as ABC and NBC, along with the standard rotating "pool" of reporters who are allowed in to every public event.
Surprise, Dead Breitbart was let in, because they lick Trump's ass RIGHT nice, like they make the swirlies with their tongue and everything.
Here's CNN's response: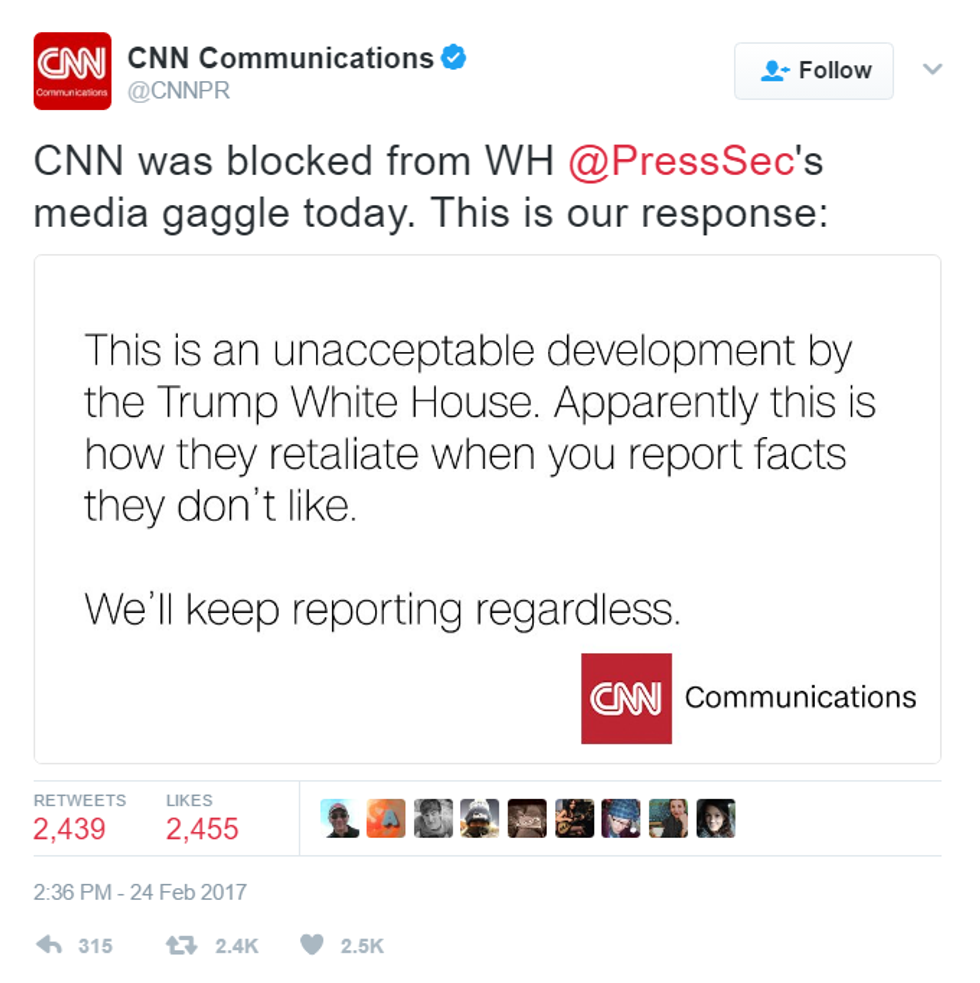 And the reply from Dean Baquet, executive editor of the New York Times: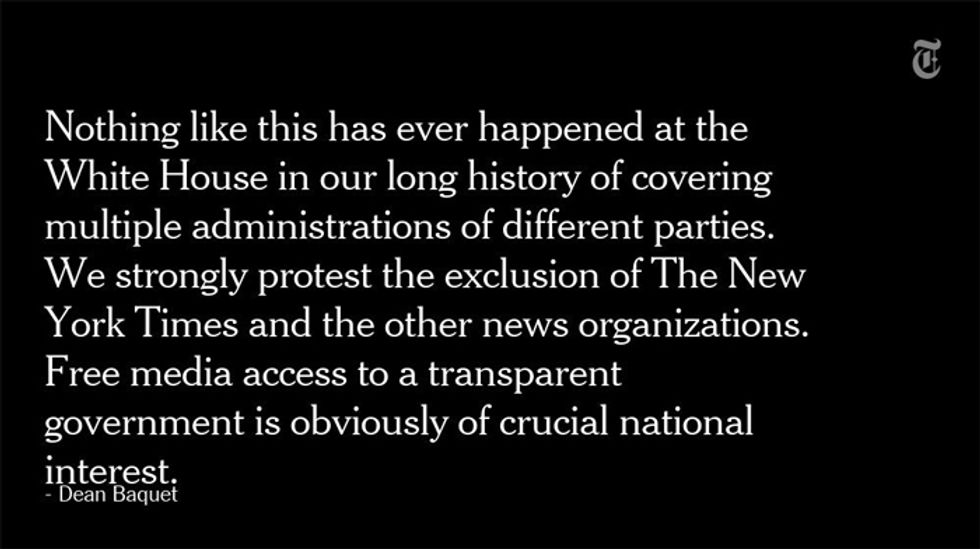 According to the NYDN, banned outlets demanded to know why they weren't let in, and White House spokes-moron Stephanie Grisham accused them of "threatening" her. Uh huh. Those mean journalists, viciously demanding to do journalisms.
The White House Correspondents' Association, which we have a feeling JUST MIGHT have an upcoming dinner to cancel (no pageantry for you, President Pussgrab!), is PISSED:
"The WHCA board is protesting strongly against how today's gaggle is being handled by the White House. We encourage the organizations that were allowed in to share the material with others in the press corps who were not. The board will be discussing this further with White House staff," White House Correspondents Association President Jeff Mason said in a statement.
Wonkette also notes that the How To Do Journalism prize will immediately be awarded to Time magazine and the Associated Press, both of which boycotted the circle jerk in Spicer's office in response. All news outlets invited in should follow their lead.
Maybe the White House is just so embarrassed about its latest giant fuckup, begging the FBI to leak fake news to the press about how Donald Trump has never had sex with Russia, that it's hiding from real journalists. Maybe this is just another step toward the autocratic kleptocracy President Bannon wants to replace America with. New York Times White House correspondent Glenn Thrush has a theory about why: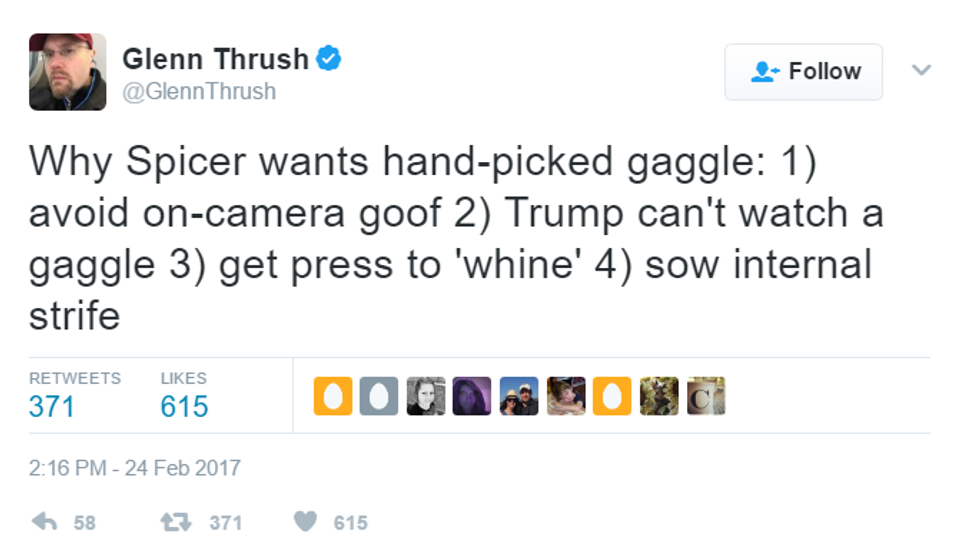 WHO HERE HATES GLENN? LET THE RECORD SHOW THAT EVERYBODY RAISED THEIR HAND! WRITE THAT, THAT'S YOUR STORY!
Whatever reasons the White House had for doing this, IT'S NOT FUCKING NORMAL.
Russian-American journalist Masha Gessen, in her invaluable essay on surviving autocracy, warned us:
The national press is likely to be among the first institutional victims of Trumpism. There is no law that requires the presidential administration to hold daily briefings, none that guarantees media access to the White House. Many journalists may soon face a dilemma long familiar to those of us who have worked under autocracies: fall in line or forfeit access. There is no good solution (even if there is a right answer), for journalism is difficult and sometimes impossible without access to information.
In other words, IT'S NOT FUCKING NORMAL.
To paraphrase in a way that's easier to understand, we'd say IT'S NOT FUCKING NORMAL.
IT'S NOT FUCKING NORMAL. IT'S NOT FUCKING NORMAL. IT'S NOT FUCKING NORMAL. IT'S NOT FUCKING NORMAL. IT'S NOT FUCKING NORMAL. IT'S NOT FUCKING NORMAL. IT'S NOT FUCKING NORMAL. IT'S NOT FUCKING NORMAL. IT'S NOT FUCKING NORMAL. IT'S NOT FUCKING NORMAL. IT'S NOT FUCKING NORMAL. IT'S NOT FUCKING NORMAL. IT'S NOT FUCKING NORMAL. IT'S NOT FUCKING NORMAL. IT'S NOT FUCKING NORMAL. IT'S NOT FUCKING NORMAL. IT'S NOT FUCKING NORMAL. IT'S NOT FUCKING NORMAL. IT'S NOT FUCKING NORMAL.
Ahem.
This is not normal.
Wonkette is entirely reader supported. If you agree that THIS IS NOT NORMAL, throw us a few bucks to help us continue #RESISTING.
Evan Hurst
Evan Hurst is the managing editor of Wonkette, which means he is the boss of you, unless you are Rebecca, who is boss of him. His dog Lula is judging you right now.
Follow him on Twitter RIGHT HERE.