Tom Price Quits Because He's Too Grifty For Donald Fucking Trump
News
September 29, 2017 05:14 PM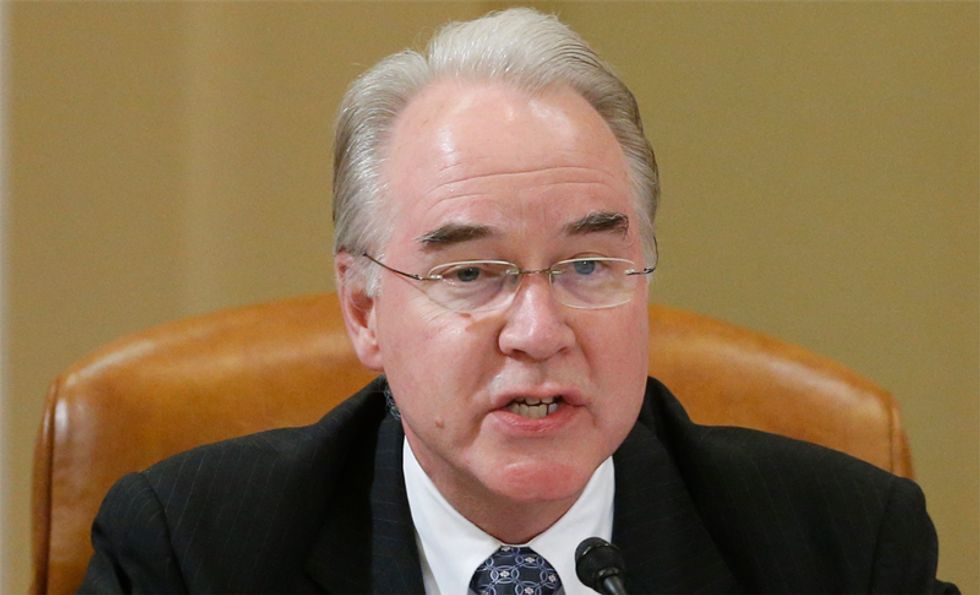 ---
RUH ROH! Guess Maggie Haberman was right (LOLOLOL no) when she said Donald Trump just haaaaaaaaates waste and grifting, because HHS Secretary Tom Price has just quit to spend more time fondling his private jets and his healthcare stocks. Guess they'll have to get the money he promised to repay the taxpayers for JUST HIS SEAT on all the private jets out of the couch cushions in his office once he leaves, assuming he leaves any, because he is SEACREST OUT.
Donald Trump had reportedly become VERY FURIOUS over Price's grifting stealing the spotlight from his genius tax plan and failing to murder Obamacare with a spike. Price has been trying to stay in the president's good graces by fucking Obamacare as hard as he can in the meantime, but we guess he just didn't fuck it hard enough. Remember that crazy Boy Scout rally where Trump told the kids that wholesome story about his friend who throws fuck-orgies on yachts? You might ALSO recall that he "joked" (ha! ha!) that if Obamacare didn't get repealed, he was going to YOU'RE FIRED! Tom Price. Guess Price decided to do the job himself, just to steal the thunder from Trump ONE MORE FUCKING TIME.
Trump had told reporters Friday that he was going to make a decision "tonight" at his Bedminster resort -- you know, one of the glitzy tacky places Trump owns that he grifts all your tax moneys to go visit all the time, instead of staying in the White House tweeting on the potty where he belongs -- on whether Price would get saved from elimination for another week, or if it was time for him to sashay away. With Price's resignation, thank God, this is one "Apprentice" boardroom meeting America will not have to sit through.
With Price's decision to put the tray table in its upright position and lift off for new horizons in an ALL BY MYSELF AIRPLANE, his job will be filled, for now, by Don Wright, who will become acting secretary. He's a Deep State lifer who's been at HHS for a long time, serving under both Dubya and Barry Soetoro Nobummer. MAYBE he will not be so keen on helping Trump murder Obamacare? Cross your fingers!
Tom Price is the 465th person to be quitfired from the Trump administration in its first eight months. (For real, Business Insider has the partial list. We've lost count.) Feel free to take bets in the comments on who will be next! We're putting our money on ALL OF THEM KATIE.
Follow Evan Hurst on Twitter RIGHT HERE.
Wonkette is ad-free! Our salaries, servers, and all of the things are fully funded by readers like you! If you love us, click here to fund us!
Evan Hurst
Evan Hurst is the managing editor of Wonkette, which means he is the boss of you, unless you are Rebecca, who is boss of him. His dog Lula is judging you right now.
Follow him on Twitter RIGHT HERE.