Tomi Lahren, Meet The Great Great Grandfather Prosecuted For Forging His Citizenship Papers!
Post-Racial America
September 07, 2017 11:29 AM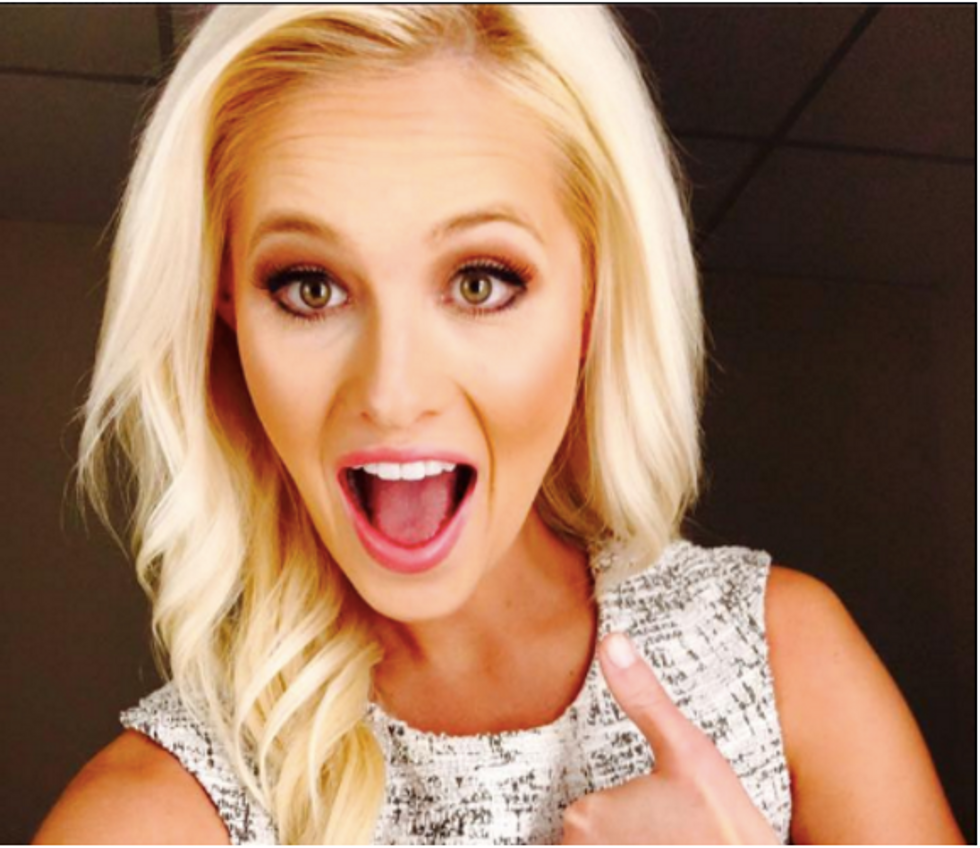 ---
An avid genealogist, I have a knack for using the document trail to root out buried family secrets and often help adoptees and others trace their histories. And so it's with great amusement that I have unpacked the family trees of anti-immigrant right-wing personalities from Rep. Steve "We can't restore our civilization with somebody else's babies" King (whose own grandmother arrived in the U.S. as a four-year-old with baby siblings in tow) to Tucker "Why does America benefit from having tons of people from failing countries come here?" Carlson (whose ancestor wrote about how the bleak prospects in his native Switzerland forced him to head for America) to Stephen "We favor immigrants who speak English" Miller (whose great-grandmother most definitely did not speak English, per the census.) It's a project I have jokingly dubbed #resistancegenealogy.
I was curious how long it would take me to hit an immigrant if I dug into the tree of Tomi Lahren, the platinum blonde, snowflake-hating ultra-conservative firebrand recently hired by Fox News. The answer was "not long," but I never expected to hit pay dirt quite like I did.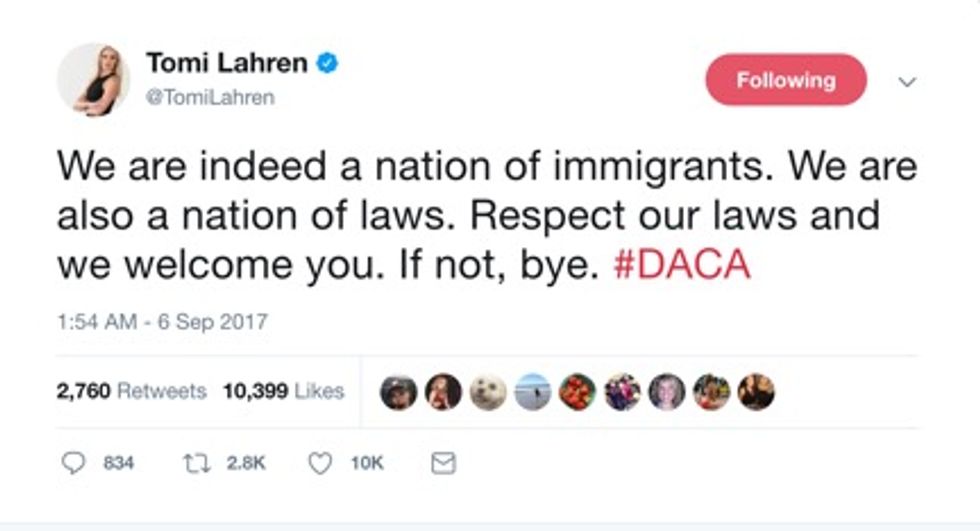 But first, let's back up. I like to say that following a genealogical trail is a lot like Law and Order. (Stay with me.) You hear the dun dun!, listen for the clues, ("I think she was working in a laundromat on 4th street?") and then, well, you go to the laundromat on 4th street, for God's sake. So how do we find out who Tomi's ancestors were? You follow the dun duns.
Multiple sources identify Tomi's parents as Kevin and Trudy Lahren of Rapid City, SD, including this Dallas Morning News piece. (While we're at it, here's a local newspaper article about the high school work experience that must have helped make Tomi who she is today.)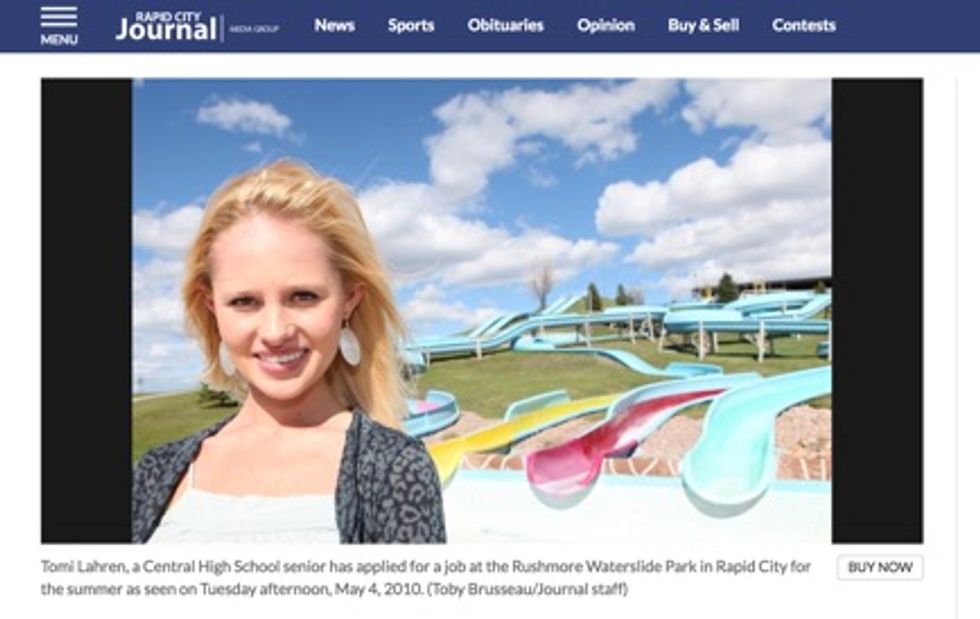 But who are Tomi's grandparents? Well, this 2011 obituary for South Dakotan Wayne A. Dietrich lists Trudy and Kevin Lahren as his daughter and son-in-law, and Tomi as his granddaughter. And just to seal it, here's Tomi tweeting out a remembrance of her grandfather on the third anniversary of his death.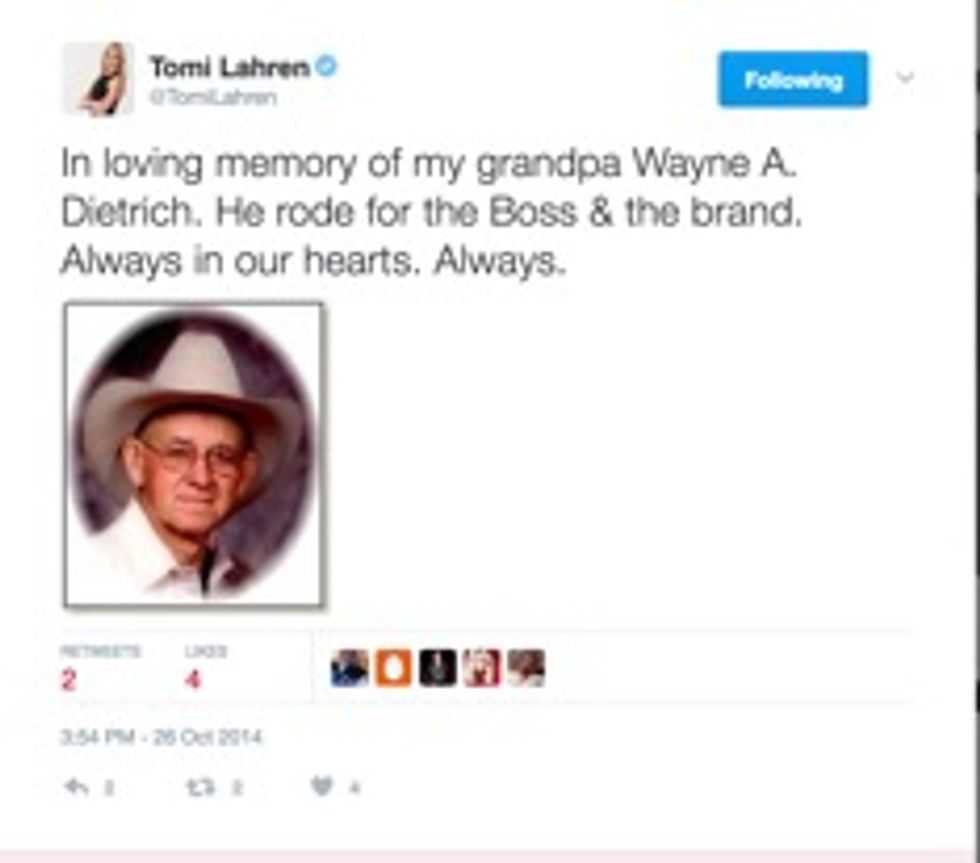 Wayne Dietrich's obituary says that he was born on February 11, 1938, in McLaughlin, South Dakota, the son of Julius Dietrich and Edna Schlacht. Here's his family in the 1940 census. Further searching shows that Julius Dietrich, Tomi's great-grandfather, was born in North Dakota on May 23, 1915 to Constantin (sometimes spelled Konstantin) and Pauline Dietrich. Here's the family living in Linton, South Dakota in the 1920 federal census. And here is Constantin's obituary, giving his date of birth as December 12, 1887.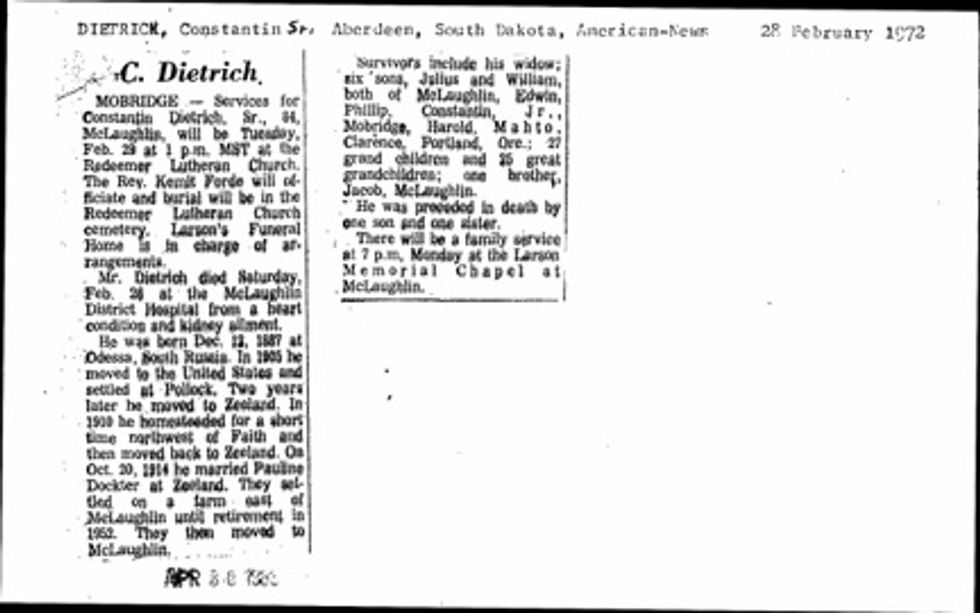 Which matches the DOB for Constantin Dietrich of Linton on this World War One draft registration.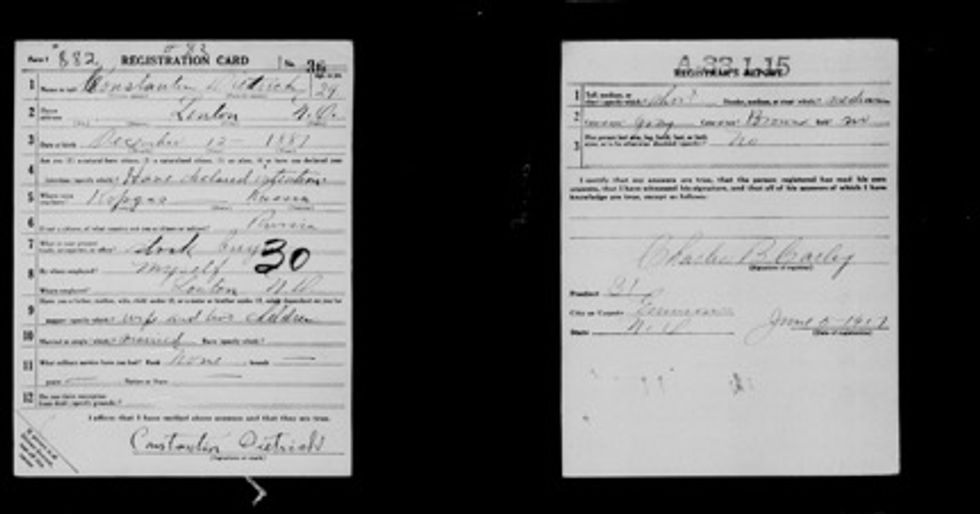 But here's where it gets interesting.
Searching ancestry.com for more on Constantin Dietrich brings up an index listing for an INS file labeled "Prosecutions," that indicates Dietrich was charged with "forgery, in altering the date of his declaration."
Wait, what?
That file apparently has not survived, but a quick search of the local papers shows that Constantin Dietrich did indeed go on trial for forgery in Bismarck in May of 1917.

I ordered the court file, which included Dietrich's grand jury indictment, in all its 14-page glory. Tomi Lahren's great-great-grandfather was indicted on two separate counts, for "willfully, unlawfully and knowingly" making a false affidavit in connection with a naturalization proceeding, and for forging a naturalization document, in violation of the Naturalization Act of June 29, 1906. The grand jurors accused him of swearing falsely to the date of his declaration, and of altering the original papers ("with a knife or steel eraser or other instrument unknown to the Grand Jurors") to make it look like his declaration of intention to become a citizen had been executed in 1911 rather than 1909, apparently because he'd let too much time elapse before completing the naturalization process.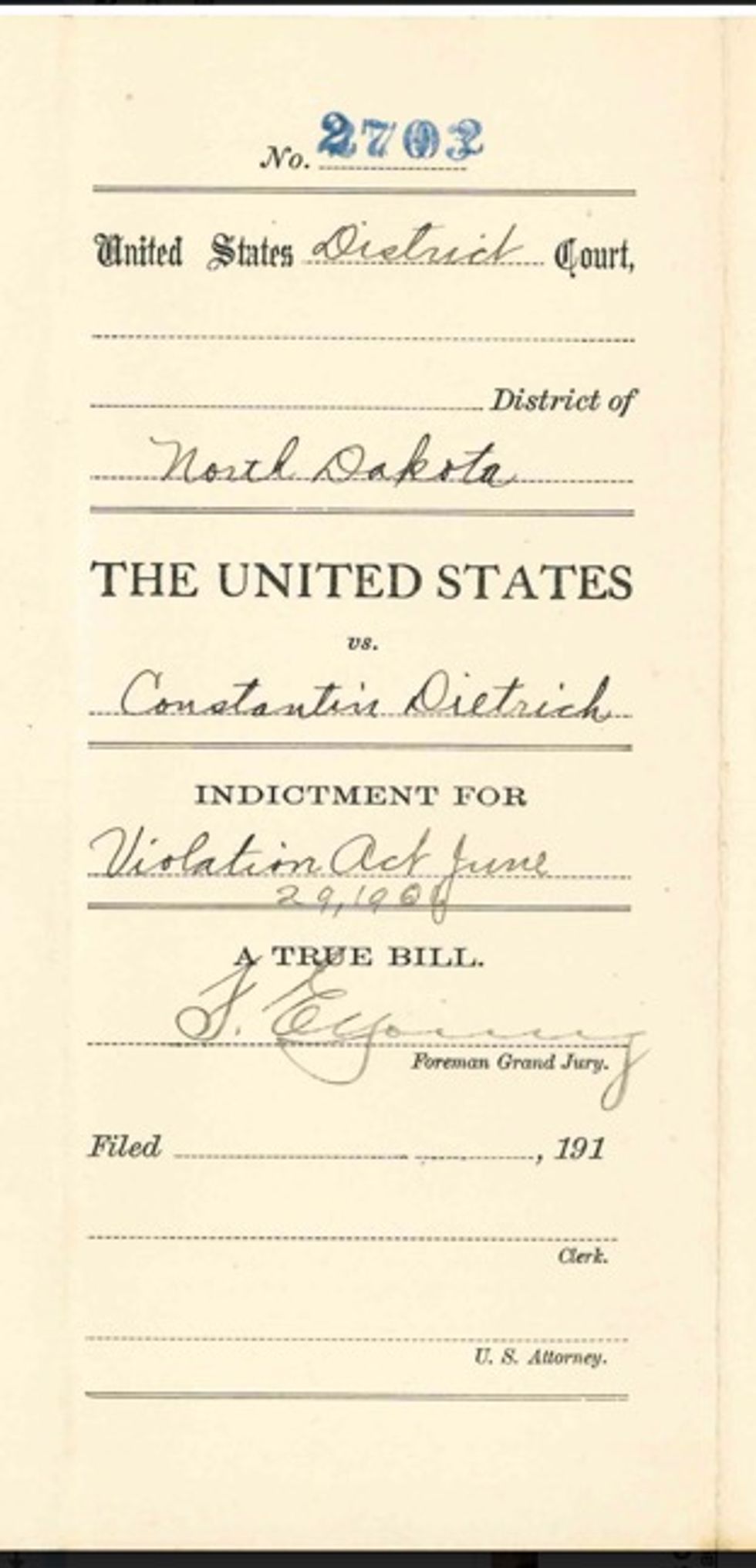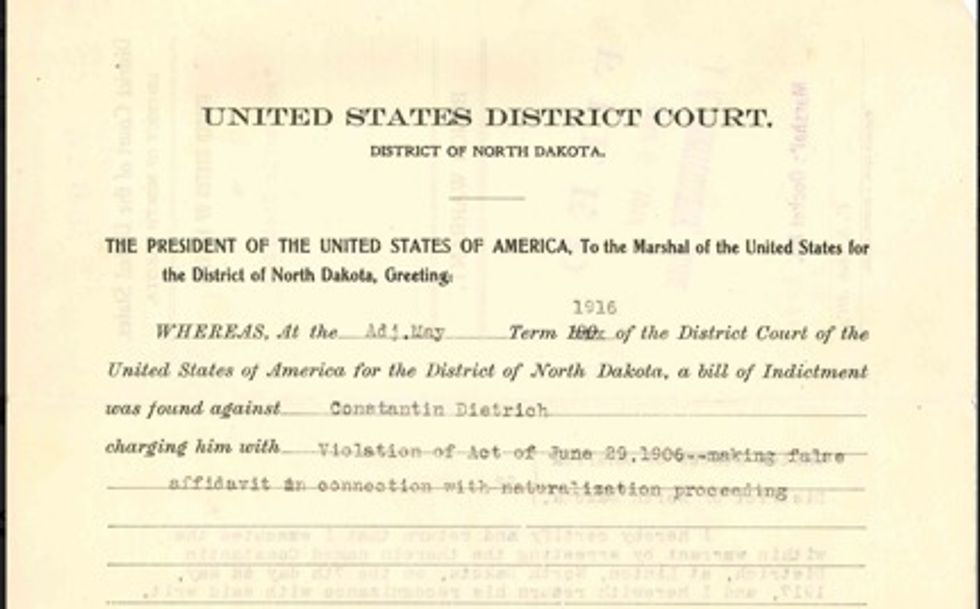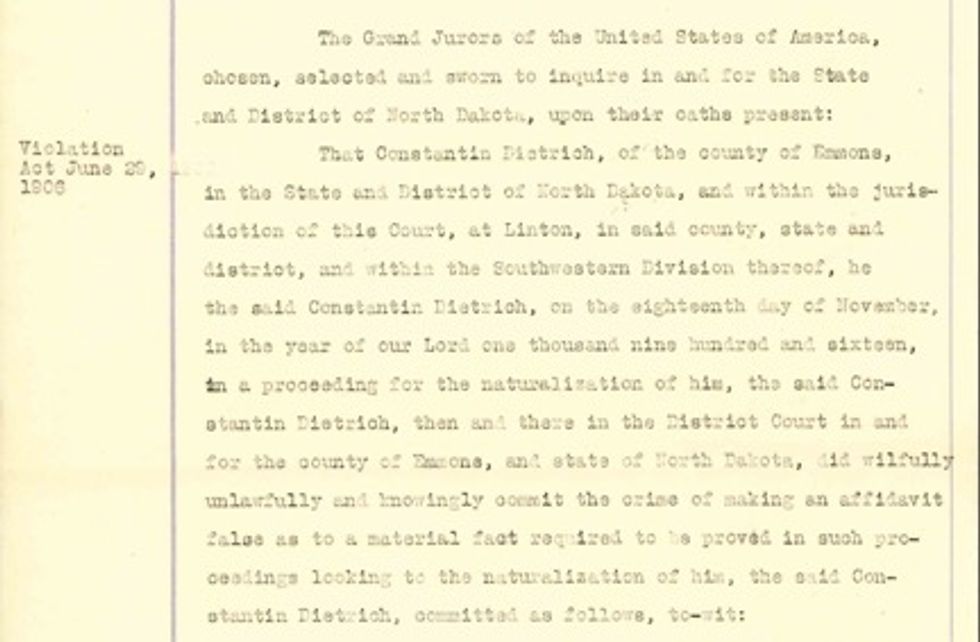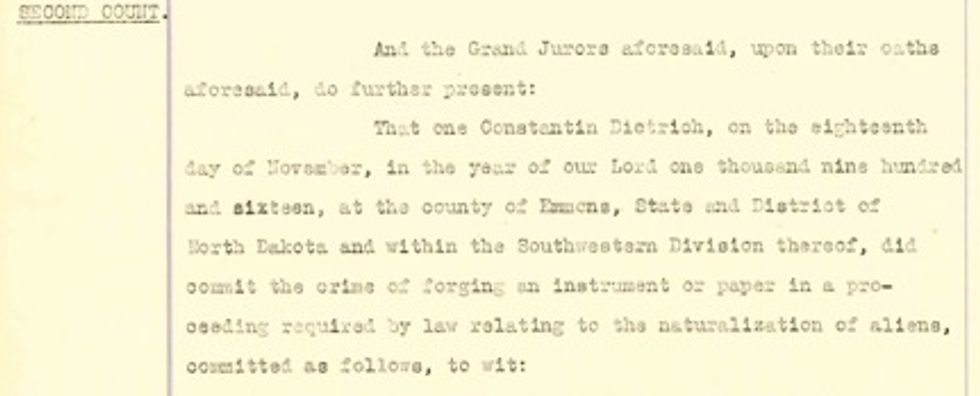 But – lucky for Tomi – despite the evidence, the trial jury apparently had sympathy for Mr. Dietrich and acquitted him of the charges. He went on to successfully become a citizen in 1926, ensuring that 90-odd years later, his great-great-grandaughter would be here to compare the Black Lives Matter movement to the KKK and to inadvertently admit that the right keeps hammering on Hillary's emails to distract from the Russia investigation.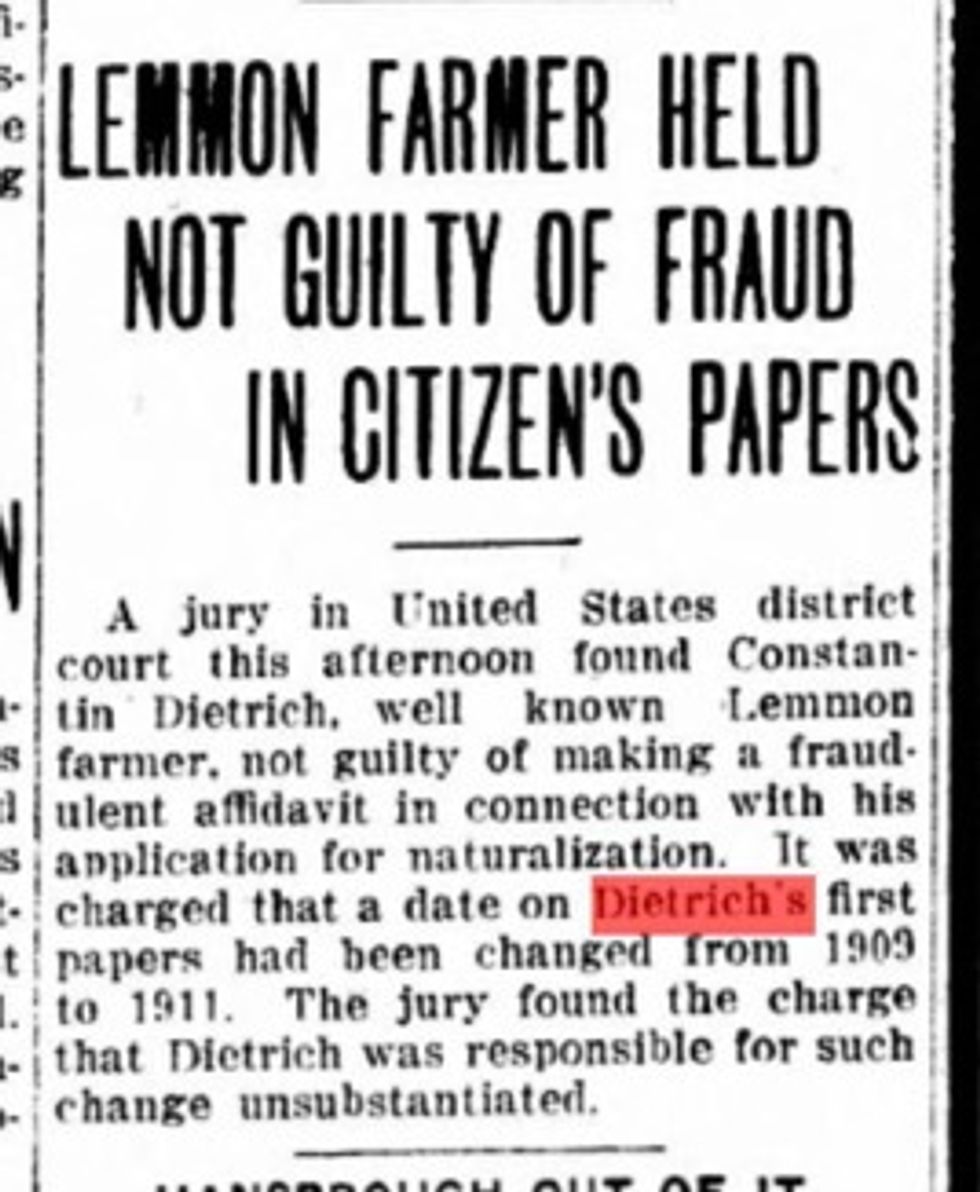 I bring this to light not to shame or embarrass Tomi Lahren. Poke any family tree and you'll often find similar irregularities. It doesn't necessarily mean that Constantin Dietrich was a bad person or a scorn-worthy "illegal" to be demonized. Perhaps it only means that like millions of others, his overweening desire to become a US citizen may have caused him to try to cut a corner or two. It means he may have been a good man who made a bad decision under pressure. It means you'd hope his great-great-granddaughter would have empathy for the plight of immigrants rather than try to pull up the ladder behind her.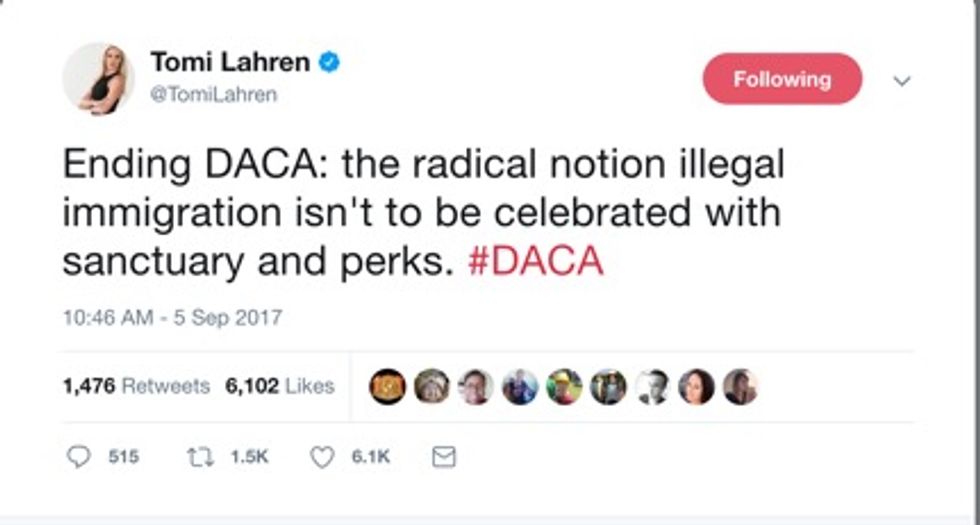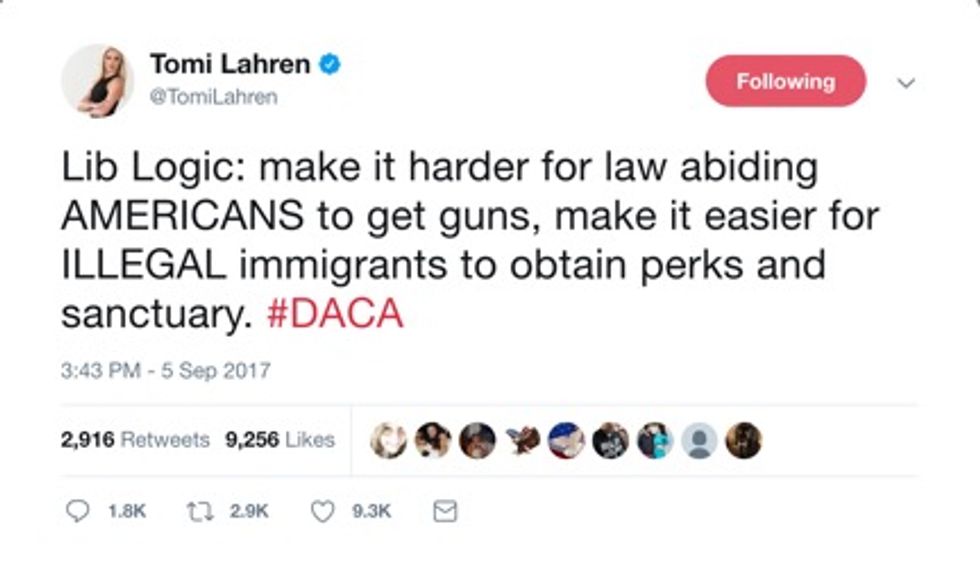 It means it's pretty damn ironic that she continues to claim the moral high ground on this one, throwing stone after stone at illegal immigrants, unaware that she's been living in a proverbial glass house all along.
Wonkette is ad-free and supported solely by Readers Like You! Won't you be so kind as to hit the tip jar below?