Tony Blair Composes Victorian Novel, For Humanity
News
September 09, 2010 12:26 PM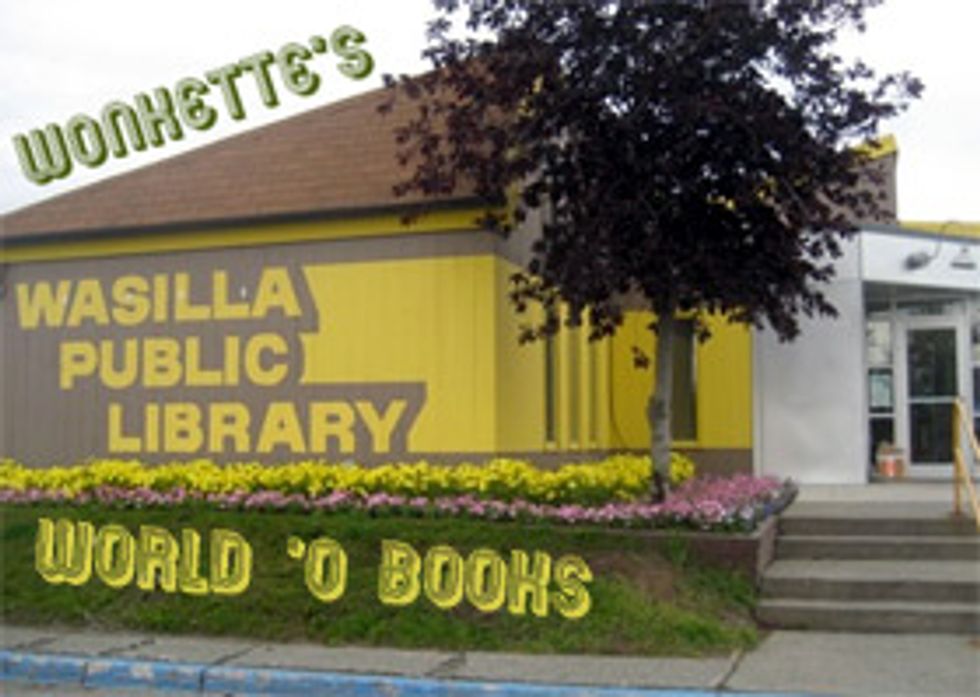 It was a drizzly, implacable November evening. Anthony Charles Lynton Blair was pacing his chambers at 221 Connaught Square, absentmindedly strumming"Dead End Street" on his guitar, pausing occasionally to glance out the window at the Georgian terraces across the way. A black dog loped down the sidewalk. Anthony sighed. "I am sick at heart," said he. Whilst thinking about putting on a kettle, it came to him as a lightning bolt from God's New-Age Heaven. "Cherie!" he cried. "Cherie, hear! I know what to do! I shall write a memoir and title it A Journey: My Political Life!"
---
So Anthony put quill to keyboard. "I have had many adventures!" he said to himself as looked over the finished manuscript. Indeed, this much-traveled Man of Achievement has enjoyed many giddy exploits. "Such as?" an impolitick man might reasonably ask.
Well. SUCH AS:
Anthony endured childhood and adolescence at various notable bum-hugging public schools in Edinburgh. Eventually, he sallied into Oxford and became famous to Oxonian maidens while playing in raffish rock-and-roll ensemble Ugly Rumours. Eventually the doxies and wenches had to be cast aside, for it was time for Anthony to embark on a career as a barrister. Not content to merely BE a bewigged lawyer, Anthony married a notable barrister, and the estimable Ms. Cherie Booth became Mrs. Cherie Blair. What then?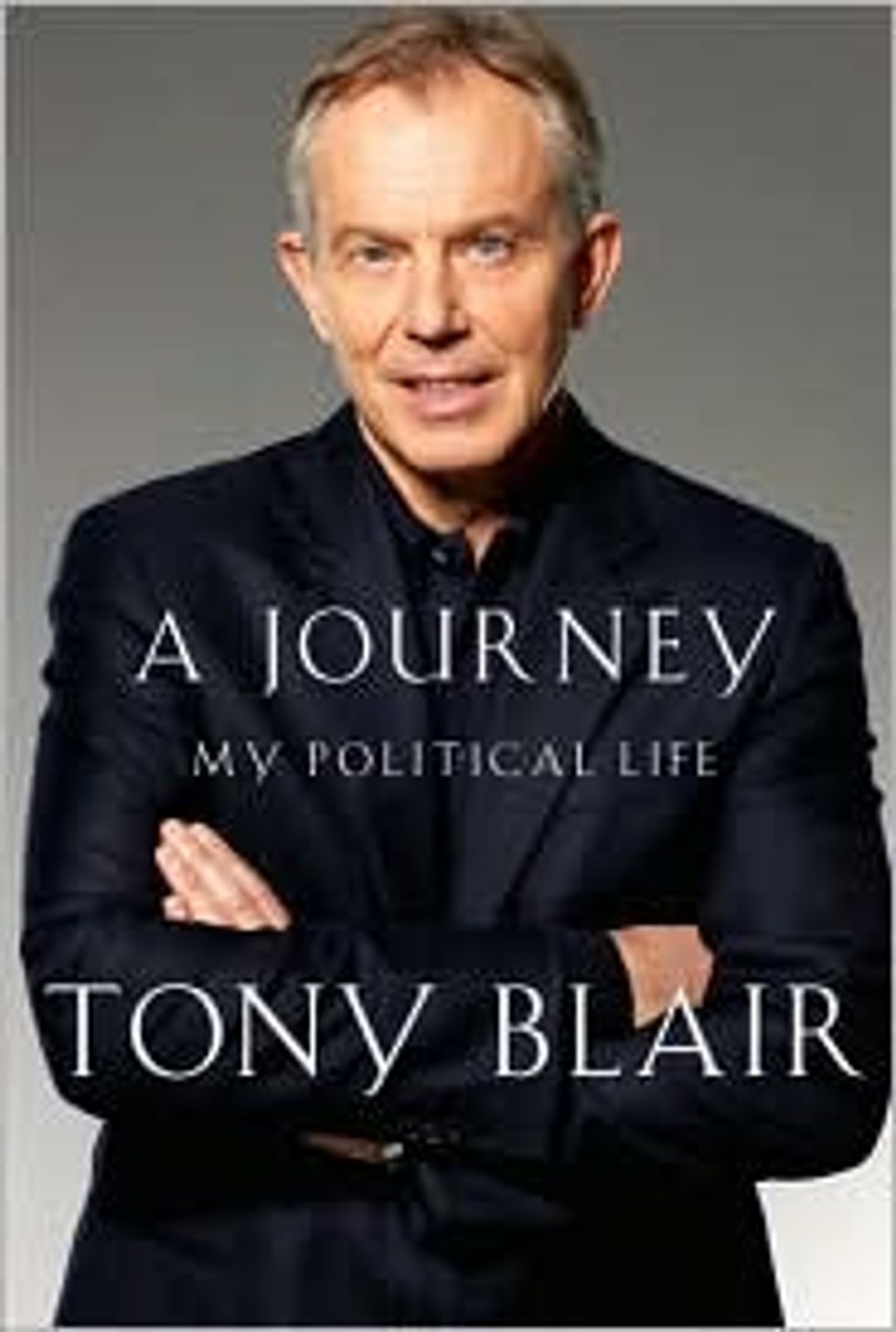 THEN: Despite his middle-class and boarding school background, Anthony grew enthusiastic about socialist working-men's club "The Labour Party" and ran for Her Majesty's Parliament as a member thereof. He assumed his seat in 1983, despite Labour's dismal rout at the hands of head-severing warrior queen Mrs. Thatcher. Anthony endured two more Labour defeats, though he kept his seat, and it was in PJ Harvey's 1990s that Anthony decided he had had enough of failure.
Anthony convinced the Labour Party to abandon their red flags, their cloth caps, and their nostalgia for rubbing their faces in tar and soot. 'Twas the 90's, after all, and people wanted to spend money and engage in homosexual relations. Also, Anthony hotly lusted after the vote of normal hobbits from Middle England. As Anthony explains:
[I]n the late 1980s there was a group of rock musicians called Red Wedge, fronted by people like Paul Weller and Billy Bragg, who came out and campaigned for us. It was great. But I remember saying after one of their gigs -- and, by the way, Billy Bragg was someone I got to know later and really liked -- "We need to reach the people listening to Duran Duran and Madonna" (a comment which went down like a cup of sick). I felt, in art and culture, we should represent all strands, avant-garde through to basic popular art that our voters might go to watch or listen to.
Anthony became leader of the Labour Party. He won the support of Antipodean press lord Rupert Murdoch, of whom Anthony writes, "he was right wing, but ... he had balls." In 1997, Anthony horse-whipped the Tories into cowering nancy-boy goo; the Newer Labour was triumphant. The UK's Queen, Helen Mirren, asked Anthony to form a government and assume the role of Prime Minister.
Anthony achieved much. With the help of William Clinton, an interloper from the departed American colonies, Anthony brought peace to the warring slobs of Northern Ireland, something of which he is justly proud in these pages.
His early premiership saw faint foreshadowings of doom, however. Anthony cultivated relations with Cool Britannia's famous "Britpop" collectives, but by the time he entered 10 Downing Street, the only Britpop minstrel welcoming him was Noel Gallagher of Oasis. The far superior Blur and Pulp abandoned him early on. Before long, the writing was on the wall and Radiohead was making doom-laden albums about Apple computers.
But there were other triumphs! Anthony's rescue of Kosovo, for one, during which he implored William Clinton to join him in deploying ground forces instead of merely dropping death-bombs on the Chinese embassy. It's hardly clear from Anthony's book how this turned out. Then the intervention in Sierra Leone, which literally ended the civil war in that unhappy colony.
Anthony devotes very long chapters to both the Yankee national holiday 9/11 and the conquest of Mesopotamia. The latter event, of course, will define Anthony's premiership forever.
Contra Maureen Dowd and most publick opinion, your bookman hardly thinks Anthony was the subservient poodle to his vulgarian friend George W. Bush. Instead, Anthony was possessed of a moral fervor to Save God's Earth from tyranny and repression. This is naive. It enabled horror and chaos. Anthony's self-justifications here are tedious, and the gap between what Anthony bethought himself doing and what he was actually doing is vast and free of introspection (as Maureen said).
Far more captivating: a dinner with Jacques Chirac, Queen Helen Mirren, and the Japanese PM:
As if Jacques didn't have enough problems, a few days earlier he had reportedly joked about British food in some unguarded remarks to Vladimir Putin and Gerhard Schroeder, effectively saying that you can't trust people whose cooking is so bad.

... Personally I didn't give a damn and thought it was quite funny, but of course everyone had to pretend to be thoroughly outraged and get very pompous ...

As we sat down to dinner with the Queen, the Japanese prime minister Junichiro Koizumi hit on a great liner of banter.

[H]e said loudly across in his halting English across the table, "Hey, Jacques, excellent British food, do you think?" followed by peals of laughter. Jacques looked at him a trifle acidly, forced to join in the joke, while protesting to the Queen that he had never actually said what it was alleged he had said. "Said what?" she asked, being the only one not to have heard the story ....
Anthony achieved one last Great Thing before he passed his post to his longtime rival/former friend/dour Scottish person Gordon Brown: he put a stop to the UK's absurd pub closing times and allowed bars and public houses to stay open 24/7. The Brits washed themselves away on a tide of joyous vomit and began stabbing each other in earnest.
Anthony now seems to support Whitehall's current Tory/Whig alliance, and is disdained by bookstore hordes. His book, however, has smashed sales records in the UK.
A Journey: My Political Life by Tony Blair, Alfred A. Knopf, 720 pages, $18.89 (£12.50).
If you wish to take tea, email greer.mansfield@gmail.com, and we'll find the correct gentleman's club.