TPUSA Kicks Right-Wing Porn Actress Out Of Its Little Convention
Culture Wars
July 19, 2021 09:44 AM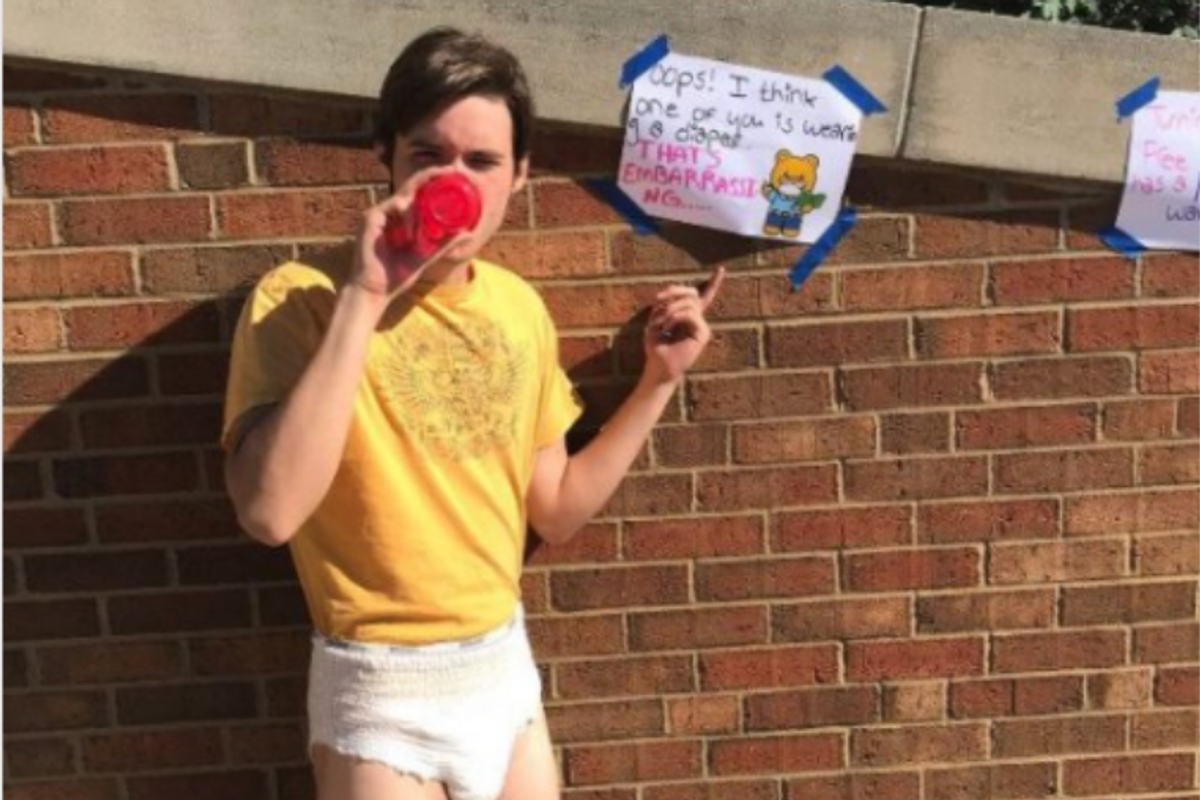 Get out your popcorn! The right is having its own version of the Sex Wars, and it's gonna get weird.
This weekend, right-wing porn star Brandi Love showed up at Turning Point USA's youth convention, with a VIP pass and everything. But when Love was spotted and identified by a follower of white nationalist Groyper leader Nicholas Fuentes on Telegram, who complained that TPUSA had let in a porn star but banished Fuentes from the event, she was swiftly served with an email telling her she needed to get out of Dodge.
---
There was already some drama over the convention on the Right, owing to a long-running beef between TPUSA, led by world-famous diaper fetishist (allegedly!) Charlie Kirk, and the Groypers, a ragtag group of white nationalist internet trolls led by Fuentes. It dates back to 2019 when former TPUSA "brand ambassador" Ashley St. Clair was photographed hanging around with Fuentes and other Groypers. When the photographs were brought to Kirk's attention by Right Wing Watch, Kirk and TPUSA severed ties with St. Clair and denounced white nationalism.
"TPUSA is a large national organization that touches hundreds of thousands of people all across the nation. Ashley is no longer one of our thousands of volunteer activists and ambassadors. Charlie [Kirk] and TPUSA have repeatedly and publicly denounced white nationalism as abhorrent and un-American and will continue to do so," the spokesperson said in an emailed statement, adding that St. Clair was not representing TPUSA when she was photographed.
This has led to an ongoing feud between the two groups, with TPUSA banning Fuentes from its events, and Fuentes and other Groypers crashing them and starting shit.
There's really no good side there.
Anyway.
After Love was kicked out of the convention, she posted the email to Twitter, shocked that conservatives would talk about freedom and being anti-censorship and then kick her out.
This set off a whole "can porn stars even be conservatives?" debate on the Right. On the one hand, there were fellas like Matt Walsh saying absolutely not and chiding Love for ever having thought they were on the same side:
Jenna Ellis, who had zero problems working with and for a guy known to have cheated on his wife with another porn star, was similarly outraged.
In Love's corner was Meghan McCain's husband, Ben Domenech of The Federalist, who tweeted that he was "disappointed that @TPUSA kicked out @brandi_love for no reason whatsoever. She's a Florida conservative businesswoman who loves America. The right has an opportunity to be the big tent party. Don't be a bunch of prudes."

The fact that Love has previously written for The Federalist probably has something to do with that.
Of course, that had largely been the GOP's deal for years, pre-Trump. Remember "family values?"
And then there were absolute idiots like this guy who claimed "if you try to legislate morality, you're not a conservative."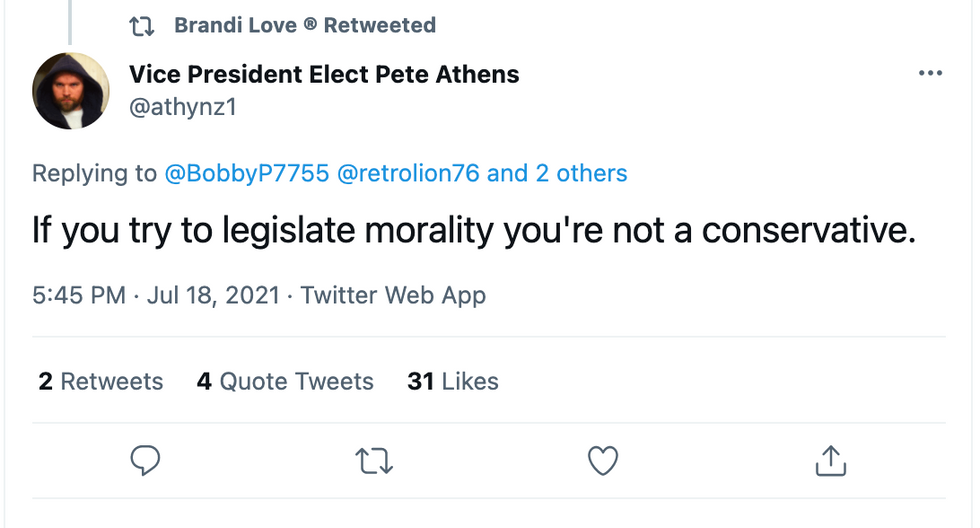 My dude — conservatives are literally the only ones out there trying to legislate morality in the first place, particularly when it comes to caring about who and how people fuck. Consider, if only, the difference in meaning between "socially conservative" and "socially liberal." Who opposed same-sex marriage? Who opposes abortion? Who opposes comprehensive sex-ed? Who is more likely to oppose the decriminalization of drugs and sex work? Who regularly cries their faces off about Drag Queen Story Hours and Cardi B songs?
Not us!
Pushing for anti-discrimination laws is not "legislating morality," it's about fighting for people to have the "freedom" to exist without having to worry about someone else's bigotry impeding their lives just because that person has more power than they do. And there's a whole world of difference between criticizing people for being cruel to other people and criticizing them for being too sexy.
But the right has done a hell of a job selling its bullshit as being "pro-freedom" across the board, when the only "freedoms" it actually favors are the freedom to own any kind of gun without a background check, the freedom to discriminate against people, the freedom for employers to screw over their workers, and the freedom for rich people to pay fewer taxes. Oh, and the freedom to say whatever you want online without anyone calling you a racist asshole or kicking you off of their social media site, which they know damn well is not a thing they can actually legislate.
It's one thing if people want to put their desire to own a gun and fuck over the poor over everything else, but it's pure folly to pretend to not know which side of the "culture wars" they're fighting on.
Now that Trump is out of office and social conservatives don't have to pretend they don't really care about "family values" anymore, there's going to be a reckoning between them and the people who got lured in with the false promises of libertarian "freedom." It's probably going to be a bit of a shitshow.
Complete with "I Triggered Charlie Kirk" t-shirts.
Do your Amazon shopping through this link, because reasons.
Wonkette is independent and fully funded by readers like you. Click below to tip us!
Robyn Pennacchia
Robyn Pennacchia is a brilliant, fabulously talented and visually stunning angel of a human being, who shrugged off what she is pretty sure would have been a Tony Award-winning career in musical theater in order to write about stuff on the internet. Follow her on Twitter at @RobynElyse