Trump Administration Settles On HHS Sec Alex Azar As This Week's Human Sacrifice
White House
April 23, 2020 12:35 PM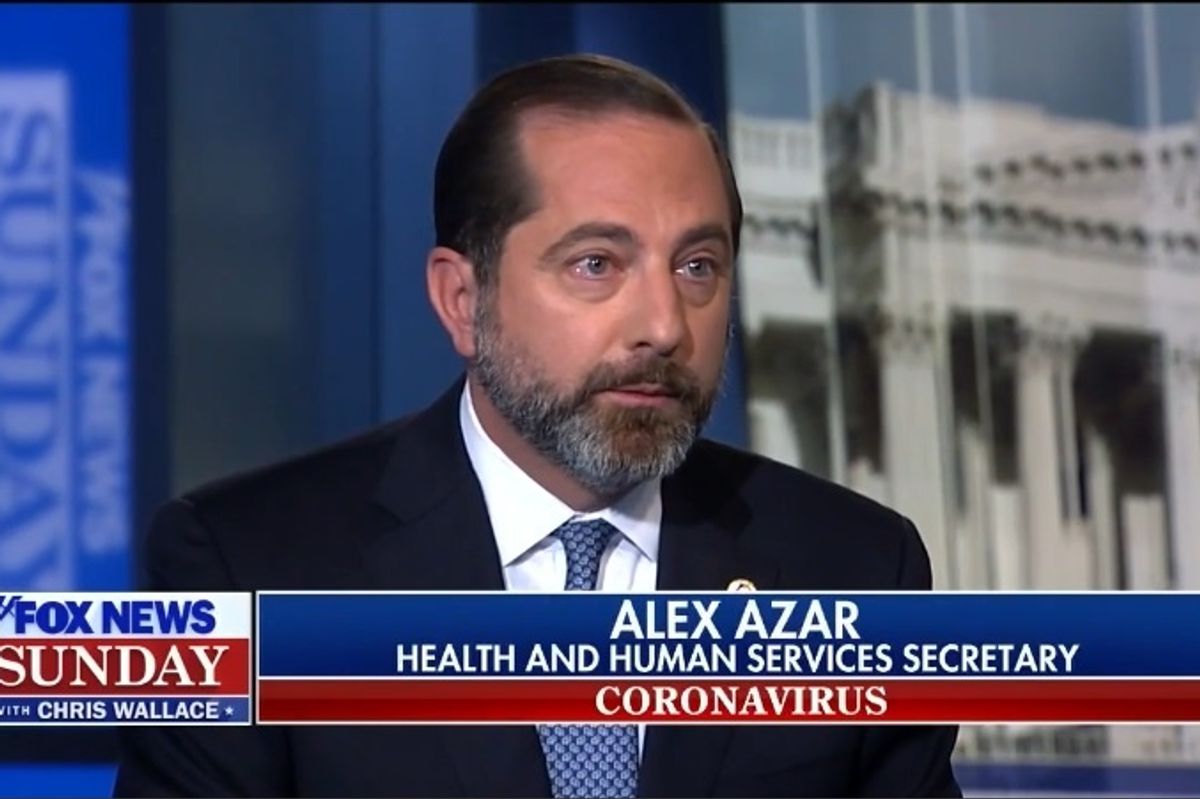 Two things can both be true at once and usually are. Health and Human Services Secretary Alex Azar really did botch the coronavirus response in spectacular fashion. And also the spate of articles attacking his leadership is part of a concerted White House effort to find a fall guy, because the buck never, ever stops with Trump. Plus, Azar has been in a long-running trench war with his arch nemesis Seema Verma, the head of the Centers for Medicare and Medicaid, with each of them leaking nasty shit about each other for sport. Which ain't helping either!
With all that in mind, let's break down these two SCOOP BREAKING HOLY YIKES articles on Azar's coronavirus clusterfuck, before the White House performs one of its signature Friday afternoon defenestrations.
Virus, Schmirus, Amirite?
The Wall Street Journal and Reuters confirm that Azar's original sin was failing to take the virus seriously when he was first briefed about it in early January. Although no one in Trump's orbit was taking it seriously, and when Azar tried to get the president's attention, Trump blew him off and berated him for talking him into signing an unpopular vaping ban. When Azar did finally focus on the virus, his own arrogance and lack of management skills led to the chaotic and dysfunctional response. And that cannot be laid at the White House's feet.
Can't Join the Task Force If You Don't Know the Secret Handshake, Loser!
At the end of January, Azar assembled a coronavirus task force, which excluded the FDA and FEMA, and minimized the CDC's role. The Journal reports that Azar told his staff that "he wanted to keep control of the response and that including FEMA would further complicate the administration's efforts." Azar told the Journal that he'd been coordinating with FEMA since February, but FEMA Administrator Peter Gaynor testified to Congress on March 20 that he'd only just started working Azar's task force that very week. So, who ya gonna believe?
---
As for the FDA, the decision to exclude the agency that oversees pharmaceutical development seems to have been spearheaded by Azar's chief of staff Brian Harrison, who took a big role in the response and was the one who made the call to keep FDA Commissioner Dr. Stephen Hahn off the task force, while including Dr. Anthony Fauci, head of the National Institute of Allergy and Infectious Diseases, and Dr. Robert Redfield, of the CDC.
Wonkers, meet Brian Harrison, AKA ...
The Labradoodle Guy
Brian Harrison is a 37-year-old with no healthcare or science background who spent the six years before joining the Trump administration breeding Labradoodles in Texas and somehow wound up the point man on HHS's coronavirus response.
"Everyone had to report up through him," an HHS official told Reuters, which reports that he was derisively known in the White House as "the dog breeder." (Oh, Seema, you're such a card!)
Now, in fairness, Harrison had worked in the White House during the Bush administration. Although what he did as a 23-year-old "confidential assistant" to Alex Azar in 2003 is not entirely clear. Whatever it was, it certainly didn't equal the resumé of the guy he replaced in 2019, Peter Urbanowicz, a healthcare lawyer and executive with three decades experience.
"Americans would be well served by having more government officials who have started and worked in small family businesses and fewer trying to use that experience to attack them and distort the record," Harrison huffed to Reuters. Which is ... not a defense of his role in the pandemic response.
Millions of Tests!* The Best Tests In the World!*
Yeah, not really. Back in January, Azar assured Trump that the CDC had developed an amazing test, millions of them were at that very moment headed out the door to the states, and everything was under control. On January 21, he went on Fox and said. "We developed a diagnostic test at the CDC, so we can confirm if somebody has this. We will be spreading that diagnostic around the country so that we are able to do rapid testing on site."
In reality, the tests weren't ready, they were defective when they went out the door, and they had to be recalled because they didn't work.
Meanwhile, the Journal reports, Azar declined the WHO tests and refused to allow local labs to develop their own. (The New York Times, in deep reporting, previously laid this at the feet of the FDA's Stephen Hahn. It is perhaps possible that people are trying to sidestep their own blame, who could ever say.)
Mr. Azar's declaration of a public-health emergency on Jan. 31 meant that any lab that wanted to develop a test had to first seek approval from the FDA. The FDA didn't clear any labs to conduct testing until Feb. 29, nearly a month later. For weeks, HHS blocked efforts to allow other labs' involvement because Mr. Azar wanted the CDC to make and distribute the nation's diagnostic tests.

Mr. Azar told associates he favored the CDC making its own test, rather than importing ones distributed by the World Health Organization, because the WHO tests weren't reliable, citing a study published in the Chinese Journal of Epidemiology. That study has since been retracted.
"We're obviously going to learn lessons," he told the paper. "This is unprecedented." Which is how you know he's about to get the shiv, because admitting error is not a thing in Trumpland.
Quit Talking About People Getting Sick, You're Spooking the Markets!
Trump and his lackeys may be trying to scapegoat Azar, but it's entirely clear that the HHS secretary took his cue from the president himself. With his reelection hopes pinned on a strong economy, Trump publicly downplayed the virus up through February, calling it a Democratic hoax to "get" him. He lost his shit when CDC official Nancy Messonnier said on February 25 that "It's not so much of a question of if this will happen any more, but rather more of a question of exactly when this will happen," causing the DOW to drop.
Is it any wonder that, according to the Journal, Azar refused to start stockpiling PPE because it would spook the markets?
FDA chief Stephen Hahn asked HHS in January if he could start contacting diagnostic and pharmaceutical companies about possible shortages of personal protective gear and other equipment, administration officials said. He was told no. An FDA official said the agency was already conducting outreach to companies.

Mr. Azar told associates such calls would alarm the industry and make the administration look unprepared, people familiar with the matter said. HHS officials waited weeks to contact manufacturers about possible shortages of medical supplies, the people said.
Which is an explanation for Azar's behavior. But not an excuse.
Azar Gets Cut Off at the Knees
After Dr. Messonier's comments, Trump put Pence in charge of the coronavirus response. And then he put Kushner in charge. And then everything worked out JUST FINE.
Haha, no. They found new and different ways to fuck it up utterly, which is a story for another day. To his credit, though, Pence did put FEMA front and center, bring the FDA back into the conversation, and enhance the role of the CDC. Plus he gave Azar's spot on the dais to Seema Verma. Womp womp!
The White House has now parked two political minders at HHS, including campaign aide Michael Caputo, to babysit Azar and make sure he doesn't fuck anything else up.
The Journal reports that Azar is taking it hard, grousing that he's "not even really the secretary of HHS anymore." Which might give us a little jolt of schadenfreude, if we hadn't spent the last month writing about Kushner's disastrous efforts to MBA the supply chain of PPE and ventilators.
When They Start to Sing Your Praises, You Know They're Sharpening the Knife
"I believe in servant leadership," Azar told the Journal. "It is core to my being to empower leaders." If this was evangelical-speak for "I embrace my new, reduced station in life and hope that those who replaced me get blamed for this debacle," it probably won't work. The White House PR team has been singing Azar's praises, which is usually a prelude to an announcement of resignation at 8 p.m. on a Friday. (Oh, hey, this is Thursday!)
White House spokesman Judd Deere said that Azar is "leading on a number of the president's priorities," while Pence's press secretary, Katie Miller, lauded his "partnership and collaboration" with the VP. Even Dr. Hahn from the CDC says the FDA worked "hand-in-hand" with HHS from the jump, even if he wasn't given a seat at the table.
Which is pretty darn chirpy so ... pack your bags, bro.
Follow Liz Dye on Twitter RIGHT HERE!
Please click here to support your Wonkette. And if you're ordering your quarantine goods on Amazon, this is the link to do it.
Liz Dye
Liz Dye lives in Baltimore with her wonderful husband and a houseful of teenagers. When she isn't being mad about a thing on the internet, she's hiding in plain sight in the carpool line. She's the one wearing yoga pants glaring at her phone.