Trump Adores Self At Civil Rights Museum. Wonkagenda For Mon., Dec. 11, 2017
Elections
December 11, 2017 09:12 AM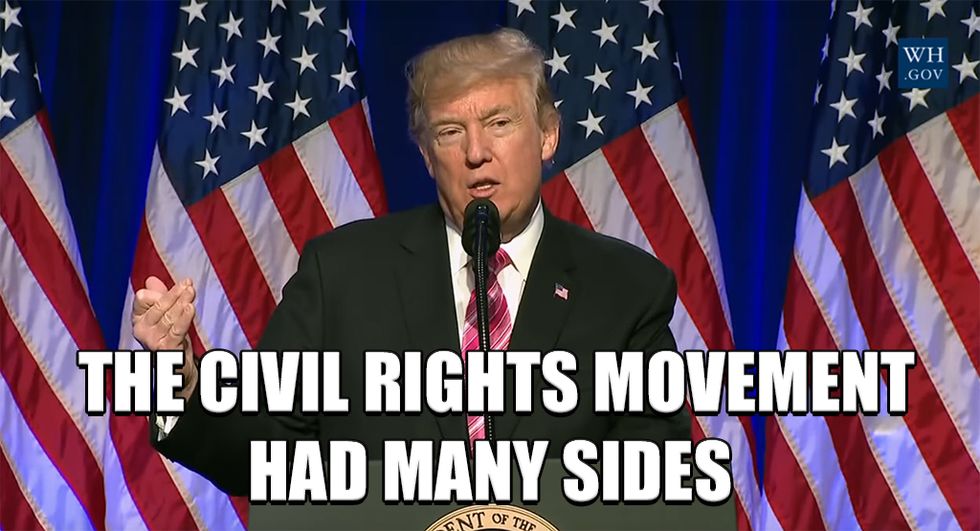 Morning Wonketariat! Dok is off this week. Here's some of the things we may be talking about today.
---
There was an explosion in Manhattan at the New York Port Authority this morning, with some reports that a suspect is in custody for planting a possible pipe bomb.More from Reuters.
The California wildfires continue to grow as the Santa Ana winds and low humidity push the fire deeper into Santa Barbara County, consuming 230,000 acres and forcing thousands of evacuations.
Trump spox Hope Hicks met with Robert Mueller's justice league of extraordinary investigators for over 9,000 hours where they talked about the FBI warnings that Russia was trying to reach out and touch Donald Trump during the 2016 election.
In their rush to ram through the awful Trump tax cuts (for the super rich), the colossal cluster fuck of special interest provisions are proving to be a headache for Republicans trying to appease their donors.
Energy Secretary Rick Perry is giving the Federal Energy Regulatory Commision more time to decide how to dole out sloppy blowjobs for the coal and nuclear industries.
Under the "leadership" of Scott Pruitt, the EPA is giving a free pass to big polluters even though he says he's not going to let them run wild.
Interior Secretary and grifty bastard Ryan Zinke is defending his use of hundreds of thousands in taxpayer dollars to joy ride in helicopters and horses by accusing the media of falsifying FOIA'd documents from his own office.
The Democratic Party's Unity Reform Commission is recommending that the party not only remove 60 percent of its so-called "super delegates," but more absentee and transparency systems to accurately reflect caucus voters, as well as more automatic and same-day voter registration.
As Republicans try to quietly cram judicial appointments onto the bench, they're framing the American Bar Association as an awful LIBERAL organization that aborts baby Jesus and poops on the flag.
The trial of inauguration protesters and journalists accused of rioting has become a referendum on the extent of First Amendment, with prosecutors alleging that the accused can be guilty simply by association.
Alabama Senate candidate Doug Jones brought in old handsome Joe Biden and New Jersey Sen. Cory Booker to "help some folk get woke" enough to vote in Alabama's special election tomorrow.
A major push from shadowy pro-Trump PACs has been targeting Alabamians, while Trump himself recorded a robocall to ring up all the old, racist white people who are defending ALLEGED pedophile Roy Moore and beg them to cover their eyes and ears.
Alabama's other Republican Senator, Richard Shelby, went on the Sunday morning gab-fests to state plainly that he didn't vote for Roy Moore, and that the state's Republican party could do better than an ALLEGED pedophile like Roy Moore.
A convicted South Carolina serial killer is warning that he has a lot more victims nobody knows about, but he won't tell where the bodies are buried.
Early this morning, Putin emerged and announced the withdrawal of Russian forces from Syria, according to one of the many Russian-state news agencies, vowing that the Russian military will rain a serious blow job on the heads of terrorists.
Reports of Vladimir Putin as a geo-political mastermind are exaggerated, according to a new report by Julia Ioffe that says he's more of a reckless gambler obsessed with historically false narratives of the old Soviet Union.
The voice of a Russian general involved in the 2014 downing of a Malaysian passenger jet in Ukraine has been ID'd.
Officials are nervously tapping their fingers and toes over reports that North Korea may be ramping up efforts to build a bio-warfare suit.
The EU has told Israel that they're not supporting the movement of the US embassy to Jerusalem as they see it as hostile to peace efforts.
US Ambassador to the UN Nikki Haley was making the rounds on the Sunday morning talk-a-thons when she broke from the Trump administration and stated, "Women who accuse anyone should be heard...And I think any woman who has felt violated or felt mistreated in any way, they have every right to speak up."
Sixteen women who've accused Trump of sexual harassment will hold a press conference today to call for a congressional investigation into Trump's history of grab ass.
A Westpoint legacy cadet claims she was run out of the Army's prestigious school for accusing the star quarterback of rape.
A former Breitbart spox has switched sides stating, "The embrace of Moore by the Republican Party's top 'leadership' is all the proof you need to know that this is a party that no longer stands for anything. I believe that the Democratic Party will do more to create equality in America than the Republican Party ever will."Welcome to the party.
The super-rich Winklevoss bros' desperate attempt to wed Bitcoin with Wall Street sent the price of the Internet's magic funny money surging as tech bros and money hungry douchebags yearn to legitimize a procurement system primarily used for secretly buying drugs, child porn, and hoarding more bitcoin.
One of the Koch brothers is becoming Silicon Valley's best silver-tongued friends in DC as calls to regulate the new wild West grow even louder.
Progressive candidates are raging against the Democratic machine that tracks voter data, and they're fighting to find out what the party knows.
As protests supporting net neutrality gain traction across the country, FCC Chairman and corporate-sponsored piece of shit Ajit Pai joked that he was Verizon's dorky "Manchurian candidate" who can't wait to start fucking up the Internet and broadcast media.
Of course Trump praised himself while touring Mississippi's Civil Rights museum, no wonder black legislators and civil rights leaders boycotted the event.
Fox's Saturday night scream queen, Jeanine Pirro, ranted about cleansing the FBI of corrupt agents. Maybe they could start with Giuliani's friends in the New York field office?
Magnolia Haberschram has a new piece in the LIBERAL NY Times detailing how Trump's White House is an exhausting shitshow powered by burnt steaks, diet cola, cable news, and ego-boosting handjobs that are doled out in regular intervals to prevent a nuclear war.
A botched Trump-Russia report served as cannon fodder for Trump this weekend, causing CNN's Brian Stelter to talk about CNN's black eye.
And here's your late night wrap-up! Stephen Colbertasked "God" if s/he believe's Mike Pence and SNL had a cold open Christmas wish.
And here's your morning Nice Time! Goodfellow's tree-kangaroos! Crikey!
Help us help you by giving us money!
Follow Dominic on Twitter and send him exotic and adorable ani-pals!
Dominic Gwinn
Dominic is a broke journalist in Chicago. You can find him in a dirty bar talking to weirdos, or in a gutter taking photos.