Trump And Macron: L'AMOUR! Wonkagenda For Wed., April 25, 2018
Trump
April 25, 2018 09:04 AM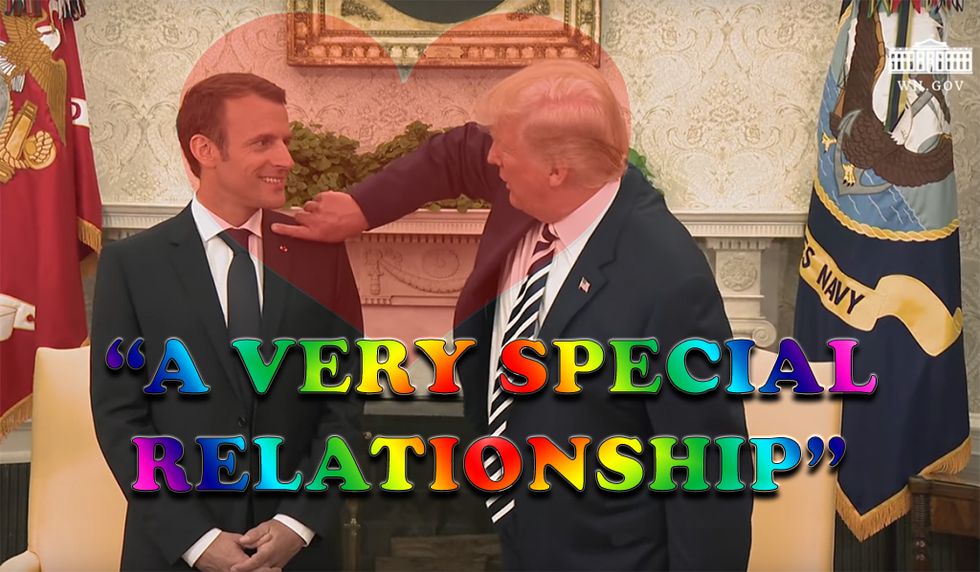 Morning Wonketariat! Here's some of the things we may be talking about today.
---
It's pretty safe to assume that Dr. Ronny Jackson is undeniably fucked this morning after several stories alleging Jackson doles out Ambien like Halloween candy, and he has a tendency to be a drunk asshole when he goes overseas. [Morning Maddow Pt. 1 & Pt.2]
Poor Michael Cohen is full of many sads now that he can't fix things for Donald Trump. Now funemployed, Cohen spends his days drinking fancy coffee and trying not to kill Trump's presidency. "Strong men also cry..."
When asked by reporters if he'd pardon Cohen during an Oval Office press gaggle, Trump called it a "stupid question," and "glared" at reporters. Of course he's going to pardon him!
Chuck Grassley is drafting a bill to protect Robert Mueller, but Democrats are worried that this is all just a ruse to give Trump time wipe his browser history of pee hooker porn.
There was some WEIRD shit going on between Trump and Macron yesterday, and WaPo thinks it's a male dominance thing.
A federal district court judge has ruled that the US must keep DACA and approve/renew applications, unless DHS can better explain its reasoning for canceling the program within 90 days. Fingers crossed!
SCOTUS is set to hear arguments in Trump's Muslim bantravel restrictions on religious and ethnic minorities later today. Though lower courts have already struck down the ban, the currently conservative-leaning SCOTUS may be Trump's last chance to start a holy war for shits and giggles.
Today's Scott Pruitt scam story: His sketchy security chief, Pasquale Perrotta, had a side hustle at AMI, the sleazy tabloid company that owns The National Enquirer and has a hard-on for Donald Trump.
Mick Mulvaney revealed just how greedy he was(/is) while in Congress; talking to a bunch of bankers, he stated, "We had a hierarchy in my office in Congress. If you're a lobbyist who never gave us money, I didn't talk to you. If you're a lobbyist who gave us money, I might talk to you. If you came from back home and sat in my lobby, I talked to you without exception, regardless of the financial contributions."
Fake geologist and grifty bastard Ryan Zinke installed a birther on the board of his super PAC back in 2012. Zinke's friend has made many crazy anti-Obama statements in the past, like calling Obama a secret Muslim on Zinke's old radio show.
The Senate confirmed bush pissing, gay hating, Hobby Lobbying, Jesus freak Kyle Duncan to the 5th Circuit Court of Appeals on a 47-50 vote. Crom help us, the court packing is coming.
Republican Debbie Lesko beat Democrat Dr. Hilal Tipirneni in the Arizona 8th's special election last night by only six points, and that has Republicans running scared in historically conservative districts.
Senate Democrats in tough reelection fights have outraised Republicans, according to a new analysis that also shows Republicans burning through cash reserves.
West Virginians aren't going to be too happy when they hear about ex-con and Republican Senate candidate Don Blankenship praising the capitalist dictatorships of China.
Democrats just flipped a long-held New York State Assembly seat with the election of Steve Stern! Hurray!
The sloppy clown show that is Chicago's mayoral race has started, and the only thing anyone can agree on is that Mayor Rahm Emanuel is an asshole.
Even though he's facing two felony charges, Missouri Republican Gov. Eric Greitens will be the keynote at the St. Louis Area Police Chiefs Association, further proof that St. Louis area cops have their own interpretation of the law.
Alabama's Etowah County Detention Center has been feeding inmates spoiled food in an effort to save money, along with meat byproducts clearly labeled "Not Fit For Human Consumption." There are also numerous reports that inmates are starving due to inadequate food portions.
Standing next to a visibly disturbed Emmanuel Macron, Trump called North Korean dictator Kim Jong Un "very honorable" for agreeing to hold discussions about its nuclear program. Note:North Korea is known to engage in human trafficking and slavery.
A report in the WSJ quotes Chinese scientists and press reports that North Korea's nuclear test site has collapsed, and that North Korea couldn't test a nuclear weapon even if it wanted to. [Archive]
The Trump administration suddenly announced that Adm. Harry B. Harris Jr. will be the US ambassador to South Korea. Adm. Harris is currently the commander of US forces in the Pacific, overseeing 375,000 military and civilian personnel, and was initially tapped to be ambassador to Australia. ¯\_(ツ)_/¯
Reuters reports that Russian civilians flying from Syria have been seen heading directly to the Russian defense ministry base in Molkino, suggesting Russia's little green men are once again meddling in foreign countries.
The man who drove a van into a crowd of people in Toronto was an "incel,"now all the red pill popping basement dwellers are praising him. And they're scary as shit.
Jim Bakker was talking to crazy lady Janet Porter about dead babies and claimed GOD gave us two scientists who could cure cancer, but they were aborted.
Jared Kushner's dad wants you to stop being mean to his spawn, telling CNN that his family's businesses have become toxic due to all the ALLEGATIONS of scamming.
Joy Reid is calling homophobic statements on her old blog hacks.
Chris Wylie, the Cambridge Analytica whistleblower, told Democrats that they should probably investigate to see if any laws were broken when all that Facebook data was stolen. Wink, wink, nudge, nudge...
And here's your morning Nice Time! DEADLY PANDA CUBS!
We're 100% ad-free and reader supported, and we'd love you bunches if you bought us coffee and a sammich.
Dominic Gwinn
Dominic is a broke journalist in Chicago. You can find him in a dirty bar talking to weirdos, or in a gutter taking photos.