Trump Bigger Than Jesus! Wonkagenda For Fri., Dec. 1, 2017
News
December 01, 2017 09:08 AM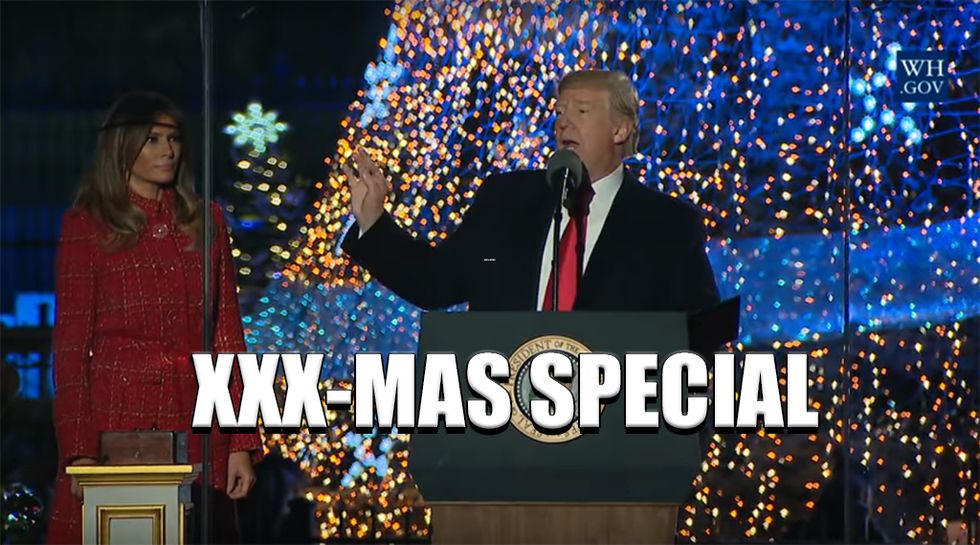 Morning Wonketariat! Here's some of the things we may be talking about today, but first, have some koala nice times.
---
The fight for the Trump/Ryan tax cuts
(for the super rich) will continue today after Mitch
McConnell found himself unable to con enough people
into supporting massive amounts of poor-fucking.
Over the summer Trump called a number of Senators to kill the Trump-Russia investigations. While his White House denied it, Republicans chalked it up as Trump being A Idiot (again).
Paul Manafort has been granted bail and he's promising to give Uncle Sam $11 million in fancy houses if he decides to run off to some Not American Eurotrash dictatorship.
A federal judge has suggested that Fusion GPS should turn over a list of its clients and vendors as part of the Trump-Russia investigation, and how much they paid, a move Fusion says could tank its business.
There's a fervor to repeal the ACA's individual mandate among congressional Republicans, and right now anything could happen.
Lindsey Graham is bitching about a scuttled provision in the Trump/Ryan tax cuts (for the super rich) that let people write off donations to college sportsball, and he's promising to "fight for it." REALLY? NOT THE REST OF IT? JUST THE SPORTSBALL? GO FUCK YOURSELF.
Paul Ryan's plan to blame Democrats for the looming government shutdown was scuttled after a number of Republicans started to revolt against their leadership and its half-assed schemes.
There's murmurs that Trump thinks a government shutdown might be a good thing because it would convince people that we need the border wall. Cool cool.
The Trump/Ryan tax cuts (for the super rich) are also a windfall for oil and gas companies as there's provisions to take a chainsaw to wind and solar tax credits.
In a speech, Jeff Sessions started screaming about recreational marijuana, and how DRUGS are ILLEGAL, regardless of what your state says. Won't someone please think of the children?
House Republicans are getting ready to drop restrictions on concealed-carry rights in order to combat mass shootings, increase background checks, and some dumbass measure by Rep. Karen Handel that would defer "bump stocks" to the attorney general. Maybe they should read this story about the fallout of the Las Vegas massacre.
Trump is reportedly ready to "You're Fired" REXXON and replace him with Mike Pompeo. I can't imagine why.
The bleak and desolate island of sadness formerly known as Foggy Bottom is sending up signals that they'd begrudgingly take Mike Pompeo over REXXON now that they've seen the apathetic damage he's done.
If Pompeo goes to State, the rumor mill on the Hill is that Tom Cotton will be rewarded for kissing so much ass with the top spot at the CIA.
Deep inside the fast-food filled halls of Trump's White House, officials are considering a plan to privatize spec-ops missions, intel gathering, and propaganda with a sketchy company from Whitefish, Montana, made up of veterans from Iran-Contra, Iraq and Afghanistan.
Since there currently aren't any real guidelines that dictate how taxpayer funds are used to settle sexual harassment claims, some members of Congress are joining Rep. Jackie Speier to institute more transparency and rules.
There's been a number of attempts to change the way Congress deals with sexual harassment claims over the years, but they've fallen on deaf ears and limp dicks.
After everyone saw his dick pics, Texas Republican Rep. Joe Barton says he won't run for reelection in 2018. Good riddance.
Blue dog Democrats are literally calling "bullshit" on Sen. Kirsten Gillibrand's endorsement of a suburban Chicago primary opponent to Rep. Dan Lipinski -- who opposes abortion rights and voted against the ACA -- with one House rep. calling Gillibrand an opportunist. Meh.
The House is set to vote to lengthen the trial period for federal workers from one to two years, that way it's easier for people to "You're Fired" new civil service workers attempting to navigate bureaucracy, shitty bosses, ideologies, etc.
Betsy DeVos is listening to hate groups that run around bashing transgender bathroom policies.
Employees working in Kansas's state-owned mental hospitals were barred from talking about the hospitals to legislators and the press. It's a mad house!
A substitute teacher called the cops on a 6-year-old special needs student who couldn't speak because he was, allegedly, sexually harassing her and being a "terrorist."
Egypt announced that it will allow Russian military jets to be stored in their bases. Good thing REXXON is downsizing the State Department; a Near Eastern affairs secretary or an ambassador for Saudi Arabia, Egypt, Turkey, or Qatar might have noticed this big gaping hole.
The DOJ quietly accused three Chinese nationals of hacking after an anonymous blogger posted photos of the men in their military uniforms and evidence of the digital fingerprints stealing trade secrets and attacking Chinese dissidents.
During yesterday's White House press briefing, Sarah Huckabee Sanders noted that Tom Bossert, a White House Homeland Security Advisor, is "keeping an eye" on Bitcoin. Why she noted that Homeland Security is watching it, and not the SEC, is still a mystery.
Francois Villeroy de Galhau, the governor of the Bank of France, is warning that you shouldn't invest your Ameros in Bitcoin, calling it an irresponsible, volatile and speculative asset with no economic basis after its value nose dived (again).
So, here's a SUPER weird story about a 36-year-old DC transit cop who used to cos-play as a Nazi, converted to Islam, prayed to Hitler and Saddam, and potentially lied to the FBI about trying to help someone whom he thought joined ISIS.
Recently obtained tax records show that Robert Mercer gave James O'Keefe $25,000 back in 2012 via the same shadow company used to funnel money to neo-Nazis and Breitbart.
New York AG Eric Schneiderman sent James O'Keefe a nastygram, demanding that O'Keefe change some tax documents to show that he's a convicted criminal, or he'll revoke their non-profit status.
After the Radio Television News Association asked why Walmart was selling a shirt that advocated murdering journalists on its website, they pulled it down and started sifting through barrels of cheap crap.
Reporter Ben Jacobs has sent a cease and desist letter to Rep. Greg Gianforte for denying that he lied to police about assaulting Jacobs at a campaign event. Good job, Ben.
Trump lit the national Christmas tree last night, but nobody was around to care except a handful of zealots.
Somebody leaked White House work orders and they show how much the president must hate living in public housing, with the need for roach spray, mouse traps, a new toilet seat for the Oval Office crapper, and an odd number of clogged toilets...
And here's your late night wrap-up! Stephen Colberttalked with fake Melon Trump; James Corden reminded everyone about that time REXXON called Trump a fucking moron; Jimmy Kimmel talked about his Twitter fight with ALLEGED pedophile Roy Moore; Seth Meyers took A Closer Look at Trump's tweets and Matt Lauer; Jordan Klepper talked about the big gay globalist war on X-Mas; Sarah Silverman had some talky time with Randy "Iron Stache" Bryce; and the The Daily Show talked about how Trump's tweets have brought human slave traders out of hiding in Libya.
And here's your morning Nice Time! BABY ELEPHANTS!
Freedom isn't free, but Yr Wonkette is! Throw us some Ameros so things stay that way!
Follow Dominic on Twitter and send him adorable fuzzies!
Dominic Gwinn
Dominic is a broke journalist in Chicago. You can find him in a dirty bar talking to weirdos, or in a gutter taking photos.