Mo Brooks Is Telling You He Is Not Leaving (And That Trump Asked Him To 'Remove Biden From White House')
2022 midterms
March 23, 2022 04:20 PM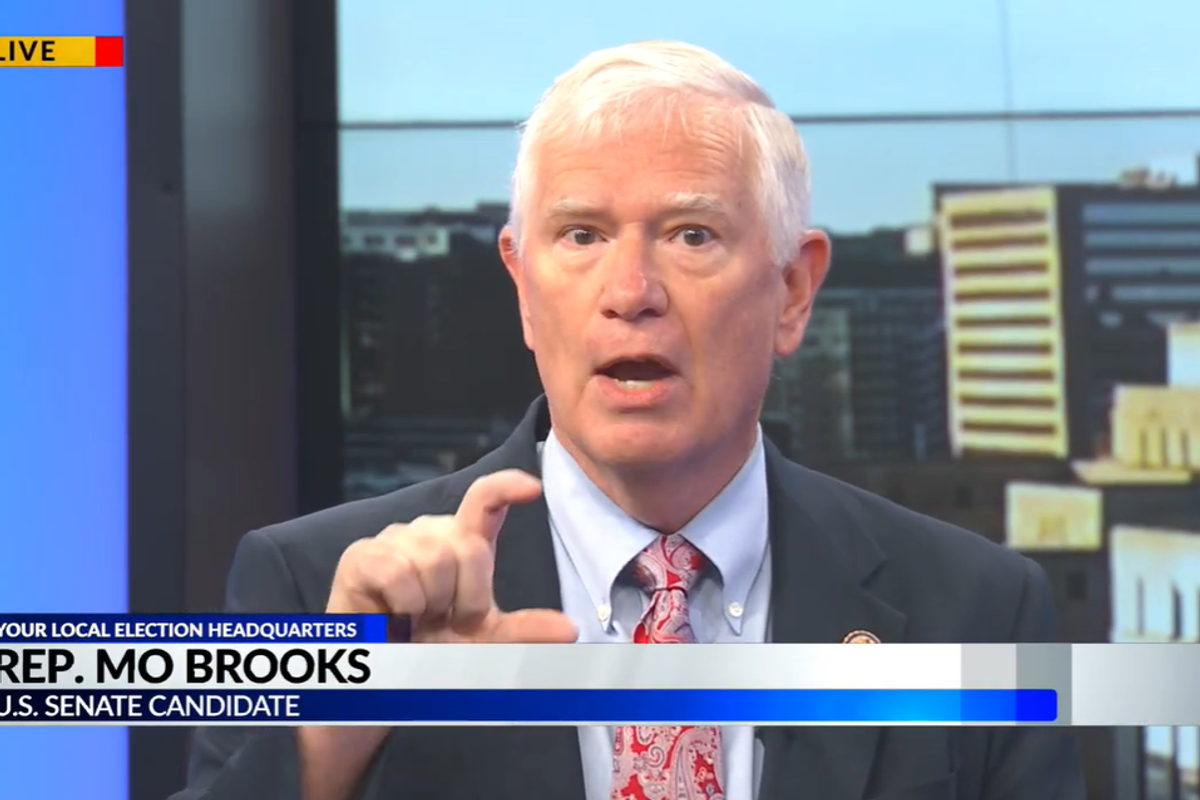 Realizing that his endorsement not only failed to clear the field for Rep. Mo Brooks in Alabama's US Senate race but that his preferred candidate might not even make it to the runoff, Donald Trump has dumped Brooks for being too "woke." By which he does not mean that the Alabama congressman has grown a soul patch and embraced "critical race theory," but rather that he made Trump look like a loser by demonstrating that his grip on the GOP isn't all that strong, and is being excommunicated for his sins.
"Mo Brooks of Alabama made a horrible mistake recently when he went 'woke' and stated, referring to the 2020 Presidential Election Scam, 'Put that behind you, put that behind you,' despite the fact that the Election was rife with fraud and irregularities," the former president said in a statement released this morning. "If we forget, the Radical Left Democrats will continue to Cheat and Steal Elections."
When I endorsed Mo Brooks, he took a 44-point lead and was unstoppable. He then hired a new campaign staff who "brilliantly" convinced him to "stop talking about the 2020 Election." He listened to them. Then, according to the polls, Mo's 44-point lead totally evaporated all based on his "2020" statement made at our massive rally in Cullman, Alabama. When I heard his statement, I said, "Mo, you just blew the Election, and there's nothing you can do about it. Very sad but, since he decided to go in another direction, so have I, and I am hereby withdrawing my Endorsement of Mo Brooks for the Senate.
LOL, okay. The rally where Brooks gently suggested to the crowd that "There are some people who are despondent about the voter fraud and election theft in 2020. Beat them in 2022, beat them in 2024," took place in August of 2021. Trump conveniently omits to mention that Mo Brooks supposedly "blew the election" seven months ago, but only managed to get un-endorsed eight weeks before the primary.
---
The former president promises to endorse somebody else real soon, just as soon as he figures out which of the two remaining candidates in the race won't humiliate him by coming in second place.
Raise your hand if you feel sorry for Alabama congresskook Mo Brooks.
Okay, if your hand is up, you can go give yourself a good slap upside the head, ya sap. Because that guy deserves every bit of the humiliation Donald Trump is dishing out to him. This is a guy who led the charge to overturn the election, crusaded for Americans' sacred right to die from pre-existing conditions, and who once speculated that sea levels were rising because of rocks falling in the water, not climate change. The US Congress will do just fine without Brooks, who abandoned his safe House seat to throw his hat in the ring to replace retiring Senator Richard Shelby.
In 2017, Brooks ran for Jeff Sessions's seat, after that sumbitch noped out to become Attorney General. Five years ago, Alabama voters considered the possibility of a Senator Brooks and went with the pedophile. And this go round looks to be an even more humiliating exercise. Good job, Mo!
But Rep. Brooks has an answer for that, and it is ... well, okay we really cannot describe what it is. Clearly the infamous monkeys with typewriters have taken over Brooks's campaign website.
He starts out by claiming that Trump is being manipulated by his arch nemesis Mitch McConnell:
It's disappointing that, just like in 2017, President Trump lets Mitch McConnell manipulate him again. Every single negative TV ad against our campaign has come from McConnell and his allies. I wish President Trump wouldn't fall for McConnell's ploys, but, once again, he has.
He then says that Trump asked him personally to undo the election result, even after President Biden's inauguration:
President Trump asked me to rescind the 2020 elections, immediately remove Joe Biden from the White House, immediately put President Trump back in the White House, and hold a new special election for the presidency. As a lawyer, I've repeatedly advised President Trump that January 6 was the final election contest verdict and neither the U.S. Constitution nor the U.S. Code permit what President Trump asks. Period.

I've told President Trump the truth knowing full well that it might cause President Trump to rescind his endorsement. But I took a sworn oath to defend and protect the U.S. Constitution. I honor my oath. That is the way I am. I break my sworn oath for no man.
Because when you want to get shit done, you should definitely send in some backbench goober who everyone in DC knows is dumb as a sack of hammers.
Brooks finishes by attacking Katie Britt, one of his rivals, describing her as "a high taxing, open borders, cheap foreign labor, Chamber of Commerce lobbyist" whose campaign is "supported and funded by McConnell allies."
"There's only one conservative option in this race, and I am confident that the people of Alabama will see that on Election Day," he concludes, optimistically.
Must be nice to have the IQ of a goldfish, able to swim a quick lap around the bowl and forget what happened to Jeff Sessions in 2020 when he tried to get his seat back.
Open thread!
Follow Liz Dye on Twitter!
Click the widget to keep your Wonkette ad-free and feisty. And if you're ordering from Amazon, use this link, because reasons.
Liz Dye
Liz Dye lives in Baltimore with her wonderful husband and a houseful of teenagers. When she isn't being mad about a thing on the internet, she's hiding in plain sight in the carpool line. She's the one wearing yoga pants glaring at her phone.