Trump Can't BELIEVE This White House Craphole! Wonkagenda For Wed., Aug 2., 2017
Elections
August 02, 2017 09:34 AM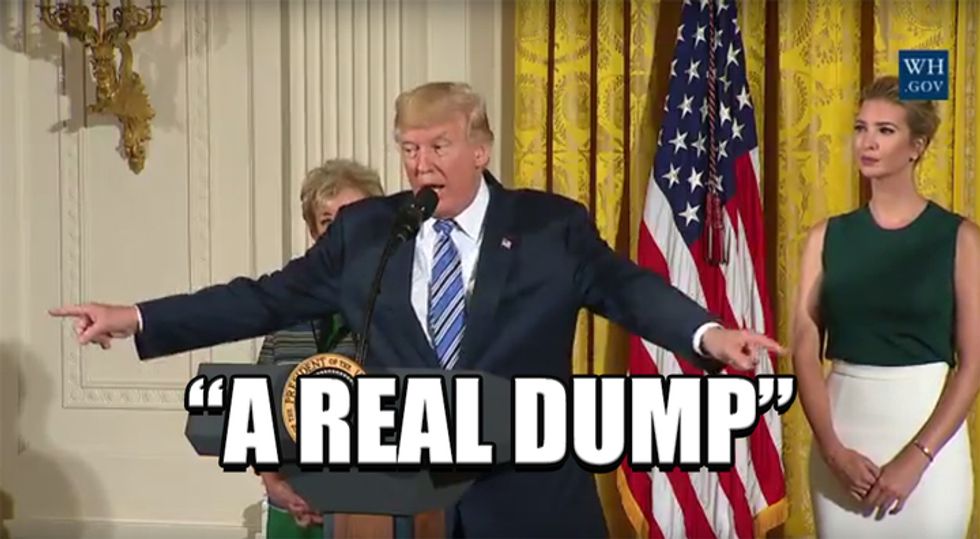 Needs more gold-plated shit, you know?
---
What the -- Wednesday already, Wonkers? Here's some of the things we may be talking about today.
Somebody leaked the transcript of Trump's WSJ interview and, once you get past the incompetent sputtering of sentence fragments from a dodgy old racist, you're left with nothing more than an early 20th century robber-baron without the sweet facial hair.
Christopher Wray is your new FBI Director and he swears on a stack of Bibles that he won't swear an oath of loyalty, or a Wookiee life debt, or whatever, to Donald Trump.
Robert Mueller has hired ANOTHER new attorney, and this one has a specialty in foreign bribery. HMMMMMMM!
A federal judge has recused herself from two cases involving Trump's business shenanigans with Not America as SHE IS THE WIFE OF MUELLER'S NEW LAWYER HIRE!
All this talk about Trump-Russia has Lindsey Graham just beside himself, ya'll. He did declare that Donald Trump is behaving most "unpresidential."
Trump's officials are considering the possibility of moving Jeff Sessions to DHS to fill the hole left by John Kelly. Coincidentally, such a move would allow Trump to appoint a random stooge who could fire Bob Mueller.
The Senate Health, Education, Labor and Pensions Committee announced plans to stabilize health insurance markets next month, effectively ignoring Trump's tweets encouraging their collapse.
Meanwhile, the House is pushing forward with a similar measure, which would give more money to insurers to help reduce the costs for consumers, and remove two key taxes.
Mitch McConnell is hoping to pass tax reform with only Republican votes, no matter what Democrats or constituents say. Get your protest signs ready.
The Justice Department wants to begin investigating universities for "intentional race-based discrimination" against white students. It's not a racist move, it's just taking a separate (but equal) approach to civil rights.
In a speech to the National Organization of Black Law Enforcement Executives, Jeff Sessions stated, "You know all it takes is for one bad officer to destroy the reputations of so many." Sessions then reminded everyone how cool he was when he later said, "I have always understood the value of this organization. A number of my good friends have been members."
Sen. Corey Booker introduced the Marijuana Justice Act, a fantastic bill that would legalize weed at the federal level, and deny funding for jails and prisons in states that don't comply. Unfortunately, if it's not lost in committee, it's likely to go up in smoke.
Republicans in the House Rules Committee blocked a proposed amendement to the VA funding bill that would have allowed doctors to prescribe medical marijuana for veterans. Called "Veterans Equal Access," the bill would have allowed patients and doctors in states with medical marijuana laws to consider the treatment, but House Republicans figured that opioids are just fine for pain management.
Betsy DeVos has decided not to upend student loan servicing after a bipartisan group in Congress, and a handful of lobbyists, pointed out that by dumping all federal student loans under one roof she would inadvertently pop the bloated bubble of student loan debt.
Congressional Republicans are increasingly upset that Trump's bumbling keeps throwing off their plans to screw over the Middle Class, forcing them to consider eating bipartisan shit sandwiches.
Wells Fargo customers are suing the bank over an alleged insurance scam that forced hundreds of thousands of people to buy expensive auto insurance they didn't need or want.
Army Maj. Gen. Mark Inch (really!) is your new director Federal Bureau of Prisons. Gen. Inch made a career heading up military prisons and overseeing MP's, so he's sure to adjust to the civilian prison system and its drastically different judicial process in no time.
A federal judge has blocked efforts from a watchdog group to restrict access to information sought by Trump's voter fraud commission that includes names, dates of birth, partial Social Security Numbers, and criminal records.
Corey Lewandowski is back in the White House as an unofficial adviser, and he's trying to looking to bring other die-hard hitmen loyal to Trump with him.
Paul Ryan is totally ready to build Trump's wall so he made a little movie doing his best Walker, Texas Ranger impression.
Some redneck cop in a podunk Lousiana town was sharing racist memes on Facebook until he got tracked down, called out, and forced to resign. The officer attempted to whitewash his Facebook page, but forgot to delete all his "no fat chicks" and "MAGA" posts.
John Morgan is a Democratic gubernatorial candidate in Florida who is running to legalize medical marijuana, restore voting rights for felons, criminal justice reform, and some other things that make his 2014 boozy rant even more endearing.
Maine Governor Paul LePage wrote an op-ed in the WSJ criticizing Sen. Susan Collins' refusal to strip away healthcare from people. Considering there are no racial slurs or accusations of fake news it's almost hard to believe LePage wrote this. [Archive]
Trump's White House is preparing to open an investigation into the Chinese businesses practices that give us all the cheap, knock-off crap in retaliation for Beijing dragging its feet on North Korea.
Beijing penned an editorial in its state run news agency this morning that basically tells Trump to sit down, shut up.
REXXON awoke from hibernation and roared that he and Trump are "not very happy" that Congress wants to sanction Russia for its election fuckery. He then sighed and blamed everything on the board Congress.
Congress cut an $80 million check to the State Department to fight terrorist and Russian disinformation campaigns, but REXXON doesn't want the money because it might hurt Russia's feelings.
Agrichemical giant Monsanto has been engaging in a large scale media influencing strategy, according to recently released documents that detail Monsanto's decades of damage control.
Nixonian hatchet man Roger Stone called up a HuffPo reporter to dish some dirt on Anthony Scaramucci and how he was "You're Fired." To be honest, we're not sure who's the bigger asshole in this story.
Eric Trump's malfunctioning Stepford Wife, Lara Trump, has become the new face of Trump TV on social media. As the literal definition of state propaganda, Lara Trump notably signs off with the statement that this "is the real news."
Vice asked its new music critics to review Joe Scarborough's new song, and their reaction was similar to ours. Then again, that's the point of Auto-Tune.
Chelsea Clinton is defending the White House staff after Trump called the White House "a real dump," stating in a tweet, "Thank you to all the White House ushers, butlers, maids, chefs, florists, gardeners, plumbers, engineers & curators for all you do every day."
And here's your late night wrap-up! Stephen Colbert had some talky time with Sen. Al Franken; Seth Meyers took a moment to Check In on Trump and Religion; and The Daily Show looked at Russia and North Korea.
And here's your morning Nice Time! "WILD ASS BABIES"
Help us help you! Give us money and we'll keep writing.
Dominic Gwinn
Dominic is a broke journalist in Chicago. You can find him in a dirty bar talking to weirdos, or in a gutter taking photos.