Trump Crime-Bosses Ukrainian President To His Face On Live TV, Very Legal And Very Cool!
Ukraine
September 25, 2019 04:42 PM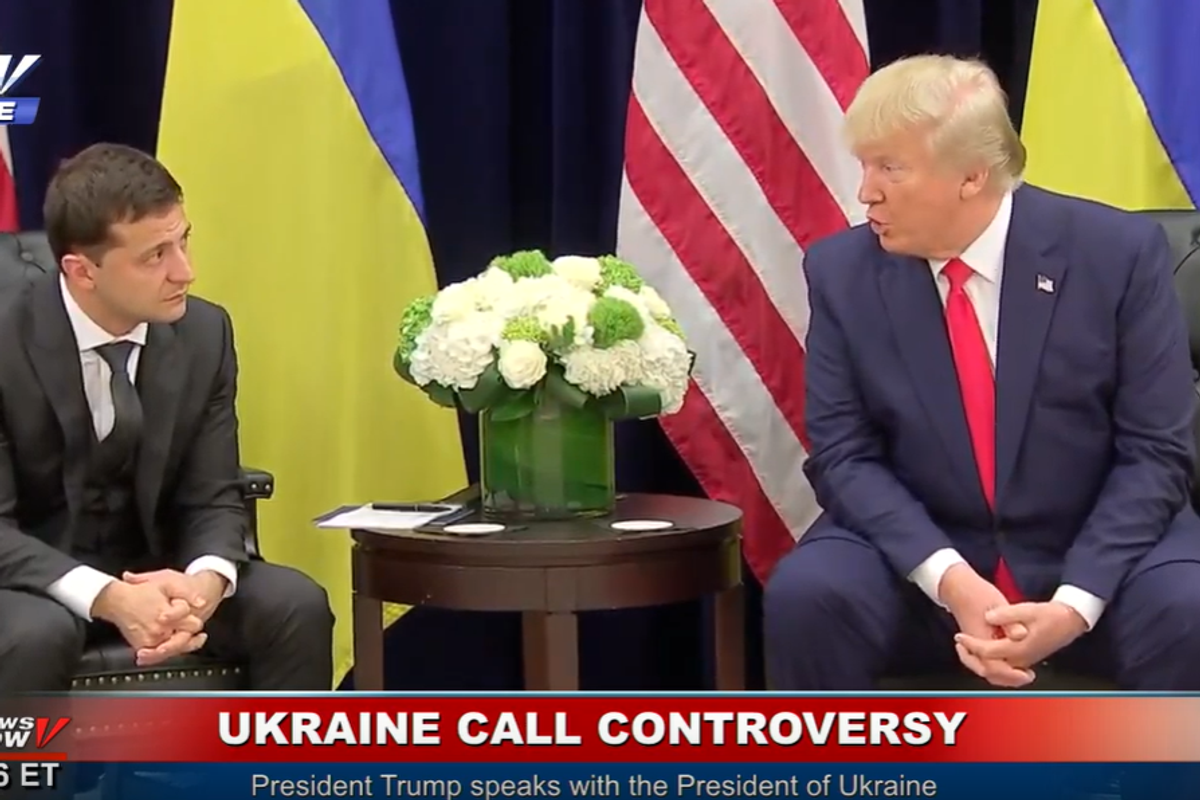 Donald Trump met with Ukrainian President Volodymyr Zelenskiy today in New York, isn't that fuckin' convenient?
This is happening on a day that saw the release of THE TRANSCRIPT of Trump's July 25 phone call with the Ukrainian president (not the actual transcript, but a summary that was incredibly damning on its own, and also included some very curious ellipses that come at key moments); when we're learning there were criminal referrals about the whistleblower's complaint, both from Acting DNI Joseph Maguire and intelligence community Inspector General Michael Atkinson, which the Trump Department of Justice immediately ignored; when news just broke that acting DNI Maguire threatened to up and QUIT if he's not allowed to talk openly to Congress tomorrow, though Maguire is denying that reporting; oh yeah, and did we mention that Congress is moseying over to their SCIF to read what is probably a heavily redacted version of the whistleblower complaint right now?
This what it feels like when the shit hits the fan.
And there Trump was, sitting next to Zelenskiy, and holy shit it was fuckbonkers.
---
Ukrainian president backs Trump: 'Nobody pushed me' to probe Bidenwww.youtube.com
Trump opened by saying that Zelenskiy has made him more famous, and that he has made Zelenskiy more famous, and it was off to the races! The mob-bossing races, to be specific.

Zelenskiy humorously asked Trump for a commitment to come and visit Ukraine, and Trump said he'd "try." (Zelenskiy is funny! Typical COMEDIAN. He is also cute! Typical CUTE GUY.) Trump did allow that he owns Miss Universe and there was a Miss Universe from Ukraine, which was just great. (There has never been a winner from Ukraine.)
Zelenskiy asked Trump for his continued support of Ukraine in light of the Russian invasion of Crimea, and Trump sent a solid message that he didn't care. He did remind Zelenskiy that the Crimean invasion happened when OBAMA was president, blame OBAMA. Trump thinks that situation was "handled poorly, but it's just one of those things." Aw shucks, one of those things. Sucks getting invaded by Donald Trump's real dad!
We need to emphasize how uncomfortable Zelenskiy looked. He is in such a shitty situation -- a new president, being improperly pressured and crime-bossed by the leader of the country that's supposed to be one of his biggest allies, but instead that leader is comfy and cozy and has a boner for the country that invaded his country. So take Zelenskiy's statements in that context.
Trump, from the beginning, kept telling Zelenskiy to "stop corruption," which we all know is code for "investigate Joe Biden," telling him it will be just "tremendous" for the nation of Ukraine. But it really went off the rails when reporters started asking questions. We will paraphrase, except for when we use quotation marks, which are the international symbol for direct quotes:
Q: Did Zelenskiy feel pressure from Trump to investigate Biden?

ZELENSKIY: "You read everything [...] I'm sorry, but I don't want to be involved to democratic open elections of USA."

And this was Trump's face: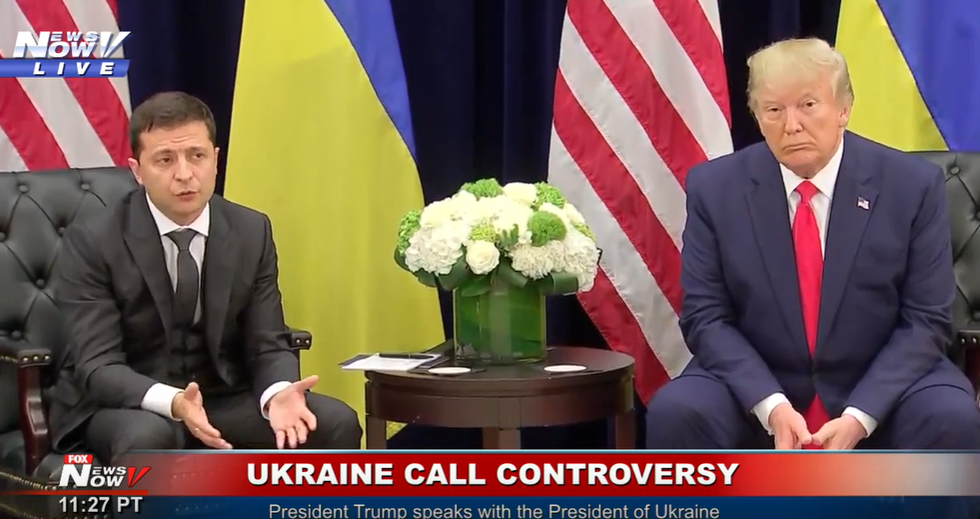 Zelenskiy added that he had a good phone call with Trump, they "spoke about many things." (Trump mostly talked about Joe Biden, obviously.) And he said "nobody pushed me," but remember what we said about the terrible position Zelenskiy is in right now.
Trump chimed in: "IN OTHER WORDS, NO PRESSURE!" He did not add "NO COLLUSION," but we are pretty sure if he was capable of thinking while speaking, he would've thought it.
Q: Does Trump want Zelenskiy to do MORE to investigate his political rival Joe Biden?

TRUMP: No not more, he wants Zelenskiy to do "what he can." (NO COLLUSION!) Trump added, "whatever he can do in terms of corruption," he should do, and again, "corruption" is Trump's new code word for "investigate Biden."
Trump immediately started talking about how it's CRAZY how Hunter Biden "walked away with millions of dollars from Ukraine," which is a weird fact-free statement to make, unless Trump's syphilis brain has confused "Hunter Biden" with "Paul Manafort." He also said it's real bad how Hunter Biden walked away from China with millions of dollars, but he didn't pressure Zelenskiy to do any Chinese investigations, NO COLLUSION.
As you can see, at this point, the press availability had reached the "YELL INCOHERENTLY ABOUT CONSPIRACY THEORIES TRUMP FOUND IN HIS ROTTEN B-HOLE" section. It would last a while.
Anyway, immediately Trump went back to saying Zelenskiy was elected to stop corruption, COUGH COUGH BIDEN COUGH.
Q: What the fuck is Rudy Giuliani doing?

TRUMP: RUDY GIULIANI IS INVESTIGATING RUSSIAN COLLUSION WITCH HUNT, WHICH CAME OUT OF THIN AIR, RUSSIAN WITCH HUNT! PHONY NONSENSE! RUDY GIULIANI "HIGHLY RESPECTED"! HE IS A NORMAL GOOD HUMAN IN HIS TV APPEARANCES! NONSENSE! HOAX!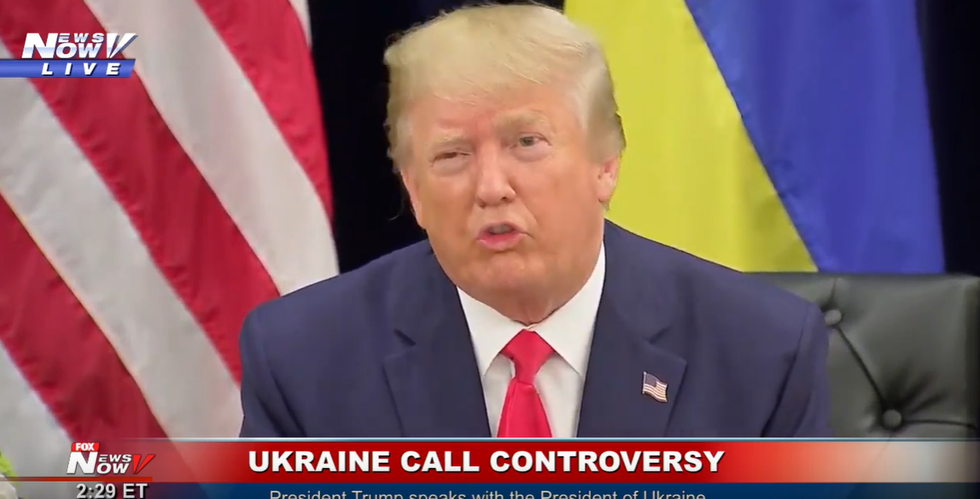 TRUMP: NONSENSE! HOAX! WITCH HUNT! MEDIA HOAX! DEMOCRAT HOAX!

(A lot of this is an exact quote, even though we are writing it funny-style.)
TRUMP: WHERE DID HOAX COME FROM? OUT OF THIN AIR! RUDY GIULIANI FIND OUT! SMART MAN!

Next question:
Q: Do you ... really think Hillary Clinton's 33,000 "missing" emails are buried in somebody's backyard in Ukraine?

TRUMP: "I think they could be!" Trump really liked this question. He proceeded to repeat Sean Hannity's conspiracy theories about Hillary Clinton deleting her emails, and because Donald Trump is 800,000 years old and the stupidest fucking person alive or dead, he doesn't know what a "server" is, therefore he thinks maybe they are in Ukraine, because somebody told him that one time.

We do not have time to explain what Trump is babbling about here, but if you want to understand why Trump is babbling about Hillary's emails being lost in the mountains of Ukraine, click here. If you do not care, because life is precious and you will never get those minutes back, FUCK IT.
Q: Will Trump guarantee future aid to Ukraine?

TRUMP: Europe should pay for more Ukraine stuff! Obama only sent Ukraine "pillows and sheets!"

Trump added to Zelenskiy that he really hopes Zelenskiy can "get together [with Putin] and solve your problem." Remember, Putin is Trump's cuddle friend/KGB handler, and the "little problem" is that RUSSIA FUCKING INVADED UKRAINE AND STOLE A REGION OF THE COUNTRY AND CONTINUES TO OCCUPY IT TO THIS DAY. (Remember, also, by the way, that Trump is pretty sure Putin has a right to the Crimean peninsula, because they speak Russian there.)
This was Zelenskiy's face: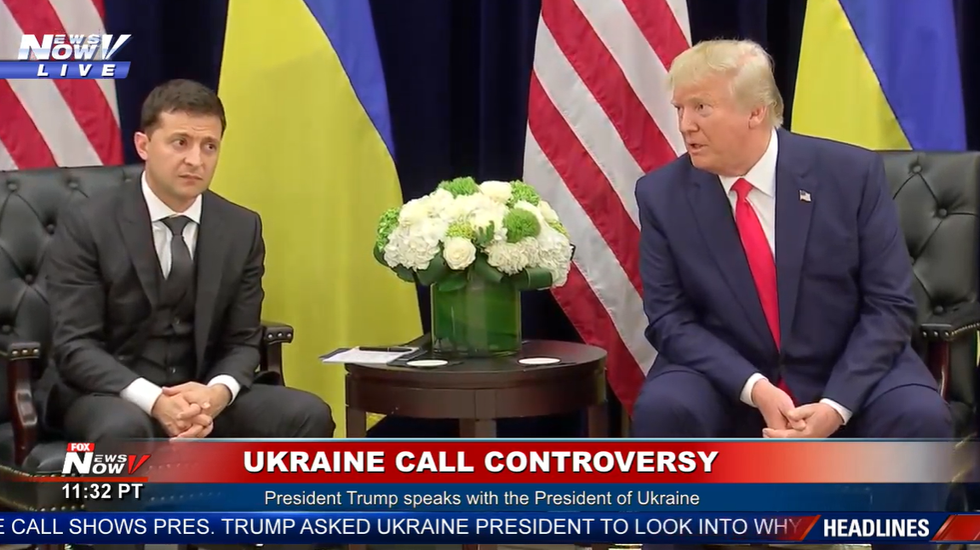 Q: Has Trump asked anybody else to look into Joe Biden?

TRUMP: NOPE, BUT HERE ARE SEVEN MILLION MORE WORDS ABOUT HOW BAD JOE BIDEN IS, WHICH I WILL SAY IN FRONT OF MY LITTLE FRIEND THE UKRAINIAN PRESIDENT, WHOM I AM TRYING TO EXTORT INTO INVESTIGATING JOE BIDEN IN ORDER TO HELP MY ELECTION CHANCES IN 2020.

Zelenskiy chimed in to say that he can't actually push anybody to investigate Biden, because that's not how things work in America Ukraine, so womp womp.
Donald Trump ended the presser by stating with certainty and gladness that fortunately Nancy Pelosi is not speaker of the House anymore.
Ayup!
The end.
UNTIL THE NEXT NEWS CONFERENCE, WHICH STARTS FIVE MINUTES AGO!
Watch it here, in your OPEN THREAD!
President Trump Participates in a Press Conferencewww.youtube.com
Follow Evan Hurst on Twitter RIGHT HERE, DO IT RIGHT HERE!

Wonkette relies on YOU to keep us going. We have no ads, we have no capitalist investors, we're just us and you. KEEP US GOING! Click the thing! Pick an amount! Hit 'paypal' or the other one! We love you! Go!
Evan Hurst
Evan Hurst is the managing editor of Wonkette, which means he is the boss of you, unless you are Rebecca, who is boss of him. His dog Lula is judging you right now.
Follow him on Twitter RIGHT HERE.