Trump Defends Wife Beaters. Wonkagenda For Mon., Feb. 12, 2018
Russia
February 12, 2018 09:02 AM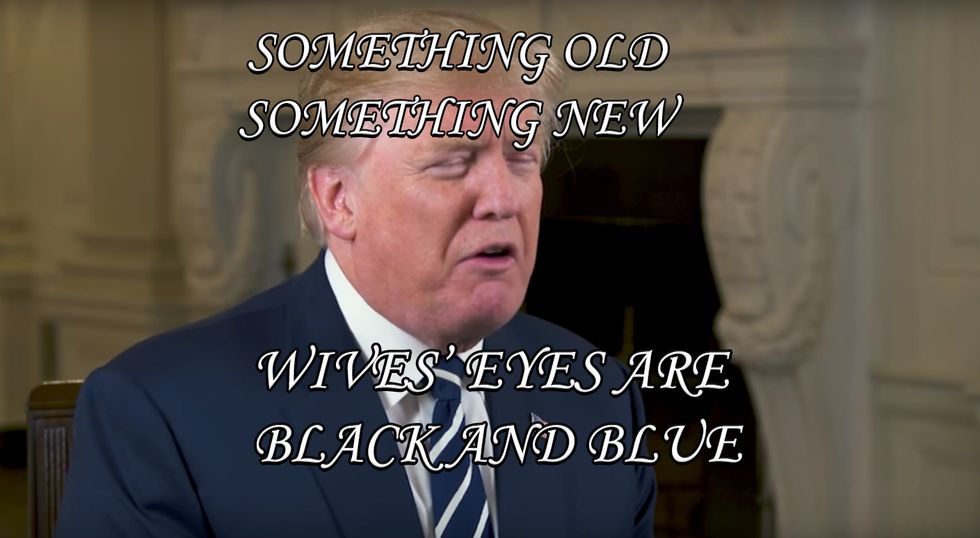 Morning Wonketariat! Here's some of the things we may be talking about today, but first, A BABY GOAT!
---
Trump's 2018 budget will be released later today; it's calling for "an aggressive set of spending reforms" across multiple federal agencies, yet showers the DOD with hundreds of billions of dollars. Priorities, people!
With the White House drowning in scandal, it's decided to distract everyone by declaring it Infrastructure Week (again), announcing $200 billion in budget reallocations and an additional 1.3 trillion in unaccountable spending.
The Department of Transportation's head train safety guy has been quit-fired after reports surfaced that he was also working as a PR guru in Mississippi, not because there's been four collisions this year.
Rob Porter's ex-wife Jennie Willoughby has penned a powerful op-ed defending herself against allegations from Trump and his White House that she and Porter's other ex-wife, Colbie Holderness, are lying about being physically, psychologically, and emotionally abused.
Trump's White House was in damage control yesterday, sending out talking heads to deny that John Kelly was being "You're Fired" for defending alleged wife beater Rob Porter. Nobody liked Porter anyway, it's all fake news!
Mick Mulvaney's bootlicking may finally be paying off as the rumor mill on the Hill reports that Mulvaney is being considered for Chief of Staff.
White House lawyer Don McGahn has his own private hatchet man from the Koch brothers, paid for by US taxpayers.
Devin Nunes launched his own news website only to find it knocked offline within hours, forcing a redirect to a social media page.
Sinclair Broadcasting Group is asking its news directors to donate to its PAC so that it can continue to pressure legislators, regulators and courts to look the other way while it gobbles up what's left of small town newspapers and television stations.
Eric Trump is determined to remind everyone that he really is the dumbest of the Trump spawn by bringing back Trump Magazine.
The Trump tax cuts (for the super rich) have spurred big businesses to dish out bonuses, but nobody is actually raising wages.
EPA Director Scott Pruitt is still costing taxpayers shitloads of money for his secretive jet-setting lifestyle. What could be better than a climate change skeptic burning thousands of gallons of jet fuel?
A report that details how intelligence agencies routinely shit on whistleblowers was killed by a watchdog before it could expose how the CIA and NSA regularly get revenge on snitches.
The US was trying to get back some of the data stolen by a group of hackers, but when the contact started offering Trump kompromat, like the pee hooker tape, the agents suspected a Russian ruse, and a general fear of pissing off Trump and Mike Pompeo.
ICE arrests of noncriminal undocumented immigrants are up by 40 percent under Donald Trump as agents are now taking "the shackles off" Uncle Sam and placing them on immigrants whose only crime was trying to start a new life.
Pennsylvania Republicans redrew their gerrymandered congressional map largely along presidential voting lines, making it just as gerrymandered as the last map.
Progressives are pissing off Democratic incumbents for having the gall to take their advice and run for public office.
Mike Cernovich and Stacey Dash are pouring gasoline on reports that they're both considering congressional runs. This is what rock bottom looks like.
A former district court judge, school board member, and Trump campaign official in Kentucky (he's one busy guy!) pleaded guilty to 21 counts of human trafficking against 19 victims, including minors.
Harvey Weinstein and his little brother are being sued by New York AG Eric Schneiderman for civil and human rights abuses after an investigation found "pervasive sexual harassment, intimidation and discrimination." The AG is worried that the ongoing sale of the Weinstein company is an attempt to weasel out of paying damages to victims.
Steve Bannon is warning that the feminazis are coming to cut off ALL THE BALLS, telling reporters, "Time's up on 10,000 years of recorded history. This is coming. This is real."
Shortly after reports that Puerto Rico had restored 75 percent of electrical capacity began to appear, an explosion at an electrical substation plunged much of the island into darkness.
Australia's deputy PM got a lucrative cabinet position for his pregnant mistress, and the Prime Minister's office doesn't see this as nepotism.
Philippine President Rodrigo Duterte is telling soldiers to shoot female rebels in their vaginas.
Youths are mad that a social media app primarily used to share underage dick pics, sexts, and shitposts decided to update and legitimize itself. Cry me a river.
NICE TIME: A Utah school named for Andrew Jackson will now honor Mary W. Jackson instead. The NASA engineer was one of the first black women to work in the space agency, and a pioneer in promoting women and minorities for the space program.
And here's your morning Nice Time! RED PANDAS!
Help us pay our bills with your money! We're 100% ad-free and reader supported!
Follow Dominic on Twitter, and look at his pretty pictures!
Dominic Gwinn
Dominic is a broke journalist in Chicago. You can find him in a dirty bar talking to weirdos, or in a gutter taking photos.