Trump Demands A Farewell Parade. A F*cking Parade!
White House
January 15, 2021 04:18 PM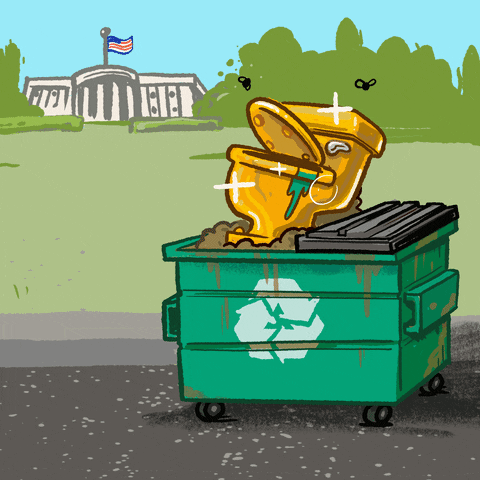 Have you made plans for next Wednesday yet? What are you doing to celebrate the end of this four-year waking nightmare? Fancy meal? Drunken sing-along with your neighbors? Painting your body red, white, and blue and running naked up and down the aisles of the supermarket belting Helen Reddy's "I Am Woman" through your fanciest COVID mask?
Well, whatever you're doing, its less embarrassing than what President Garbage Fire and his horrible, tacky wife have planned.
In a truly delightful piece about how the White House is a sad ghost town except for the crazy old guy in the attic — "Gone are the clicks of flashing cameras. Absent is the roar of a cheering crowd." — CNN reports that Trump is preparing for one last hurrah before disappearing into the Florida swamp.
---
Eager for a final taste of the pomp of being president, Trump has asked for a major send-off on Inauguration Day next week, according to people familiar with the matter, before one last presidential flight to Palm Beach.
And, no, he does not mean the deafening rush of air as we all simultaneously exhale in relief that we fucking survived. Just days after he incited a riot, this lazy sumbitch who hasn't worked in weeks and can't even be bothered to attend his successor's inauguration is demanding a parade to celebrate himself.
As one of their final acts, Trump's team is working to organize a crowd to see him off on the morning of Biden's inauguration, when he plans to depart Washington while still president and is expecting a major send-off. Even though some of his allies had encouraged him to attend Biden's inauguration, and Trump quizzed his circle on whether he should, few ever expected him to participate in the swearing-in of his successor.

Trump told people he did not like the idea of departing Washington for a final time as an ex-president, flying aboard an airplane no longer known as Air Force One. He also did not particularly like the thought of requesting the use of the plane from Biden, according to a person familiar with the matter.
That's right, this pathetic little excuse of a man doesn't have the balls to negotiate a handoff of Air Force One with Biden, so the eight political appointees left in the White House have to throw him a breakfast celebration to get him wheels-down at Mar-a-Lardo before noon. Whoopeeee, Egg McMuffins for everybody!
Exactly how this will be accomplished with half of DC locked down after Trump's riot is not entirely clear. And his petty refusal to be in DC during the handover will necessitate there being two nuclear footballs, since there has to be one with Trump at all times. But don't worry, Trump's code will be deactivated at noon. (Or, hey, why not sooner?)
It's unclear whether Trump will bother to write the letter to his successor that has become a White House tradition. Vice President Mike Pence has been tasked with the farewell activities that would normally fall to the president, such as thanking White House staff and National Guard troops, since Trump isn't so much about grace or gratitude or manners or basic human decency. So it fell to the State Department to invite the Bidens to stay the night before inauguration at Blair House, since neither the president nor Melania has deigned to acknowledge them.
Yes, in keeping with family custom, Her Royal Highness couldn't be arsed to do the bare minimum expected of a First Lady and extend well wishes to Dr. Biden. She's far too busy arranging photo shoots of the White House decor so she can pimp them out for a coffee table book.
One tradition of a peaceful transition of power in the US is the outgoing president and spouse host a tour of the… https://t.co/nGeeBzqrgo

— CUNY Institute for State & Local Governance (@CUNY Institute for State & Local Governance) 1610736899.0
Remember when things were normal?
The Bush twins showed Sasha & Malia around the White House during the transition. "Barbara & I taught the girls how… https://t.co/yIc8XR4L2w

— CUNY Institute for State & Local Governance (@CUNY Institute for State & Local Governance) 1610738620.0
Now we have Mad King George holed up in the White House, muzzled by social media in a literal effort to save the country from civil war, with an actual Green Zone in our nation's Capitol. And still this asshole demands the band play him out in pomp and splendor like a hero.
Final plans for Trump's departure were still being laid a week ahead of time, but Trump has expressed interest to some in a military-style sendoff and a crowd of supporters, according to a person with whom he has discussed the matter. Whether that occurs at the White House, Joint Base Andrews or his final destination -- Palm Beach International Airport -- wasn't clear.
Please clap. Or, don't. Whatever.
Wednesday will still be a glorious, wonderful day. The first day of the rest of America's life. And we are bloody grateful.
OPEN THREAD!
[CNN]
Follow Liz Dye on Twitter RIGHT HERE!

Please click here to support your Wonkette. And if you're ordering your quarantine goods on Amazon, this is the link to do it.
Liz Dye
Liz Dye lives in Baltimore with her wonderful husband and a houseful of teenagers. When she isn't being mad about a thing on the internet, she's hiding in plain sight in the carpool line. She's the one wearing yoga pants glaring at her phone.