Trump Dims Hanukkah Lights. Wonkagenda For Fri., Dec. 8, 2017
Elections
December 08, 2017 09:13 AM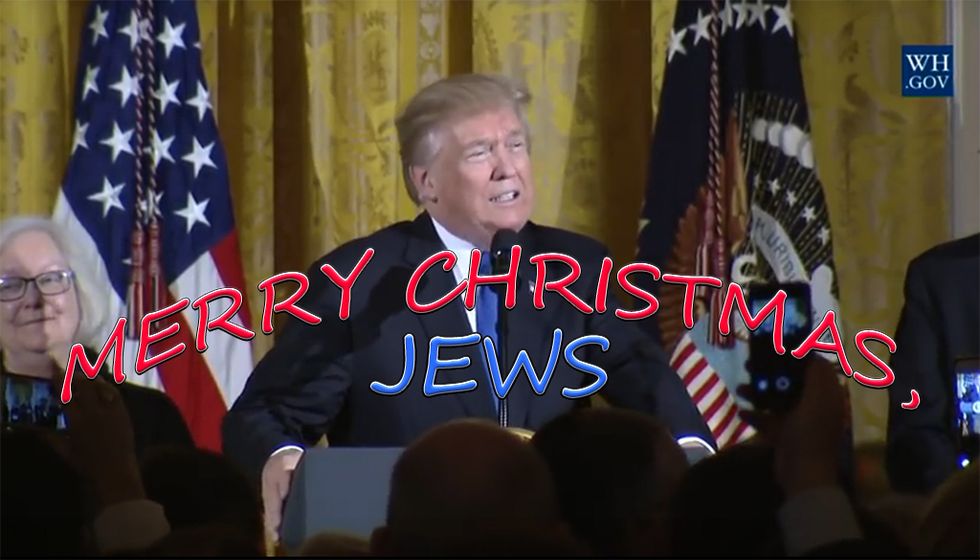 Morning Wonketariat! Here's some of the things we may be talking about today, but first, have some warm and fuzzy arctic fox nice times!
---
The
LA wildfires have gotten even worse
as winds continue to increase,
creating fire-tornados. 
Here's 
LAFD Alerts!
You've got ONE WEEK LEFT to enroll in ACA/Obamacare! Don't fuck around!
Even though he's potentially violating a gag order, Paul Manafort's attorney published an op-ed to "correct the public record" about Manafort's Ukrainian fuckery. Manafort's attorney stressed that the op-ed is "totally mine," and "Paul had nothing to do with it," and it was definitely not ghost-written by Manfort.
Trump slut Devin Nunes was cleared by the House Ethics Committee for his midnight ride to the White House to tell all the other Trump sluts a bunch of Russia stuff they apparently already knew.
An executive at Russia's Facebook clone, Vkontakte (or VK), asked Trump's campaign to create a page on its platform to increase Trump's Russian social media presence and become "top news in Russia," after being contacted by Rob Goldstone. It's like they're not even trying to hide anything.
According to the fiancee of George Papadopoulos, her bae wasn't a coffee boy, but rather, "the first domino to fall" and his job was to "set up meetings with leaders all over the world" for Trump's minions.
The House and the Senate were able to cobble together enough votes to avert a government shutdown with anotherstopgap budget that kicks the can down the road for all of two weeks.
Susan Collins may have buyers remorse now that House Republicans are saying their version of the Trump/Ryan tax cuts (for the super rich) will not include any support for the ACA. Womp womp!
During a fancy fundraiser a bunch of rich folks and friends of Trump bitched about the death of state and local tax cuts, with one attendee stating, "They're killing the goose that lays the golden egg."
The House Ethics Committee voted unanimously to create a subcommittee that will look into sexual harassment allegations against super gross Texas Rep. Blake Farenthold. Again, there is now a subcommitteeinvestigating how gross he is.
Susan Tsui Grundmann, the executive director of the Office of Compliance, testified before the House Administrative Committee that Congress legally can't reveal the number of complaints and the names of ALLEGED sex monsters to ITSELF until they change the laws on sexual harassment complaints.
Arizona Republican Rep. Trent Franks announced he is resigning over allegations that he literally ASKED STAFFERS TO BE HIS BABY MOMMA.
It's a fact that DC has some of the worst traffic in the world, so it's only natural that Ryan Zinke would be taking helicopters around the city, like going to emergency management exercises in West Virginia, or Rep. Greg "Rage monster" Gianforte's swearing in ceremony, and if you think that's an excessive use of taxpayer money, the Interior spox Heather Swift says, "Shame on you for not respecting the office of a Member of Congress."
New video has surfaced of Jeff Sessions being a complete prick and insulting interns at the Justice Department over the summer. The surprising thing here is that the interns actually know more about law and statistics than Sessions.
The Justice Department will open an investigation into what Planned Parenthood does with all of its dead baby parts.
Citing "jurisdictional issues," Scott Pruitt's EPA will scrap Obama's Clean Power Plan. The "issue" here is that Obama administration listened to some stupid science bitches at the United Nations.
The head of the ATF told the Senate Judiciary Committee that the ATF doesn't have the power to regulate firearms attachments, like "bump stocks," so Congress will now investigate whether "bump stocks" can be classified as machine guns.
The rootin'-est, tootin'-est, Messican lootin'-est Sheriff in all of Arizona, Joe Arpaio, is "seriously, seriously, seriously" thinking about running for Jeff Flake's Senate seat, setting the stage for a hilariously absurd primary where he'd square off against "Chemtrail" Kelli Ward.
Sen. Chris Murphy is going to drag out the nominating process for Richard Grenell, a potential Trump judge, due to some deleted mean tweets about Rachel Maddow and Hillary Clinton.
DC think-tank The Atlantic Council is being paid almost a million dollars by the State Department to muck about in the crumbling Venezuelan government -- despite mixed messages from Trump's White House.
We told you Erik Prince had a literal powerpoint presentation to convince DC to give him Ameros to build his own private army in Afghanistan, and now we know that he was trying to fund the whole thing by digging up the whole country.
Freelance reporter Jamie Kalven exposed the murder of Chicago teenager Laquan McDonald by Chicago police, and now an Illinois Circuit Court may try to force him to reveal his sources.
A female Indiana cop placed on administrative leave has been reinstated after telling a fellow officer that he benefited from "white male privilege" during a training seminar, which hurt his feefees.
Colorado Republican state Rep. Lori Saine was arrested at Denver International Airport when authorities discovered she was a closet gun fetishist attempting to bring her filthy firearm on a plane.
Israelis are bracing for mass protests today after Trump announced the movement of the US embassy to Jerusalem.
British PM Theresa May caved to EU demands for Brexit and to walk away with doodly squat, setting the stage for a bunch of bloody racist wankers and whiners to grumble and gripe.
The price of Bitcoin might be soaring, but so are electric bills as geeks and greaseballs argue over the staggering carbon footprint left by Bitcoin mining.
People are protesting in support of net neutrality across the country, and some are even being led by FCC Commissioner Mignon Clyburn.
The White House held its annual Hanukkah party last night, but didn't invite any Congressional democrats, or rabbis critical of Trump's Nazi speech, to play in any of the reindeer games. According to Melon Trump's spox, "this year was meant to be more personal than political."
Your homework assignment is to read this story about the people in Jackson, Mississippi, preparing for Trump to speak at the Civil Rights Museum. (And would you believe it's a profile of NOT TRUMP VOTERS?)
And here's your late night wrap-up! Stephen Colbert wondered about DJTJ's privilege; James Corden thinks Mike Pence is a dirty snitch; Seth Meyers took A Closer Look at DJTJ's Trump-Russia testimony; The Daily Showclapped back at racist mother fuckers; Jordan Klepper took the #MAGAChallenge and almost puked trying to show how Trump bit off more than he could chew. Delicious.
And here's your morning Nice Time! BABY PORCUPINES!
Nice folks give us money to stay independent and over-caffeinated, and you can be one too!
Follow Dominic on Twitter and send him adorable critters!
Dominic Gwinn
Dominic is a broke journalist in Chicago. You can find him in a dirty bar talking to weirdos, or in a gutter taking photos.