Trump Fails To Ruin Democrats' Bipartisan Infrastructure Week
Congress
July 29, 2021 08:55 AM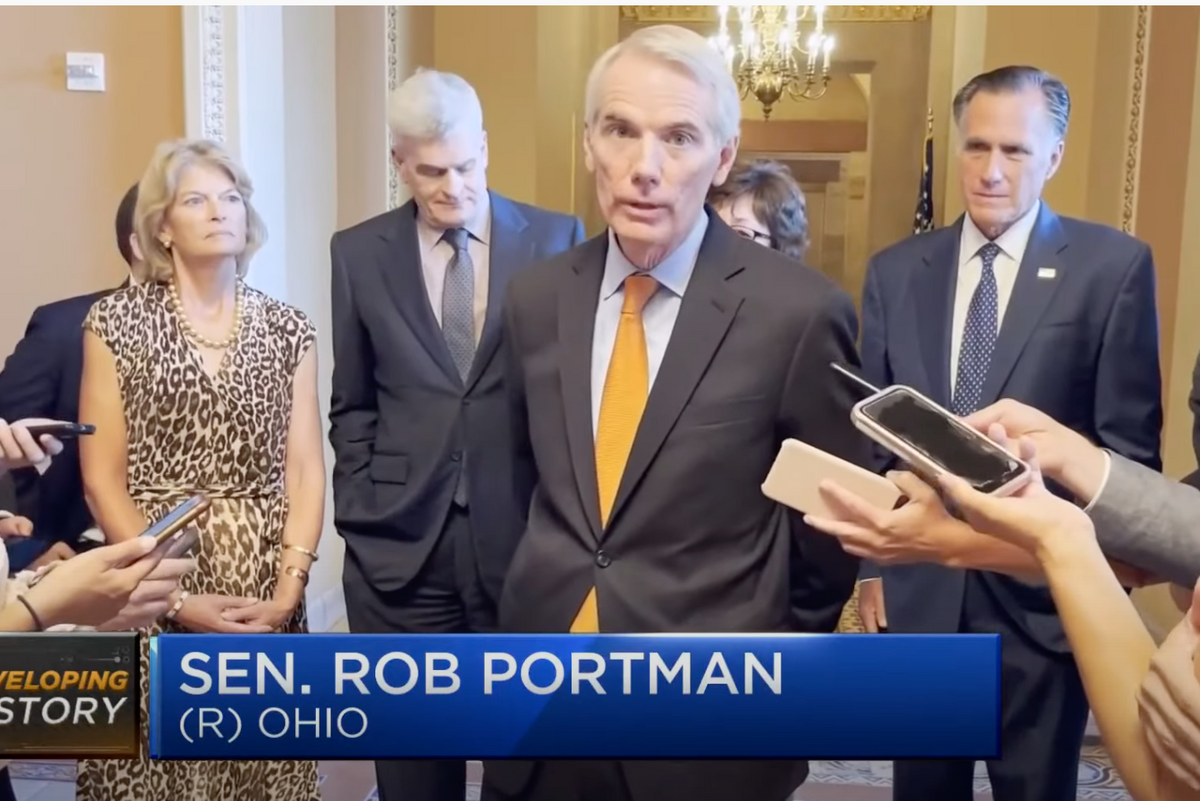 Everybody rejoice! The Senate voted to move ahead Wednesday on a bipartisan infrastructure deal, and you know the best thing about the deal? It's bipartisan! The Democrats theoretically control the House and Senate, and they could've passed something epic with just their vaccinated, non-seditious members. But that wouldn't qualify as bipartisanship. No deal, no matter how good for the American people, is worth passing without input from the party that twice acquitted Donald Trump and blocked a bipartisan investigation into the January 6 attack on the Capitol. These are people you can trust!
Although Republicans yanked away the football last week, Senate Minority Leader Chuck Schumer was cautiously optimistic that at least 10 Republicans senators would come through, and ultimately 17 defied the former White House squatter, who tried to tank the deal at the last minute out of spite — his primary motivation for everything. He even threatened primaries against members of his own party because they want to build roads.
President Joe Biden was clearly thrilled. The 17 Republicans who supported the deal more than double the eight who voted to overturn the election a few months ago. He's making progress.
"This deal signals to the world that our democracy can function, deliver, and do big things," Biden said ahead of the vote. "As we did with the transcontinental railroad and the interstate highway, we will once again transform America and propel us into the future."
---
.@SenatorBraun says he'll vote NO on the motion to proceed to the infrastructure deal. But he predicts it'll get th… https://t.co/gIrwHfh4wi

— Sahil Kapur (@Sahil Kapur) 1627508980.0
The Republicans who negotiated with the White House and Senate Democrats on the bipartisan deal were retiring Senator Rob Portman from Ohio, Susan Collins from Maine, Lisa Murkowski from Alaska, Bill Cassidy from Louisiana, Mitt Romney from Utah, and Kyrsten Sinema from Arizona ... oh, we kid, we kid. Sinema is the lead Democratic negotiator, which should inspire us all with tremendous confidence.

Rep. Peter DeFazio from Oregon isn't a fan of either Sinema or the bipartisan infrastructure bill, which he describes as "crap." During an interview with Politico, DeFazio said:
I could give a damn about the White House. We're an independent branch of government. They cut this deal. I didn't sign off on it.
DeFazio is the House Transportation Committee chair and a founding member of the Congressional Progressive Caucus. The House passed his version of the infrastructure bill in early July, and while the DeFazio bill will serve as the vehicle for what might eventually pass in the Senate, the final bill might lack a high-powered engine. Rep. Stephen Lynch from Massachusetts fears that "many of the best parts of this transportation bill were left on the cutting-room floor."
One of DeFazio's biggest complaints is that the Senate bill includes virtually none of his priorities on climate change at a time when the West Coast, including parts of his southwest Oregon district, is burning up. Privately, he has told his colleagues those provisions are also unlikely to make it into the Democratic-only spending bill, which will need to pass muster with the Senate's budget rules.
Does our big-bad bipartisan deal really need to address climate change? I live in Portland, Oregon, where it's forecast to reach 100 degrees again this week. Then comes fire season next month, but my demanding liberal lungs shouldn't stand in the way of bipartisanship.
But on the bright side, Democrats can still move forward with their own, more expansive bill through the reconciliation process. Unfortunately, while boasting about the bipartisan deal, Sinema also gave the solo Democratic bill the middle-finger curtsey.
"While I will support beginning this process, I do not support a bill that costs $3.5 trillion," Sinema said. "In the coming months, I will work in good faith to develop this legislation with my colleagues and the administration to strengthen Arizona's economy and help Arizona's everyday families get ahead.
Now, that's unambiguous and straightforward, just like when Bill Clinton assured us he didn't have sexual relations with that woman. Sinema thinks her donors Arizonans will keel over and die if the reconciliation bill costs $3.5 trillion. We'll have to settle for a more realistic number like $3 trillion and 87 cents. She doesn't actually bother giving a low ball figure. We'll just have to keep crossing off items from the progressive wish list while Mitch McConnell throws his head back and laughs. Who needs climate initiatives, universal pre-kindergarten and community colleges, as well as expansions to paid family and medical leave and the child tax credit? The old turtle was quite pleased that Sinema wants the reconciliation bill scaled back.
Senate Minority Leader Mitch McConnell says he is "pleased" that Sen. Kyrsten Sinema (D-AZ) does not support Democr… https://t.co/bm6p82Uogy

— The Recount (@The Recount) 1627504015.0
However, Rep. Alexandria Ocasio-Cortez was less enthused about Sinema's prog-blocking move. She tweeted: "Good luck tanking your own party's investment on childcare, climate action, and infrastructure while presuming you'll survive a three vote House margin — especially after choosing to exclude members of color from negotiations and calling that a 'bipartisan accomplishment.'"
Self-described good Democrats are probably already chomping at the bit to lecture AOC. As the old saying goes: Liberals should be seen voting for the Democratic agenda but never heard asking for more. Besides, Sinema has the support of her peers who matter, such as Republican Senator Thom Tillis from North Carolina. Tillis wrote an op-ed praising Sinema for her stellar bipartisanship. He's delighted that she refuses to kill the filibuster, which he claims would make bipartisan cooperation impossible. Tillis personally values cross-the-aisle compromise so much he voted for the GOP tax scam bill on a party line, majority vote through reconciliation. He also supported the failed skinny repeal of the Affordable Care Act, which never would've met a 60-vote threshold. Oh, and he voted to narrowly confirm Supreme Court Justice Amy Coney Barrett a week before the presidential election, despite the minority party's strong objections. His hypocritical op-ed should come with complementary air sick bags.
But I shouldn't end this too negatively. Democrats will likely pass two, somewhat bowdlerized, bills that will nonetheless provide jobs and increased opportunities for Americans. That's good news. And Melania will have to listen to Donald Trump whine about it. That's even better.
[CNN]

Follow Stephen Robinson on Twitter.
Keep Wonkette going forever, please, if you are able!
Stephen Robinson
Stephen Robinson is a writer and social kibbitzer based in Portland, Oregon. He writes make believe for Cafe Nordo, an immersive theatre space in Seattle. Once, he wrote a novel called "Mahogany Slade," which you should read or at least buy. He's also on the board of the Portland Playhouse theatre. His son describes him as a "play typer guy."