Trump Foundation Fuckery? WHO KNEW!
lawsplainer
June 14, 2018 04:30 PM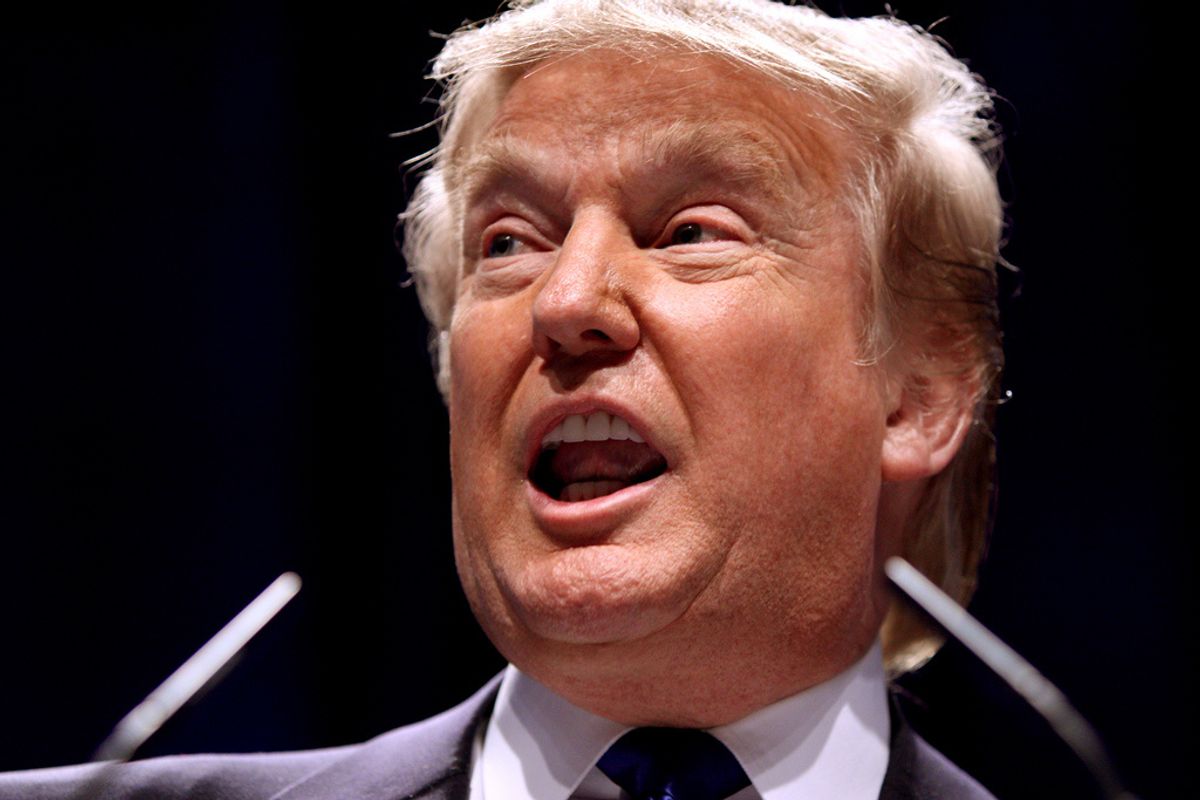 Please commence PRIMAL SCREAMING!!!!!
Why? Because we live in a hellish nightmare where a guy who ran a scam charity became King Lunatic of America after successfully convincing the country that the Clinton Foundation was a self-dealing cash grab.
Keep that in your mind while we take a looksee at the lawsuit filed today by New York Attorney General Barbara Underwood against the president, DJ, Eric, and Vanky. It's a doozy!
---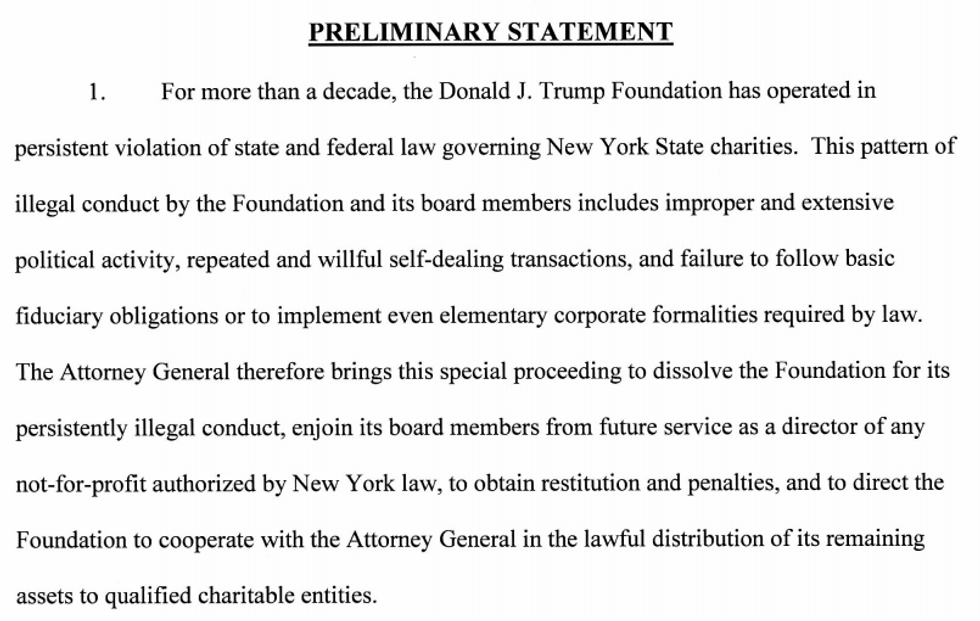 That's nice! We've talked a lot about the Trump family's bullshit charity on this here mommyblog -- the illegal donation to Florida AG Pam Bondi's election campaign, the use of charitable funds to buy a portrait of Trump, the illegal use of Foundation money to settle lawsuits against Trump and his clubs, etc.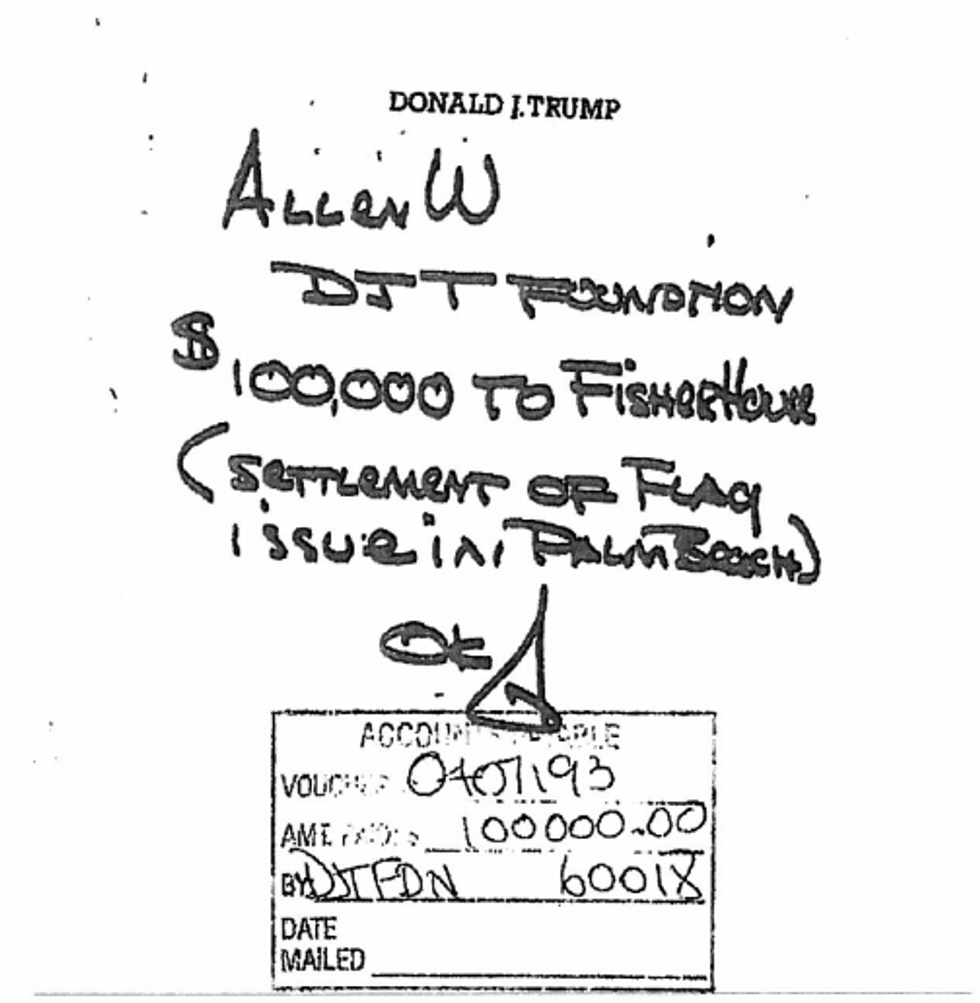 "Settlement of Flag issue in Palm Beach", initialed by DT
But let's save time, pixels and screams by concentrating on the fact that the Donald J. Trump Foundation (DTF, snerk) illegally coopted $2.8 million of donated funds for the use of the Trump campaign. Set that Wayback Machine for January of 2016, when Candidate Trump decided to skip the GOP debates in Iowa and instead hold a "fundraiser" for veterans. In Iowa. A week before the Iowa Caucuses.
Brad Parscale, Trump's digital media director, huddled up with then-campaign manager Corey Lewandowski, Hope Hicks, and the two guys from the Trump Organization who cut checks for the DTF. The Trump braintrust came up with One Weird Trick to convert a January 26 campaign event into a charitable fundraiser for veterans: they added "DonaldTrumpForVets.com" to their signage! And the money came rolling in!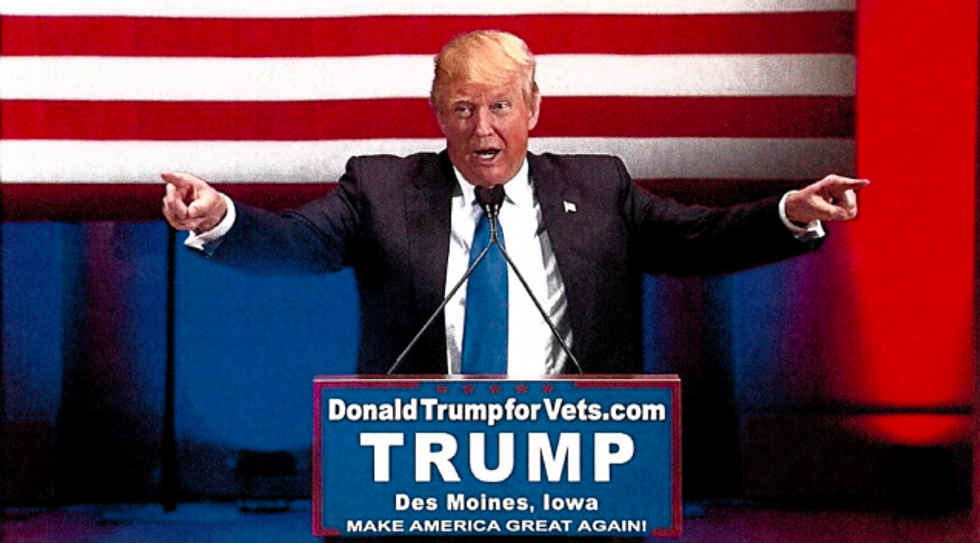 Image in NY complaint, from ABC
Donald Trump donated his usual ZERO DOLLARS -- he hasn't chipped in to the Foundation since 2008. But other people donated $5.6 million, roughly half of which was earmarked for specific charities. The remaining $2.8 million went to the DTF, which promptly put that money to work, doling it out as comically large cardboard checks at campaign rallies.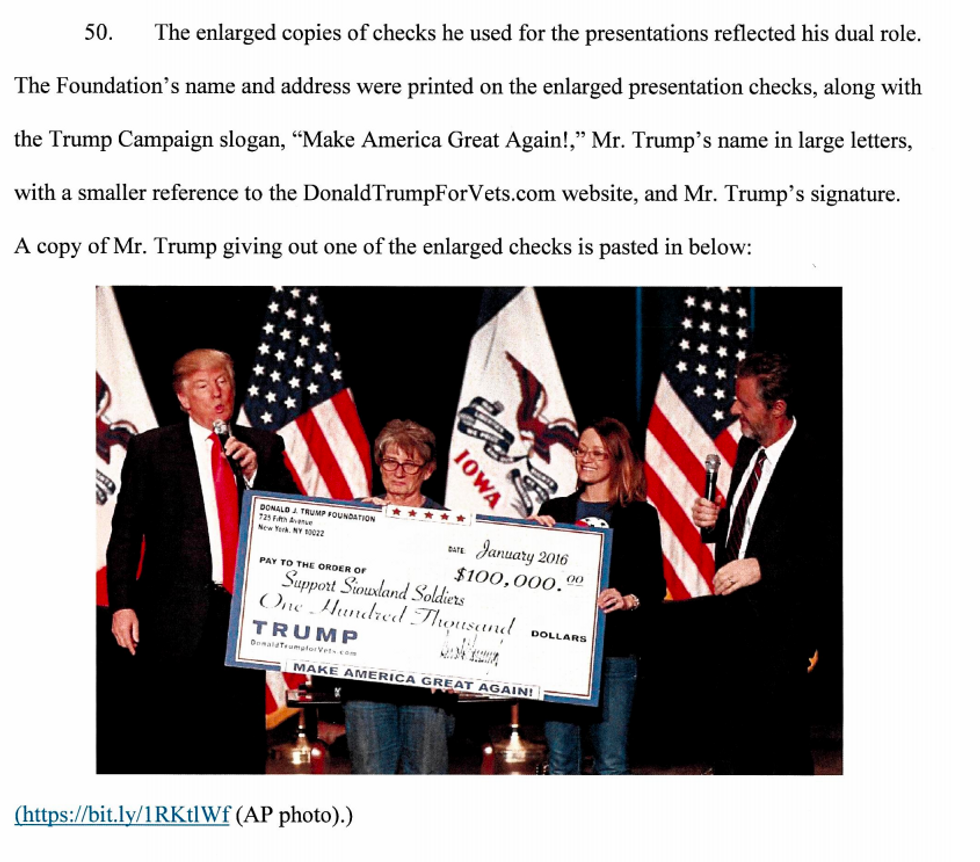 Did Donald Trump claim he'd contributed the money himself? Do you even have to ask?
Now, DTF's board of directors was legally obligated to make distribution decisions. But Vanky, Deej, and The Other One were busy convincing coal miners that their "billionaire" father was somehow "a voice for the forgotten man." Luckily, Corey Lewandowski was there to step into the breach.

The lawsuit cites numerous emails and the meta-data on disbursement requests to prove that that the Campaign used donated DTF funds as a publicity tool to promote Donald Trump as he stood on stage and slagged the Clinton Foundation.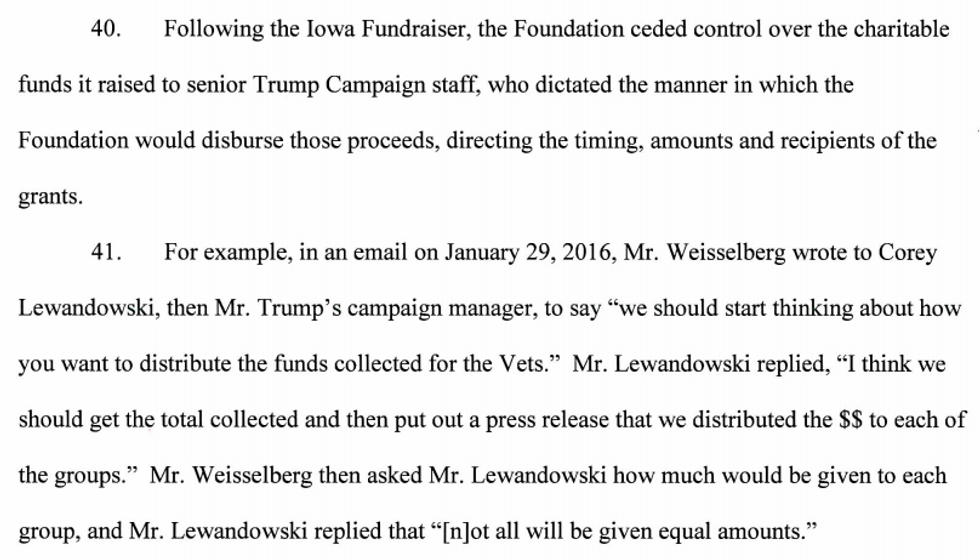 And that's how you convert $2.8 million of charitable donations for veterans into an in-kind contribution to a presidential campaign.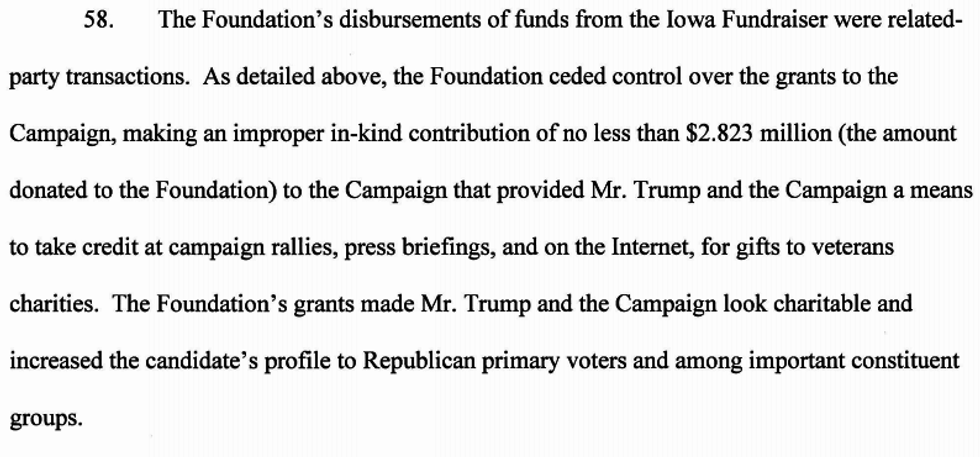 Are you screaming yet? We are!
HOW THE HELL ISN'T THIS WHOLE PACK OF CROOKS IN JAIL?
Sad to say, AG Underwood will not being locking up the Trump Crime Family any time soon. New York seeks to dissolve the Foundation, bar the Trump kids from being on the board of any New York charity for a year, and keep The Orange One out of charities for a decade.
Naturally, the president responded with his usual gravitas.
Yes, when the IRS audits your foundation, you should definitely assert the defense that your books don't balance. We're sure they'll be totally receptive!
LOCK THEM UP. LOCK ALL OF THEM UP.

Follow your FDF on Twitter!
Please click here to fund the endless screaming. And the lawsplainers!
Liz Dye
Liz Dye lives in Baltimore with her wonderful husband and a houseful of teenagers. When she isn't being mad about a thing on the internet, she's hiding in plain sight in the carpool line. She's the one wearing yoga pants glaring at her phone.