Trump, GOP Still Getting Beat By Big Bad Dems! Your Wonkagenda For Fri., April 28, 2017
Post-Racial America
April 28, 2017 09:27 AM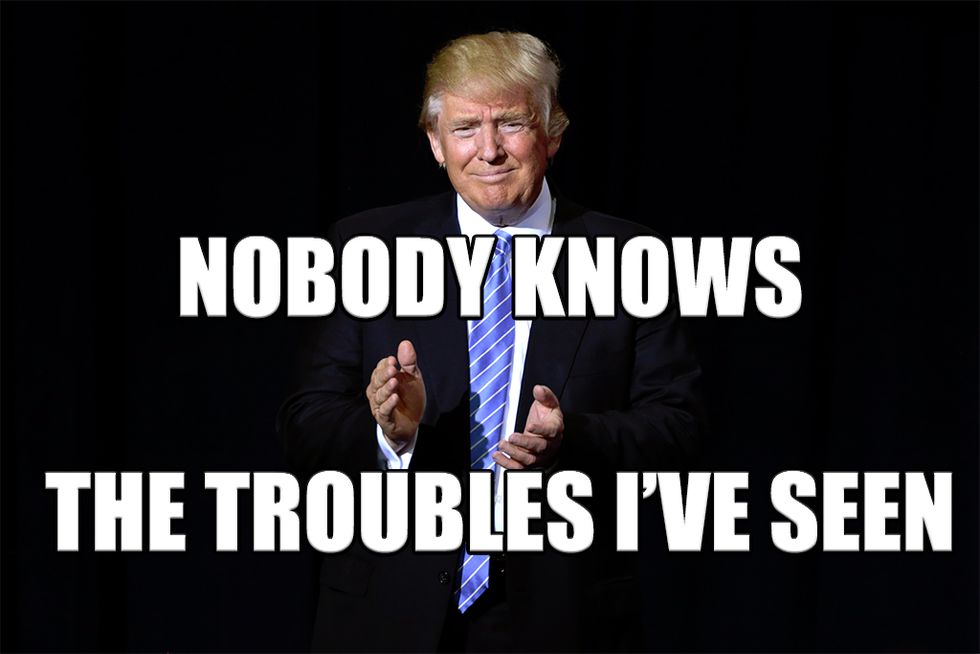 Morning Wonketariat! Here's some of the things we may be talking about today.
---
Healthcare? LOL, JK y'all! Congress isn't passing new healthcare legislation because, uh, reasons that, um, well, they certainly have nothing to do with the Freedom Caucus trying to kill all the olds (again).
Nancy Pelosi has been Lemonading like Beyonce through the halls of Congress, reminding reporters that Republicans control the both the legislative and executive branch, so they can't blame Democrats for shutting down the federal government (again). (But they will though.)
Trump has a new interview with Reuters, and you should probably go read it on the toilet so you don't shit your pants when he pokes North Korea with a nuclear stick, pisses all over South Korea, and complains how much harder presidenting is than grabbing vaginas.
Sonny Perdue had to literally bring in a fucking map of the United States to explain why Trump should not pull out of NAFTA. I guess he didn't have time to wait on the power of prayer.
The economy is doddering and slow under Trump, unlike Bamz where it was all smooth, graceful strides.
Trump could release the missing JFK files and finally tell us, once and for all, whether or not Ted Cruz's father was hanging out on the grassy knoll.
Alex Acosta is your new Labor secretary, which is notable because he's the first person in Trump's cabinet with a little bit of that Latin flair, and because he'll probably kill an Obama rule that prevented olds from being screwed by financial advisors.
Arkansas's state-sponsored late night kill-a-thon is over, leaving behind legal battles and the bodies of four inmates.
Corey Lewandowski can get you (YES YOU) a meeting with Donald Trump, Vice President Pence, and MORE for the LOW LOW PRICE of REDACTED when you contact

Avenue Strategies

, the hottest new lobbying firm in Washington! WMATA accessible, right on Pennsylvania Ave!

CALL NOW

!
Federal workers can now be "You're Fired" easier after Trump signed an Executive Order yesterday that changes accountability and whistle blower protections under the guise of fixing the V.A.
A federal watchdog group is suing and submitting FOIA's in an attempt to protect civil service workers from being the target of witch hunts when they do their jobs.
Putin seems to have broken up with Donald Trump, telling reporters that date night is just "wishful thinking." BUT WHO DUMPED WHO FIRST?
Germany told Turkey to go take a flying fuck at a rolling doughnut after German Foreign Minister Sigmar Gabriel announced Germany was rejecting support for Turkey's entry into the European Union.
Mean French lady Marine Le Pen is in trouble after the interim head of France's racist National Party resigned to prepare against charges of ALLEGEDLY denying the holocaust (it's an actual crime over there).
Trumpkins would like their god-emperor to ditch his Twitter account and get back to the basics like building walls, banning Muslims, beating the press, and bitching about her goddamn emails.
Facebook has released a white paper detailing its efforts to combat all the fake news and propaganda it's helped to spread through social media manipulation. I guess it's better than a half-assed apology.
An alt-right couple is being charged with multiple felonies for shooting and assaulting a peacekeeper at a Milo Yiannopoulos rally back on Inauguration Day at the University of Washington. No jokes, this is just all kinds of wrong.
A bunch of major credit carriers and financial services were randomly routed through a Russian government-controlled telecom for a moment on Wednesday, which is just as strange as it is serious.
Sean Hannity was screaming all over Twitter yesterday that Fox News is DOOMED after reports began to surface that the Murdochs were going to "You're Fired" co-president Bill Shine in an attempt to look a little less rapey.
Joe and Mika got all snippy with each other on-air the other day, and now they're "on vacation" like some Fox News person, but we're sure they already found a broom closet somewhere at 30 Rock and squashed their beef.
And here's your late night wrap-up! Trevor Noah talked about Obama's cash grab; Colbert thinks the art of Trump's deals is childish; and Seth Meyerswished Melon Trump a birthday on bookFaceSpaceChat.
And here's your morning Nice Time! Baby Goats extreme walking!
Hey! Wonkette is supported by readers like you, so donate/subscribe and we'll keep giving you all hard-hitting and independent 'splainerings, dick jokes, and mommy blogging you already love!
Dominic Gwinn
Dominic is a broke journalist in Chicago. You can find him in a dirty bar talking to weirdos, or in a gutter taking photos.