Trump Grabs French First Lady's Arm By Pussy, Then Pervs All Over Her. Diplomacy!
Everywhere Else News
July 13, 2017 04:15 PM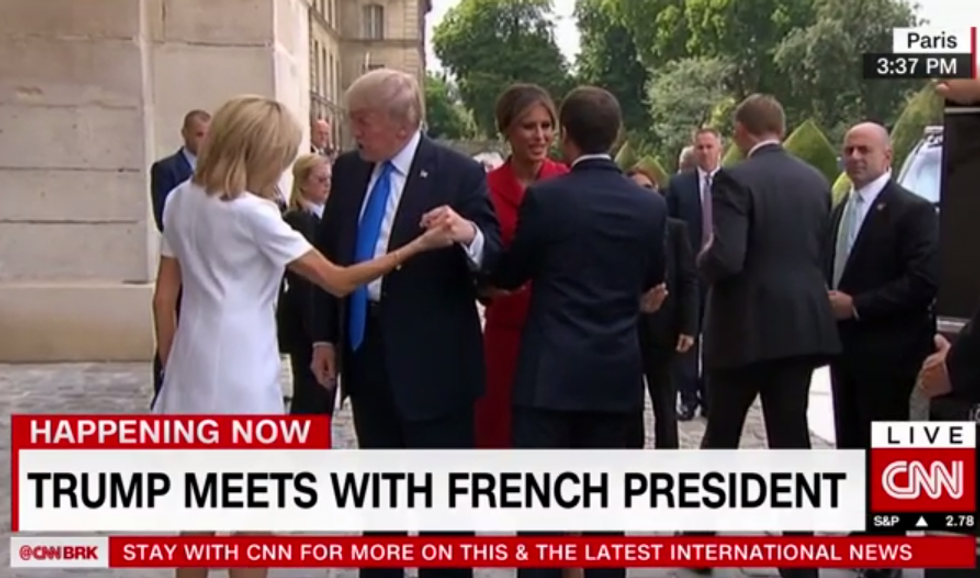 May I have this weird disgusting dance?
---
GODDAMMIT, what is wrong with him? When Donald Trump got out of the limo to greet French president Emmanuel Macron in Paris Thursday, their handshake wasn't quite like it usually is. Normally, young, fit, sexually active Emmanuel Macron handles the tiny puss-grabbing hand of Trump with brute force, then stares into the nearest camera and makes love to it in the French language. Today was more subdued, as Macron just grabbed Trump's hand and held it where he wanted it, but more nice-like. So of course Trump had to immediately fuck it all up and remind the world what a gross creep he is, by doing SOMETHING REALLY WEIRD when he shook French First Lady Brigitte Macron's hand. They did the common French hug and kissy kiss on both cheeks, then Trump grabbed her hand WITH THE INCORRECT TINY PAW, held it in the air for a second, and then YANKED IT. You know, like normal people do.
Here, watch them both:
Evan Hurst
Evan Hurst is the managing editor of Wonkette, which means he is the boss of you, unless you are Rebecca, who is boss of him. His dog Lula is judging you right now.
Follow him on Twitter RIGHT HERE.