Trump Holds After School Shooting Special. Wonkagenda For Thurs., Feb. 22, 2018
Guns
February 22, 2018 09:09 AM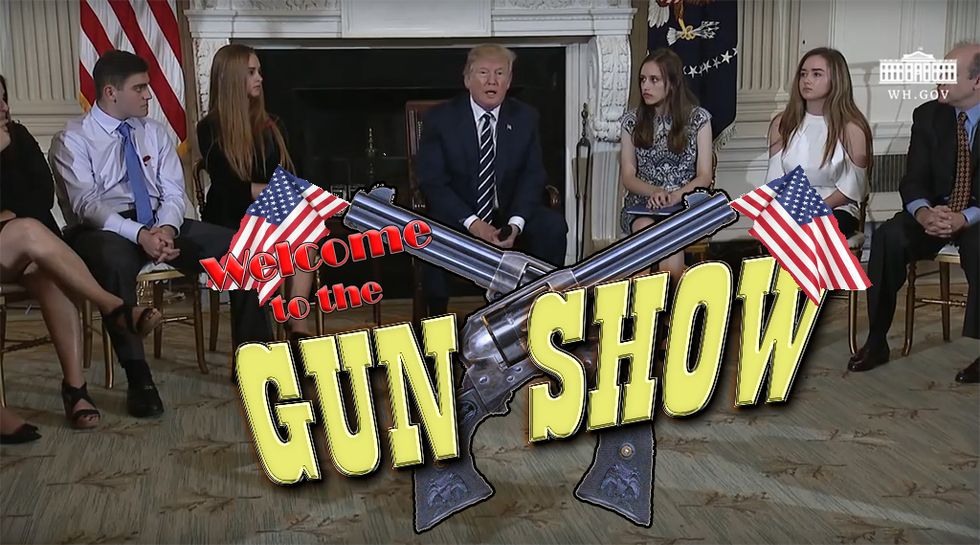 Morning Wonketariat! Here's some of the things we may be talking about today.
---
Trump held an after school shooting special with grieving parents and survivors of mass shootings at the White House yesterday. After sitting with a blank expression and reading from emotional cue cards as people sobbed and begged for gun control, Trump suggested letting teachers conceal carry. It was great television; pundits are declaring this the day Donald Trump became president (again).
While Trump used his years of reality show experience to act empathetic,hundreds of high school students protested in front of the White House in conjunction with thousands of other high school students across the country.
CNN held a town hall with the parents and survivors of the MSD mass shooting. Marco Rubio was barely able to hold his water amidst all the boos as people called him "pathetically weak," and called him out for accepting NRA cash.
NRA spox Dana Loesch was also at the CNN town hall where she bullshitted a response about "bump stocks" to Emma Gonzalez, passing the buck to the DOJ.
The NRA has a new web ad this morning that defies all logic by blaming the media for mass shootings.This ad is VERY DISTURBING (as usual).
Robert Mueller filed new charges against Paul Manafort and/or Rick Gates yesterday, but they're secret so we don't actually KNOW what they are -- but we do know that Manafort offered a banker a cabinet seat in Trump's White House in exchange for $16 million in home loans.
Pocket-protected math geeks inside Trump's White House have released their first "Economic Report of the President." The report says that everything is just fine, Trump is like Kennedy AND Reagan, and it actually was the black guy who broke the cash machine.
Nerds are expecting the Fed to raise interest rates, but they're worried about rising inflation while some officials shrug off the 2008 debt crisis and boast about repealing financial regulations. We call this "foreshadowing."
The Pentagon is thumbing through all the old rule books to see if HR McMaster can return to the DOD as a three-star general after pissing all over Trump's Oval Office rug.
Public corporations are bracing for the proles to revolt after they see their new CEO-to-median employee pay ratios, which already have disparities as high as 333-1.
CPAC 2018 is officially underway, and some of the featured speakers include NRA head Wayne La Pierre, "the FCC's courageous chairman" Ajit Pai, French white nationalist Marion Maréchal-Le Pen, and Trump's congressional coffee boy, Devin Nunes.
Conservatives are defending themselves against charges that CPAC is being used to push European-style white nationalism "populism" by spouting some nonsense about diversity, and pointing out all the different shades of white.
The RNC has tapped a slush fund to pay Trump's old bodyguard Keith Schiller $15,000 a month for "security services." That's a lot of money just to keep the Russian pee hookers at bay.
Shortly after parents and children grieved live on CNN, Hannity called CNN the "fake news, shithole network" during his annual live CPAC show, then sang his hits, like "Lock her up," and "Her Emails."
Upstate New York Republican Rep. Claudia Tenney has been running around the right-wing echo chamber asking why nobody is talking about the mass-murdering Democrats. Lady, you've had too much boxed wine, go home, you're drunk.
The GOP says it wants more women to run for public office, but the crusty old boys club keeps yanking chairs out from under all the Republican women.
The Congressional Bro Caucus has thinned its ranks as members are called out for grab-ass, grift, and crotch shots.
State election officials are trying to fix their election systems ahead of the 2018 midterms, but some are still bitching about Obama declaring them "critical infrastructure." Thanks, Obama!
The filthy rich Illinois Republican Gov. Bruce Rauner drank chocolate milk to symbolize corporate diversity, declaring "It's really, really good. Diversity!"
Poland's new nationalist movement threatens to destabilize the EU as a movement to deny Polish culpability in the Holocaust is being likened to Brexit. This is VERY bad...
More than 200 people have died in the the Syrian city of Ghouta in recent days as pro-Assad forces stalk starving rebels in an indiscriminate bombing campaign that has been described as "hell on Earth" by UN Secretary General António Guterres.
Israeli PM Benjamin Netanyahu is in deep shit after a close aide agreed to become a government witness in a massive corruption case that has seen the arrest of many top officials.
First Princess Ivanka will head to South Korea for the closing ceremony of the 2018 Olympics with Sarah Huckabee Sanders to celebrate athletes "as a female."
If you pick up an Indian newspaper, you'll undoubtedly find an ad informing you that for $38,000, you too can dine with DJTJ to talk about the Trump-branded condo stuff, (Not American) government stuff, general Trump (Organization) stuff, but no funny stuff!
Twitter sent the "alt-right" and tinfoil hat crowd into a temper tantrum after it began deleting, locking and suspending suspected bot accounts, causing many to lose hundreds or thousands of "followers." Poor snowflakes. :(
The PR wizards have told Mark Zuckerberg to blame his minions for screwing up his efforts to make Facebook a less-than shitty platform for angry old racists to shitpost Russian memes and spew hate speech.
And here's your morning Nice Time!
We're 100% ad-free and reader supported; we'll never use your money for phony after school specials.
Follow Dominic on Twitter and look at his pretty pictures!
Dominic Gwinn
Dominic is a broke journalist in Chicago. You can find him in a dirty bar talking to weirdos, or in a gutter taking photos.