Surely Trump Wants His Followers To 'TAKE OUR NATION BACK' In A Peaceful, Zip-Tie-Free Way
Trump
March 18, 2023 02:50 PM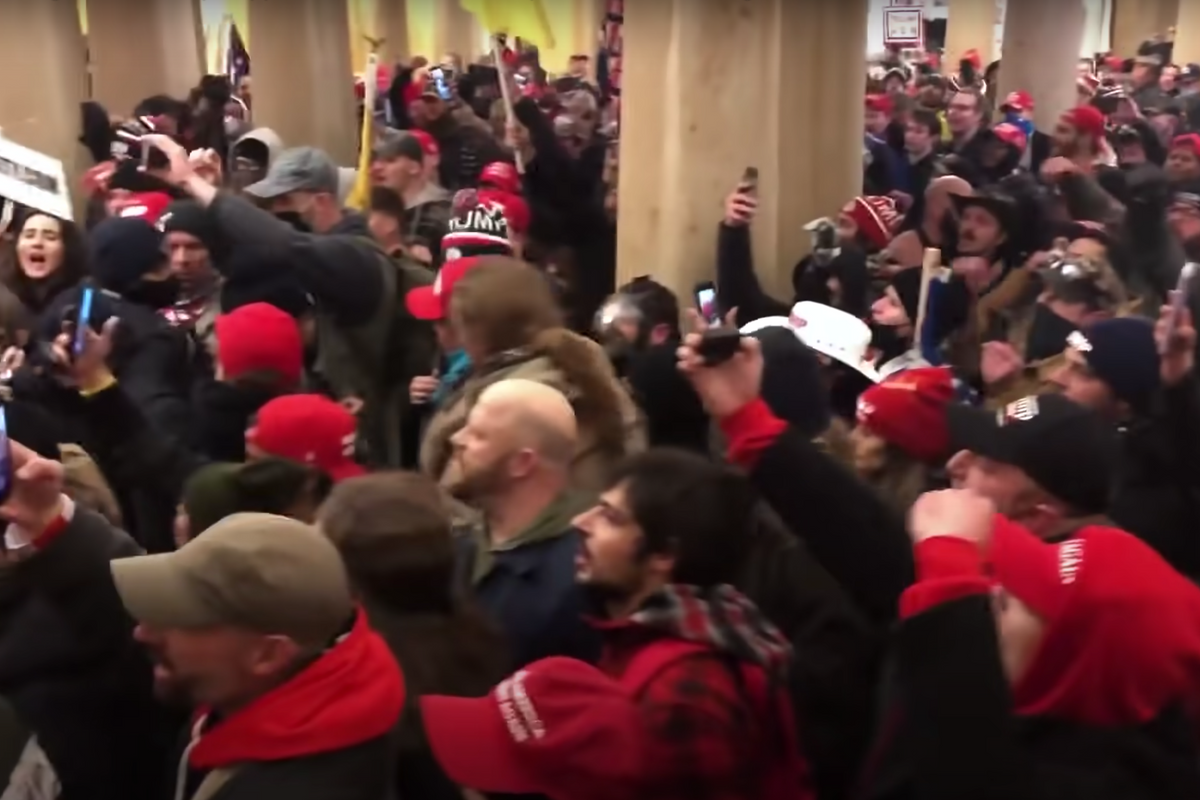 YouTube screenshot
This week, retired Air Force lieutenant colonel Larry R. Brock, 56, was sentenced to two years in prison for his part in the January 6 riot. While he didn't use the zip ties he picked up during the insurrection, his sentence was more than some other rioters due to the very normal things he wrote on Facebook beforehand, like "We need to execute the traitors that are trying to steal the election, and that includes the leaders of the media and social media aiding and abetting the coup plotters," and "I think SCOTUS needs to see if they don't act that there will be blood" and "I bought myself body armor and a helmet for the civil war that is coming."
Mitchell Todd Gardner II, 34, of Seffner, Florida was sentenced to four years and seven months after having plead guilty to "civil disorder, obstruction of an official proceeding, and assaulting, resisting, or impeding officers with a dangerous weapon" last year.
Aiden Bilyard, 21, was sentenced to three years and three months in prison for having attacked officers with pepper spray during the riot. His mother, Amy Bilyard cried during his sentencing, crying out "that's not right!," and was told by the judge "You make your bed, you've got to lie in it."
"He's lied in it!" she responded.
Bilyard's defense had primarily relied on the fact that he didn't know who his father was and saw Trump as a "strong masculine figure," and desired the approval of older men during the riots. His mother wrote a letter to the judge describing him as a "intelligent, warm and kind boy" adding that "He'd never been violent. He'd never NOT considered other human beings. He has ... always had a reverence for police and their difficult jobs." It is entirely possible that all of this is true.
---
Elias Irizarry was sentenced to 14 days for his role in the riots. He is the son of soap opera actor Vincent Irizarry, who appeared for many years on "Guiding Light" and "All My Children." I couldn't tell you anything else about him because I only ever watched NBC soaps.
"I made a mistake on January 6th, the worst in my life, and I stood on the wrong side," Irizarry told the media after he was sentenced. "I chose to allow myself to become a pawn in a struggle to redefine our liberal democracy for the worst. I stand here today to tell you that no matter what is decided today, it is my promise that I will someday redeem myself."
This is just one week and I probably didn't get all of them. And yet, Donald Trump is stirring shit up again and encouraging his followers to "TAKE BACK OUR NATION," saying he will be arrested on Tuesday. Trump is expected to be indicted this week over the whole "Paying tabloids to keep the Stormy Daniels story quiet" thing.
In a Truth Social post on Sunday, Trump wrote
OUR NATION IS NOW THIRD WORLD & DYING. THE AMERICAN DREAM IS DEAD! THE RADICAL LEFT ANARCHISTS HAVE STOLLEN [sic] OUR PRESIDENTIAL ELECTION, AND WITH IT, THE HEART OF OUR OUR COUNTRY.

AMERICAN PATRIOTS ARE BEING ARRESTED & HELD IN CAPTIVITY LIKE ANIMALS, WHILE CRIMINALS & LEFTIST THUGS ARE ALLOWED TO ROAM THE STREETS, KILLING & BURNING WITH NO RETRIBUTION.

MILLIONS ARE FLOODING THROUGH OUR OPEN BOARDERS [sic], MANY FROM PRISONS & MENTAL INSTITUTIONS. CRIME & INFLATION ARE DESTROYING OUR VERY WAY OF LIFE…

Yeah, that's pretty clearly not actually happening in real life. I guess he better hope that his
This was followed by:


Page 2: NOW ILLEGAL LEAKS FROM A CORRUPT & HIGHLY POLITICAL MANHATTAN DISTRICT ATTORNEYS OFFICE, WHICH HAS ALLOWED NEW RECORDS TO BE SET IN VIOLENT CRIME & WHOSE LEADER IS FUNDED BY GEORGE SOROS, INDICATE THAT, WITH NO CRIME BEING ABLE TO BE PROVEN, & BASED ON AN OLD & FULLY DEBUNKED (BY NUMEROUS OTHER PROSECUTORS!) FAIRYTALE, THE FAR & AWAY LEADING REPUBLICAN CANDIDATE & FORMER PRESIDENT OF THE UNITED STATES OF AMERICA, WILL BE ARRESTED ON TUESDAY OF NEXT WEEK. PROTEST, TAKE OUR NATION BACK!


Which itself was followed by:
IT'S TIME!!! WE ARE A NATION IN STEEP DECLINE, BEING LED INTO WORLD WAR III BY A CROOKED POLITICIAN WHO DOESN'T EVEN KNOW HE'S ALIVE, BUT WHO IS SURROUNDED BY EVIL & SINISTER PEOPLE WHO, BASED ON THEIR ACTIONS ON DEFUNDING THE POLICE, DESTROYING OUR MILITARY, OPEN BORDERS, NO VOTER I.D., INFLATION, RAISING TAXES, & MUCH MORE, CAN ONLY HATE OUR NOW FAILING USA. WE JUST CAN'T ALLOW THIS ANYMORE. THEY'RE KILLING OUR NATION AS WE SIT BACK & WATCH. WE MUST SAVE AMERICA!PROTEST, PROTEST, PROTEST!!!

That's a little extra, no?
Now, sure, he's saying "PROTEST!" But he's also saying "TAKE OUR NATION BACK!" which has a certain meaning to these sorts of people. He's also calling the people who were arrested for storming the capitol "PATRIOTS." It's probably not anything actionable, because of the way he's phrasing it, but he is very clearly calling for a sequel to January 6. How many people out there are still willing to risk years in prison over their Donald Trump daddy issues? Well, probably a lot of them. How many of them can take off work this week in order to get up to New York City for the purposes of taking their nation back from evil leftist thugs who think presidential candidates shouldn't be able to pay off tabloids to shut up porn stars? I guess we shall see!
Do your Amazon shopping through this link, because reasons.
Wonkette is independent and fully funded by readers like you. Click below to tip us!
Robyn Pennacchia
Robyn Pennacchia is a brilliant, fabulously talented and visually stunning angel of a human being, who shrugged off what she is pretty sure would have been a Tony Award-winning career in musical theater in order to write about stuff on the internet. Follow her on Twitter at @RobynElyse