IVANKA AND JARED DID NOT BREAK UP WITH TRUMP, TRUMP BROKE UP WITH THEM!
Trump
December 27, 2022 09:20 AM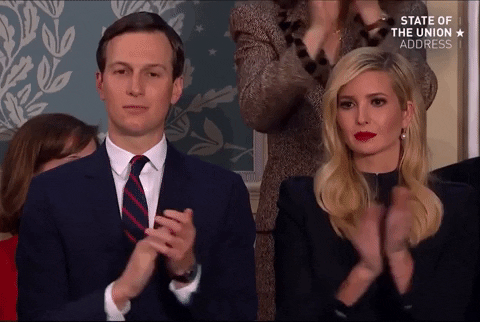 Big important update on TWO stories we mentioned yesterday.

One story was that Donald Trump is surrounded by so much love and support that he spent his entire Christmas rage-truthing on his flea market Twitter knockoff Truth Social. The update is that the loser spent the day after Christmas doing that too, and he's still going.
The second story was about the big long-read from Olivia Nuzzi in New York Mag about what a lazy, loser-ass shitshow Trump's alleged "campaign for president," which he announced in November, really is. It specifically included some great gossip nuggets about how far away Ivanka Trump and Jared Kushner are staying from the stench of that loser campaign, and how really nobody in Trump's inner orbit wants him running for president, save for Eric Trump's replicant wife Lara Trump.
It is a truly entertaining read.
And OH FUCK he is mad about it.
---
Text:
Contrary to Fake News reporting, I never asked Jared or Ivanka to be part of the 2024 Campaign for President and, in fact, specifically asked them not to do it - too mean and nasty with the Fake & Corrupt News and having to deal with some absolutely horrendous SleazeBags in the world of politics, and beyond. There has never been anything like this "ride" before, and they should not be further subjected to it. I ran twice, getting millions more Votes the second time (RIGGED), & am doing it again!
What's that joke about how break up with me once, shame on you, break up with me, can't get broked up again?
Wait that's not it.
Point is, IVANKA AND JARED DID NOT DECIDE NOT TO BE PART OF DONALD TRUMP'S 2024 CAMPAIGN, because DONALD TRUMP SPECIFICALLY FIRED THEM BEFORE THEY COULD BEG TO HELP, and HE DID IT FOR THEIR OWN GOOD, because HE LOVES THEM TOO MUCH TO SUBJECT THEM TO THAT, something something something (RIGGED)!
Mister Christmas is also mad at Olivia Nuzzi in general for her very bad and wrong story, and believes she exemplifies the ongoing deterioration of the American news media. He says he agreed to do the New York mag interview, even though it's not what it used to be, and even though he has concerns about Nuzzi's abilities as a reporter.
The Fake & Corrupt News is only getting worse! As an example, I agreed to do a short telephone interview for a once very good, but now on its "last legs" and failing, New York Magazine. The reporter was a shaky & unattractive wack job, known as "tough" but dumb as a rock, who actually wrote a decent story about me a long time ago. Her name, Olivia Nuzzi. Anyway, the story was Fake News, her "anonymous sources" don't exist (true with many writers), and I'm happily fighting hard for our GREAT USA!
Anyway, sounds like Vanky really is ignoring his ass. And if she isn't, well, good job putting that PR out there that says she is!
For more updates on whatever is chafing the former president's asshole, you know where to go. Spoiler, he's on his racist "Coco Chow" tangent again.
Follow Evan Hurst on Twitter right here!

And once that doesn't exist, I'm also giving things a go at the Mastodon (@evanhurst@newsie.social) and at Post!

Have you heard that Wonkette DOES NOT EXIST without your donations? Please hear it now, and if you have ever enjoyed a Wonkette article, throw us some bucks, or better yet, SUBSCRIBE!
Evan Hurst
Evan Hurst is the managing editor of Wonkette, which means he is the boss of you, unless you are Rebecca, who is boss of him. His dog Lula is judging you right now.
Follow him on Twitter RIGHT HERE.